Disclaimer: I was provided copies of these books from the author in exchange for an honest review.  All thoughts and opinions expressed are my own.
Do you ever wonder what some famous people were like as children?  What was their family life like?  What were their favorite hobbies and who were some of their early childhood inspirations? I certainly think about questions like these and more.  Well, thanks to the new Leaders Doing Headstands series of books we can find out the answers to some of our most burning questions as they pertain to famous people like Rosa Parks, Hillary Rodham Clinton, Walt Disney, Dr. Martin Luther King Jr. and more!
When Rosa Parks Went Fishing by Rachel Ruiz
Synopsis: No discussion of the Civil Rights Movement is complete without the story of Rosa Parks. But what was this activist like as a child? Following young Rosa from a fishing creek to a one-room schoolhouse, from her wearing homemade clothes to wondering what "white" water tastes like, readers will be inspired by the experiences that shaped one of the most famous African-Americans in history.
Reflection
"Rosa grew up trying to stop the unfair treatment of others. And then one day in 1955, she did something simple and brave. She sat down in a bus seat-and became a hero to millions of people."
What a beautifully illustrated and informative book about Rosa Parks and her childhood!  Little readers will enjoy learning about a side of Rosa's life seldom heard. Follow young Rosa from her favorite fishing creek and her one-room schoolhouse to the busy streets of Montgomery, Alabama.  While Rosa's mother worked at the school, she and her younger brother Sylvester spent time with their grandparents at a nearby fishing creek.  Rosa learned a lot from her grandparents like standing up for things you believe in and not allowing others to push you around.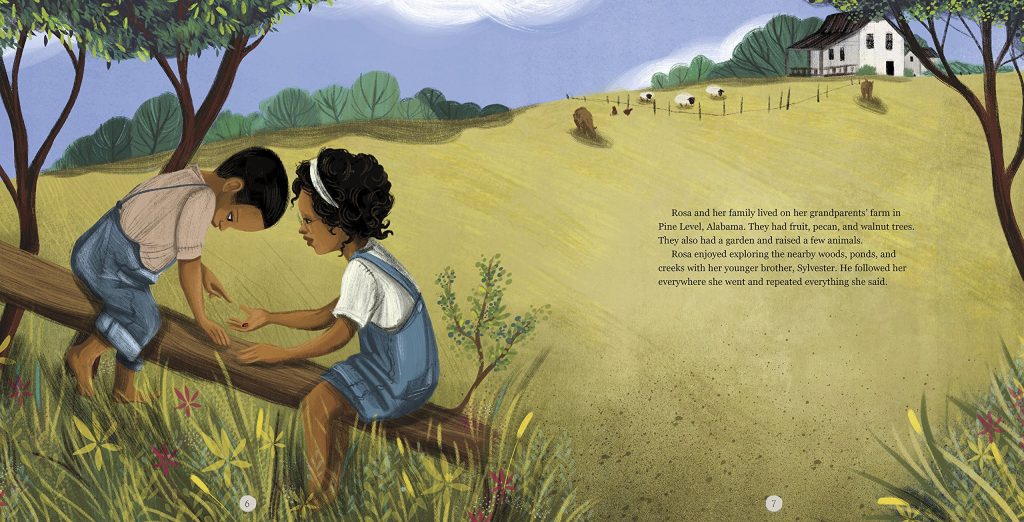 There is also some additional information about Rosa's life as a teenager into adulthood.  I never knew she dropped out of school when she was 16 years old to care for her ill grandmother.  Many years later in 1934, she finally earned her high school diploma.  Nearly 20 years after that accomplishment, Rosa became famous for standing up for herself by refusing to give up her seat on a local city bus.
The back of the book contains: an afterword about Rosa Parks, a glossary, additional references and critical thinking questions to discuss as an extension activity for deeper thinking.
**************************************************************************************
When Hillary Rodham Clinton Played Ice Hockey by Rachel Ruiz
Synopsis: Hillary Rodham Clinton has always dreamed big … and achieved big too. But she didn't become the greatest woman in US political history overnight. She was a kid first-organizing neighborhood carnivals, playing backyard ice hockey, and writing NASA to volunteer for astronaut training. This story shows readers the fun, fears, and challenges young Hillary had and encourages them to find their own strengths and dream big.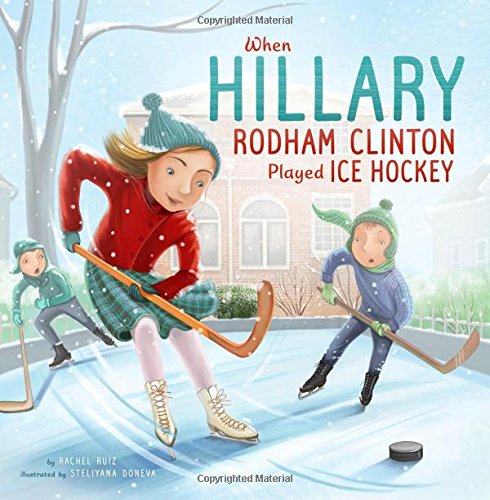 Reflection
This book starts off with a very distraught 4 year-old Hillary crying to her mother about being bullied by another girl. Hillary's mother didn't know what to do so she tells her to go back outside and stand up to the girl, so Hillary did. Thanks to her parents, young Hillary learned very quickly how to stand up for herself and speak up for what's right.
The book then introduces little readers to Hillary's father and hew two younger brothers, Hughie Jr. and Tony. Hillary's mother was always sure to tell her she could do whatever her brothers did.  The rest of the book talks about some of Hillary's milestones and achievements like going to Yale Law School (where she met President Bill Clinton), getting married, having children, becoming a U.S. Senator for the state of New York and more!
The back matter contains: an afterword about Hillary Clinton, a glossary, additional references and critical thinking questions to discuss as an extension activity for deeper thinking.
I love the fact that both of these books are so inspirational and informative for young readers.  I learned information about both of these women that I didn't know before like Hillary writing to NASA at the age of 14 because she wanted to become an astronaut.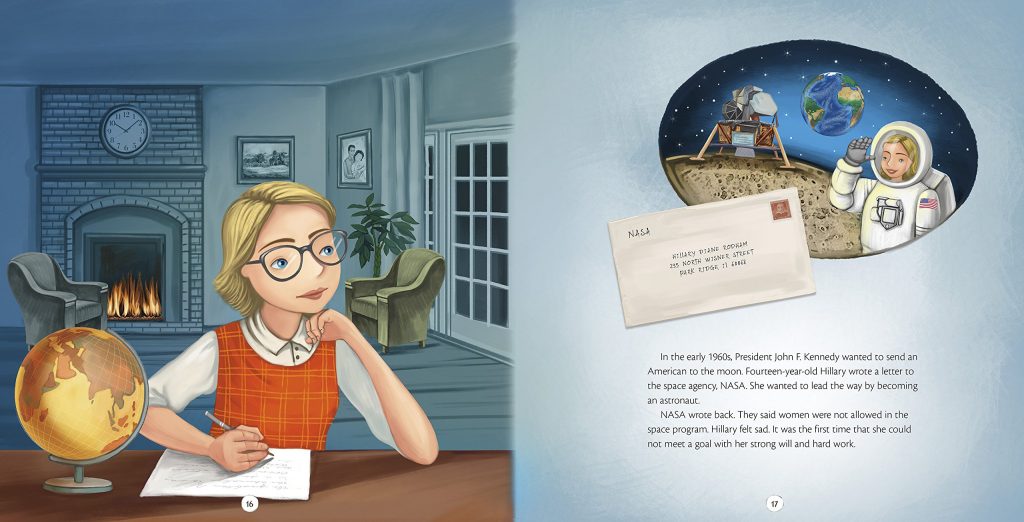 The only thing I didn't really understand was why there was no significant tie in to the title of each book.  For example, the Rosa Parks book only has one page of Rosa going fishing as a child.  I was expecting to learn what made the creek where Rosa went fishing so significant and special to her (if anything)?  Did she continue going fishing in her adult years?  The same is true for the Hillary book.  Again, there is only one page showing Hillary and her friends playing ice hockey during her childhood. Did Hillary go on to join an ice hockey league or did she play at her school?  Maybe this isn't relevant or important, but it's just an observation.
Although both books are historical picture book biographies, there are lots of lessons to help reinforce concepts of: hard work, speaking up for yourself and standing up for what is right.  Both Hillary and Rosa are excellent examples of strong women who continued to persist and persevere despite the consequences or roadblocks they faced.  I think these books would both make great additions to any home or school library and would be valuable for an elementary aged student working on a biography project for either Rosa or Hillary.  Recommended for readers ages 6 -12 and up.  32 pages.
Your turn: What famous person's childhood would you like to learn more about?  Feel free to share in the comments.