Her Right Foot by Dave Eggers, illustrated by Shawn Harris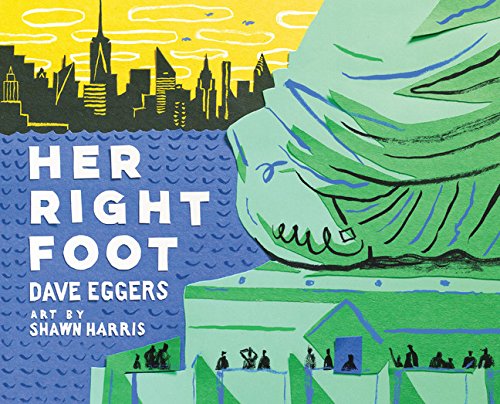 Publisher: Chronicle Books
Format: Hardcover
Pages: 104
Age Range: 6 – 9 and up
Grade Level: Kindergarten – 3 and up
Synopsis
If you had to name a statue, any statue, odds are good you'd mention the Statue of Liberty. Have you seen her?
She's in New York. 
She's holding a torch. 
And she's in mid-stride, moving forward. 
But why?
In this fascinating, fun take on nonfiction, Dave Eggers and Shawn Harris investigate a seemingly small trait of America's most emblematic statue. What they find is about more than history, more than art. What they find in the Statue of Liberty's right foot is the powerful message of acceptance that is essential to an entire country's creation.
Reflection
Here's an interesting fact some of you may not know: the right foot of the Statue of Liberty is raised and not sitting flat on the platform. That's right, Lady Liberty is not standing still…she's on the move. But where is she going? She's going forward to greet new immigrants entering the United States. What a powerful message of acceptance for little readers!
This picture book entitled Her Right Foot is so interesting, informative, poignant and funny too! Oh, and it has a neat surprise cover underneath the dust jacket.  It features the date, July 4, 1776 written in Roman numerals. That is the date on which the Declaration of Independence was signed.  What a nice, thoughtful, and detailed touch!  I absolutely LOVE all of the history and the beautiful symbolism of the statue's raised right foot. Who knew? I went on several tours to Ellis Island and not once did anyone mention this interesting tidbit of information. I honestly think this story is so captivating and entertaining from beginning to end even though the text is quite lengthy (104 pages). It's not boring though and it makes you want to turn the pages to read and learn more.
Little readers will enjoy learning several interesting facts about the Statue of Liberty.  They'll find out who came up with the idea to create a statue, who designed it, how it got to New York, what the spikes on the statue's crown represent, and who came up with the idea to put a giant record player inside the Statue of Liberty (an idea that never came to fruition).
This book was originally slated for publication in 2018, however the creators and Chronicle Books were inspired by the recent immigration ban to bring it to young readers as soon as possible. I'm so glad they did because books like this one are so needed right now. It can be a gateway to discussing refugees and immigration with our youngest readers. I think it's a wonderful book to start conversations with and among students, helping them connect current events with the United States' history as a nation of immigrants.
The last few pages of this book get me choked up every time because it's written so beautifully.
After all, the Statue of Liberty is an immigrant, too.  And this is why she's moving.  This is why she's striding.  In welcoming the poor, the tired, the struggling to breathe free.  She is not content to wait.  She must meet them in the sea.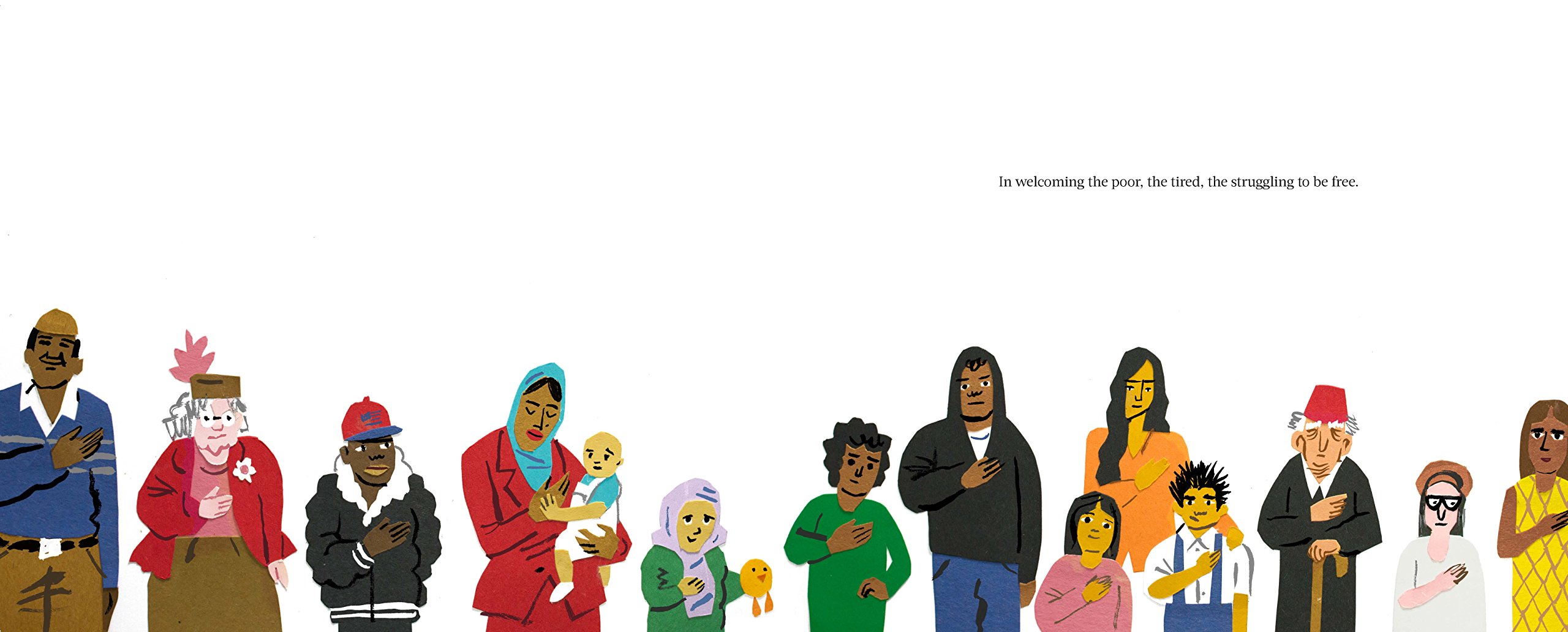 One to definitely check out with your little readers if you're interested!