Disclaimer: I was provided copies of these books from the publisher in exchange for an honest review.  All opinions expressed are my own and have not been influenced in any way.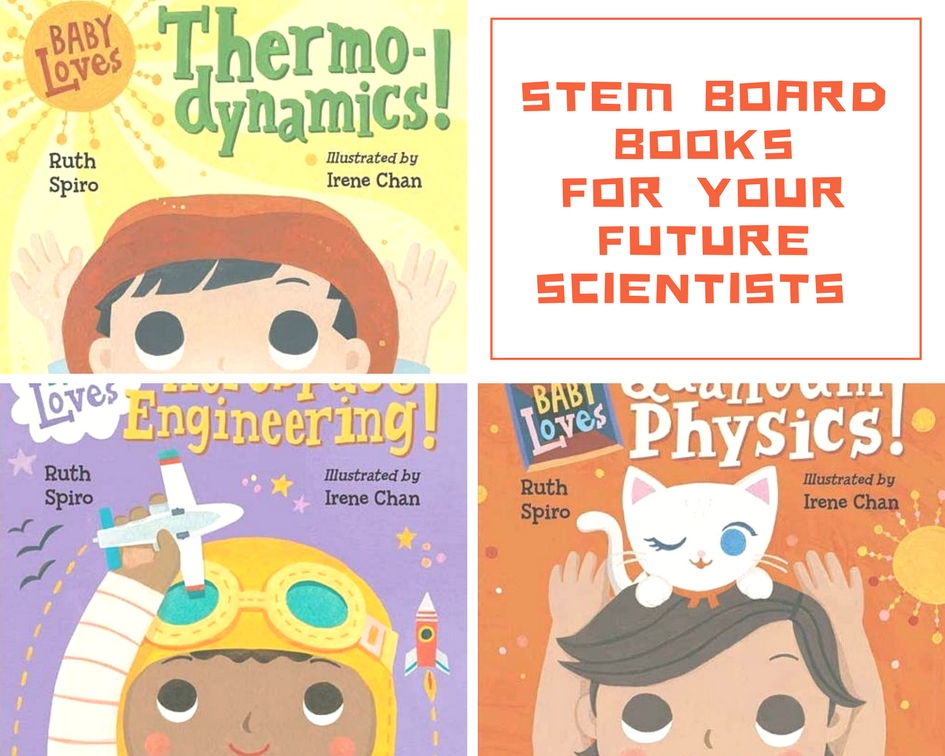 Is it ever too early to start teaching STEM (science, technology, engineering and math) concepts to children?  I don't think so, but others may disagree with me. My reason is simple: we use STEM related concepts each and every day whether we realize it or not.  From the moment children are born they begin investigating the natural world around them.  They learn about how things work by testing them with their tiny fingers, watching them change, listening to sounds, and feeling textures. Essentially, that's what science is all about, right?
That's why I love the Baby Loves Science board book series for children ages birth to three.  They claim to be "accurate enough to satisfy an expert, yet simple enough for toddlers".  Featuring friendly, simple text, cheerful illustrations and facts, these books are the perfect fun introduction to chemistry, physics and engineering for babies and toddlers.  I also think they are engaging, entertaining, and filled with simple learning opportunities.
I know I learned about quantum physics at some point during my school days, but I seemed to forget what it means over the years. Thanks to reading Baby Loves Quantum Physics, it helped to spark my memory.  The same is also true for thermodynamics.  So yes, parents and caregivers may in fact learn (or re-learn) a thing or two as well by reading these books.  I know I did!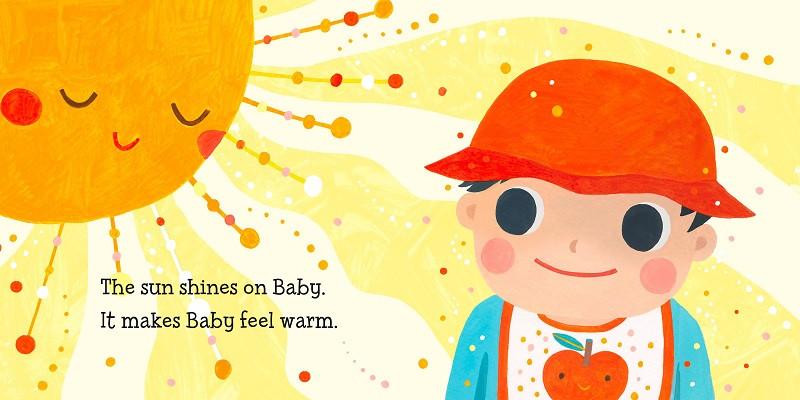 I like how both of these books have short and simple sentences on each page making them great for bedtime story time if you are short on time.  They also spell things out for little readers making the concepts easy to grasp.
Sunlight + Air + Water = Food for the tree – Baby Loves Thermodynamics!

In quantum physics, until Baby looks in the box, Cat is both asleep and awake. – Baby Loves Quantum Physics!
I like to use these books in the following ways:
I focus on helping my children understand concepts by asking simple questions about different things mentioned in the books. "What do you think happened to the cat?"
I encourage my children to use analysis and reasoning skills by asking simple analytical and reasoning questions. "What do trees need in order to grow?"
I help my children to think about their own process of thinking by asking questions like "How did you know that?" or "How did you figure that out?"
I help my children apply concepts to their everyday world by doing simple and age-appropriate beyond the book craft projects that are related to the book in some way.
Let's support every child to be a Scientist, Engineer, Techie and Mathematician!  You can do this by reading STEM themed books or doing STEM related hands-on activities.  This can also be done through the intentional use of simple questions that promote higher-level thinking.
Check out all of the current books in this series!
Baby Loves Quantum Physics! by Ruth Spiro, illustrated by Irene Chan
Baby Loves Thermodynamics! by Ruth Spiro, illustrated by Irene Chan
Baby Loves Aerospace Engineering! by Ruth Spiro, illustrated by Irene Chan
Baby Loves Quarks! by Ruth Spiro, illustrated by Irene Chan
Publisher: Charlesbridge Publishing
Pages: 20
Age Range: 0-3 and up
Available for Sale: September 5, 2017
Your turn: What are your thoughts about incorporating STEM into the lives of toddlers and preschoolers?  Please feel free to share your ideas and STEM experiences so that we might all learn and grow together.