Disclaimer: I was provided a copy of this book from the author to facilitate this review.  As always, all opinions are my own.
Muslim picture books for kids are not easy to come by.  Especially ones that showcase kids doing normal everyday things.  Enter Muhiima's Quest, a charming and inspirational book of self-discovery and a celebration of diversity with the message that our heritage and faith are what make us unique and special.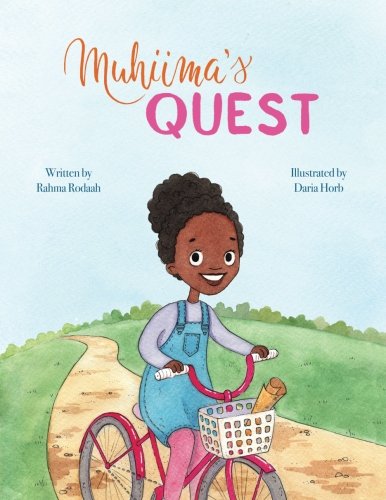 Synopsis
Although her family does not celebrate birthdays, Muhiima wakes on the morning of her 10th birthday to an unusual surprise. Her mother gives her a carefully drawn map with instructions not to ask questions, but to simply follow the map. Muhiima sets off on her bicycle to begin a quest that will take her all around town. At each destination on the map she is gifted with an important message and a mysterious little box. Travel with Muhiima on her journey and discover how the pieces of this puzzle come together.
Reflection
Muhiima's Quest is a delight and the illustrations are adorable! The story follows Muhiima a young Muslim American girl as she goes on a quest riding her bicycle around town. You see, it's Muhiima's 10th birthday and since traditional Muslims don't celebrate their birthdays (or any other holidays with the exception of Eid), Muhiima's parents have decided to do something very unique for their daughter. Her mother gives her a map and tells her to "find her way". Muhiima's job is to visit all of the places on the map until she reaches her final destination back at home.
Along the way, Muhiima is given tiny boxes from trusted family adults. When she gets back home all of the people she visited are at her house waiting to surprise her. One by one, Muhiima opens the tiny boxes and is surprised to see each one contains a tiny pearl to make a beautiful pearl necklace. In the end, they all enjoy a feast in celebration of Muhiima.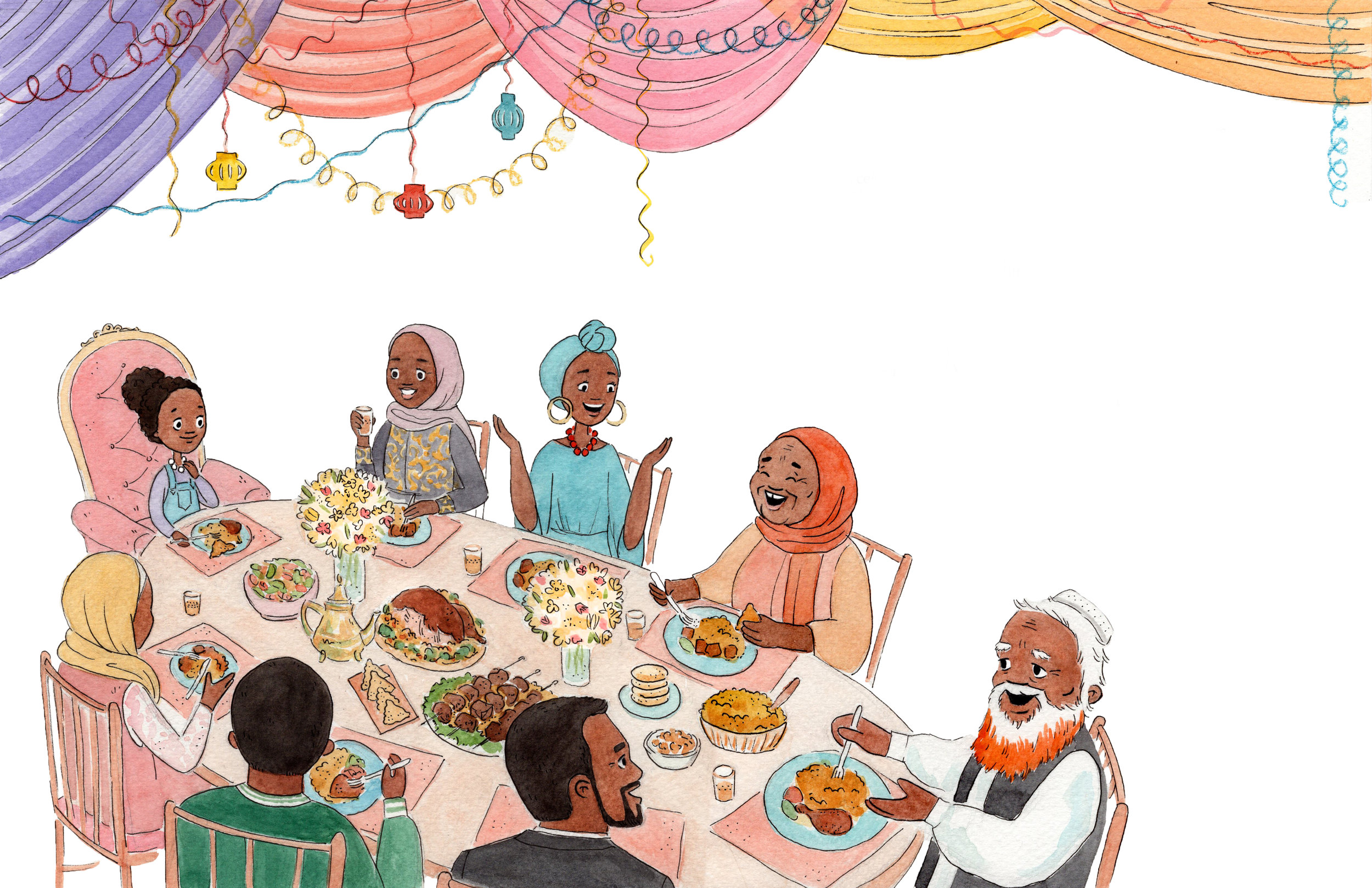 Although Muhiima doesn't have a traditional American birthday party, I love how all of the adults came together to make her day so special. You could truly feel all the love and appreciation each person has for her. To me, this book signified a sort of rite of passage for Muhiima as she's transitioning to her double digit years.
Reading this book presents adult readers with a great chance to talk to little readers about when they encounter something new or unfamiliar to foster a connection between them and Muhiima. For example, you could talk about how each family has their own beliefs and traditions that others may not. That may make others different in some ways, but that's not a bad thing. You could also talk to kids about embracing their uniqueness and the importance of having a supportive village of people around you.  Muhiima's friends and family members imparted so much wisdom on her by saying things like: "know your value and hold your head high" and "never boast about your blessings". Themes include: family, diversity, Muslim culture, Islamic teachings, self-confidence, faith and heritage.  There is also an activity section for kids to write down their own pearls of wisdom.
I'd probably recommend this book for children ages 7-8 and up for independent reading since some of the paragraphs are a little lengthy. However, I think this book could be read aloud by an adult to smaller children as well.
Connect with Author Rahma Rodaah!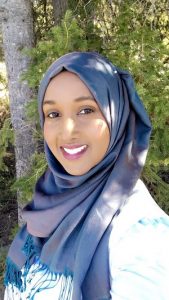 Website | Facebook | Instagram | Twitter