Bloom by Brittany Travestè
Disclaimer: I was provided a copy of this book from the author to facilitate this review.  As always, all opinions are my own and are not influenced in any way.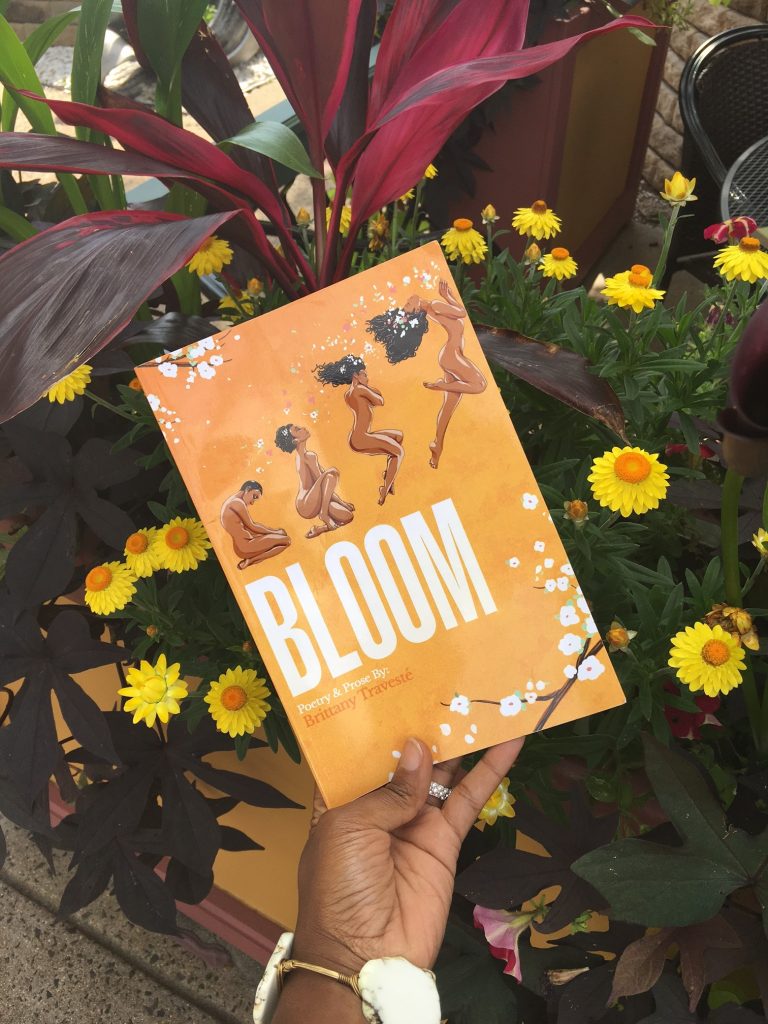 Has your flower bloomed yet or are you a seed still waiting to sprout and grow?
Synopsis
Manifested from the seed of reflection, Bloom is one woman's restorative quest toward love-of the internal sort. Through bare as bones poems, narrative essays, and brief meditations, it proves to be healing for you, too, if you've ever looked upon yourself and cringed at the not so beautiful. Bloom seeks release and acceptance. It is an act of utter vulnerability with the hope of giving you freedom to sprout gracefully into your most magical self, understanding that every experience, lapse in judgment, and fall from grace has led you right back to you.
Reflection
As author Brittany Travestè states in this book, "We have so much in common with flowers. We, however, attempt to hide the process. We try to pretend that we woke up in love with ourselves. As if our mothers pushed us out into a world that is perfect."
This short collection of poetry, prose, narrative essays, meditations and honest reflection is SO beautiful! It's broken out into four different sections: seed, sprout, grow and bloom. Women (and teens) will be taken on a beautiful journey of self-reflection, self-love and self-care. I can relate to so many of the poems and reflections from my humble beginnings when I was a "seed" to my naive years as I was still "sprouting" and "growing" to my current life living in full "bloom".  I like the poem Insecurities, but Thank God for Mama, I Ain't Sorry and Blues in His Left Thigh to name a few.
I'd recommend this book for teens and women on a quest to restore their internal love for self.  This book may help you find things hidden deep within your soul like fears, doubts or negative traits.  As you go on your own personal self love journey be sure to accept whatever you find and continue to move forward in your quest for self discovery.
You can grow even stronger by honestly facing the characteristics revealed by your personal inventory. Don't be afraid to admit who you are and accept your limitations. Only then can you start working on the weaknesses to become a better person and enjoy your strengths to savor each day.  "In Bloom, you'll recall that yours is the love you've been searching for all along.  You were planted for this."
About the Author
Brittany Travestè is a self-published writer, poet and cultivator of black girl magic.  She credits her mother for nurturing her love for literature.  Brittany earned her BA in Journalism from Howard University where she began to flourish as a published writer.  To learn more about Brittany's journey to BLOOM visit her website.
Your turn: Have you read this book yet?  Feel free to share in the comments.