Disclaimer: I was provided a copy of this book from the publisher to facilitate this review.  As always, all opinions are my own and are not influenced in any way.

Take a Picture of Me, James Vanderzee! by Andrea J. Loney, illustrated by Keith Mallett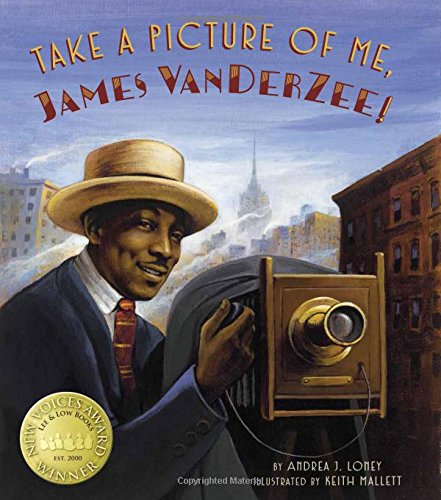 Publisher: Lee & Low Books
Format: Hardcover
Pages: 40
Age Range: 6 – 9 and up
Grade Level: 1- 4
Synopsis
James Van Der Zee was just a young boy when he saved enough money to buy his first camera. He took photos of his family, classmates, and anyone who would sit still for a portrait. By the fifth grade, James was the school photographer and unofficial town photographer. Eventually he outgrew his small town and moved to the exciting, fast-paced world of New York City. After being told by his boss that no one would want his or her photo taken -by a black man, – James opened his own portrait studio in Harlem. He took photographs of legendary figures of the Harlem Renaissance–politicians such as Marcus Garvey, performers including Florence Mills, Bill -Bojangles- Robinson, and Mamie Smith–and ordinary folks in the neighborhood too. Everyone wanted fancy portraits by James Van Der Zee. Winner of Lee & Low's New Voices Award, Take a Picture of Me, James Van Der Zee! tells the story of a groundbreaking artist who chronicled an important era in Harlem and showed the beauty and pride of its people.
Reflection
During his lifetime, photographer and artist James VanDerZee created thousands of portraits and took more than 75,000 pictures. Years later long after James put his camera away due to advanced technology, the Metropolitan Museum of Art found thousands of his photographs showing Harlem residents. They decided to use the photos for an exhibit on the history of Harlem called Harlem on My Mind.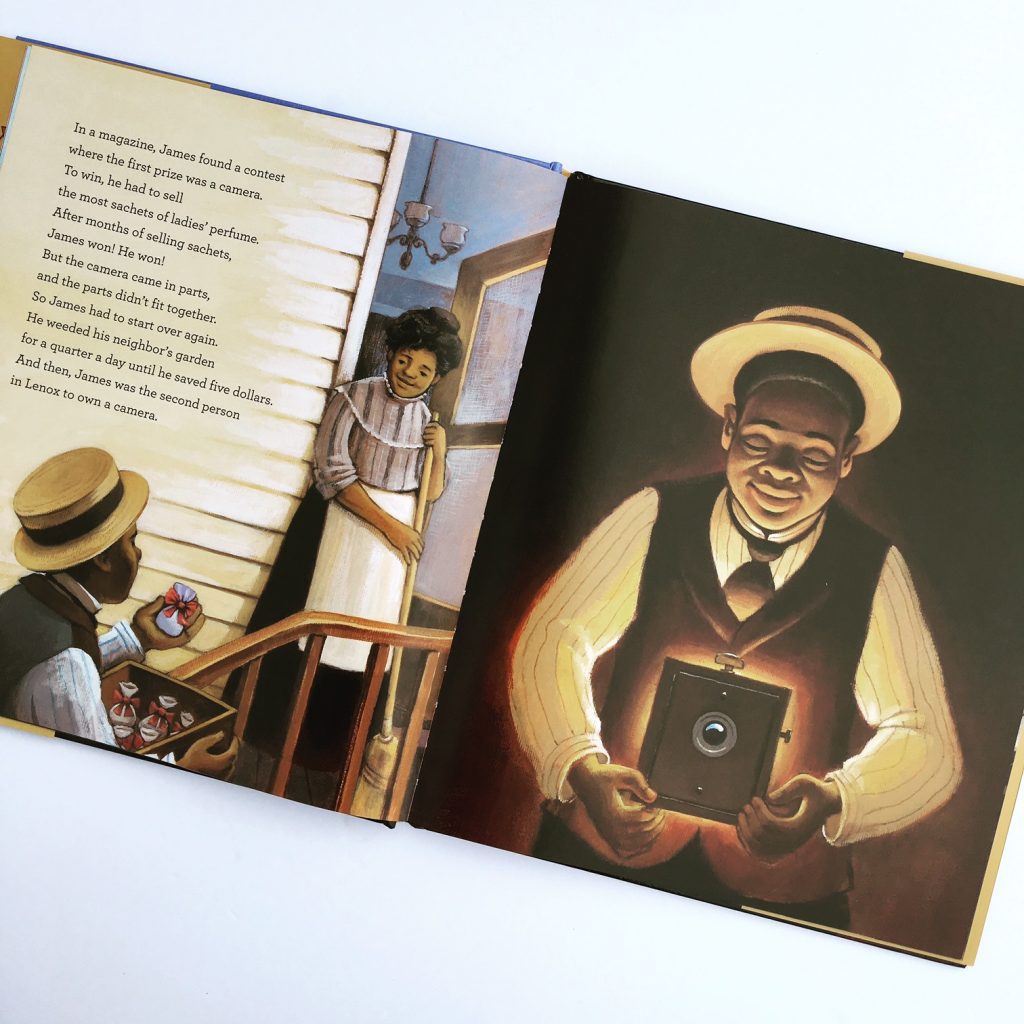 This book is not only informative, but it's beautifully illustrated too. I learned so much about this important man in history who I had never heard of prior to reading this book.  It tells the story of James VanDerZee and his love of the arts, specifically photography. Born in Lennox, Massachusetts, James decided to take his camera and move to Harlem at the age of 18. He soon found work as an assistant photographer, but then took his camera to the streets of Harlem during the height of the Harlem Renaissance. Little did James know those photos would make him famous many years later.  Sadly, James passed away in 1983 and the age of ninety-six.  Since his passing, the world has never seen the city of Harlem in quite the same way.
I think this would be a great book for budding photographers or for anyone who wants to learn more about James Vanderzee's life and his extraordinary contribution to the arts and photography.  There are themes of: music, art, photography, hard work, determination, racism, and family. The back matter has additional information and original photographs.
Your turn: Have you ever heard of James Vanderzee before?  Are you looking forward to reading this book with your children?  Feel free to share in the comments.