You Should Meet: Katherine Johnson by Thea Feldman, illustrated by Alyssa Petersen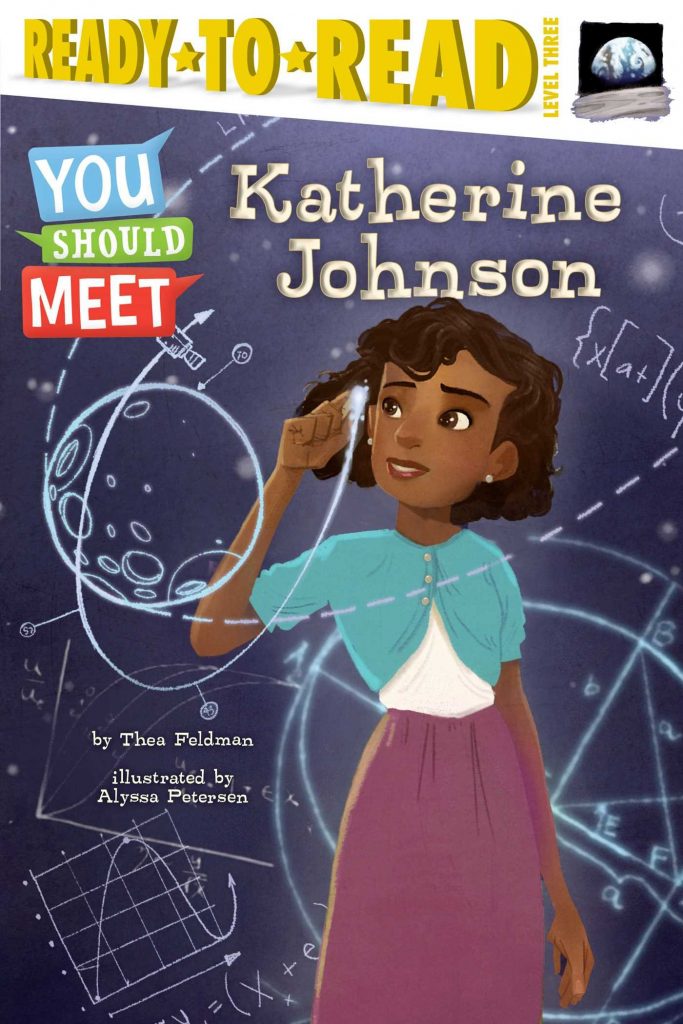 Publisher: Simon Spotlight
Age Range: 6-8
Grade Level: 1-3
Format: Hardcover or Paperback
Pages: 48
Synopsis
Get to know the woman who made many of NASA's early missions possible in this fascinating, nonfiction Level 3 Ready-to-Read, part of a series of biographies about people "you should meet!"
Meet Katherine Johnson, a brilliant mathematician who worked at NASA in the early 1950s until retiring in 1986. Katherine's unparalleled calculations (done by hand) helped plan the trajectories for NASA's Mercury and Apollo missions (including the Apollo 11 moon landing). She is said to be one of the greatest American minds of all time.
A special section at the back of the book includes extras on subjects like history and math, plus inspiring careers for math lovers. With the You Should Meet series, learning about historical figures has never been so much fun!
Disclaimer: I was provided a copy of this book from the publisher to facilitate this review.  As always, all opinions are my own and are not influenced in any way.
Reflection
I couldn't stop talking about the movie Hidden Figures when I initially saw it. If you don't already know, the movie is based on the true story of three African-American women who were critical to NASA's first space launch.
Hidden Figures introduced many people to Katherine Johnson for the first time. I was already familiar with her since I studied Computer Science, but several people I know had never heard of her before. This level three easy reader chapter book helps little STEM lovin' readers become more familiar with Katherine Johnson.
Born on August 26, 1918, Katherine Johnson was born in White Sulphur Springs, West Virginia.  She was the youngest of four children.  Her father owned a farm, and her mother was a teacher.  Katherine was always interested in learning about almost anything.  Her favorite subject and first love was math.  Katherine's father was also a math wiz who could solve math problems like no one's business.
I think this book is really great for teaching little readers about Katherine's childhood and family life, her first job and her many accomplishments achieved throughout her lifetime. Did you know Katherine Johnson started high school when she was just 10 years old and became a college freshman at the age of 15?  Impressive!
Not only was Katherine Johnson a math genius, she was brave.  As a woman, I know working in a male dominated industry like computers or engineering is already tough.  So I can only imagine how much tougher it was to be working in a male dominated industry in the 1950's in the segregated South as a Black woman.
I am so glad I have the opportunity to share this book with my children and others.  Katherine Johnson's story is such an important piece of history that everyone should know about.  This book helps kids learn basic facts about an important female who helped change the world through her extraordinary work.  Not only is this book informative, it's inspirational too.  I am so happy Katherine finally received the recognition she deserved by receiving the Presidential Medal of Freedom in 2015 by President Barack Obama.
Katherine is proof that if you stay grounded in what you love, the places you go can be out of this world!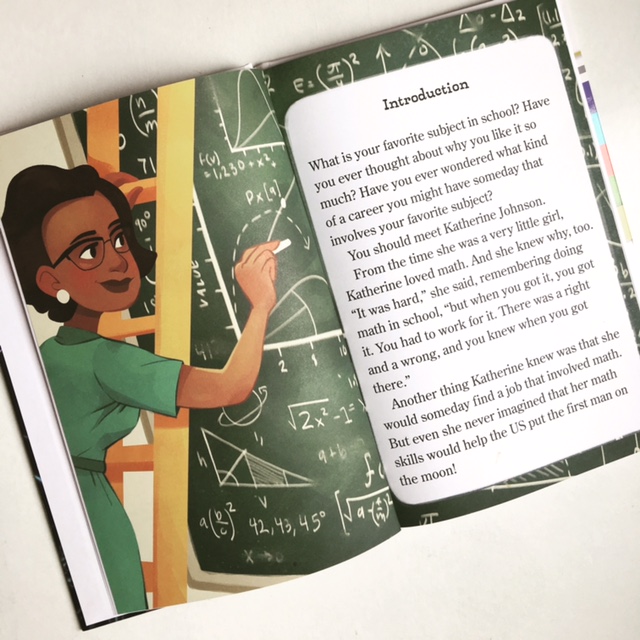 The book is broken out into five small chapters and the back matter includes information about how sailors use stars to guide them, useful information about different creative careers and a fun quiz to see what you've learned.  Be sure to check this one out if you're looking for a historical non-fiction easy reader chapter book for kids.
How Long to Read This?  Find out here.
Your turn: Are you looking forward to reading this book with your kids or students?  Feel free to share in the comments.