Disclaimer: I was provided a copy of this book from the author to facilitate this review.  As always, all opinions are my own and are not influenced in any way.

I Am Peace: A Book of Mindfulness by Susan Verde, illustrated by Peter H. Reynolds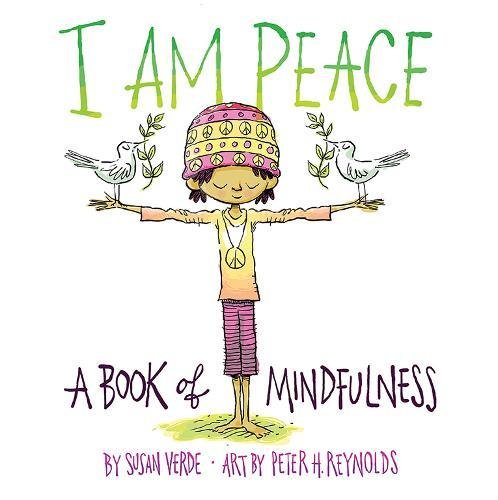 Publisher: Abrams Books for Young Readers
Format: Hardcover
Pages: 32
Age Range: – 4 – 8 years
Grade Level: Preschool – 3
Publication Date: September 26, 2017
Synopsis
When the world feels chaotic, find peace within through an accessible mindfulness practice from the bestselling picture-book dream team that brought us I Am Yoga. Express emotions through direct speech. Find empathy through imagination. Connect with the earth. Wonder at the beauty of the natural world. Breathe, taste, smell, touch, and be present.
Perfect for the classroom or for bedtime, Susan Verde's gentle, concrete narration and Peter H. Reynolds's expressive watercolor illustrations bring the tenets of mindfulness to a kid-friendly level. Featuring an author's note about the importance of mindfulness and a guided meditation for children, I Am Peace will help readers of all ages feel grounded and restored.
Reflection
It is astonishing the level of stress children (and adults) can experience these days. There are so many distractions surrounding us fighting for every second of our attention.
Last year my daughter practiced mindfulness in school and she seemed to really like it. At home whenever she started feeling overwhelmed she would tell me she was going to her room for 3 minutes to practice mindfulness. Why 3 minutes? I have no idea. Maybe that's how long it lasted in her class. In any event, when she finished her mindfulness she was much more calm. So whatever they were teaching her in school seemed to work.
After reading this book it reminded me to start cultivating in my children the habit of spending a little time each day being mindful – appreciating the moment and being able to observe the world around them. No electronics, no books, just being at peace for 3-5 minutes each day.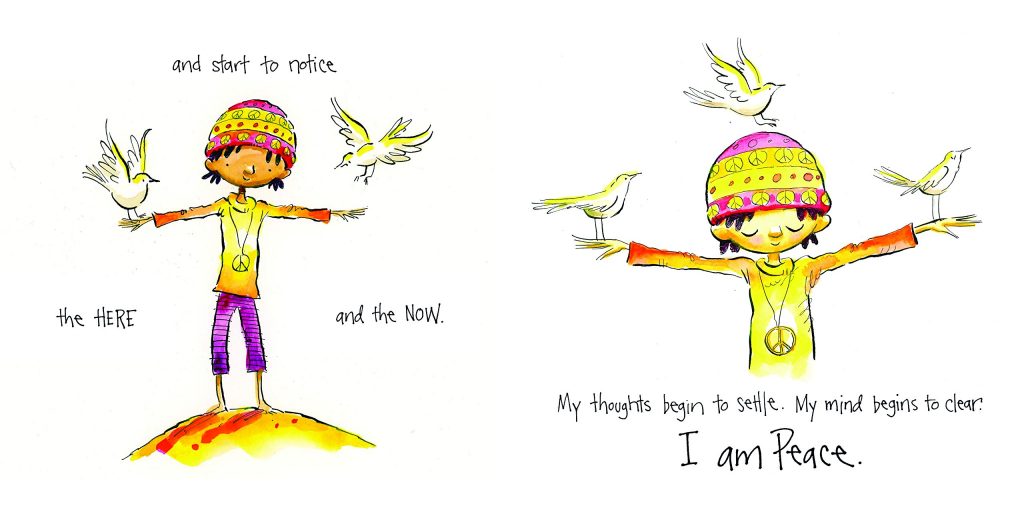 I Am Peace helps children do just that – learn to be in the moment. In the beginning, a little brown skinned boy with dreadlocks talks about being anxious worried about what might happen next or what happened before. In the end, he learns to appreciate what he has and reflects on his feelings.  The beautiful watercolor illustrations really seem to pop off the page and immediately make you feel at peace.  Although the text is spare the messages of kindness and gratefulness come across loud and clear. Children will also learn about being aware of their bodies and see how sharing kindness with others helps them make a difference in the world.  There is also a helpful guided meditation you can do with your kids or on your own in the back of the book. An author's note provides more information about the benefits of practicing mindfulness with children.  A great beginner book to go deeper exploring silence and meaningfulness with children.
About the Author
Susan Verde is the author of I Am Yoga, The Museum, and You and Me, all illustrated by Peter H. Reynolds, as well as My Kicks, illustrated by Katie Kath.  She teaches yoga and mindfulness to children and currently lives in East Hampton, New York.
About the Illustrator
Peter H. Reynolds is the illustrator of many bestselling and award-winning picture books, including The Dot, Ish, and I Am Yoga.  He currently lives in Dedham, Massachusetts, where he operates the beloved shop Blue Bunny Books and Toys.
Your turn: Do you practice mindfulness on your own or with your children?  Feel free to share in the comments.