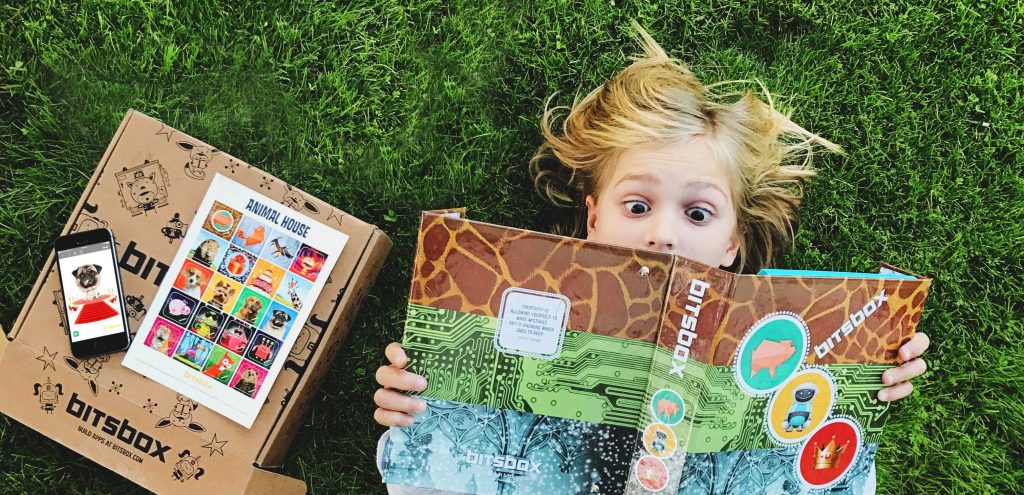 Photo courtesy of Bitsbox
Are you curious about how you can teach your kids to code before middle school?
A couple of months ago I introduced you to a new subscription box called Bitsbox.  Bitsbox is a subscription box (designed for kids ages 6 – 14) that sends coding exercises to kids each month in order to help them learn coding. It includes app cards and coding themed toys to keep the kids interested in learning more month after month.  Kids can see the exact code and the results of their changes in real time!
As a Computer Programmer and lover of all things STEM, it's important for me to expose my children to technology in order to help them build foundations for future academic and career success.  That's why I'm a huge fan of Bitsbox!
Here are a few reasons why I absolutely LOVE Bitsbox:
It sends a clear reminder to parents that "coding is the new literacy."
Coding experience is NOT required!  Remember, this is simple and it's designed for kids.
You receive a cute "Apper Keeper" to store and organize all of the coding exercises.  Remember the old Trapper Keepers from the 1980's?
Through repeated repetition, kids have the chance to play around and see how basic coding and functions work before they graduate to more complex learning.
It encourages children to learn design while fostering their problem solving abilities. Kids can change colors, add different backgrounds, songs and sounds to their creations.
It is specially designed for young children (ages 6-14) to give them a developmentally appropriate understanding of how coding works.
It helps teach children how to type and become more familiar with a keyboard.
Once you become a Bitsbox user you have access to the website for free, and can continue to use the cards and online apps for as long as the website is available for continued teaching and learning.
They offer different resources for parents AND classroom teachers.
It's fun: My kids LOVE doing it – honestly! (And they are currently only 3.5 and 4.5 years old!)
The first box (Animal House) focused on the coding skill of coordinates.  The second box (Robo Boogie) taught the kids all about variables and action commands.  We learned how to make objects move, how to change them to a random size and position them on the screen.  Future boxes you receive after the first and second one feature more advanced concepts like working with variables and if/else statements.  Sound too complex?  Don't worry, Bitsbox made this super simple to understand by including a handy explanation guide for kids (and grownups) with each box.
My kids and I have enjoyed creating these apps on our own for the past few months.  Since they are still both under age 6, I still assist them quite a bit with typing in some of the lines of code.  This is especially true for some of the longer and slightly more complex apps.  The kids are definitely becoming more comfortable with typing on the computer keyboard and memorizing where certain letters, numbers and symbols are which is great!
To get started coding with Bitsbox all you need is a computer with a keyboard (desktop or laptop) and a web browser. (It's currently not available to use on a tablet or smartphone.)  You then go to the Bitsbox website and login using either a grownup account or a kids account.  (All of your work will be saved to your account so you can refer back to it later.)  Next, your child starts building  their own customized apps which can be downloaded to a phone or tablet just like any other app!
Ready to try Bitsbox for yourself?
Save 20% on a subscription with my discount code: WEEREAD20.  Here's to hoping your family becomes a Bitsbox-loving family like ours!
Disclaimer:  We received free subscription boxes from Bitsbox in exchange for an honest review.  All opinions expressed are my own.