Professional Crocodile by Giovanna Zoboli, illustrated by Mariachiara Di Giorgio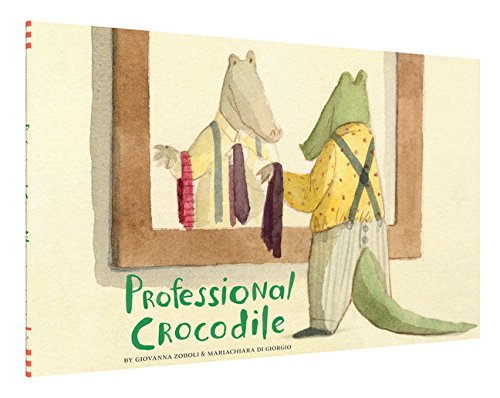 Publisher: Chronicle Books
Pages: 32
Format: Hardcover
Age Range: 5 – 8 and up
Grade Level: Kindergarten – 3 and up
Release Date: August 1, 2017
Synopsis
Mr. Crocodile loves his job. Every morning he gets up with an alarm. He brushes his teeth. He chooses the right tie to match his outfit, eats a quick slice of toast, and heads off to work on a crowded train. But what exactly is his job? The answer may surprise you! Readers will want to pore over this witty, wordless book again and again, finding new details and fresh stories with every reading.
Reflection
I enjoy wordless picture books just as much as regular picture books. I like how they encourage us to slow down and search the illustrations for meaningful details that sometimes may get overlooked. One way I like to use wordless picture books is to write our own list of words for the book. I jot down different words to describe the setting and each character's feelings.
Like many wordless books, Professional Crocodile helps spark your imagination. It also features a fantastic story sequence which helps promote creativity. Kids and adults will be held captive by this story and the detailed illustrations – truly! You'll be dying to know what kind of job this professional crocodile has. Where is he going? Why is he all dressed up? And what in the world is his job?

In the beginning we see the crocodile relaxing in a pond the night before.  The next morning he begins his daily routine of getting ready for work – getting dressed, eating breakfast, etc.  Then he begins his morning commute via the subway.  The ending will surprise you and fill you with delight. You'll be thinking…"Of course that's what crocodiles do for a living!"  So cleverly done! I also love the empathy and kindness the crocodile has.  On his way to work he purchases a bouquet of flowers and gives them to a stranger (likely a woman he passes each day on his way to work).  He also buys a loaf of fresh bread to feed to the birds in a nearby park.
Be sure to look for this one when it publishes on August 1, 2017.  We see something new each time we read it…so fun!
Your turn: How do you use wordless picture books when reading with children?  Feel free to share in the comments.