Where's Rodney? by Carmen Bogan, illustrated by Floyd Cooper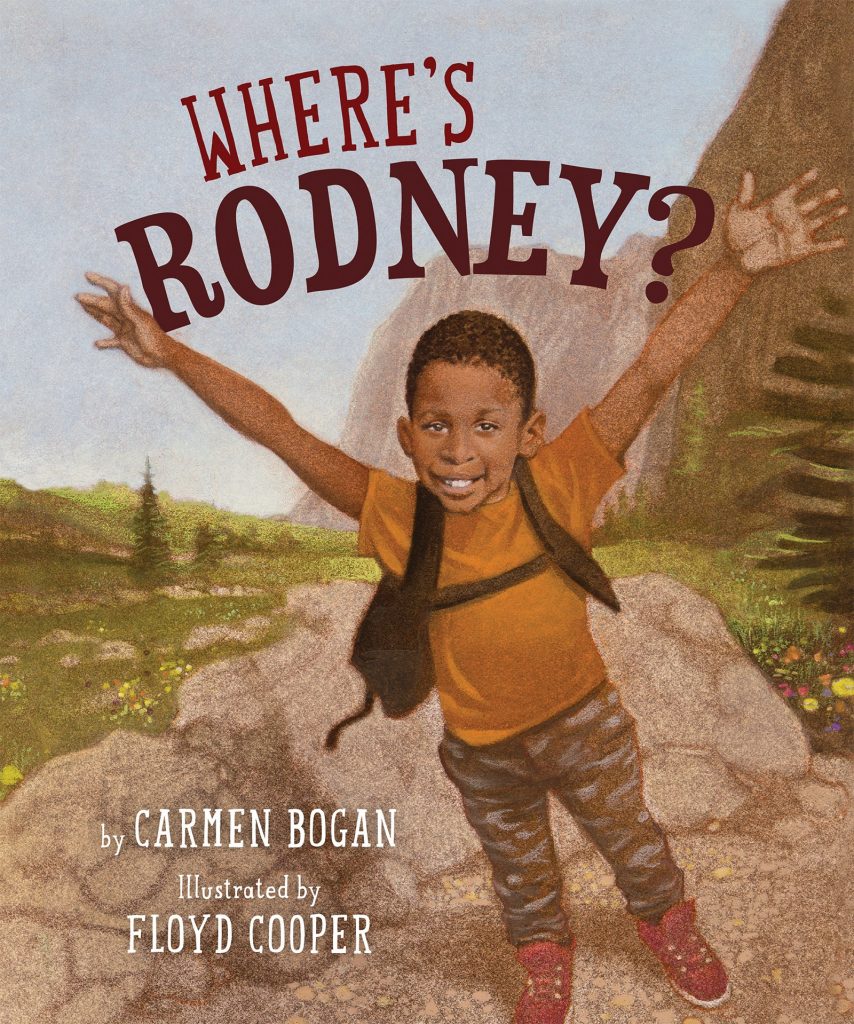 Publisher: Yosemite Conservancy
Age Range: 4-8 years
Grade Level: Preschool – 3
Format: Hardcover
Pages: 32
Publication Date: August 7, 2017
Synopsis
Looking for a picture book for nature-loving kids?  Check out Where's Rodney by Carmen Bogan.
Rodney is that kid who just can't sit still. He's inside, but he wants to be outside. Outside is where Rodney always wants to be. Between school and home, there is a park. He knows all about that park. It's that triangle-shaped place with the yellow grass and two benches where grown-ups sit around all day. Besides, his momma said to stay away from that park. When Rodney finally gets a chance to go to a real park, with plenty of room to run and climb and shout, and to just be himself, he will never be the same.
Reflection
All children seem to be born with an innate curiosity about the natural world.  Am I right?  By observing my own kids, I think it's so enlightening to see the natural world through the eyes of a child. Their innate appreciation and fascination for all living things is a quality that can lead to many fulfilling learning experiences.  I think the book Where's Rodney? may help parents and educators transform a child's curiosity of the great outdoors into meaningful life lessons.
Little Rodney is a bit fidgety because all he wants to do is go outside.  He doesn't want to sit in Miss Garcia's classroom and learn about the word of the week when there are so many other interesting things to see outside.  But Rodney's exposure to the great outdoors is limited because of the low-income neighborhood he lives in.  His idea of going to the "park" is hanging out with a bunch grown-ups at a triangle-shaped piece of yellow grass where there are two benches, a broken gate and a sleeping bully-dog.  Rodney's mother always warns him to stay away from that park and stay inside where's it's safe.  But outside was where Rodney really wanted to be.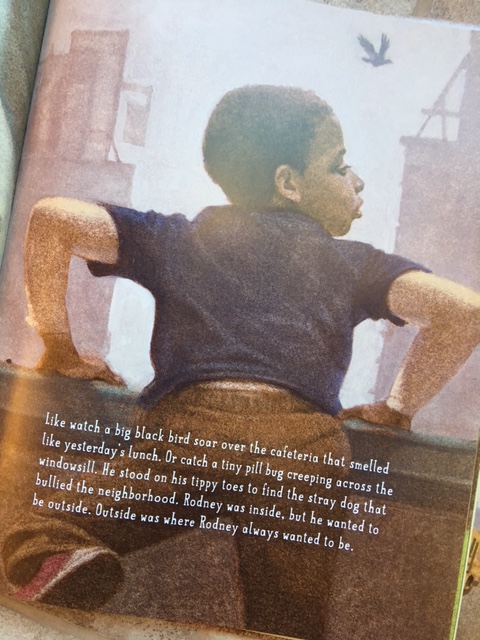 When Miss Garcia announces the field trip to the park everyone is excited except for Rodney.  He already knows about the "park" and wonders why everyone wants to go to the lackluster triangle-shaped piece of yellow grass. Much to Rodney's surprise, they end up going to a real park and Rodney is blown away because he's never seen a park quite like this.  For the first time in his life, Rodney really is outside – just where he wanted to be.
Where's Rodney? reminds readers that universe provides us with unlimited opportunities for connecting and growing with children. Whether you are watching a black bird soar, watching ants march up a hill—all it takes is some time spent together in the great outdoors and an attitude of inquiry to make the world come alive with infinite possibilities for discovery.  I love how this book supports the countless research studies about how much kids benefit from unstructured play outside.  Being in the park seemed to give Rodney a place of peace and refreshment in the busy world around him.
At the park, he was higher.  He was lower.  He was bigger.  He was smaller.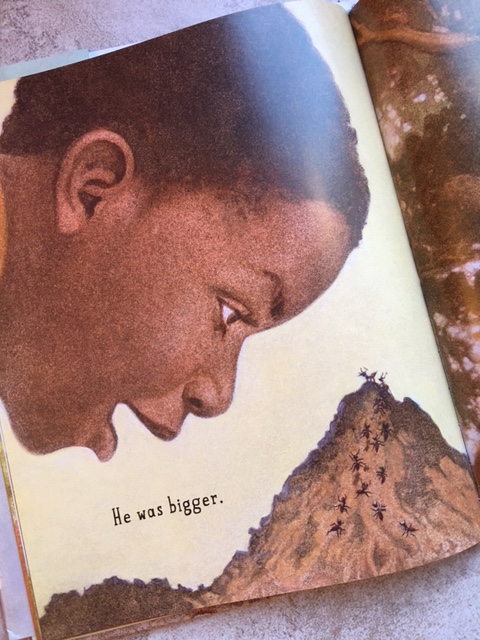 I think Where's Rodney? is a magical book about the beauties of exploring the variety that the great outdoors has to offer.  But there are also deeper messages here that can lead to further discussions.  For example, some parents and educators may come to the conclusion that Rodney has ADHD – perhaps that's why he's so fidgety and doesn't want to sit still.  Or does Rodney just have a different way of learning than his peers?  There is also the message of how some kids who live in low-income areas have limited exposure to nature and the outdoors.  It's safer for kids living in these types of areas to stay indoors which can lead to obesity, unhealthy eating habits and increased amounts of screen time instead of exploring and playing outside.  This is why I think ALL children should have ample amounts of recess time at school. Oftentimes, it's the only exposure underprivileged children get to be outdoors in a safe and supervised environment.
Budding naturalists will love Floyd Cooper's luscious, earthy and detailed illustrations that showcase the beauty and diversity of nature.  I think Where's Rodney? is brimming with ideas that will surely spark a trip to a local park of your own.  This book will be a great companion for spring, summer and fall explorations.  It's a touching and engaging story with a clear message – the natural world has amazing things to offer to those who are willing to slow down to explore them.  I hope you'll take the time to check out this story about a young boy who discovers a majestic world in a park.
The back matter includes some information on how to visit a park from the Yosemite Conservancy.
About the Author
Carmen Bogan is a member of the Oakland Literacy Coalition and is a writing coach for children and youth.  She has two daughters, Erin Danielle and Natalie Quinn, and currently lives in Oakland, California, with her husband, Willie. Visit her website Dream On Publishing.
About the Illustrator
Floyd Cooper has illustrated more than one hundred books for children.  He received the Coretta Scott King Award for this illustrations in The Blacker the Berry and three Coretta Scott King Honors for his illustrations in Brown Honey in Broomwheat Tea and more.  He currently lives in Easton, Pennsylvania, with his growing family: Velma, Kai, Dayton, Melissa, and grandson, Niko.
Your turn: How do you and your little readers explore the outdoors?  What's your favorite outdoor activity or park? Feel free to share in the comments.