My Mummy is Superwoman by Casey Elisha, illustrated by Aliecee Cummings

Publisher: Casey Elisha Books
Format: Paperback
Pages: 28
Age Level: 3 – 6 years old
Synopsis
Aimed at 3-6 year olds, My Mummy is Superwoman shares all the things a young girl loves about her mummy!
A simple story that highlights the admiration daughters have for their mothers, My Mummy is Superwoman is a book little girls will be able to relate to.
Reflection
Moms are the best, aren't they?  Whether they're taking care of you when you're sick, reading bedtime stories, doing the laundry or cheering you on from the sidelines at a dance competition, they've always got your back — even when you don't come home with the first-place trophy. So for all her grace, patience, hard work and most importantly LOVE, be sure to always let your mother know how amazing and special she is – not just on Mother's Day.
In the book My Mummy is Superwoman a young girl shares all the things she loves about her mommy.  Told in rhyming verse with the little girl as the narrator, it's a simple story that acknowledges some of the physical traits her mom has as well as some of the things she does to make the daughter feel special.
My mummy is superwoman, she always knows what to do,

If anything goes wrong, it's mum to the rescue.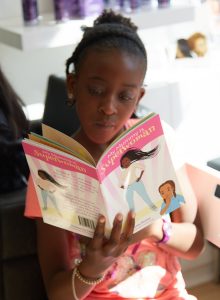 Photo Credit: Casey Elisha Books
The illustrations show the mother doing some of the typical things moms are usually known to do like: washing dishes, doing laundry and cleaning up messy spills.  But moms aren't just all work and no play – this mother daughter duo is also shown having fun together and acting silly.  Simply put, being a good mom (or dad) requires a lot of work.  In a child's mind, they may very well equate that to being a superhero.
There is also a cute activity section in the back of the book for kids to complete.  The activities are probably more suitable for kids ages 4-6 and up because most of them involve writing prompts like: "My mummy makes me laugh when she…" and "When I become a superwoman, I am going to…".  It's also worth mentioning the author of this book is a British author located in London.  Therefore, there are a couple of words that are spelled differently than from what we use in the United States like: mummy (mommy) and favourite (favorite).
It's clear to see just how much this little girl admires her mother…such a sweet book for mothers and children to enjoy reading together around Mother's Day or any time of the year.  Order a copy of the book here.
Connect with Casey Elisha on Instagram or her website!
For all inquiries, please contact Casey Elisha directly at: CElishaBooks@gmail.com
The Giveaway!
Casey Elisha Books was kind enough to sponsor this book giveaway for one (1) lucky winner to win a copy of their latest book, My Mummy is Superwoman.  Open only to US residents age 18 and over.  Good Luck!
My Mummy is Superwoman Book Giveaway

Your turn: What does being a superwoman mean to you?  Who are some superwomen you admire?  Feel free to share in the comments.