Caring For Your Lion by Tammi Sauer, illustrated by Troy Cummings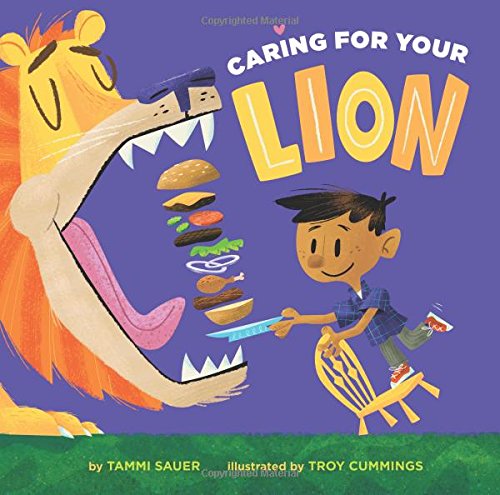 Publisher: Sterling Children's Books
Pages: 32
Format: Hardcover
Age Level: 3 and up
Grade Level: Preschool and up
Synopsis
What happens when you expect an itty-bitty kitty . . . but get a lion instead?
It's kitten delivery day, but—SURPRISE. Congratulations on your new LION! We know you ordered a kitten, but we ran out of those. Fortunately, the big cat comes with instructions—like, try very hard NOT to look like a zebra. Or a gazelle. And give your lion PLENTY of space to play. But soon the feathers and fur start flying and everything's in chaos. Is there any way a lion could actually be a child's purr-fect pet?
Reflection
Upon receiving this book, the first thing I noticed was the clever hidden cover underneath the book jacket that looks like the the top of a pizza box.  Apparently, a pizza company called Sergengeti Bros. has been caring for lions since 1925!  Even before reading this book, I knew it was going to be funny just by looking at the pizza toppings selected on the top of the "pizza box": sausage, pepperoni, gazelle, giraffe, buffalo, zebra and rhino.
Caring For Your Lion is a cute and fun read aloud book for little readers.  It features a little boy who ordered a kitten from a pet delivery service, but receives a lion instead.  They're practically the same thing – right?  The book is a funny step-by-step how-to guide that instructs little readers how to properly take care of a lion by following 14 "easy" steps.
Step 1. Take a deep breath.  Then carefully open the crate.
Step 2. Locate the enclosed feather.  Keep it handy in case of an emergency.
Step 3. Try very hard NOT to look like a zebra.  Or a gazelle.  Or a bunny.
When the little boy notices he has a picture of a bunny on his t-shirt, he immediately covers it up with the other button up shirt he has on.  My kids crack up whenever we get to this page and the page right after it.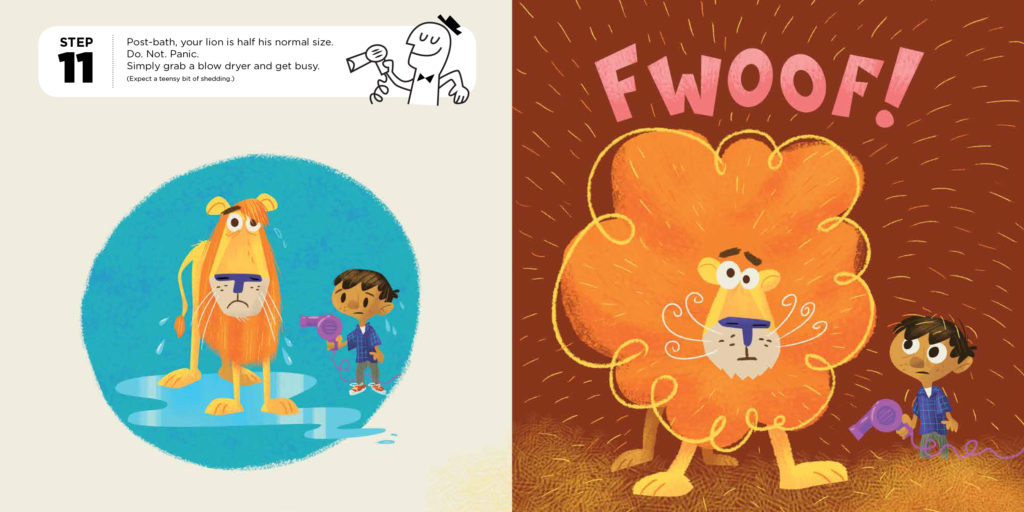 The instructions listed throughout are funny and silly – perfect for the preschool/kindergarten crowd!  Since this book is presented in a step-by-step format, I think the digitally created illustrations are what make this book really come alive. They are so bright, cheerful, detailed and downright silly.  The additional black-and-white diagrams from the manual are shown as well which add even more humor to the story.
Be sure to check this book out with your little readers if you're looking for a funny story.  Oh, and if you order a kitten, but receive a lion instead – no worries.  You'll already have this handy manual that tells you exactly what to do!

The Giveaway!
Our friends at Sterling Children's Books were generous enough to sponsor this giveaway to ONE (1) lucky winner! Enter for your chance to win a copy of Caring For Your Lion by Tammi Sauer.  Open to US and Canadian Residents age 18 and over.  Good Luck!
Caring For Your Lion Book Giveaway!

About the Author
A former teacher and library specialist, Tammi is an active blogger and highly involved in the children's writer community.  Her local bookstore, Best of Books in Edmond, OK named July 9 Tammi Sauer Day!  Follow her on Twitter or visit her website.
About the Illustrator
Troy Cummings runs his own design studio, and his clients have included Time for Kids, New York Daily News, Random House, and the Cartoon Network.  He has written and/or illustrated several children's books.  Troy lives in Greencastle, IN.  You can visit his website by clicking here.