The Case of the Stinky Stench (Lady Pancake and Sir French Toast) by Josh Funk, illustrated by Brendan Kearney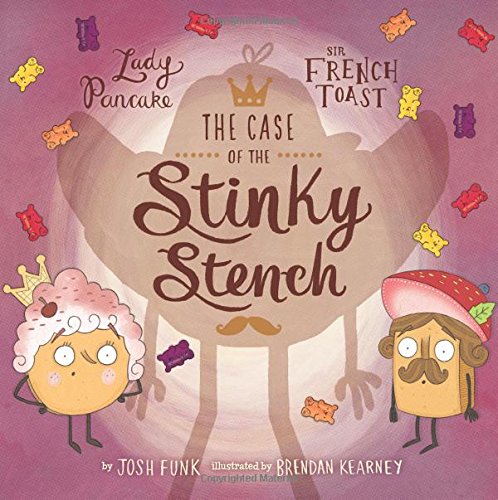 Publisher: Sterling Children's Books
Pages: 40
Format: Hardcover
Age Range: 5 – 8 years
Grade Level: Kindergarten – 3
Synopsis
There's a stinky stench in the fridge–and our favorite foodie friends must solve a smelly mystery! Sir French Toast's nephew, Inspector Croissant, begs him and Lady Pancake for help in finding the source of the foul odor. Could it be the devious Baron von Waffle? A fetid fish lurking in the bottom of Corn Chowder Lake? Featuring the same delectable wordplay and delicious art that won critical raves for Lady Pancake & Sir French Toast–this fun follow-up is an absolutely tasty treat for kids and adults alike!
Reflection
Let's face it, opening your refrigerator and smelling spoiled food is awful, right?  But sometimes it's easy to forget what's in your refrigerator and how long it's been there until one day you open the door and encounter a very unpleasant smell…ewwww!  When food overstays its welcome, it can eventually fill your fridge with a terrible odor and no one wants that especially not our favorite food detectives Lady Pancake and Sir French Toast.  In The Case of the Stinky Stench they're on a mission to solve a smelly mystery.
I love the use of rhymes, fun food-related wordplay and the engaging illustrations featured throughout this book.
Back in the kitchen and deep in the fridge,
past Trifle Tower, across Taco Bridge,
on a vacation at Marshmallow Coast,
sat Lady Pancake beside Sir French Toast.
There are also some great vocabulary words for little readers you don't often see in picture books like: nefarious, devious, knave, vicious, sleuthing, dejected, fermented, fathom, prevail and delectable.  I had to pull out the dictionary to look up the word nefarious…hahaha!
In the end, it's Inspector Croissant who solves the mystery AND does a good deed for his fellow foodie friend.  My kids and I really enjoyed reading this entertaining and funny mystery.  It's currently our new favorite breakfast time read aloud book – so fun!  Just make sure you have some food or snacks nearby after reading it in case your kids start asking for something to eat immediately after like mine do!  Want to enter for your chance to win a copy of this book?  See our giveaway listed below.

THE GIVEAWAY!
Our friends at Sterling Children's Books were generous enough to sponsor this giveaway to ONE (1) lucky winner! Enter for your chance to win a copy of The Case of the Stinky Stench written by Josh Funk.  Open to US and Canadian Residents age 18 and over.  Good Luck!
The Case of the Stinky Stench Book Giveaway

Connect with The Author!
Josh Funk spends his days writing computer code and his free time writing picture book rhymes.  Visit Josh's website or find him on Twitter.
Connect with the Illustrator!
Brendan Kearney specializes in illustrating children's books.  He currently lives in the UK.  Visit his website or find him on Twitter.