Swimming in the City: Jabari Jumps by Gaia Cornwall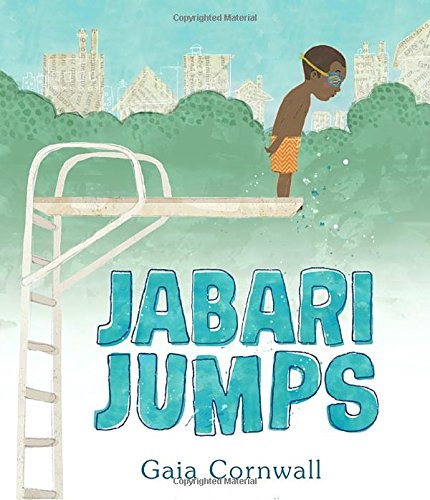 Publisher: Candlewick
Pages: 32
Age Range: 4 – 8 years
Grade Level: Preschool – 3
Available for Sale: May 9, 2017
Synopsis
Jabari is definitely ready to jump off the diving board. He's finished his swimming lessons and passed his swim test, and he's a great jumper, so he's not scared at all. "Looks easy," says Jabari, watching the other kids take their turns. But when his dad squeezes his hand, Jabari squeezes back. He needs to figure out what kind of special jump to do anyway, and he should probably do some stretches before climbing up onto the diving board. In a sweetly appealing tale of overcoming your fears, newcomer Gaia Cornwall captures a moment between a patient and encouraging father and a determined little boy you can't help but root for.

Reflection
Little Jabari is definitely ready to jump off the diving board, or so he thinks he is. He passed his swim test and completed his swimming lessons. Now he's ready to tackle diving into the pool by jumping off the diving board. With a little encouragement and a pep talk from his dad, Jabari overcomes his fear and works up the courage to make a big splash into the pool.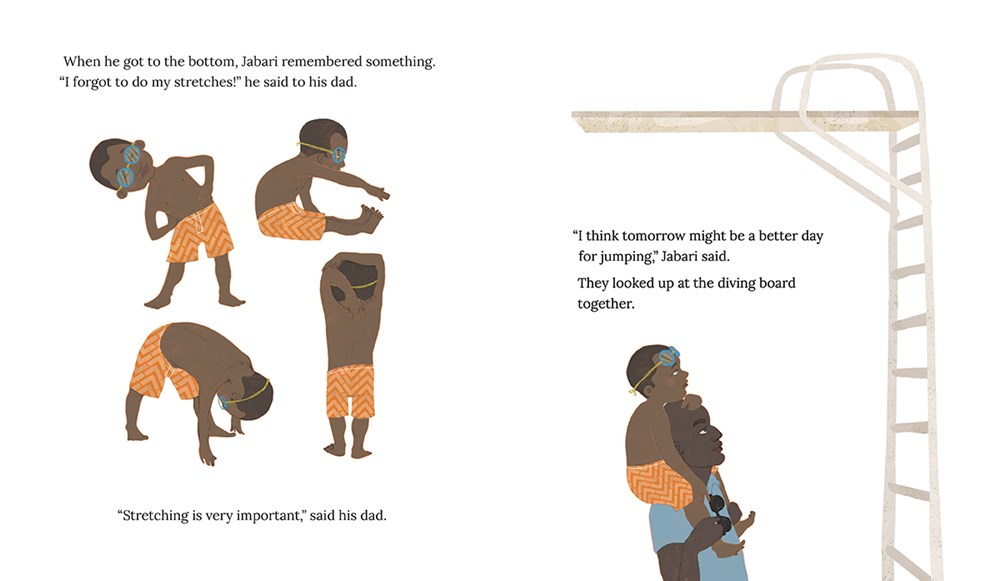 The kids and I really enjoyed reading this book for a few different reasons.  I absolutely LOVE the author decided to showcase the father being with Jabari and his little sister instead of the mother.  We need to see more books like this with Black and Brown fathers bonding with their children doing everyday and normal things.  I also like the fact that Jabari's father was supportive and didn't push him to take the big leap – he was patient waited for him to decide he was ready to try jumping off the diving board.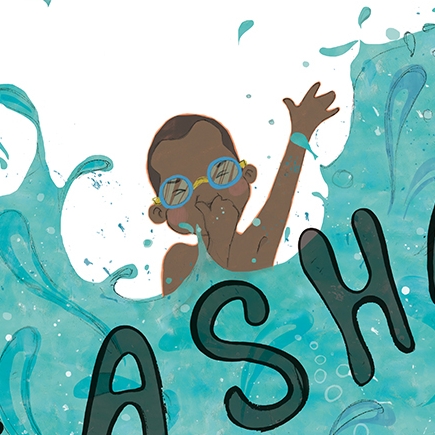 I think this story is well formed, easy to follow and has a good overall story line.  The text uses a couple of fun water-related phrases that appeal to little ones like: "splash", "whoosh" and "down, down down" with cute and lively illustrations to match.  I also like that this book builds a foundation for water safety for children.  Jabari is shown stretching, wearing his safety goggles, and his little sister is wearing appropriate swim gear as well.
With themes of: overcoming fear, courage, family, water safety, positive affirmations, encouragement, patience and determination I think Jabari Jumps is a great book to read during the upcoming summer season.  It can also be read around Father's Day or anytime of the year.  Don't miss the fun hidden book cover underneath the book jacket – it's so cute!  Jabari Jumps publishes May 9, 2017 from Candlewick Press.
Your turn: Are you looking forward to reading this with your little readers?  Feel free to share in the comments.