Disclaimer: I was provided a copy of this book from the author to facilitate this review.  As always, all opinions are my own and are not influenced in any way.
Around the World in a Bathtub: Bathing All Over the Globe by Wade Bradford, illustrated by Micha Archer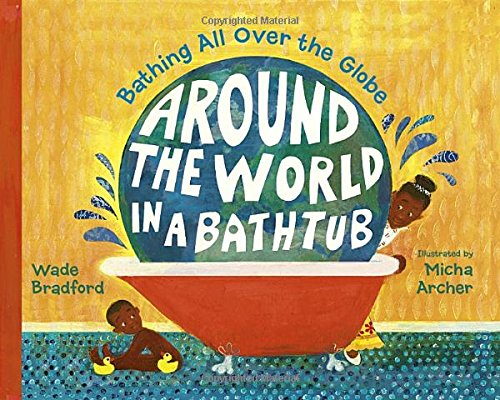 Publisher: Charlesbridge Publishing
Pages: 32
Format: Hardcover
Age Range: 3 – 7
Grade Level: Preschool – 2
Synopsis
A lively look at bath time around the world.  From a hammam in Turkey to a maqii on the Alaskan tundra, this colorful picture book shares the bath-time battle that happens every night, around the world. "Yes, yes!" say the grown-ups, "No, no!" say the children, and the chase is on!
Reflection
We've seen picture books that embrace different cultures and customs, right? These books help us understand what people in other countries eat, how they dress, and where they hang out. But have you ever thought about how people in other countries bathe?
Bathing can be very special to people in different ways. For some it's a way to relax and escape from the stresses of everyday life. For others it's precious family time – a bonding moment between a mother and her child and time for creating special memories together.  My kids love taking baths although there are occasions when they put up a fight. If you're a parent, I'm sure you've experienced that before with your kids at some point during their childhood.
The newly released book Around the World in a Bathtub introduces little readers to bathing customs, preferences and tendencies from around the world. Who knew the way you bathed depended on so many factors like your geographical location, climate, lifestyle or beliefs. From the U.S. to Japan to France to South Africa, when it comes to bathing habits, how different — and yet the same — we all are is fascinating. Each day, millions of children around the world take baths. At first, many of them don't want to, but once they get in it's hard to get them out.
This cute diverse book with bright and colorful collage illustrations may help make your child's bathing experience more fulfilling and you might even learn a thing or two about bathing!  For example, did you in Japan the family members, from oldest to youngest, take turns relaxing in a square tub called an ofuro?  Interesting, right?  The back matter contains additional information about different bathing habits around the globe.
Connect with the Author & Illustrator!
Wade Bradford is the author of more than thirty plays, as well as the picture book Why Do I Have to Make My Bed?  When not soaking in the tub, singing in the shower, or floating in his favorite swimming hole, Wade teaches writing at Moorpark College.  He currently lives in California with his wife, two daughters, two dogs, and a rabbit.  Visit his website.
Micha Archer created the collages in this book using origami paper, Indian textile stamps, and other materials from around the world.  When Micha isn't traveling, she splits her time between Costa Rica and western Massachusetts. Visit her website.
Your turn: What unique bathing customs or rituals do you and your family practice?  Feel free to share in the comments.