Grandma's Tiny House by JaNay Brown-Wood, illustrated by Priscilla Burris

Publisher: Charlesbridge
Format: Hardcover
Pages: 32
Age Range: 2 – 5
Grade Level: Preschool – Kindergarten
Publication Date: August 8, 2017

Synopsis
This sweet, rhyming counting book introduces young readers to numbers one through fifteen as Grandma's family and friends fill her tiny house on Brown Street. Neighbors, aunts, uncles, nieces, nephews, and grandkids crowd into the house and pile it high with treats for a family feast.
But when the walls begin to bulge and no-body has space enough to eat, one clever grandchild knows exactly what to do.
Where there's a will there's a way when families grow and come together.
Reflection
Tiny in size, at the edge of Brown Street,

sits Grandma's old house, where we all go to meet.
That is how the book opens with an adorable illustration of Grandma and her two pets peeking out of the window of her tiny house.  Grandma's family members are about to gather at her house to have a feast.  The book doesn't say what the family is celebrating perhaps it's Thanksgiving, Christmas, Easter, a family reunion or just a regular Sunday dinner.  Whatever the celebration is, I wish I was there right there with them eating some yummy food: turkey, collard greens with ham hocks, biscuits, sweet potato pie and more.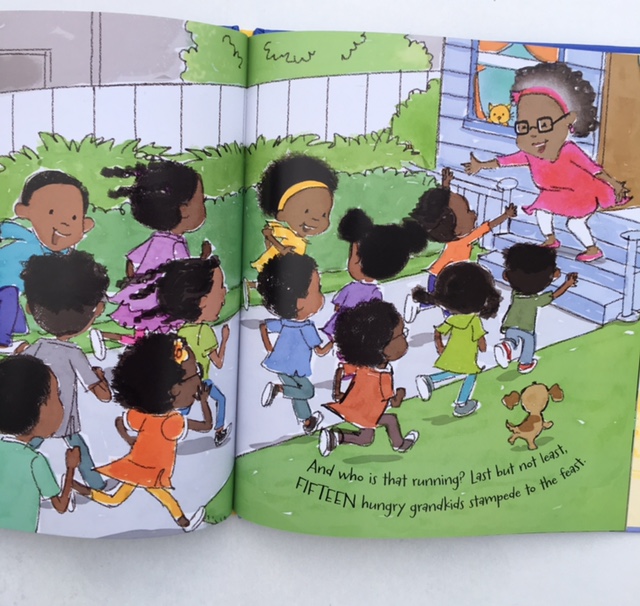 Children will enjoy counting from one to fifteen as different family members and neighbors start to arrive at Grandma's house.  The illustrations are so bright and cheery and remind me of huge family gatherings we used to have at my grandma's house when I was younger.  There are several multi-generational aunts, uncles, nieces and nephews all sporting different hairstyles (most people have beautiful afro-textured hair).
When the house begins to overflow with too many people one clever grandchild has an idea to take the party outside to the backyard.  The party must go on!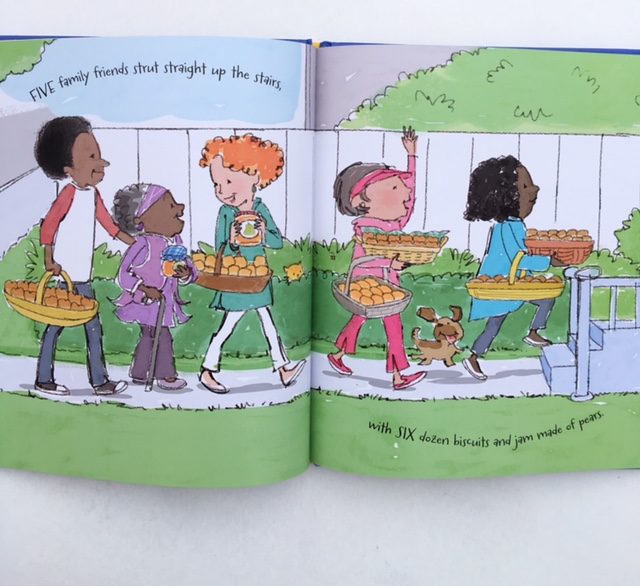 As Grandma's Tiny House illustrates, family gatherings are not just about eating.  They are about getting the family together in the kitchen and dividing up the tasks so that everyone is involved and contributing to the family meal, whether it's by chopping, baking, stirring, bringing a dish to share or setting the table.  In addition to the cute illustrations and fun rhyming text, the thing I like best about this book is you can feel the passion for family gatherings.
The one addition I would have liked to see in this book is the actual numbers 1-15 shown on the pages instead of just the written number words.  I think this would have made it easier for smaller readers to make the connection to the numbers as well as the words.  Overall, a cute counting book for children ages 2 – 5 years old.
Your turn: Do you have a tradition of getting the family together on a regular basis, cooking and eating? Tell me about it!