Disclaimer: I was provided a copy of this book from the publisher to facilitate this review.  As always, all opinions are my own and are not influenced in any way.

Sparkle Boy by Leslea Newman, illustrated by Maria Mola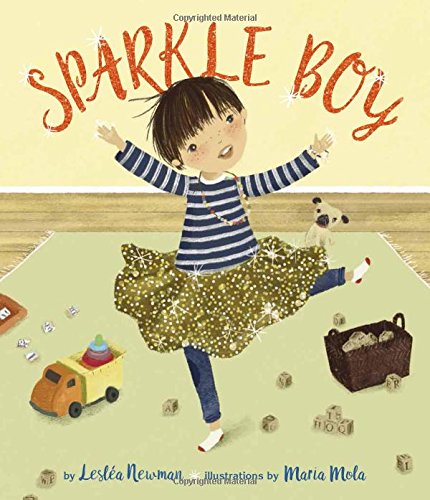 Publisher: Lee & Low Books
Pages: 32
Format: Hardcover
Age Range: 4 – 8 years
Grade Level: Preschool – 3
Synopsis
Casey loves to play with his blocks, puzzles, and dump truck, but he also loves things that sparkle, shimmer, and glitter. When his older sister, Jessie, shows off her new shimmery skirt, Casey wants to wear a shimmery skirt too. When Jessie comes home from a party with glittery nails, Casey wants glittery nails too. And when Abuelita visits wearing an armful of sparkly bracelets, Casey gets one to wear, just like Jessie. The adults in Casey's life embrace his interests, but Jessie isn't so sure. Boys aren't supposed to wear sparkly, shimmery, glittery things. Then, when older boys at the library tease Casey for wearing "girl" things, Jessie realizes that Casey has the right to be himself and wear whatever he wants. Why can't both she and Casey love all things shimmery, glittery, and sparkly? Here is a sweet, heartwarming story about acceptance, respect, and the freedom to be yourself in a world where any gender expression should be celebrated. Sparkly things are for everyone to enjoy!
Reflection
Little Casey likes dressing up in shimmery skirts, wearing glittery nail polish and sparkly bracelets. But Casey's older sister Jessie does not approve. She thinks only girls are allowed to do those things.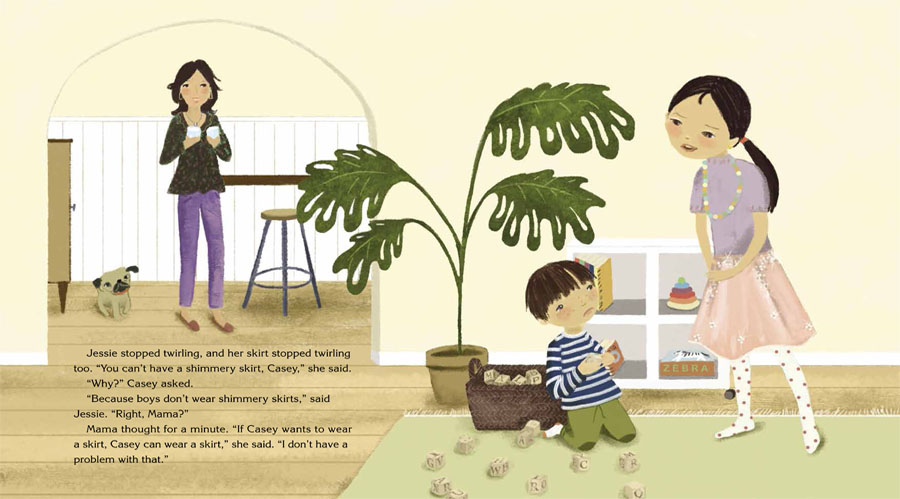 When Casey is bullied and laughed at one day in the library, his sister protects him and she finally learns to accept her brother for who he is. In the end, Casey is free to be himself and revel in the love of his parents, his abuelita (grandmother) and his sister.
In addition to Sparkle Boy tackling the issues of diversity, acceptance and respect, there are also elements of sibling rivalry, bullying and the freedom to be yourself. Why shouldn't boys like sparkly and glittery things and girls like trucks? Who made up those rules? Sometimes boys like pretty stuff and that's ok. Sometimes girls are tomboys and that's ok too.
While some may think it's a bit harsh, I appreciate that little readers are shown the difficult sides of self expression from others in this book. For example, when Casey is being made fun of by the older boys in the library. To me, it reflects a real life situation that many boys who were dressed like Casey in a public place may have also experienced. Because, let's face it, kids can be very cruel and you can't always shield and protect your kids from others. That's life.
I also like that this book celebrates the uniqueness of Casey without tagging it with a label. It honors his desire to wear girl's clothing and other things traditionally worn by girls. I think this book would be good for children who are gender non-conforming, but also other kids to promote understanding and tolerance. One to check out during Pride Month with your little readers.

Your turn: Have you read this book with your little readers yet?  Feel free to share in the comments.