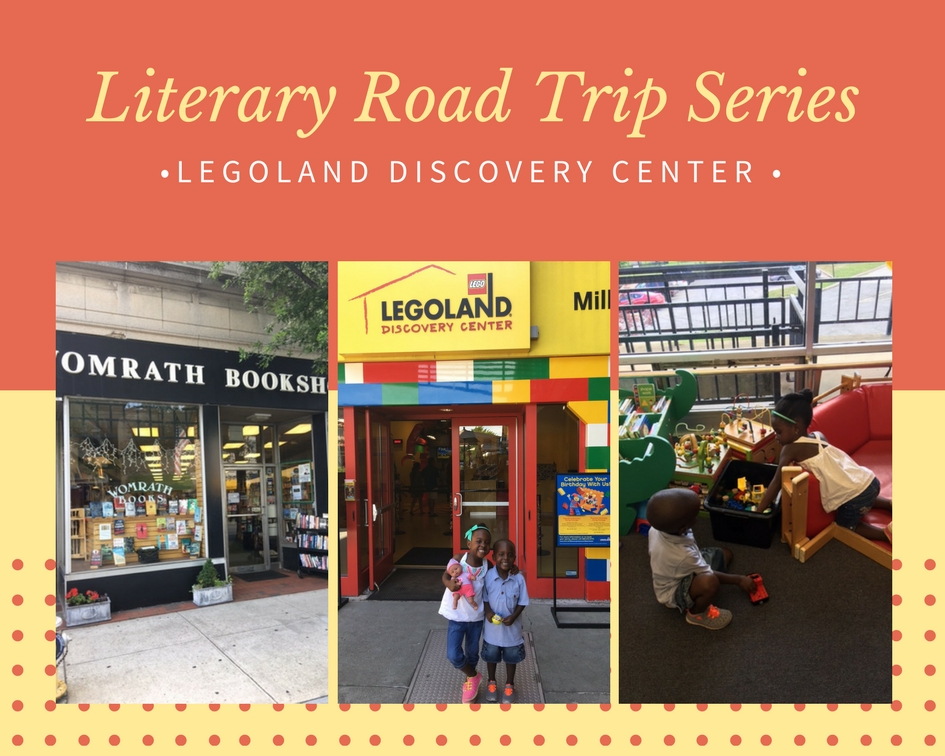 Disclaimer: My family was provided complimentary tickets to facilitate this review.  As always, all opinions are my own and are not influenced in any way.
Over the years, LEGO bricks have changed very little.  According to LEGO, you can mix bricks made more than 30 years ago with ones in your child's current collection and-CLICK!-they'd snap together as though not a day had passed.  How neat is that?
Interesting facts: In Latin, the word "lego" means "I build" or "I assemble".  The interesting thing is LEGO inventor, Ole Kirk Christiansen didn't know that when he came up with the name.  When Ole Kirk was deciding the new name for the now famous LEGO brand back in 1934, he took the Danish words for "play" and "well" – leg and godt – and combined them into the new name we know today, LEGO.
Our Road Trip Begins!
Last summer our family embarked upon an annual tradition of visiting a family-friendly destination followed by checking out either a local independent book store or library afterwards.  It was such a hit we decided to do it again and hopefully keep it as an annual tradition.  The first stop in our road trip series this year was LEGOLAND Discovery Center in Westchester, NY.
Unlike the LEGOLAND outdoor amusement park in Florida, LEGOLAND Westchester Discovery Center has a wide range of indoor educational and interactive experiences for children (and grown-ups).  There are hands-on play areas, a 4D cinema, master classes led by Master Model Builders, two LEGO amusement rides and MINILAND — the venue's signature re-creation of famous landmark locations and buildings throughout Westchester County and New York City, made entirely out of more than 1 million LEGO bricks.
The MINILAND creations are amazing and so detailed.  We were told by an employee it took a team of 20 expert Lego model builders six months to complete – wow!  LEGO lovers will see replicas of: Grand Central Terminal, The Empire State Building, The Chrysler Building, The Statue of Liberty, Met Life Stadium, St. Patrick's Cathedral, Central Park and more.  Children will also be mesmerized by the exciting interactive features that include lights, sounds and moving parts.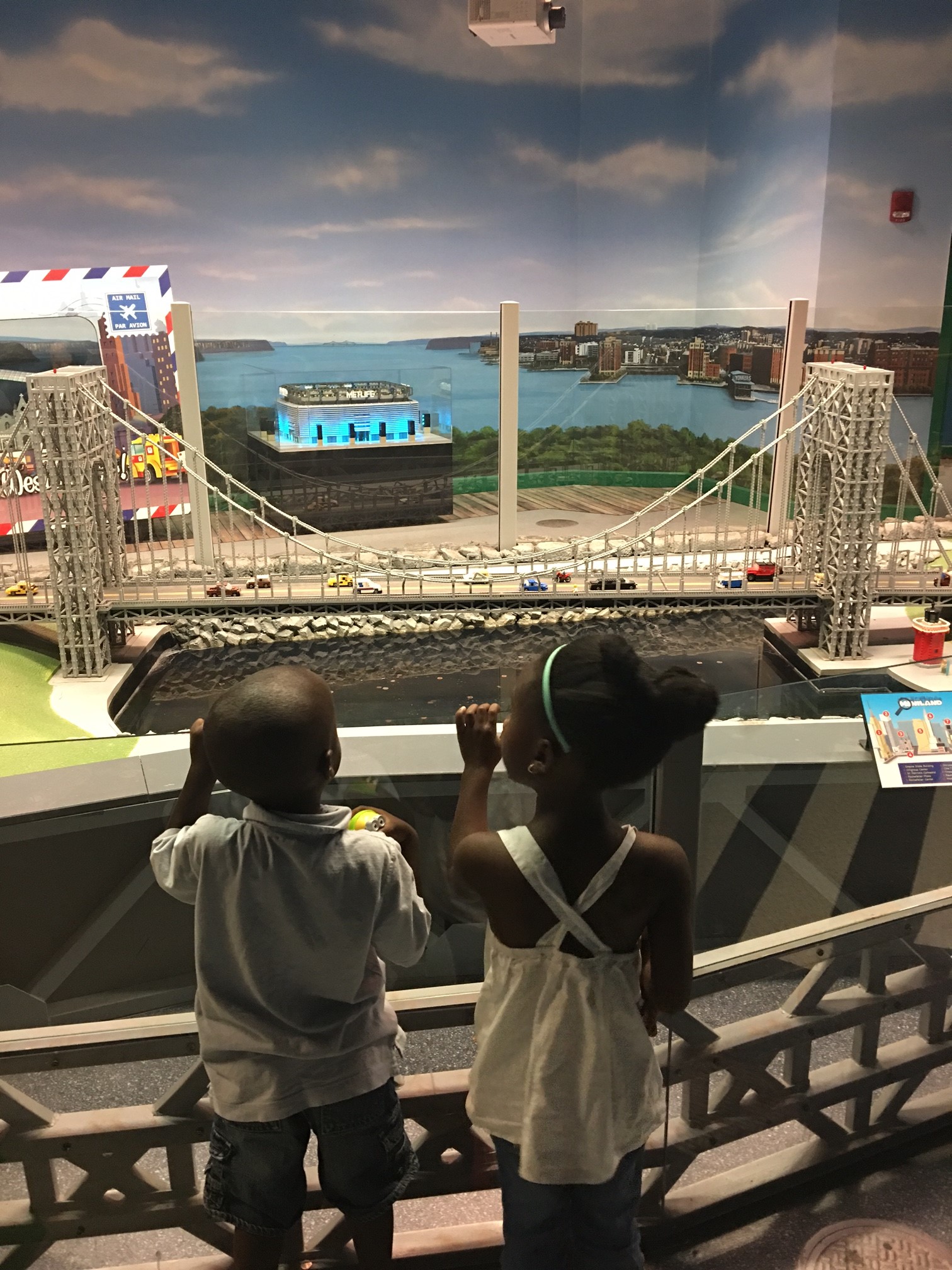 Upon entering we received a brief factory overview and learned how LEGOS are made from plastic.  First, the plastic is mixed, then heated and finally molded into different colorful bricks.  After that we headed over to the first of two indoor rides, The Kingdom Quest, an interactive laser ride complete with blasters to blast the "bad guys" in order to help save the princess.  We also took a spin on the other ride called Merlin's Apprentice.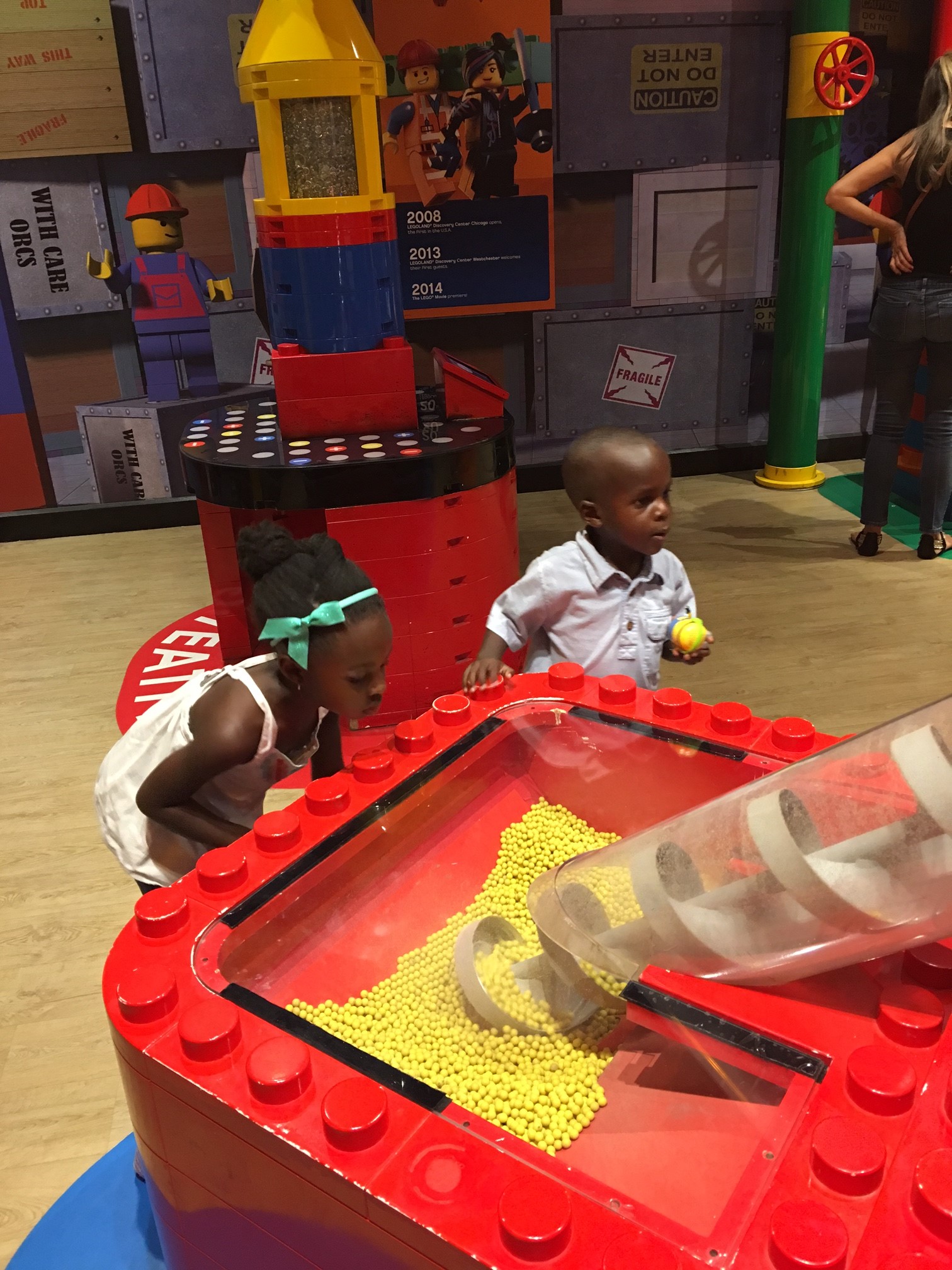 Next, we headed over to the Build & Test Zone where we built our own race cars with different LEGO pieces and wheels.  Once our cars were assembled we enjoyed racing them down the speed test tracks.  Finally, we checked out some of the other exhibits and play pit areas before heading over to the cinema to watch a 10-15 minute 4D animated LEGO movie.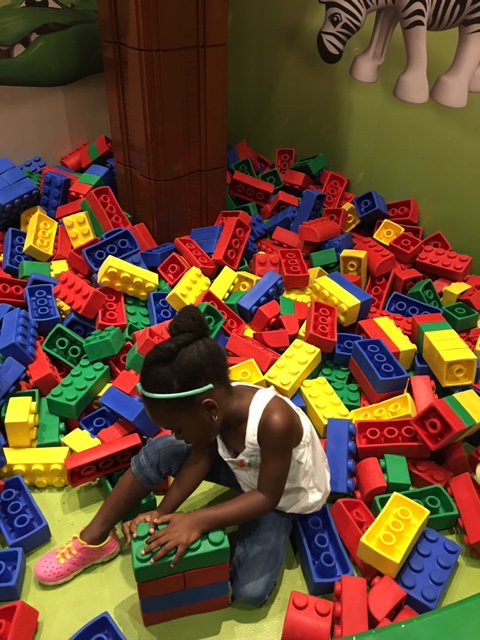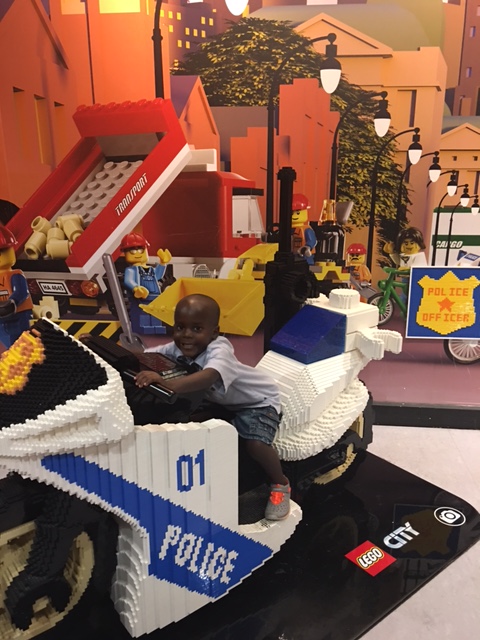 Although they do have a cafe on-site, there weren't too many options to choose from so we just opted for a light snack which consisted of chips and bottled water.  Since LEGOLAND is located inside of a shopping center you might be better off having lunch at one of the nearby restaurants.  That's what we ended up doing.  It's also worth mentioning that outside food isn't permitted to bring in.
Of course we had to visit the gift shop before we left to purchase some souvenirs.  The shop is stacked with popular LEGO sets, Duplo bricks, and some apparel (hats, t-shirts and watches).  The kids got their own LEGO sets which they have thoroughly been enjoying playing with since they received them.  Oh, and don't forget to bring your parking ticket to the gift shop in order to get it validated.  Parking isn't free, but with the validation it comes up to $1.75 for LEGOLAND attendees.
If you're in the Connecticut, New York or other surrounding areas I'd definitely recommend visiting LEGOLAND Discovery Center.  Especially if you or your kids love playing with LEGOs like mine do.  It's a nice and clean family-friendly destination to hang out at with your family for a few hours.  There's a variety of STEM related activities to keep the kids busy and lots of different seating options for grown-ups to sit down while the kids play and explore. Also, bonus points for it being indoors!  That means you can enjoy LEGOLAND all year round without having to worry about the weather.  It's heated in the winter and cool during the summer months – win, win!
Connect with LEGOLAND Discovery Center!
Website | Instagram | Facebook
Surrounding Local Bookstore or Library
There is a independent bookstore located about 5 minutes away from LEGOLAND Discovery Center called Womrath Bookshop.  They have a great selection of children's and adult books as well as some novelty items.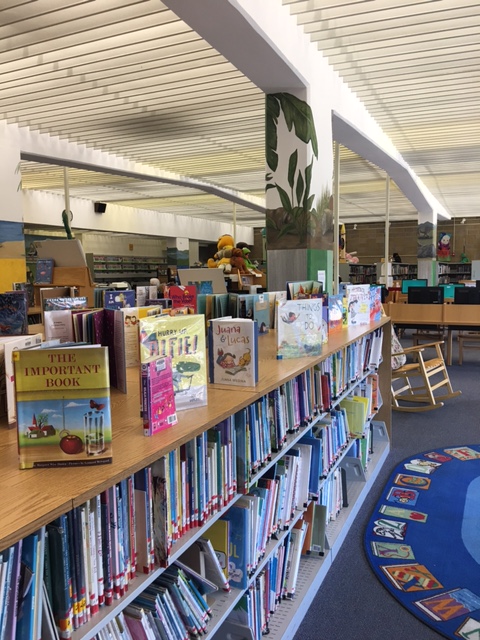 Yonkers, NY has three different public library branches to choose from.  We ended up going to the Grinton I. Will Branch located about 10 minutes away from LEGOLAND.  I didn't know there were three branches to choose from so maybe one of the other two branches are located a bit closer to LEGOLAND.  In any event, the branch we visited was clean and organized with a cute play area in the children's section.  They also have beautiful murals decorating their walls throughout the library.
There's a book for that!


Looking to pair this outing with a children's book?  Check out The Inventors of LEGO Toys by Erin Hagar.  It's part of the Awesome Minds early chapter book series for kids!
Your turn: Have you visited LEGOLAND Discovery Center in Westchester, NY or any other LEGOLAND?  Feel free to share in the comments.