Disclaimer: I was provided with a copy of this book by the publisher in exchange for my review.  All opinions are my own and have not been influenced in any way.
Leaf by Sandra Dieckmann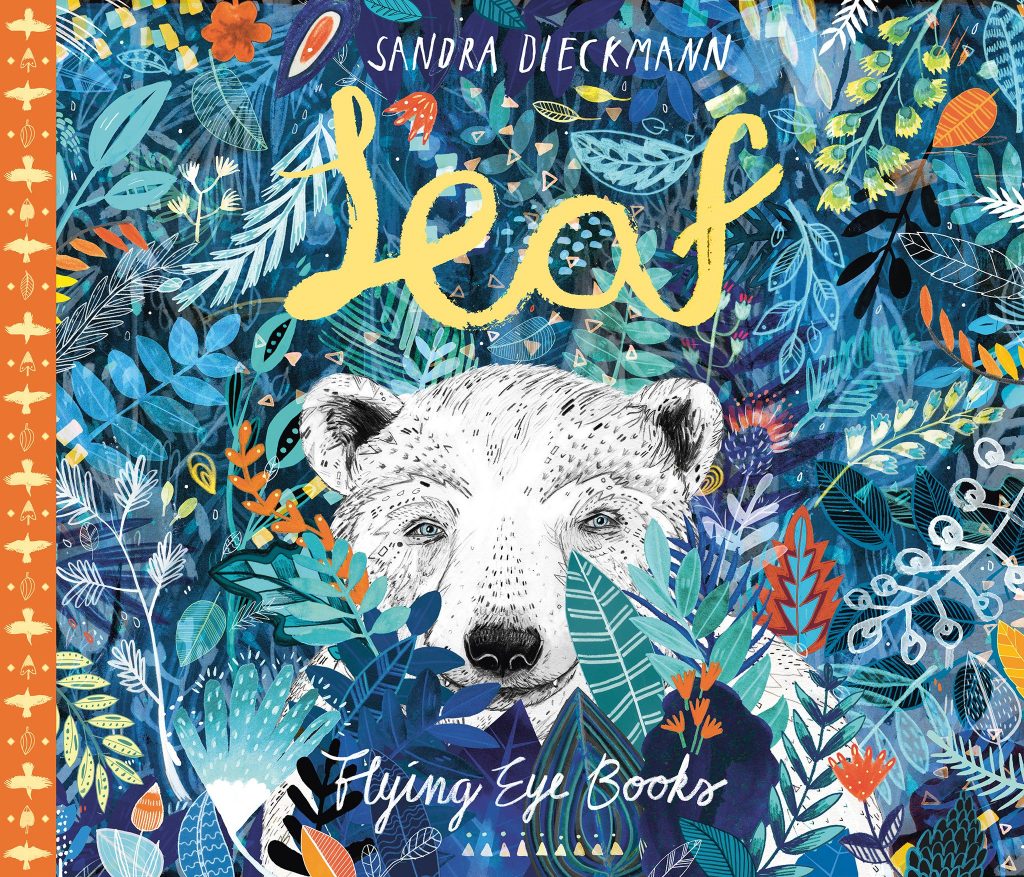 Publisher: Flying Eye Books
Pages: 32
Format: Hardcover
Age Range: 3 – 5
Grade Level: Preschool – Kindergarten
Publication Date: October 3, 2017
Synopsis
When a polar bear arrives unexpectedly in the woods, the animals fear and avoid him, suspecting him to be dangerous – and his habit of collecting leaves only adds to their distrust. Then one day, they watch as he attempts to fly over the water with wings made of colorful leaves…just trying to go home.
Maybe he needs some help?
Reflection
Creatures crave companionship and love just like people do.  No matter what you look like or where you are from, love and feelings are the same.  I think Leaf offers a beautiful visual representation of what love and kindness is and shows how even animals possess the incredible gift of giving and receiving love.
When a polar bear named Leaf arrives unexpectedly in the woods, the other animals fear and avoid him.  They automatically think he is dangerous simply because he looks and acts unlike any of the other animals in the wild wood.  With his white fur and weird leaf collecting habit, Leaf is an outsider.  After being carried upon shore due to melting ice in his natural habitat, Leaf is forced to make a home among an old, overgrown cave on the hill.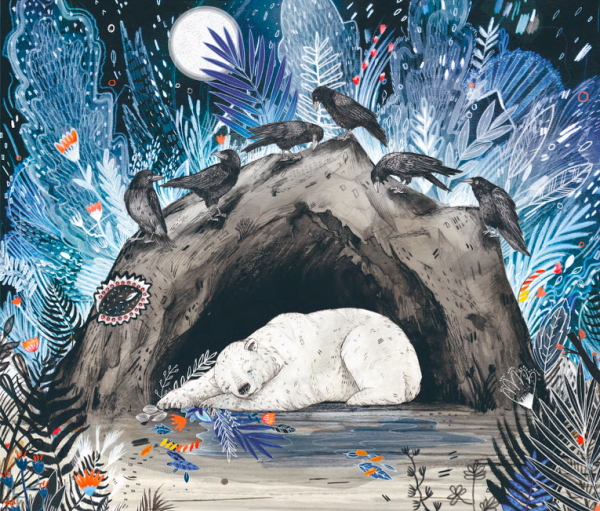 Needless to say, Leaf feels lonely and misses his family dearly.  All he wants to do is go back home to his family. Animals are not immune from experiencing complex emotions, such as sadness and loneliness.  I love the way this book tackles complex emotions in a way that makes it easy for little readers to grasp.
This book can spark so many discussions with the following themes:
loneliness
sadness
acceptance
empathy
community
family & love
friendship
kindness
feeling and being treated like an outsider
global warming & climate change (discuss reasons why the ice may be melting)
In addition, I like how this book comes full circle with the clever and wise crows.  I won't spoil the ending for you, but I'll just tell you it's beautiful and truly brought a tear to my eye.  I love how the simple act of kindness the crows showed to Leaf had the power to dispel his feelings of loneliness.  Oh, and I'd be remiss if I didn't mention how beautiful the illustrations in this book are. Every page is a work of art worthy to be framed.  The color palette used throughout is so stunning and truly pops off the page!
Not only does the story illustrate all of the themes mentioned above, but it also shows beauty in diversity and illustrates how creatures are all the same no matter how different they may be.  I think children need to be exposed to books like this with powerful and poignant overall messages.  Although this book is about animals, it's very relevant to feelings of isolation and loneliness that humans may face too.  In today's political climate, it seems that resisting isolation and staying open to being connected to others will be more important than ever.  I highly recommend checking out this book with your little readers when it publishes on October 3, 2017.
Your turn: Are you looking forward to reading this with your little readers?  Feel free to share in the comments.