You Are Three by Sara O'Leary, illustrated by Karen Klassen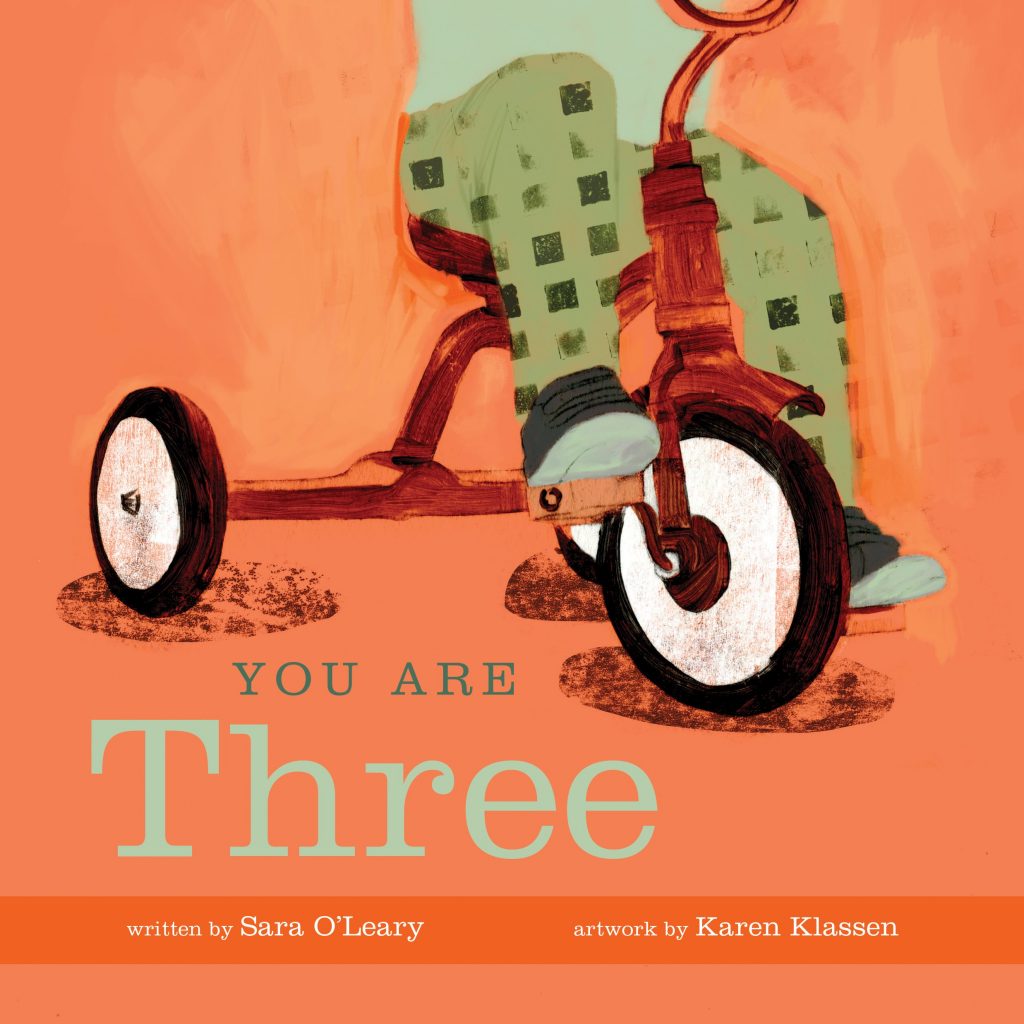 Publisher: Owl Kids Books
Format: Hardcover
Pages: 24
Age Range: 2-3
Grade Level: Preschool
Synopsis
Life's third year is full of milestones: learning ABCs, making friends, playing make-believe, and having real conversations. The final book in this series, You Are Three, looks back on each of these memorable achievements and more, inviting little ones to celebrate how much they have grown and discovered.
Supersaturated ink-and-wash illustrations in a striking palette lend a contemporary, whimsical feel to the book while the diverse children pictured add to the text's warmth and broad appeal. You Are Three is a timely gift for toddlers and their parents, who will enjoy reflecting on the highlights of the third year and expressing how much their child is loved.
Reflection
I remember when we ventured into "threenager" territory when my daughter turned three.  Growing up I always heard the term "terrible twos", but now people seem to think turning three is worse than turning two.  At least that's what so many people kept telling me.  The term "threenager" is now the way people often refer to the milestone third year of life for children.
Like some parents, I get emotional when I start thinking about how fast the kids are growing.  This is especially true for milestone birthdays like age 3.  It's so bittersweet for parents, but turning three is monumental for children.  It seems as if they find their own independence overnight.  Gone are the days when they need to be right by your side at all times.  When You Are Three highlights just how much changes with a child's development in one year.
So much has changed in just a year.  You are three!  We used to always know where to find you.  But now you are here, there, and everywhere.
Throughout the book you see children doing a variety of things three year olds are typically capable of doing: saying their ABC's, building a tower with blocks, having conversations, and riding on a scooter.  I love the vintage/contemporary and whimsical feel to all of the illustrations.  I also like the warm and inviting choice of color palette the illustrator used.  There is also a diverse cast of toddlers which depicts that the same developmental changes are evident in different races and cultures around the world.
When You Are Three shows how children are constantly exploring new concepts and ideas.  It demonstrates three year olds' newfound physical abilities and their skill at judging risk.  As a parent of a three year-old son, it makes me value his inquisitive nature, his kindness and his sense of responsibility.
Just as the other two books in this series, (You Are One and You Are Two) I think this book is great for children transitioning from babies into toddlerdom.  In addition to showcasing a child's developmental changes, this book also sends a clear message to children that a parent's love is something that will never fade.  It will only grow stronger.  Check this one out for the "threenagers" in your life.  It makes a great gift for a third birthday party!
Your turn: Have you read the other two books in this series?  Are you looking forward to reading this one?  Feel free to share in the comments.