When God Made You by Matthew Paul Turner, illustrated by David Catrow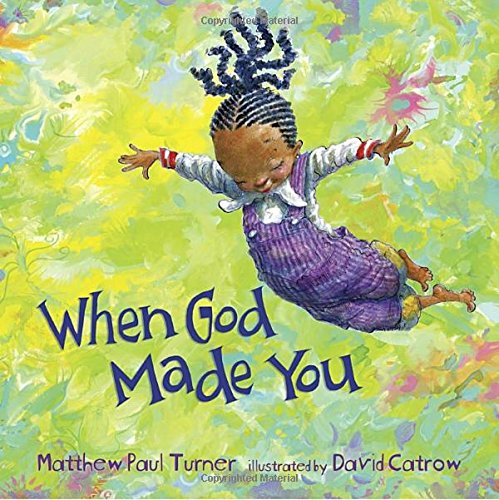 Publisher: WaterBrook
Page: 48
Format: Hardcover
Age Range: 3 – 7 years and up
Grade Level: Preschool – 2 and up
Available for Sale: February 28, 2017
Synopsis
From early on, children are looking to discover their place in the world and longing to understand how their personalities, traits, and talents fit in. The assurance that they are deeply loved and a unique creation in our big universe is certain to help them spread their wings and fly.
Through playful, charming rhyme and vivid, fantastical illustrations, When God Made You inspires young readers to learn about their own special gifts and how they fit into God's divine plan as they grow, explore, and begin to create for themselves.
Reflection
Our family believes in the Christian faith so this book couldn't be any more perfect for us…it's so, so sweet! Told in rhyming and playful text with beautiful illustrations, When God Made You inspires young readers to learn about their own special gifts and how they fit into God's divine plan as they grow, explore, and begin to create for themselves.
Written by Matthew Paul Turner, husband of author Jessica Turner who wrote The Fringe Hours and illustrated by David Catrow, this is a book you'll definitely want to add to your bedtime story lineup. It's great for reading at the start of each day or just before bed to remind children just how special, unique, and loved they are.
An exclusive design, one God refined, you're a perfectly crafted one of a kind. 'Cause when God made you, somehow God knew that the world needed someone exactly like you.
Isn't that a great message to send to children (and adults)? Because let's be honest, sometimes we all need a reminder like this.  Am I right?
I think children will love listening to the rhyming text and the way the words flow together.  I like that this book uses a variety of advanced vocabulary words and phrases for the preschool crowd like: exclusive, debut, self displaying, portraying, conceived and peacemaker.  These words may force some curious children (like my daughter) to probe and ask what they mean, which is a good thing.
The vivid illustrations throughout this book add a bit more to this book.  Little readers will see the adorable brown-skinned protagonist, a pet cat and dog sitting in an over sized green and white polka dotted chair reading a book. The protagonist's baby sister is off to the side on the floor playing with her toys.  The older girl and her dog then go on a mini adventure after leaving her baby sister and their cat behind at home.  She ends up in a local park after going for a bike ride.  There she encounters a distressed artist who is mourning the loss of a dead flower.
The girl picks up the artist's paintbrush and starts to paint an elaborate picture of colorful flowers and birds on the ground and in the air.  Next thing you know, the girl, her dog and the artist are flying in the sky on one of the birds the girl drew.  In the end, you see the girl back at home with her baby sister and their dog sitting in the same chair reading a book. Although this time the chair is different.  It's decorated with the same beautiful paintings the girl drew on the ground in the park with the artist.  This leads you to believe perhaps the girl started daydreaming while she was reading.  Was it just her imagination?  Was it part of the story she was reading to her sister?  Or did it really happen? I love when the ending of a book leads to further discussion and lets you ponder or create your own interpretation.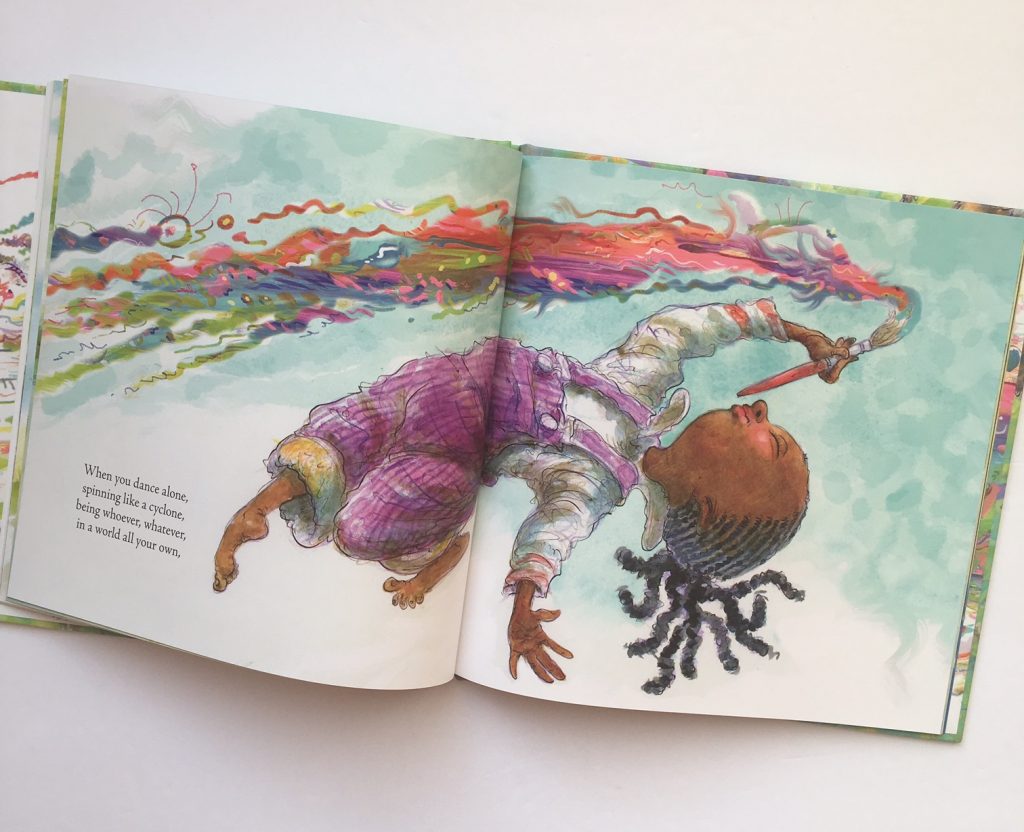 I appreciate the author chose to write this book that celebrates each person's own special and unique gifts and talents.  The fact that there is a religious component to it referencing God is an added bonus for me as it's not something you normally come across in mainstream children's picture books.
I can honestly say When God Made You fills my heart with so much gratitude and joy.  It even makes me a bit teary eyed, but it doesn't make me feel sad.  I get a bit emotional because it's so beautifully written.  The words pierce my heart and make me immediately think about how grateful I am for my children and our perfectly imperfect little family.
This book also makes me reflect on how grateful I am for where God has brought me throughout my life thus far.  It challenges me to want to continue to use my talents, passions and gifts and share them with others.  It makes me want to think up even more new ideas and put them into action.  It makes me want to show kindness, dream, discover, explore, have faith and love more.  Did I mention how much I love this book?  If this book has that type of effect on an adult, imagine how powerful it would be for children to receive these messages from an early age.
With overall themes of: God, love, individuality, self-love, empathy, kindness, creativity and imagination you really can't go wrong with this book.  I think it would make a great addition to an Easter basket or makes a great gift for a christening or baby shower.
About the Author
MATTHEW PAUL TURNER is the author of sixteen books. He lives with his wife Jessica (TheMomCreative.com, The Fringe Hours) and their three children in Nashville, TN.
About the Illustrator
DAVID CATROW is an editorial cartoonist whose vibrant illustrations have appeared in more than seventy children's books, including several New York Times bestsellers, such as I Ain't Gonna Paint No More and I Like Myself. He makes his home in Ohio with his wife, Deborah.
Your turn: Are you looking forward to reading this book with your little readers?  Feel free to share in the comments.