The Amazing Book of Disney Princess by DK Books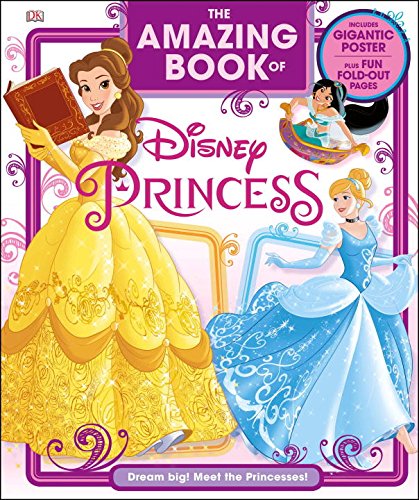 Disclaimer: I was provided a complimentary copy of this book in exchange for an honest review.  All opinions expressed are my own.
Synopsis
The Amazing Book of Disney Princess is the perfect introduction to the magical world of Disney Princess. Young fans will love discovering more about their favorite characters in this reference book that's perfect for young readers with fold-out paper flaps and folds. Large pictures and short, simple sentences bring the characters to life for children aged 5 plus. Favorite Disney Princess characters and their kingdoms are explored in a fun way, including Belle, Jasmine, Merida, Tiana, Mulan, Ariel, and Rapunzel. The Amazing Book of Disney Princess also comes with a giant pull-out poster.
Reflection
What a fun book for kids to learn a little more about their favorite Disney princesses!  I love the large text and images as well as the clear and simple sentences.  I also like this book has an interactive element to it with questions and flaps that can be lifted throughout.  The table of contents also clearly points out which page each princess can be found on.  In the back there is also a quiz and answer key.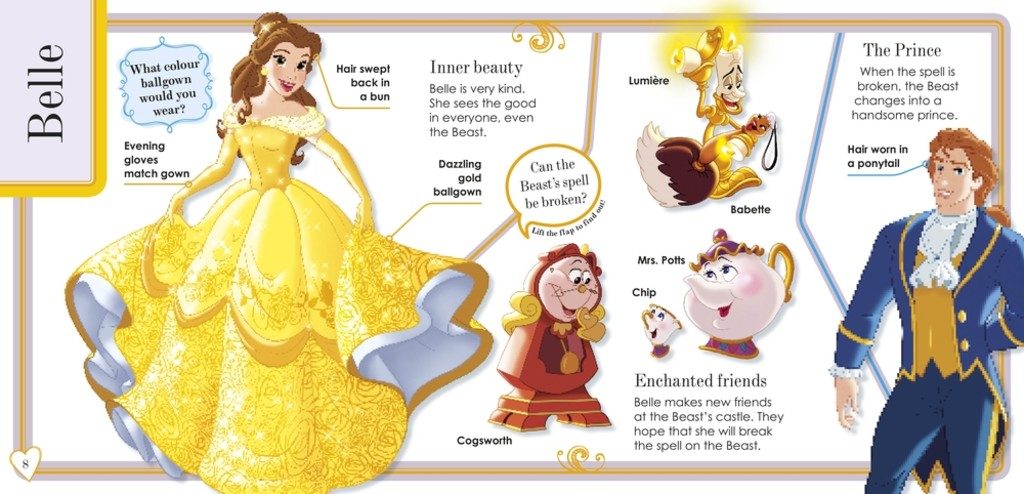 While Disney has made strides over the past few years to diversity its lineup of princesses, I still think there is more work that needs to be done.  As you may know, finding a book that actually includes African princesses, African American princesses, Native American princesses, Indian princesses, Latina princesses, or Asian princesses, is next to impossible.  Perhaps one day book publishers, television producers, and movie producers will understand the beautiful variety of princesses (and princes) that the world has to offer.  Good thing there are a few children's books available on the market to help remind little readers of all cultures and backgrounds that princesses, kings, and queens are not limited to the images they see in the mainstream media.
Although I do find this book to be a great reference to help children explore and learn more about the Disney princesses, I did notice something I wanted to point out.  When this book introduces princesses like Snow White and Aurora, Rapunzel and Belle they are described as 'beautiful' and 'very kind'.  However, when other multicultural princesses like Mulan, Pocahontas, Jasmine and Tiana are introduced, there is no mention of how beautiful or kind they are. Instead, they point out lackluster details like 'headband with sparkling jewel', 'sparkling gloves', and 'traditional dress'.  Why aren't any of these princesses described as beautiful or kind?  I don't know if this was intentional or not, but it's worth pointing out as it may send mixed signals to children.
In addition to learning more about each of the princesses, there is also mention of some of the evil enemies and princes.  You also learn some of the princesses favorite things and special skills.  For example, did you know Rapunzel loves to paint?  Or that Belle loves reading and Tiana loves baking delicious beignets for her friends?  I am always fascinated to learn more about any Disney characters as it makes them more human and relatable to me.
Each book also comes with a giant pull-out poster from Beauty and the Beast, just in time for the live action movie release in March 2017!
If your daughter(s) have been hit by the princess craze, consider checking out this book.  Little readers who like the series Fancy Nancy or Pinkalicious will adore this book just as much.  Cue the sparkles, tiaras, and tutus!
About DK Books
DK is a bestselling and award-winning publisher known for informing, entertaining, and educating global audiences through beautifully designed content.
The Giveaway!
Our friends at DK Books were generous enough to offer a book giveaway!  See the entry form below to enter.  Only open to US residents age 18 and over.  Good luck!
The Amazing Book of Disney Princess

Your turn: Are you planning to go see the upcoming Beauty and the Beast movie when it comes out in March? Which Disney princess is your daughter's favorite one?  Feel free to share in the comments.