Muhammad Ali: A Champion is Born by Gene Barretta, illustrated by Frank Morrison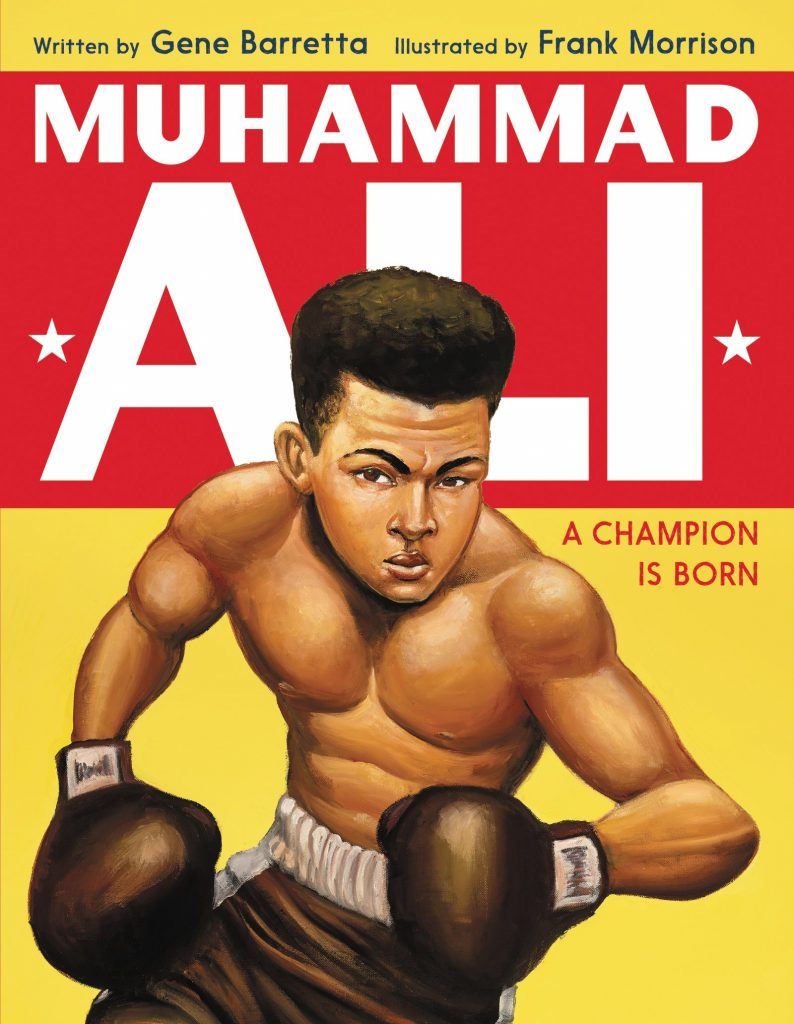 Disclaimer: I was provided a complimentary copy of this book in exchange for an honest review.

Publisher: Katherine Tegen Books
Format: Hardcover
Pages: 40
Age Range: 4 – 8 years old
Grade Level: Preschool – Grade 3
Synopsis
In this picture book biography of Muhammad Ali, author Gene Barretta and illustrator Frank Morrison tell the unforgettable childhood story of this legendary boxing champion and how one pivotal moment set him on his path to become the Greatest of All Time.
The Louisville Lip. The Greatest. The People's Champion. Muhammad Ali had many nicknames. But before he became one of the most recognizable faces in the world, before the nicknames and the championships, before he converted to Islam and changed his name to Muhammad Ali, he was twelve-year-old Cassius Clay riding a brand-new red-and-white bicycle through the streets of Louisville, Kentucky. One fateful day, this proud and bold young boy had that bike stolen, his prized possession, and he wouldn't let it go. Not without a fight.  This would be the day he discovered boxing. And a champion was born.
Reflection
At the very beginning of this book, the author's note explains Muhammad Ali's birth name was Cassius Clay.  At the age of twenty-two he converted to Islam and changed his name to Muhammad Ali.  Therefore, Cassius Clay and Muhammad Ali are the same person.
I love how this book starts off chronicling a few important events in Muhammad Ali's professional boxing career.  In February 1964, Cassius Clay surprises everyone and wins the world heavyweight championship to Sonny Liston.  In May of 1965, Clay and Sonny Liston meet for a rematch, but this time Clay has a new name.  He now goes by the name of Muhammad Ali.  At the age of thirty-six near the end of his career, Ali becomes the first boxer to win the world heavyweight championship three times.
The book then takes us back in time to when Cassius Clay was just 12 years old living in Louisville, Kentucky.  He didn't know it then, but having his bicycle stolen turned out to be a blessing in disguise.  That single event helped launch his boxing career.  When he went to report his stolen bicycle to a police officer, he ended up in a local boxing gym. There, Officer Martin told him that before he went to look for the person who stole his bicycle, he should learn to fight. Under police officer Martin's wing, Cassius worked hard and eventually became a huge force in professional boxing.  It's funny how one unfortunate event changed his life forever.
I truly enjoyed this contagiously positive book for so many reasons.  For one, Ali is represented as nothing short of an iconic superman, his achievements are glorious and his predicaments are merely minor roadblocks to greatness.  It's clear to see that Ali's life was truly amazing, and this book is a great introduction to that remarkable life.
I think Frank Morrison's vivid illustrations accompany this story so well.  My son's favorite illustration is the last one in the book with Muhammad Ali wearing a white robe (pictured below).  The page formatting throughout the book varies between beautiful two-page spreads with text at the top and bottom.  Action words and phrases like: "Pow!", "Float like a butterfly, sting like a bee", "I am the greatest!" and "I shook up the world!" are printed in larger bold type which makes them stand out on the pages.  When reading this book aloud, it's fun to emphasize these words with smaller children as it adds a bit more action and excitement.
Overall, I find this to be a high quality children's biography that little readers are sure to enjoy.  There are themes of: hard work, determination, overcoming obstacles, boxing, sports, persistence and confidence; something Muhammad Ali clearly had plenty of.  Perfect for boxing lovers, for reading during Black History Month or anytime of the year. The back matter includes some additional facts about Ali's life, a bibliography, photos and other resources for further reading.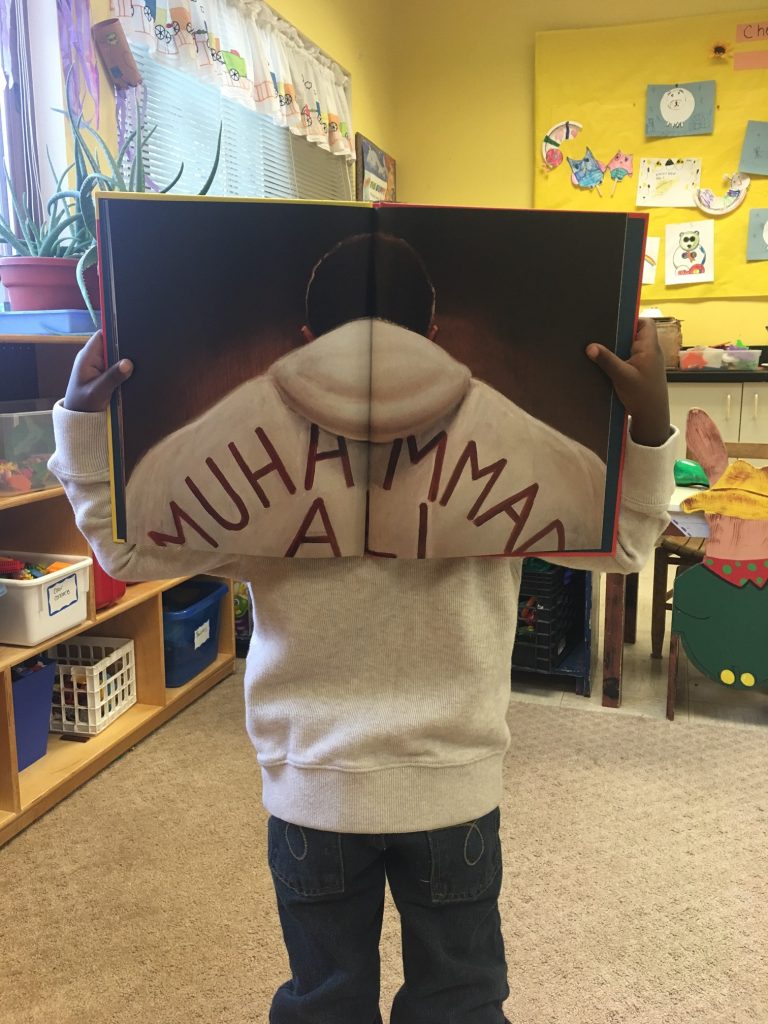 Your turn: Have you read this book with your little readers yet?  Feel free to share in the comments.