Things to Do by Elaine Magliaro, illustrated by Catia Chien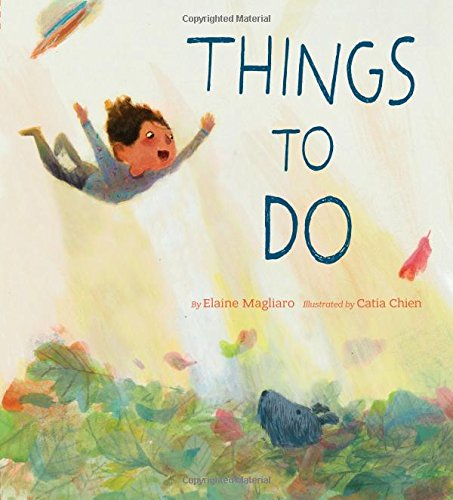 Disclaimer: I was given a complimentary copy of this book from the publisher in exchange for an honest review.
Publisher: Chronicle Books
Format: Hardcover
Pages: 40
Age Range: 4 – 8 years old
Synopsis
With playful prose and vivid art, Things to Do brings to life the small moments and secret joys of a child's day. There are wonders everywhere. In the sky and on the ground—blooming in a flower bed, dangling from a silken thread, buzzing through the summer air—waiting …waiting to be found.
Reflection
I love books that can spark a child's imagination simply by using one small two-letter word, "if".  In this book, the phrase "things to do if" is repeated several times when introducing different wonders of the world.  For example:
Things to do if you are DAWN
Shoo away night,
Wash the eastern sky with light.
Wake the sleeping sun: Rise and shine!
Rouse resting roosters.
Set songbirds singing.
Let dreams drift away.
Start a new day.
Doesn't that describe dawn so eloquently and perfectly?  It imagines kids to think about all of the things dawn is responsible for and what happens first thing in the morning.  It then goes on to playfully introduce other things like: birds, an acorn, scissors, rain and the moon in their own lovely poems.
The illustrations are so vividly beautiful – I love them so much!  The illustrator really captures each moment in detail. Each two-page spread is truly a work of art that I want to frame.  I also like the fact that the author chose to emphasize each item along with some of the more descriptive words.  For example, in the poem about rain the words "whoosh", "patter" and "go away" are shown in italicized text and are a different color.  This helps children make the connection between the item and some of the popular words and phrases that are usually associated with it.
I love reading this book with the kids at night right before bedtime.  Something about it has this calming effect on both me and the kids.  I think it's a combination of the beautiful poetry and stunning illustrations that help get us ready to lay down and rest our heads for the night.
Overall, I think this is an amazing book of poetry with themes of creativity, imagination and nature. Definitely one not to be missed for poetry lovers!
About the Author
Elaine Magliaro is now retired from teaching and writes poetry for children and serves as a member of the NCTE Poetry Committee.  She lives in Massachusetts.
About the Illustrator
Catia Chien was born and raised in Sao Paulo, Brazil.  Today, she is happily working as a children's book artist from her art studio in New York, with a view of the East River and an old pencil factory.