Princess and the Peas by Rachel Himes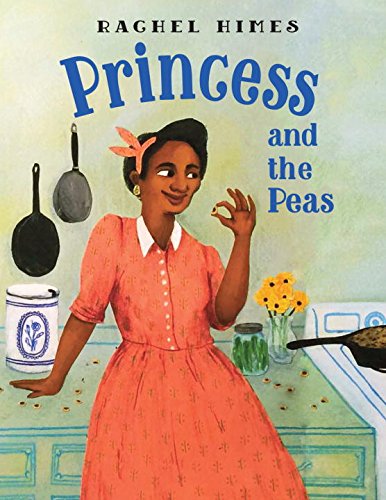 Publisher: Charlesbridge Publishing
Pages: 32
Format: Hardcover
Age Range: 5 – 8 years old and up
Grade Level: Kindergarten – 3 and up
Available for Sale: April 11, 2017 Pre-Order Now!
Synopsis
In this adaptation of The Princess and the Pea, Ma Sally cooks the best black-eyed peas in Charleston County, South Carolina. Her son, John, is a highly eligible bachelor, and three local women vie for his hand in marriage by attempting to cook as well as Ma. At the last minute, a surprise contestant named Princess arrives at the door. Princess and John are well-matched, but Princess has her own ideas. When told she has won John's hand, she asks him to scrub the pots and pans before she'll give him an answer. Her answer, it turns out, is that she wants to spend some time getting to know John first.
Reflection
We love this retelling of The Princess and the Pea fairy tale!  In the author's note of this book Rachel Himes explains she was always confused by the classic fairy tale so she vowed to someday write her own version.  She always wondered why the princess needed to be sensitive enough to feel a single pea through all those mattresses.  That's why she decided to write this story about the things she thinks are truly important – love, family, and community.
Set in the mid-1950's in Charleston County, South Carolina this book features a vibrant African-American community with themes of love, family and of course – food and cooking. John's mother, Ma Sally, cooks the best black-eyed peas in town. When her son John tells her he wants to get married, three women vie for his hand in marriage. The caveat? The lucky woman chosen must be able to cook black-eyed peas as well as John's mother.  A woman named Princess ends up winning the cooking contest hands down.  Princess and John are two peas in a pod.
I adore the vintage feel to this book.  The hand drawn watercolor and acrylic illustrations are so well done and really seem to bring you back in time to the 1950's in the South.  Women are dressed in over the knee length dresses and hats while the men are dressed in denim overalls.
I also like the mother/son bond that John and his mother Ma Sally share.  It's clear John is a true and proud mama's boy.  When he tells his mother he's ready to get married she becomes troubled by the thought of her son potentially sitting down to an "ill-cooked meal".  That's why she comes up with the idea to have a cooking contest to find the perfect wife for John.
I also like the sense of community and how the food that Ma Sally cooks brings everyone together.  You see tables piled high with collard greens, sweet potatoes, hot rolls, ham, mashed potatoes, corn on the cob and black-eyed peas. Yum!  I've always believed that food has the ability to break all language barriers.  It doesn't matter where in the world I am.  If there's good food or music, there's a kind of connection and understanding to the others around.
I truly enjoyed this heartwarming and charming love story.  I love how the table was the common ground and seemed to served as a bridge for bringing everyone together, forging bonds and creating conversation.  Everyone brought something unique to the table – especially Princess.  I'm looking forward to trying out the tasty recipe for Princess's black-eyed peas that's included in the back of the book!  Check this one out when it publishes in April 2017!

Your turn: Are you looking forward to reading this book?  What other adaptations of Princess and the Pea do you and your children enjoy reading?  Feel free to share in the comments.