Early Sunday Morning by Denene Millner, illustrated by Vanessa Brantley-Newton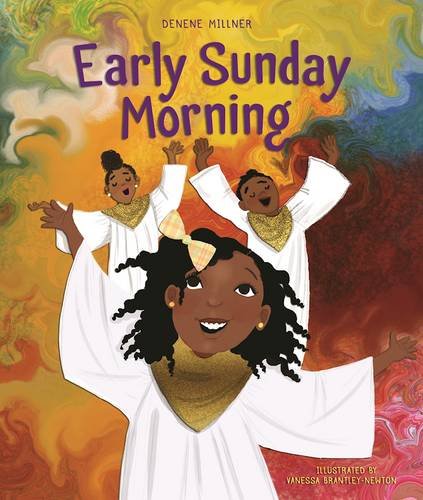 Publisher: Agate Bolden
Format: Hardcover
Pages: 40
Age Range: 4 – 9 years
Grade Level: Preschool – 3
Publication Date: April 11, 2017
Synopsis
Love and family. These are the things that a little girl finds most special about Sunday mornings. Early Sunday Morning follows June, Mommy, Daddy, and brother Troy through their weekend routine as June prepares for a special performance leading the children's choir at church on Sunday morning.
Readers spend the weekend with June as she collects helpful pieces of advice on how to be less nervous about her big solo. Along the way, she visits the barbershop with Mommy and Troy, gets her hair done by Mommy, receives a special dress from her aunt, and shares her family ritual of getting ready for Sunday morning service. As her special moment approaches, June leans on the support of her whole family, as well as advice from her father, to conquer her fear of singing in front of the congregation.
Early Sunday Morning is a heartwarming celebration of the special time a young girl and her family share together as she learns how to lift her mighty voice.
Reflection
It's almost little June's big day to sing her first solo in the youth church choir and she couldn't be more excited! But when it's time to practice at choir rehearsal, June gets a little stage fright. As a result, her voice starts to tremble when she sings.  She overhears her friends making fun of her which hurts her feelings and makes her even more nervous and scared. With the help of her supportive family and community members, June gains back her confidence. But will she be ready to sing her big solo on Sunday morning in front of the whole congregation?
We really enjoyed reading this adorable book!  The thing I love the most is that it highlights a situation children (of all races) might encounter in their everyday lives.  It's an added bonus that the protagonist in this story is a little Black girl who lives in a loving home with her married parents and little brother. It's a direct reflection of our family of four which makes my heart sing!  I am always elated when I come across good quality children's books that showcase Black kids doing everyday things because Lord knows there are already enough books about the Civil Rights era and slavery.  Can I get an amen?
The eye-catching illustrations drew me in immediately.  I mean, look at that cover!  When I initially saw the cover and the title I knew I had to add this book to our home collection without even knowing what it was about.  The colorful, hand drawn pictures are so detailed and beautiful adding even more life to the story.  Readers will see little June getting her natural hair done on wash day, practicing at choir rehearsal and visiting the barbershop with her little brother Troy.  The artwork appears on full spreads with text shown above, below or alongside providing movement to the pages.
I also like the loving bond June and her dad share.  It reminds me of the relationship my daughter has with my husband. June is a true daddy's girl who values his opinion.  She is happiest when she is singing with her daddy.
The one thing I will mention is I was initially confused about the name of the little girl.  I thought her name was Sarah, but after asking the author she confirmed her name is June although it doesn't say it directly in the book. Overall, I think this book is a beautiful story with themes of: love, family, feelings, courage, confidence, patience and positive affirmations. Great for helping children cope with stage fright or teaching them about bravery, courage and using their voice.
About the Author
Denene Millner is a New York Times best-selling author, award-winning journalist, and contributing editor at Agate Publishing where she directs the Denene Millner Books imprint. She has penned 25 books, including Act Like a Lady, Think Like a Man, co-written with Steve Harvey; an upcoming memoir with actress Taraji P. Henson; and The Vow, the novel on which the hit Lifetime original movie, "With This Ring" was based. She also is the founder of MyBrownBaby.com, a critically acclaimed blog that examines the intersection of parenting and race. Millner frequently contributes to Essence, Ebony, and Redbook, and has appeared on the Today Show, The Meredith Vieira Show, HLN, MSNBC, and NPR. She lives in Atlanta with her husband and two daughters.
About the Illustrator
Vanessa Brantley-Newton is a self-taught illustrator whose passion for children's books began when she came across The Snowy Day by Ezra Jacks Keats as a child in the 1960s. The Snowy Day marked one of the first representations of a black children in picture books, and seeing a character who looked like her and lived in a neighborhood like her own was a turning point in Vanessa's life. She hopes to inspire young readers as Keats did for her. Vanessa has illustrated more than 30 books, and is the author and illustrator of Let Freedom Sing and Don't Let Auntie Mabel Bless the Table. Vanessa lives in Charlotte, North Carolina, with her husband of 22 years and their daughter Zoe and a very rambunctious cat named Stripes.

Your turn: Are you excited to read this book with your little readers when it's published?  Feel free to share in the comments.