Over and Under the Pond by Kate Messner, illustrated by Christopher Silas Neal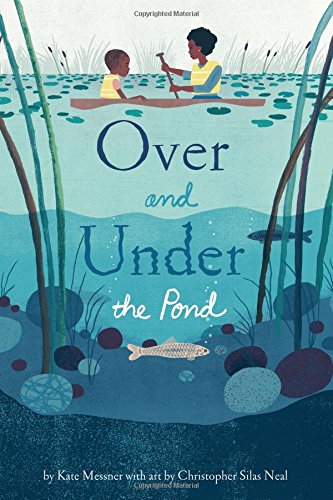 Publisher: Chronicle Books
Pages: 48
Format: Hardcover
Age Range: 4- 8 years old
Grade Level: Preschool – 3
Synopsis
In this gorgeous companion to the acclaimed Over and Under the Snow and Up in the Garden and Down in the Dirt, Kate Messner and Christopher Silas Neal bring to life a secret underwater world. In this book, readers will discover the plants and animals that make up the rich, interconnected ecosystem of a mountain pond. Over the pond, the water is a mirror, reflecting the sky. But under the pond is a hidden world of minnows darting, beavers diving, tadpoles growing. These and many other secrets are waiting to be discovered…over and under the pond.
Reflection
I think Kate Messner's series of non-fiction picture books are wonderful.  Each one is chock full of interesting tidbits of factual information.  This latest book in the series features a little brown boy and his mother exploring the pond together in a canoe.  Together the boy and his mother narrate the story as they learn about some animals that call the pond their home. There are herbivores like: fish, beavers and moose. You'll also find carnivores like: otters and raccoons.
Under the pond is a whole hidden world of minnows and crayfish, turtles and bullfrogs.  Over the pond, we skim past tall rushes.  Whirligig beetles loop and twirl – skaters on a warm summer surface.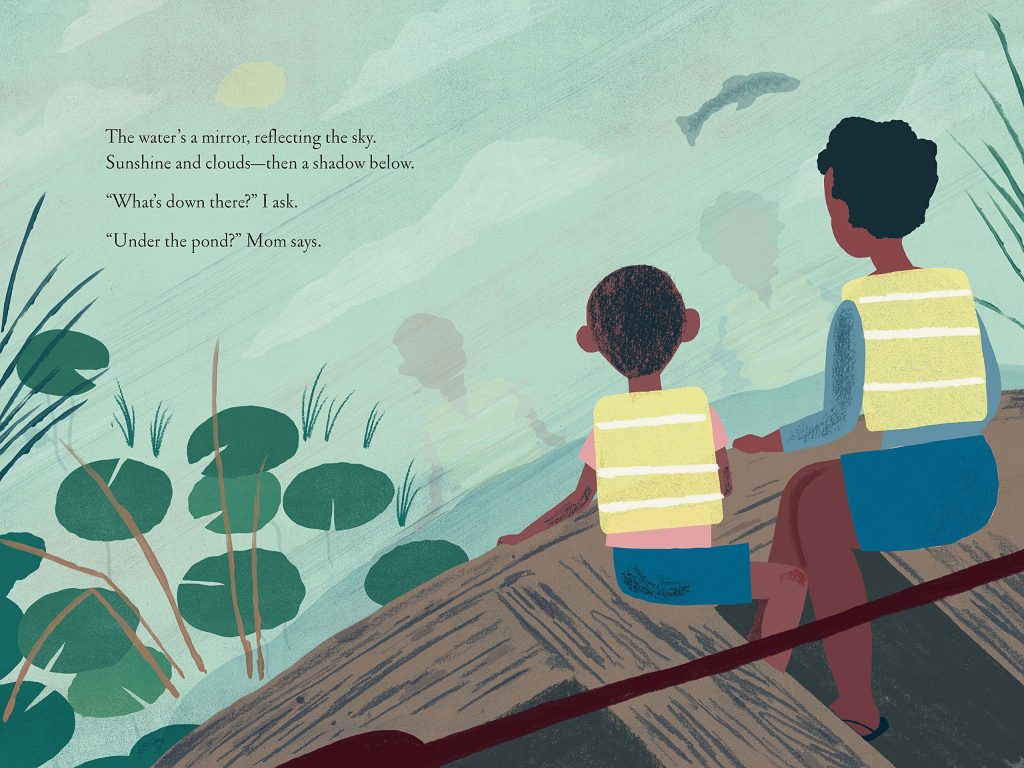 I love the whole "over and under" concept as it gives little readers a glimpse of what happens both above and below the surface.  Above the pond you see various birds, plants and trees and below you see animals that live in the pond. We even discovered a few new animals like: whirligig beetles, caddisfly larvae and pileated woodpeckers.  The back matter includes a paragraph of information about each featured animal, an author's note and a list for further reading.  Most of the information you'll learn from reading the paragraphs in the back of the book.  The rest of the book reads more like a story.  The author's note explains this story was inspired by a canoe trip on Barnum Pond at the Paul Smith's College Visitor Interpretive Center in the Adirondack Mountains.
Overall, I think this is a beautifully illustrated and informative book that illustrates by working together all animals and organisms play an equal role in keeping their pond clean and healthy.
About the Author
Kate Messner is the award-winning author of Over and Under the Snow, Up in the Garden and Down in the Dirt and more than a dozen other books for young readers.  She lives on Lake Champlain with her family.
About the Illustrator
Christopher Silas Neal is an award-winning illustrator whose work is published regularly in the New York Times and shown in galleries.  He teaches illustration at Pratt Institute and lives in Brooklyn, New York.