Steppin' Out: Jaunty Rhymes for Playful Times by Lin Oliver, illustrated by Tomie DePaola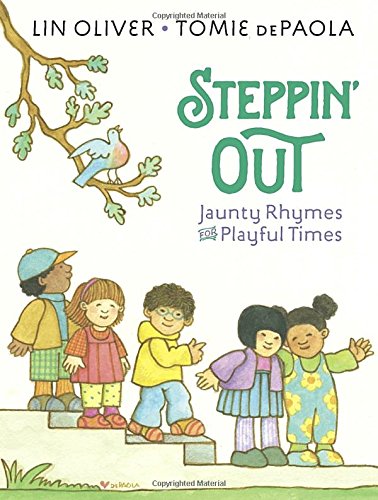 Publisher: Nancy Paulsen Books
Pages: 32
Format: Hardcover
Age Range: 3 – 5 years
Grade Level: Preschool – Kindergarten
Synopsis
Being a preschooler means days full of discovery every time you step out of your door. It's a time filled with wonder, at all the sights and sounds of the outdoors and at the huge variety of people there are to meet. This collection of nineteen original poems features little ones eager to explore, whether it's splashing in puddles, riding in an elevator or through a car wash, or visiting the library. They go full-steam ahead to the park, the beach, and dance class, somewhat begrudgingly learn to share and get their first haircut, and enjoy lots of time with their families. Full of contagious rhythm and rhyme, this inviting picture book introduces young children to the sounds of poetry through familiar childhood activities.
Reflection
This poetry book is great for preschool and kindergarten little readers!  It starts off with a poem called "Steppin' Out" which invites children to step outside and explore the world around them.  From leafy trees to buzzing bees there's so much to see and learn every day.  The introductory poem also includes a clever gatefold page which opens up and makes it seem as though the children are really stepping out into the book.
Some of my kids' favorite poems are: "The Library", "My First Haircut", "The Elevator" and "Super Market".  I find all 19 of the poems in this book to be relatable to little readers as the characters are seen doing everyday things that will likely be familiar to most toddlers and kindergartners – going to to the library or grocery store, splashing in puddles, getting their first hair cut, riding on the elevator, playing in the sandbox, spending the day at day care/school, and going to the beach.
The cast of characters featured is very diverse.  The playful illustrations are colorful and include lots of everyday objects that can be pointed out to children for further discussion.  For example, you could ask them what each of the objects is, what color they are, how many of a particular item they see – i.e. "How many blocks do you see?"  "What color is the book?"  "What are they doing?"
Overall, I think this is a playful and inviting book good for introducing young readers to poetry, rhythm, rhyming and the world around them.