Wash Day by Christin Armstrong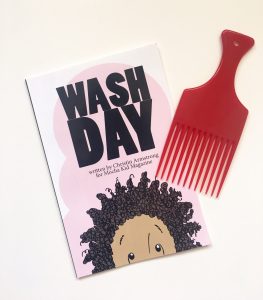 Publisher: Mocha Kid Publishing Co.
Published: June 12, 2016
Pages: 32
Synopsis
Every child can relate to the struggles that come along with wash day. Some parents can relate as well. Empathize with all of our wash day sentiments in this adorable book for your Mocha Kid.
Reflection
I've designated Sunday to be the day my daughter and I wash our hair.  If we have plans on Sunday, our backup day is Friday evening.  Our Sunday ritual was formed because I want my daughter's hair to be fresh for school on Mondays.
I initially started wearing my hair in its natural state six and a half years ago.  Back then, wash day was a breeze because I took the plunge and did the "big chop" aka cut all of my hair off.  As my hair started to grow out, I found myself dedicating a whole day to the cleansing ritual of my hair.  I must admit, it was quite daunting and downright exhausting.  I felt a lot like the little girl does in the beginning of this adorable book.  She says, "Is it washday again?  Surely it can't be!  We just did this last week.  Don't do this to me!"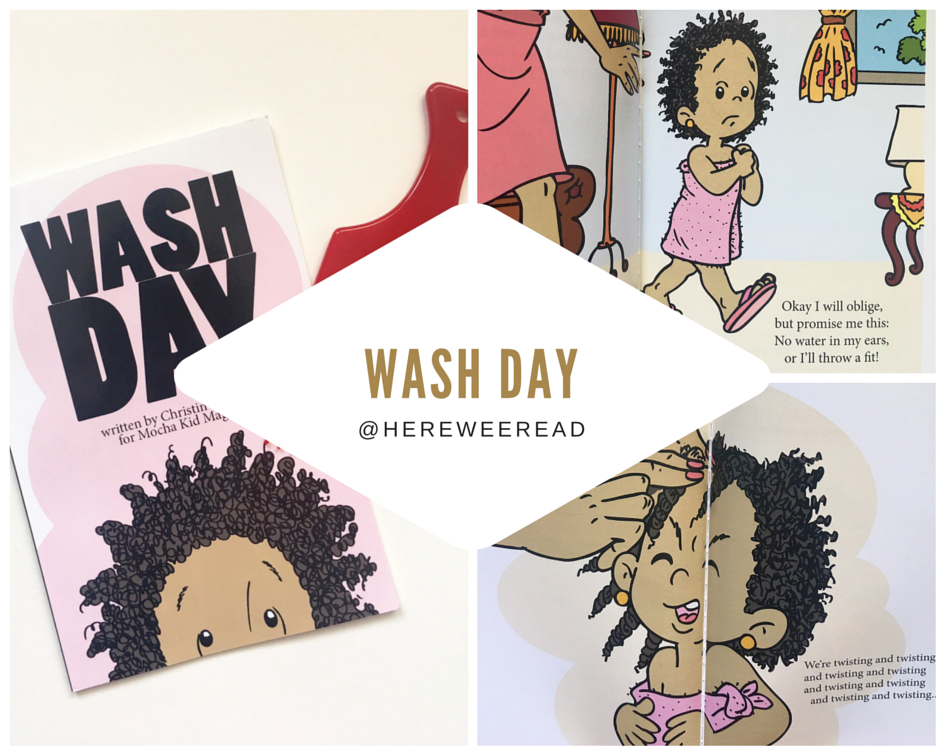 Inspired by the author's daughter and YouTube sensation, Riley Armstrong, this book is one that little girls with natural hair (and their mothers) will easily relate to.  The girl in this book starts off by having a tantrum because she doesn't want to get her hair washed yet again.  She doesn't like getting her hair detangled nor does she like her eyes stinging from the "tear-free" shampoo.  The girl has no choice but to oblige and let her mom start the hair washing and styling process.  By the end of the book, the little girl is all smiles and she's pleased with how good her hair looks.
The illustrations are so bright and cheerful – they make me smile.  They show the little girl getting her hair washed, conditioned, detangled and finally all twisted up.  Kids will be captivated by the rhyming text used throughout.  I think this book does a good job showing just how intimidating wash day can be for little girls (and women) with a head full of natural hair like me and my daughter.  Tangles and knots alone can turn a day meant to be about pampering to one of frustration.  Luckily for me, I've found a regimen and hair washing process that works well for me and my daughter that doesn't take all day to complete.
I think this book also shows just how beautiful the end result of wash day can be.  I mean who doesn't like the feeling of having your hair freshly washed and styled?  For me, it's an instant pick me up.  When my hair looks good, it automatically boosts my confidence and makes me feel good just like this cute little girl.  Check this book out and read it with your little mocha girl on wash day or any day!
About the Mocha Kid Magazine
Mocha Kid is an up-and-coming interactive magazine that is geared towards empowering, unleashing and glorifying the many physical shades of African American children. Their sole purpose is to equip parents with the necessary tools and insights that will nurture the needs and fashion of their little ones.
Website | Facebook | Instagram | Twitter
The Giveaway!
Our friends over at Mocha Kid Magazine were kind enough to sponsor a giveaway to win 1 FREE copy of Wash Day!  Use the entry form below to enter.  Good luck!
Your turn:  Wash day: Do you love it or hate it?  What are your favorite wash day tips when washing your daughter's hair?  Feel free to share in the comments.