Return by Aaron Becker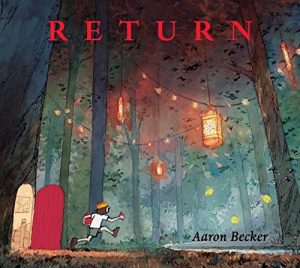 Publisher:  Candlewick
Age Range:  4 – 8 years old
Grade Level:  Preschool – 3
Pages:  40
Format:  Hardcover
Available for Sale:  August 2, 2016
Synopsis (from Amazon)
Welcome the much-anticipated finale of Caldecott Honoree Aaron Becker's wordless trilogy—a spectacular, emotionally satisfying story that brings its adventurer home.
Failing to get the attention of her busy father, a lonely girl turns back to a fantastic world for friendship and adventure. It's her third journey into the enticing realm of kings and emperors, castles and canals, exotic creatures and enchanting landscapes. This time, it will take something truly powerful to persuade her to return home, as a gripping backstory is revealed that will hold readers in its thrall. Caldecott Honor winner Aaron Becker delivers a suspenseful and moving climax to his wordless trilogy, an epic that began with the award-winning Journey and continued with the celebrated follow-up Quest.
Reflection
Journey was one of the first wordless books I ever read with my kids when the first book in this amazing trilogy was released.  We then read the second book Quest in 2014 and have been anxiously awaiting the release of Return ever since.
We were lucky enough to receive an autographed copy of Return which was a pleasant surprise.  As if this book wasn't gorgeous enough already, having a signed copy from Aaron Becker makes it even more beautiful and special to me!
Before I give my thoughts on the book Return, let me first provide a brief overview of the first two books in this series.  Journey tells the story of a bored little girl who went to a magical place through a red door that she drew on the wall in her room with a red crayon.  The book ends with the girl finding a friend.  It's a beautiful wordless picture book with amazing drawings to capture any little readers' imagination.
Quest, the second book in the series, starts off where Journey ends. The boy and girl find themselves with a King who hands them something very important for their quest: a colored map.  The children unravel a very colorful mystery as they venture to rescue the King.

Just as I suspected, Return did not disappoint!  It's just as good as the first two books.  This time the young protagonist is at home and she's bored again so she decides to leave and go through the magical red door.  Noticing that his daughter is gone, the girl's father decides to follow her to see where she went.  Off they both go into a colorful world filled with kings, castles, canals and exotic creatures.  Oh my!
Having been there two times before, the little girl understands the magical world a lot better this time as she and her father navigate their way through it.  The father seems to be amazed by the wonder and curiosity of this beautiful place.  Who wouldn't be?  The illustrations are stunning and the story is so compelling it sucks you right in.  I'm not going to spoil how it ends you'll just have to read it and see for yourself.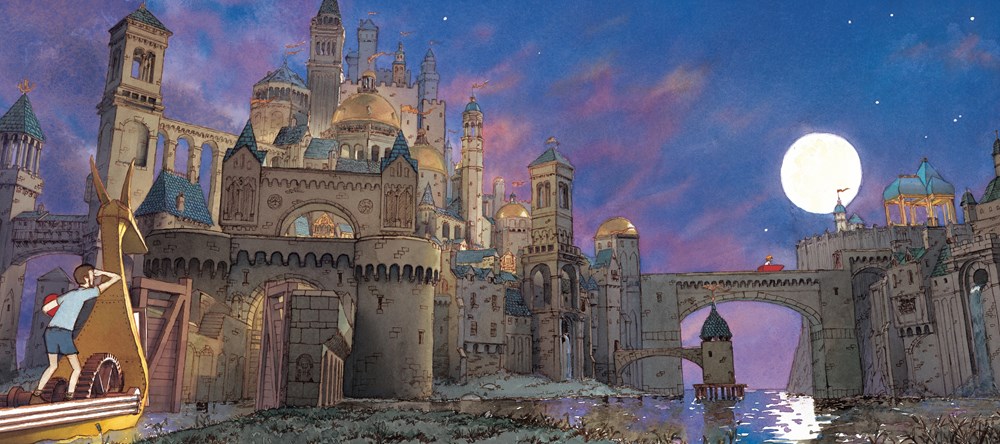 We loved this fantastic book filled with themes of adventure, fantasy, imagination, family and friendship.  The kids and I enjoy narrating the story each time in our own words.  It's so interesting how with each reading we seem to notice something new that we never did before.  I think that's what makes wordless books so great.  They provide opportunities for readers both young and old to engage more fully in recognizing the tiniest of details that make up a story.  Be sure to check out Return when it's available along with the other two books in this series if you haven't already done so.  I hope you enjoy this wordless beauty as much as we did!
Your turn:  Did you read the first two books in this series?  What's your favorite thing about "reading" wordless books with your kids?  Feel free to share in the comments.