Disclaimer:  We received complimentary passes to go to Edaville USA in exchange for an honest review.  All opinions expressed are my own.
My family and I recently had the opportunity to go to Edaville USA in Carver, Massachusetts.  Since it's about a 2.5 hour drive, we decided to spend the weekend in the area which turned out to be a great idea given the 4th of July holiday traffic.
As you may know, this summer the kids and I have been traveling to different literary destinations (mixed in with a little family fun).  While Edaville has little to do with books or reading, it certainly covers the family fun component.  This amusement park allows you to enter a world of imagination and wonder where both the young – and the young at heart – can discover the magic of Thomas & Friends.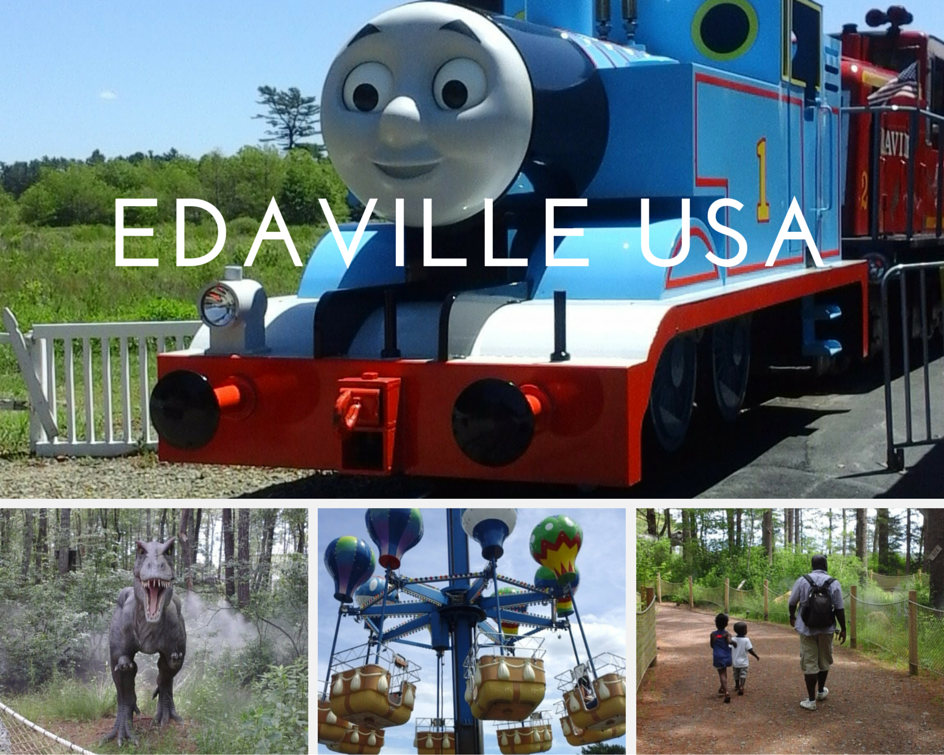 Thomas Land theme park covers 11.5 acres within Edaville USA, bringing the Island of Sodor to life in a lush New England landscape. Families can visit iconic destinations including Knapford Station and Tidmouth Sheds and enjoy 11 themed rides featuring favorite characters like Cranky the Crane, Harold the Helicopter, and more!  Edaville also offers special events throughout the year, including Hello Kitty, Curious George, Pete the Cat, Superheroes & Princesses, Pumpkins AGLOW just to name a few.  It's the perfect family-friendly destination for your train loving kiddos!

When we arrived at the park we were expecting it to be packed since it was a holiday weekend.  However, we were pleasantly surprised to see it wasn't too crowded at all.  We found a parking spot fairly quickly right in the front three rows.  As soon as we enter the park, there is a carousel ride off to your left so expect your kids to want to ride like mine did.  Also in the park entrance there is a huge pond where kids can try to catch their own fish.  Currently, there is another portion of the front entrance that is under construction.  It looks like it's going to be really cute once it's completed.  We saw a sign posted on the way out that said it will be a Charles Dickens Village opening just in time for the Christmas holiday season!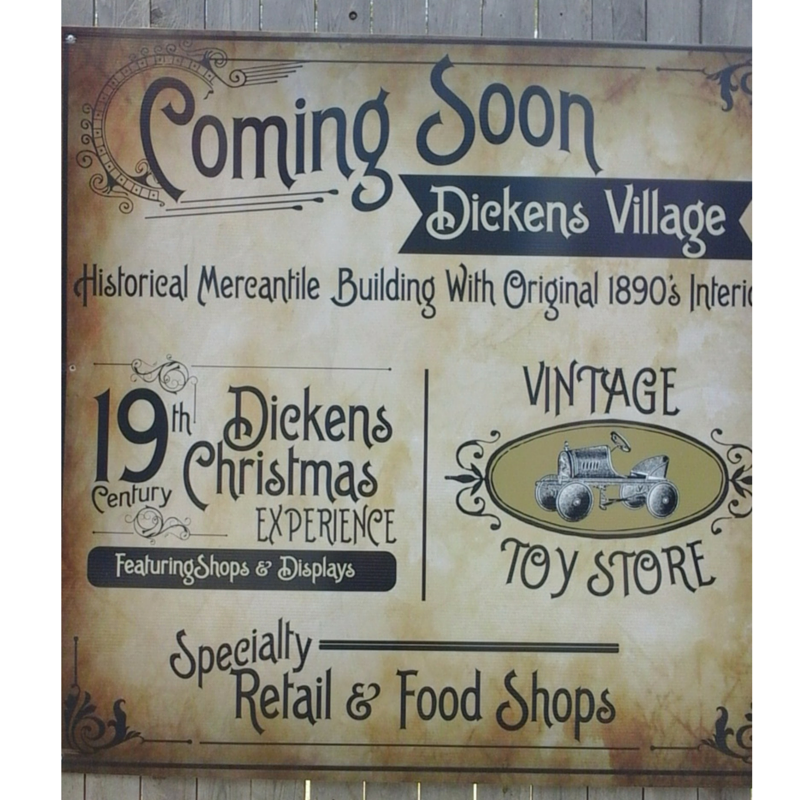 There was also little to no wait time for each of the rides which was great because my kids are very impatient when it comes to waiting.  A majority of the rides are for kids, but there are some that my husband and I went on like the free fall which is always a fun time.  I love that everything in this park is clean & bright and the characters are instantly recognizable.  The kids loved seeing Gordon, James, Emily, and Percy all hanging out at Tidmouth Shed.
The kids said their favorite part of the park was seeing Thomas the Train up close and personal.  Oh yeah, and I can't forget the dinosaurs in Dino Land!  After walking around the entire park, my husband and I enjoyed going on the ride around the amusement park which lasted about 15-20 minutes.  The ride was just the right amount of time we needed to rest our tired feet before heading back out into the park with the kids again.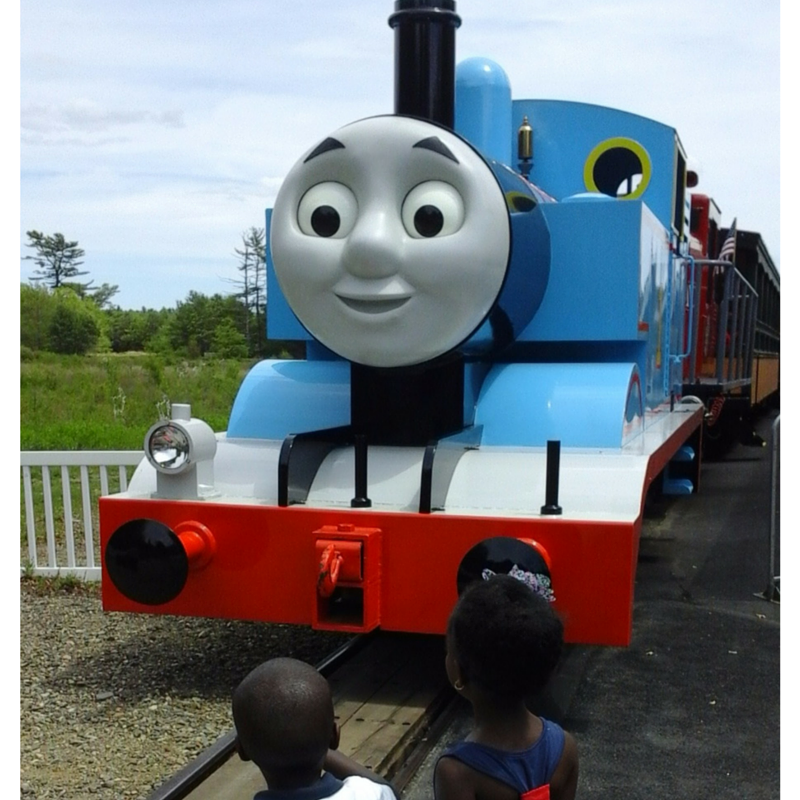 For lunch we ate at the on-site Dockside Diner.  They had a variety of options to choose from like fresh salads, sandwiches personal sized pizzas and hot dogs.  On our way out of the park, I took a quick peek inside the gift shop.  I saw several trains & sets plus a host of other items sure to excite and entertain any train or Thomas enthusiast!
Edaville is such a fun and family-friendly amusement park.  We can't wait to go back next summer to enjoy the upcoming Pirate Adventure attraction, Charles Dickens Village and water rides!
After leaving the park we attempted to visit the Carver Public Library, but it closed early since it was Saturday.  It looks like a really nice library from the outside.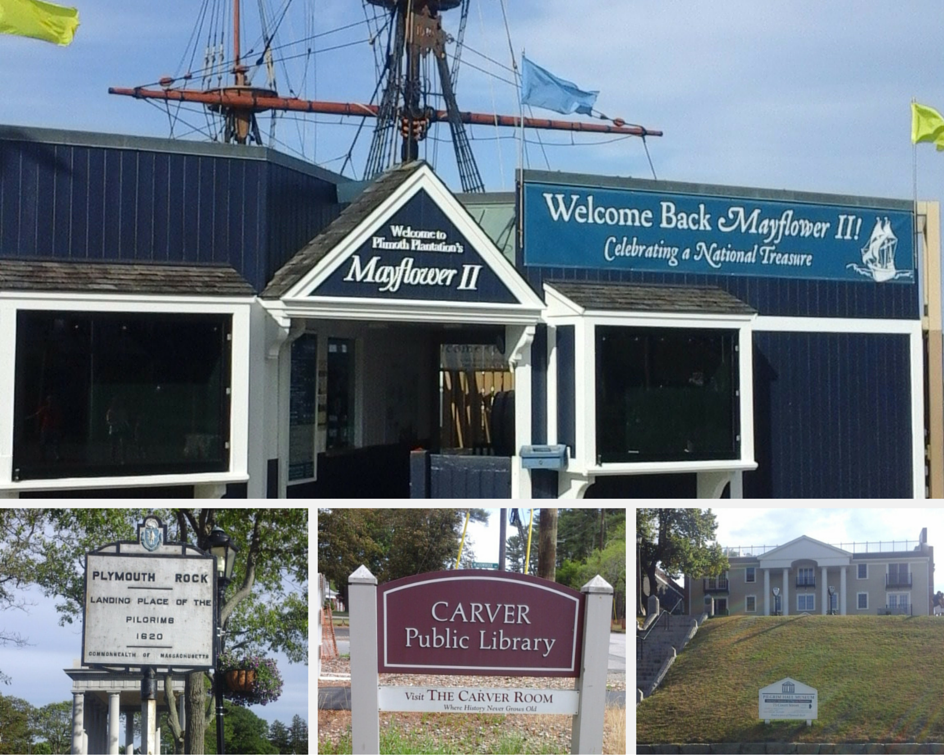 We also tried looking for some local book stores in the area, but couldn't find one.  Therefore, when we opted for exploring the sights around the hotel we stayed at in Plymouth, MA which was just a short 25 minute drive from Edaville.  I was delighted to see the replication of the Mayflower II ship was located directly across the street from our hotel at Pilgrim Memorial State Park pier.
The Mayflower II is a full-scale reproduction of the tall ship that brought the Pilgrims to Plymouth in 1620. Costumed role-players tell you about their perilous journey across the Atlantic, while modern guides speak about the fascinating history of Mayflower and Mayflower II.
We also saw the nation's oldest continuously operating public museum, Pilgrim Hall Museum.  The museum has an impressive collection of Pilgrim possessions telling the story of brave and determined men and women building lives and homes for themselves and their children in a new world.  So interesting!
Overall, we had an amazing weekend in Massachusetts exploring Edaville and Plymouth! Put Edaville USA on your list of family-friendly destinations to visit this summer with your little readers and train enthusiasts!
Connect with Edaville USA!  (for more information and current promotions)
Website | Facebook | Twitter | Instagram
Your turn:  Have you ever visited Edaville USA?  Feel free to share in the comments.