Let's Talk About Race by Julius Lester, illustrated by Karen Barbour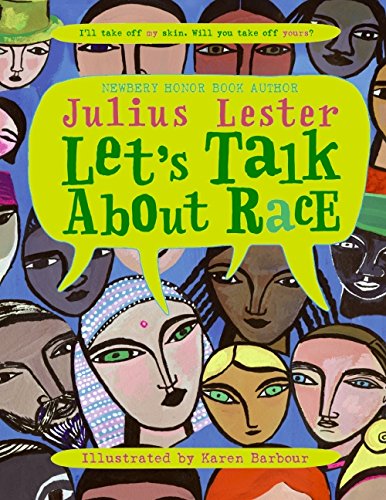 Publisher: Amistad
Age Range: 4 – and up
Pages: 32
Synopsis (from Amazon)
I am a story.
So are you.
So is everyone.
Julius Lester says, "I write because our lives are stories. If enough of these stories are told, then perhaps we will begin to see that our lives are the same story. The differences are merely in the details." Now Mr. Lester shares his own story as he explores what makes each of us special. Karen Barbour's dramatic, vibrant paintings speak to the heart of Lester's unique vision, truly a celebration of all of us.
Reflection
In light of all the recent events going on in Dallas and across the nation, yesterday I posted this book on my Instagram page and it was very well received.  Therefore, I decided to highlight it here on the blog for others to see who don't follow my Instagram page.
This book is definitely one of the best books I've seen that tackles the tough topic of race and explains it in a way that's easy for young children to grasp.  It's my recommendation for being one of the must-have books in your child's home library to start having conversations about race and racism.
I know some of you may be thinking things like: "Why do I need to to talk to my children about race?" or "My kids are too young to start having those types of conversations?" or "Will talking about race promote racism or bigotry?" or "Isn't that the teacher's job?"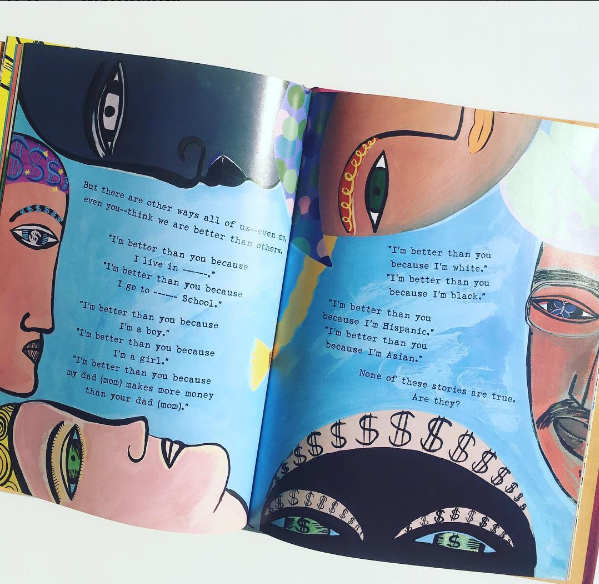 I understand that talking about race in America or race in general can feel dangerous and overwhelming, but it's important work if we want to truly get to a place where all people are treated as equals.  I believe it is crucial that we talk to our kids openly and honestly about race as soon as they are old enough to understand that people come in all different colors, shapes and sizes.  My 3.5 year-old daughter currently refers to White people as "peach" and Black people as "brown".  I never taught her that – it's something she has picked up over time since learning her colors.
I think it's important to give children the words and language to understand both the superficial outer differences between people, as well as the very real, lived differences that exist under the surface. As parents, caregivers and educators, we need to teach them to respect and value those differences as well as the many similarities that all people share.
Let's Talk About Race provides you with a sort of blueprint for educating your children or students about race and being unique.  It helps them become more compassionate toward people and allows them to help push the lever toward true equality.  In essence, this books helps kids to see beyond the superficial outward differences and look deeper for common interests, similar likes and dislikes, values, beliefs, and attitudes.  We all have a story to tell.
Here are just a few of my favorite quotes from the book:
"I'll take off my skin, will you take off yours?"
"Just as I am a story and you are a story and countries tell stories about themselves, race is a story, too."
"There are other ways all of us—even me, even you—think we are better than others."
It's also worth mentioning that while I find the illustrations in this book to be gorgeous and interesting, some children (especially smaller ones) may find them to be a bit scary.
This book touches upon themes of: social justice, having respect for others, race, diversity and self-love.
Your turn: What are your favorite children's books for talking about race and racism?  Feel free to share in the comments.