It is nearly impossible for me to walk by a book published by Flying Eye Books without stopping to take a peek.  I can spot one of their books from a mile away and automatically know they published it.  Can you relate?
Established in early 2013, design-conscious publisher Flying Eye Books prides themselves on paying attention to detail in design and focusing on the craft of children's storytelling and non-fiction. At the core of what they do is a simple pledge: "whatever the project, whatever the medium, genre, or format, Flying Eye Books will take your children's eyes on a journey of wonder!"  Flying Eye books are generally for children from ages 3 – 11, but even adults like myself rave about these amazing books time and time again.
We love Flying Eye Books in our house for several reasons: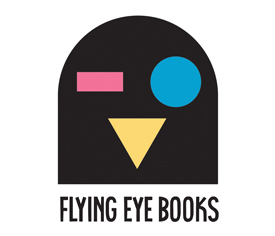 They have the most beautiful, vivid and original illustrations/designs
Their books are full of fun, educational and entertaining content
Their books have great endpapers making them a visual treat to look at from beginning to end
Their books are so gorgeous they don't have book cover jackets (at least I've never seen one of their books covered with a jacket)
The quality of their books is exceptional: well-bound with durable hardcovers and thick paper that can handle lots of kid-handling and page turning
They are active in supporting communities and schools
Flying Eye Books has published an array of stunning and innovative and award-winning titles from picture books to illustrated biographies.  One of my son's favorite's is Tough Guys Have Feelings Too by Keith Negly.  Negly is a nationally recognized editorial and children's book illustrator with 15 years experience working for major newspapers, magazines and publishers.  Tough Guys is his debut children's book.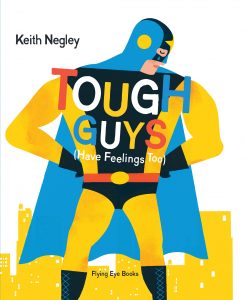 The first few times the kids and I read Tough Guys their first reaction was laughter.  They laughed at some of the guys shown falling in the book like the cowboy being thrown from the back of a horse.  However, now when we read it they always ask me why each of the guys are crying.  They want to know the story behind each of the men's sadness.  They notice things like the astronaut holding a picture of his family and guess he must be sad because he misses them.  They see the tattooed motorcycle rider crying beside the dead body of a squirrel in the road.  It's amazing to see the connections they now make with this book and have a deeper understanding of it.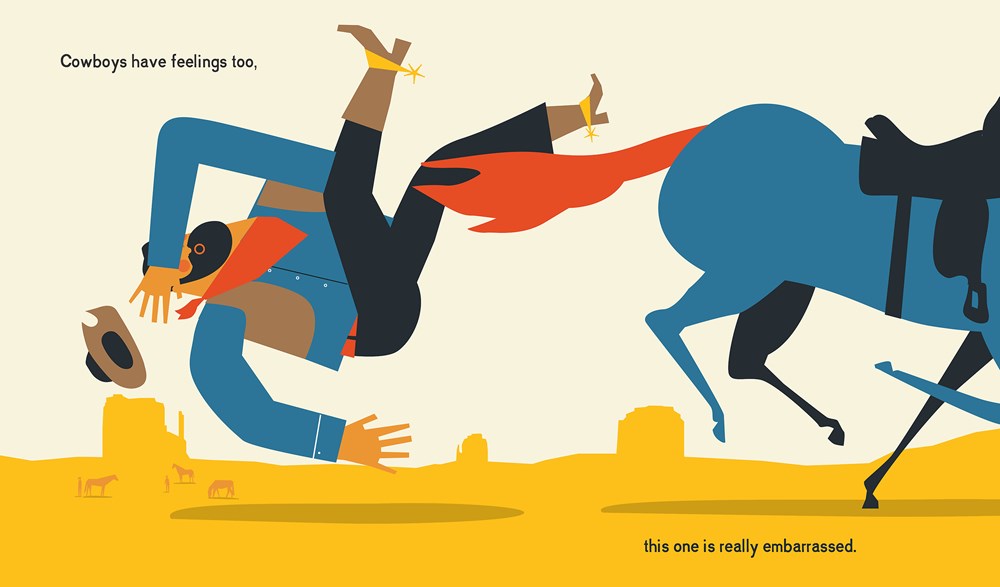 I try my best to explain to the kids that it's OK to cry and show emotions – even for big, tough guys.  I love how this book with its short, but poignant text gives us a chance to empathize with grown men who are seldom shown crying.  As my son gets older I'll be sure to read this book with him often as I know he'll likely be influenced by my husband and others not to cry or as my husband says, "Be a man…man up!"  While I don't want my son to be seen as a "punk" I do want him to know it's OK to cry sometimes even if he only does it in my presence or when he's alone.
Overall, I think Tough Guys is a winner!  It's a wonderful, simple and highly emotive book that allows little readers to explore feelings and emotions while addressing the macho male stereotype "real men don't cry."  A must-have for your child's home library collection.
Connect with Flying Eye Books!
Website | Facebook | Twitter | Instagram
Your turn: What's your favorite book published by Flying Eye Books?  Feel free to share in the comments.