Like many people, I am a huge dog lover!  Therefore, I was delighted to be given the opportunity to review a new children's book entitled Amos Likes to Jump written by Margaret Lowder.  Although my beloved dog Gucci has since passed on, I'm still a firm believer that life is better with a dog.
Unlike the latest gadgets or gizmos, you'll never grow tired of a dog (at least I won't).   Amos the dog certainly proves dogs are a constant source of rewards and surprises.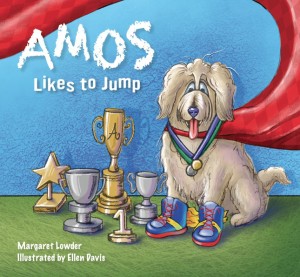 Summary
Amos Likes To Jump, is the first in the series of Amos tales.  Amos is well-known for his outstanding jumping abilities.  He's won several trophies and medals along the way to stardom.  Amos dons cool a read cape and special blue shoes when he's jumping up and down and showing off his super moves.  In the book, you'll see Amos jump on his magic broom, leap into the air onto a bird's wings, jump on a trampoline and even twirl a baton!  This book teaches children the value of individuality, and why being "you" is the best way to be.

Reflection
The kids really seemed to enjoy this book and requested to have it read aloud several times already.  They laugh at some of the facial expressions Amos makes especially when he's standing on his head in the bed.  My daughter was very observant and noticed that Amos has a purple nose instead of a brown nose or a black one.  At first I told her it was because he wanted his nose to match his shoes.  She didn't seem to like that answer.  Then I told her it's what makes him different and special.  She liked that answer better.  I didn't even notice he had a purple nose until she pointed it out.
Even with the unique purple nose, I think Amos is so adorable, lovable and energetic.  His zeal for life, jumping, and adventure is contagious–he seems incredibly wise.
I love the fact that this board book is larger than most standard ones I've come across.  I also like that the book is the perfect size for my kids' little hands.  They have no problems turning the pages and following along.  Also, the book is very sturdy and durable – another plus if you have small children who are still in the phase of putting everything in their mouths.
The rhyming text used throughout will keep younger children engaged along with the colorful and vivid illustrations.  Not to mention, if your kids like dogs as much as mine do, they will get a kick out of Amos and his many impressive tricks.
After reading the book, the kids enjoyed coloring pictures in the accompanying Amos Likes to Jump Coloring and Activity Book.  Activities include coloring, mazes, connect the dots, a word search, matching, numbers and letters, tic-tac-toe, and free-hand drawing – all with an Amos The Dog theme!
It's easy to see why the author chose to write a series of books about her dog Amos.  I can tell they have a special bond that is unbreakable.  In fact, a recent study published in the journal Science reveals the fascinating reason why we feel so close to our furry companions: When humans and dogs look into each other's eyes, both get a boost of the feel-good hormone Oxycontin, which is the same hormone behind the special bond between new parents and their babies.  How cool is that?
I'll definitely be on the lookout for the next Amos the Dog book in this series.  I can't wait to see what adventure Amos goes on next!
Your turn:  Did you enjoy this review?  Do you think your little ones will enjoy reading this book too?  Feel free to let me know in the comments.
Disclaimer:  I was given a free copy of the book Amos Likes to Jump and the activity and coloring book in exchange for an honest review.  All opinions expressed are my own.
About the Author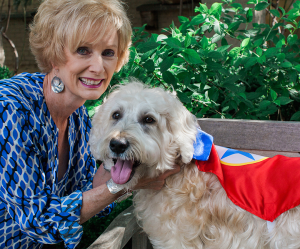 Margaret Lowder has always had a passion for two things: children and dogs. After years of dreaming Walter Mitty-style of the ideal children's book and its characters, she focused her boundless energy and witty spirit on the Amos Series.  Amos is Margaret's trusty sidekick, her pal for years and now her inspiration for children's books. She vividly describes the life of Amos in these books, from his imaginary travels to his secret super powers.
For more information about Amos the Dog please the social media sites listed below.