Our literacy expert for the month of August is Saroj Ghoting.  Saroj Ghoting is an Early Childhood Literacy Consultant and national trainer on early literacy. She presents early literacy training and information sessions at national, regional, and state conferences, and training for library staff and their partners.  Her newest book is STEP into Storytime: Using StoryTime Effective Practice to Strengthen the Development of Newborns to Five-Year-Olds and includes information on presenting storytimes for mixed-age groups, when newborn to five-year-olds are in the same storytime.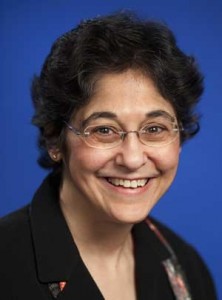 Saroj, please tell us a little about yourself.
I am a children's librarian by profession and after working in Montgomery County (MD) Public Libraries for 25 years, I became a consultant. I travel around the country presenting workshops on early literacy to public library staff so that they will, in turn, go out into their communities and help families help their children enter school ready to learn to read.
What are some activities that promote literacy?
Well, the most obvious is reading books with children from the time they are born (or even while you are pregnant). Equally important though is talking with your young children. HOW we talk and read with children is as important as that we talk and read with them.
When talking with babies, for instance, we should use that "parentese" voice, higher pitch, elongated vowels, clearer speech slowing down language, not baby talk, but using regular adult words in this higher pitch. Studies show that until about nine months of age babies listen longer when we speak this way and actually have a larger vocabulary than those who are not spoken to in parentese. And, we want to use all kinds of words, not just nouns like bottle, blanket, applesauce, dog.
It is important to use rich language—use adjectives, talk about things they cannot see—we are going to visit grandma on Saturday even though they don't see grandma in front of them. For older children, asking questions that cannot be answered with yes or no to encourage their language is key for later literacy.
When reading, don't worry if you can't get through the whole book. Don't turn reading into a power struggle. Have a few enjoyable minutes and the more enjoyable it is, the more your child will want to do it. Set aside the phone, turn off the tv, enjoy your few minutes together. Children who have enjoyable experiences around books and reading are more likely to stick with learning to read in school even if it is hard to learn at first.
What were some of the favorite children's picture books you've read this year?
Mama's Day with Little Gray by Aimee Reid
I'm Not Reading! By Jonathan Allen
The Very Cranky Bear by Nick Bland
Where's Walrus by Stephen Savage
Hooray for Hat by Brian Won
What are some other books you like to share with young children?
I like the Llama Llama books by Anna Dewdney, the If You Give . . . books by Laura Numeroff, Twinkle, Twinkle Little Star by Jane Cabrera, Over in the Meadow and other titles by Marianne Berkes, Duck! Rabbit! by Amy Rosenthal, A Splendid Friend Indeed by Suzanne Bloom, A Mother for Choco and Wolf's Chicken Stew by Keiko Kasza, Thank You Bear by Greg Foley, Something from Nothing by Phoebe Gilman, Angel Baby by Pat Cummings, Leo Loves Baby Time by Anna McQuinn, Nothing Like a Puffin by Sue Soltis, The Cow Loves Cookies by Karma Wilson, Mouse Shapes by Ellen Walsh, Blue Sea by Robert Kalan, Jazz Baby by Lisa Wheeler.
Besides reading, what are some other things parents can do to set their children up for literacy success?
I mentioned talking already. Remember talking TO your child is not the same as talking WITH your child and talking WITH your child elicits more language. And how about singing! Even if you can't sing, sing with your child. There is a distinct note for each syllable which helps them hear the smaller sounds in words which will later help them sound out words when they learn to read.
As you play with your children, follow their lead. You can add print to what they are doing. Playing restaurant, how about a sign with the name of the restaurant? Playing doctor, how about a sign in sheet, a prescription pad?
If you could give parents one piece of advice about reading with children, what would it be?
Whether parents can read well or not, share books with your children in enjoyable ways, relating what is in the book to the child's experience. This is the basis for comprehension which is so crucial to later reading.  Remember to use factual books as well. Your public library is a great place to go for books and for advice on books you and your children can enjoy together.
Name a book that:
a) Inspired you: How Children Succeed: Grit, Curiosity, and the Hidden Power of Character
Whatever It Takes: Geoffrey Canada's Quest to Change Harlem and America
Out of the Dust by Karen Hesse
b) Made you laugh out loud: Phantom Tollbooth by Norton Juster
c) You recommend to others often: Get Out of My Life, but First Could You Drive Me & Cheryl to the Mall: A Parent's Guide to the New Teenager by Anthony Wolf
What books are on your nightstand or e-reader right now?
Yellow Crocus by Laila Ibrahim
How can people get in touch with you on social media or on your website?
Website: www.earlylit.net
Twitter: @sghoting
Facebook: Saroj Ghoting, Early Childhood Literacy Consultant
Your Turn:  Did you enjoy this post?  Are you interested in being featured?  Do you know someone who might want to be featured?  Feel free to let me know in the comments or send me an e-mail.