A few weeks ago a soon-to-be first-time mom asked me for some great parenting books to read.  I rattled off the names of my top three parenting books to her, but then realized I left out a few more.  Therefore, I thought this topic was worthy of a blog post just in case there were other moms, dads, moms-to-be, or dads-to-be who could benefit from this information.
Many of the books I usually recommend continuously top all of the parenting best-seller charts time and time again.  After reading all of the books I mention below it's easy to see why they remain among the best-selling ones for parents.  There are so many amazing books available today and it's hard to choose, but I've narrowed down my list to ten books that I found to be most helpful in my parenting journey.  I hope you'll find them to be helpful too.
Of course, you don't have to read parenting books to be a good parent, but if you're open to gaining some new perspectives, ideas and insights read on…
How to Talk So Kids Will Listen & Listen So Kids Will Talk by Adele Faber and Elaine Mazlish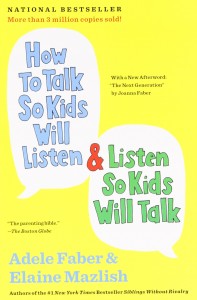 I think this book is hands down one of the best parenting books I've ever read!  It's chock full of down-to-earth approaches for keeping the lines of communication open with your children, so you can talk openly and honestly about their worries, hopes, joys and fears. Even though both of my kids are currently under the age of 3, I can definitely see how well the book's suggestions work.  The best part is my kids cooperate without me having to use any bribes, threats, lies or yelling.
The Conscious Parent: Transforming Ourselves, Empowering Our Children by Shefali Tsabary, PhD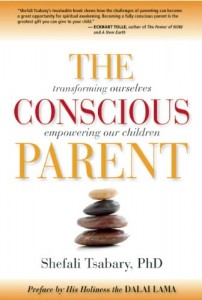 I purchased this book after seeing Dr. Tsabary appear on Oprah's Super Soul Sunday.  I was so curious and intrigued by her interview and perspective on disciplining and raising children that I just had to dig deeper.  By reading this book I realized in order to be the parent my children need me to be, I must be open to the possibility that as much as I am here to teach them, they are also here to teach me.  So profound!
The one thing I will mention about this book is to have an open mind before reading it.  If your main way to discipline children is in the form of spanking or hitting be open to learning a new perspective.  P.S. I don't believe in spanking/hitting as a form of discipline, but I know many people who do and who were raised to believe this is the best way (or the only way) to get children to listen/behave.  I found Dr. Tsabary's point-of-view to be so refreshing!
No-Drama Discipline by Daniel J. Siegel, M.D. and Tina Payne Bryson, Ph.D.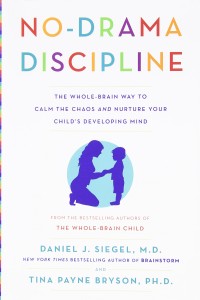 I'm reading this book now and I love it!  This is another book that provides an effective, compassionate road map for dealing with tantrums, tensions, and tears—without yelling and causing a scene.
The Happiest Baby on the Block by Harvey Karp, M.D.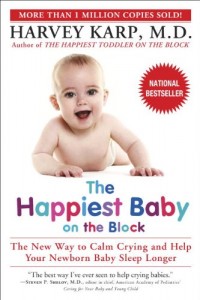 I learned about this book and the accompanying DVD from the pre-natal classes my husband and I took when I was pregnant with our daughter.  I found this book (and the DVD) to be extremely helpful as they taught me how to calm a crying baby instantly with such ease.   These tips worked like magic,  no kidding.  I was stunned to see how quickly all of the babies in the DVD stopped crying so I read the book to get more helpful tips.
Fun on the Run: 324 Instant Family Activities by Cynthia Copeland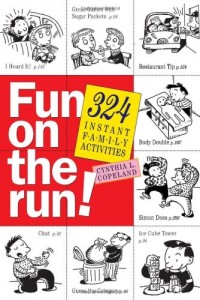 This is not your average parenting book, but it's been my saving grace over the past year since I heard about it.
It's instant fun. Activities to do in minutes. Super-quick games to roll out at a moment's notice. This book is a perfect antidote to those long car rides, endless waits in the doctor's office, and restaurant fidgetiness.
15 Minutes Outside by Rebecca Cohen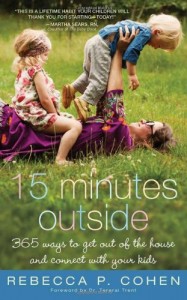 This book was written by a mom who made a New Year's resolution to take her kids outside every day for one year.  She managed to keep that resolution despite the weather conditions outside.
This inspiring collection of activities gives families an idea for every day of the year sorted by the season.  Each activity requires little planning, no expertise and relatively little resources (time, cash, or patience!), no matter where you live. Simple and inspiring, this book is bursting with hundreds of easy ways to get your family out into nature a little bit every day.
The Sleepeasy Solution by Jennifer Waldburger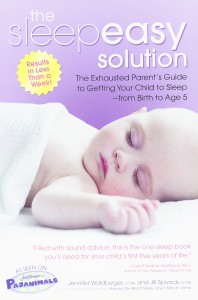 If you are a parent-to-be or a sleep deprived parent to an infant you'll want to read this book.  I read this almost three years ago shortly after giving birth to my daughter.  From this book you'll learn why it's important for babies to learn how to sleep.  It also provides step-by-step instructions on how to get your baby to sleep.  It even gives you little pep talks throughout for times when you feel like throwing in the towel.
The Whole Brain Child by Daniel J. Siegel, M.D. and Tina Payne Bryson, Ph.D.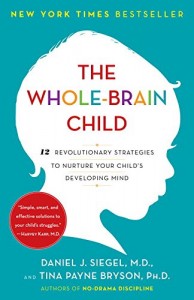 Written by the same authors of How to Talk So Your Kids Will Listen and Listen So Your Kids Will Talk, this book offers twelve strategies to nurture your child's developing mind. I find this book to be an excellent resource filled with so much practical advice that's easy to follow.  I still refer to it often.
Siblings Without Rivalry: How to Help Your Children Live Together So You Can Live Too by Elaine Mazlish and Adele Faber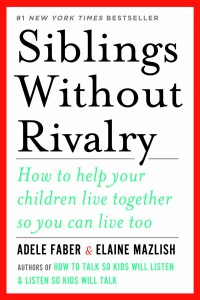 If you have more than one child like me, you'll definitely want to get your hands on this book!  I'm not promising your kids will be "perfect angels" and won't argue ever again, but if you follow the advice provided you may see a dramatic difference in the way they communicate with one another.  I think this book is a gem!
Brain Rules for Baby by John Medina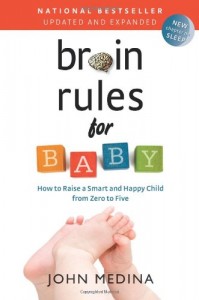 In this book, the science of a child's growing brain is explained in layman's terms. Check out the accompanying online videos by John Medina.  I watched them years ago on YouTube.
Your turn:  What are some of your favorite parenting books? What books did I miss?  Feel free to share in the comments.