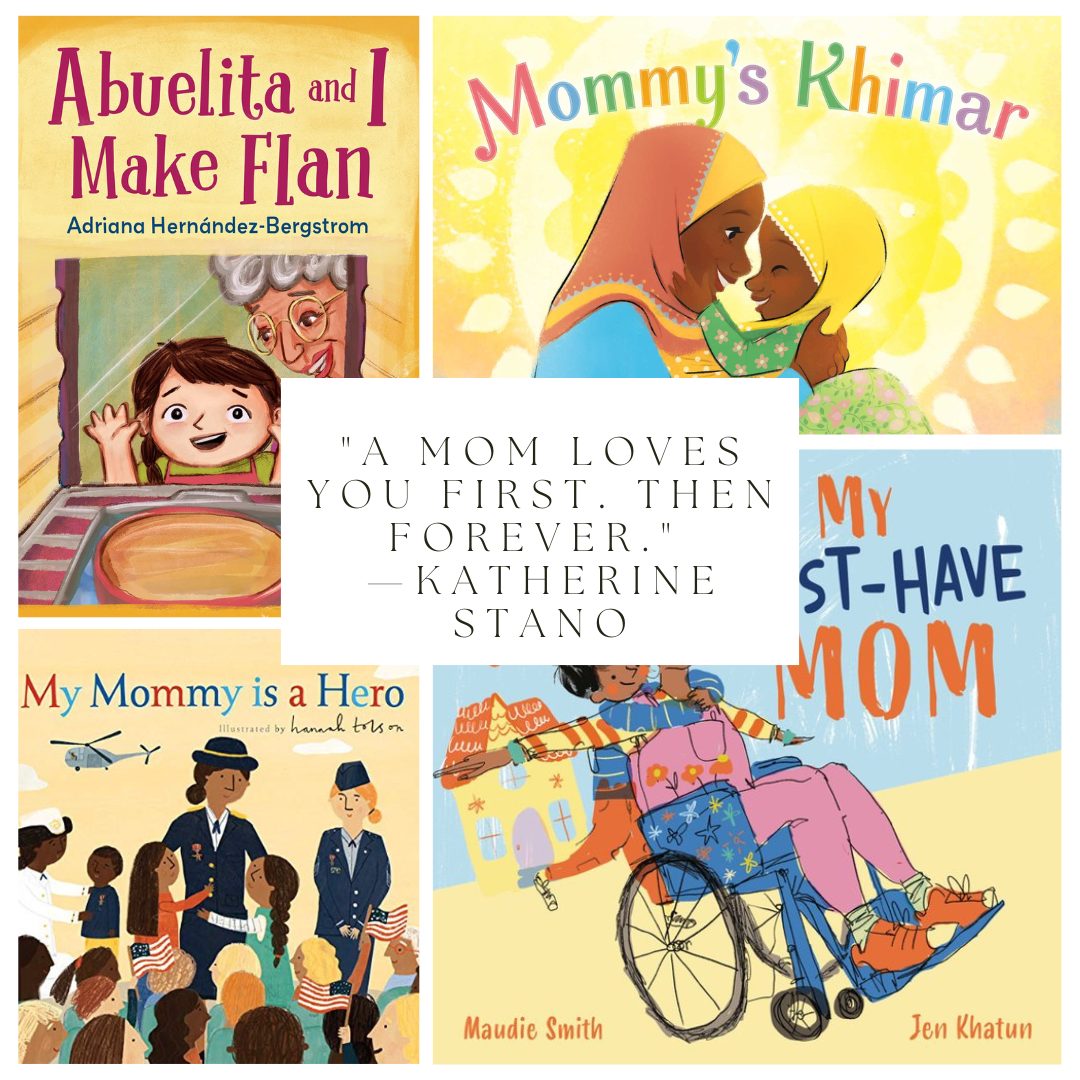 Are you looking for a list of the best children's books for Mother's Day?
Mother's Day.  It's the one day of the year when many people pay tribute to that one person who gave you life – your mother.  And while every day can be Mother's Day, I love the idea of having one holiday set aside to honor moms.  Amidst the demanding schedule of modern day life, Mother's Day is the most opportune moment to tell your mom what she means to you.
Mothers are often the foundation of the family, a source of sustenance and support. They are our caretakers, teachers, drill sergeants, cheerleaders, and best friends. They anchor us and inspire us to reach for the stars.
They take time off from work when we are born and have sleepless nights because we cry all night. They put food on the table, clothe us, and put a roof over our heads. When we get sick, the first thing we do is ask for our mothers. When we need advice, she will be there to give it and when we need to vent, she is there to listen. Our mothers are our best friends, even if the relationship between mother and child isn't all that great.  As a mother, it is their job to protect us; just like it is the job of a lioness to protect her cubs. They hold our hands when we cross the road, but eventually must let us spread our wings and fly.
Below I've gathered a list of books that embrace various kinds of moms and highlight the precious love between a mother (or grandmother) and child.  Check these out to read with your little readers this Mother's Day and beyond.
Your turn: What books would you add to this list?  Which ones are you looking forward to reading?
Board Books
Lullaby (for a Black Mother) by Langston Hughes
Baby Goes to Market by Atinuke
Baby, Sleepy Baby by Atinuke
Leo Loves Mommy by Anna McQuinn
Me & My Mama by Carole Boston Weatherford
Swaddled With Love by Alessandra Preziosi
In My Heart by MacKenzie Porter
Welcome Song for Baby by Richard Van Camp
You Are Home by Mackenzie Porter
Sweet, Sweet Baby! by Javaka Steptoe
Brown Sugar Baby by Kevin Lewis
My Mama is a Mechanic by Doug Cenko
Waiting for Baby by Rachel Fuller
Los Abrazos de Mamá by Karen Katz
Grandma & Me by Carole Boston Weatherford
Grandma's Purse by Vanessa Brantley-Newton
Picture Books Featuring Mothers
I Sang You Down from the Stars by Tasha Spillett-Sumner
Me & Mama by Cozbi A. Cabrera
Like the Moon Loves the Sky by Hena Khan
Mommy Time by Monique James-Duncan
My Mommy Medicine by Edwidge Danticat
Strong Baby by Robin Arzón
A Night Out with Mama by Quvenzhané Wallis
One Day by Joanna Ho
My Mother's Sari by Pooja Makhijan
Mommy Sayang by Rosana Sullivan
Mommy's Khimar by Jamilah Thompkins-Bigelow
Mama's Work Shoes by Caron Levis
Saturday by Oge Mora
A Ride on Mother's Back by Emery Bernhard
Welcome to the Party by Gabrielle Union
Cancer Hates Kisses by Jessica Reid Sliwersk
Hair for Mama by Kelly Tinkham
Nine Months Before a Baby is Born by by Miranda Paul
How You Came to Be by Carole Gerber
Dreams for a Daughter by Carole Boston Weatherford
Strong Mama by Robin Arzón
Always With You, Always With Me by Kelly Rowland & Jessica McKay
I Love You More Than You'll Ever Know by Leslie Odom & Nicolette Robinson
I'll Hold Your Hand by Maggie C Rudd
Let's Do Everything and Nothing by Julia Kuo
You Will Do Great Things by Amerie
Brave Like Mom by Monica Acker
Mama: A World of Mothers and Motherhood by Helene Delforge
You Be Mommy by Karla Clark
What is Given from the Heart by Patricia C. McKissack
Mommy's Kisses and Cuddles by Linda Ashman
Dear Mama's Loving Arms by Ceece Kelley
My Mommy Marches by Samantha Hawkins
All Moms by Sarah Kate Ellis
Deep In The Sahara by Kelly Cunnane
Pecan Pie Baby by Jacqueline Woodson
Sulwe by Lupita Nyong'o
Ten Cents a Pound by Nhung N. Tran-Davies
Your Name Is a Song by Jamilah Thompkins-Bigelow
Bedtime Bonnet by Nancy Redd
Tiara's Hat Parade by Kelly Starling Lyons
How Mamas Love Their Babies by Juniper Fitzgerald
Who Will You Be? by Andrea Pippins
Mama's Belly by Kate Hosford
My Mommy is a Hero by Hannah Tolson
Hero Mom by Melinda Hardin
In My Anaana's Amautik by Nadia Sammurtok
Dreamers by Yuyi Morales
Your Mama by Nonieqa Ramos
A Spoonful of Faith by Jena Holliday
My Must-Have Mom by Maudie Smith
Tomatoes for Neela by Padma Lakshmi
My Name is Bana by Nana Alabed
I Love You Like Yellow by Andrea Beaty
Remember to Dream, Ebere by Cynthia Erivo
The Unbreakable Thread by Emily Joof
A Gift for Amma by Meera Sriram
Mother's Day by Anne Rockwell
Thank You, Mama (Grey & Mama) by Linda Meeker
Mama Elizabeti by Stephanie Stuve-Bodeen
Brown Baby Lullaby by Tameka Fryer Brown
Picture Books Featuring Grandmothers
Just Like Grandma by Kim Rogers
A Day With Yayah by Julie Flett
My Caribbean Grandma by Sandra Campbell-Notice
How Old is Grandma? by Antoinette Simmonds
Just Like a Mama by Alice Faye Duncan
Grandmother School by Rina Singh
When Grandma Gives You a Lemon Tree by Jamie L.B. Deenihan
Nana Akua Goes to School by Tricia Elam Walker
Abuela by Arthur Dorros
Grandma'samzn.to/3ArCq72 Gift by Eric Velasquez
Nana's Big Surprise by Amada Irma Perez
I Dream of Popo by Livia Blackburne
When Grandmama Sings by Margaree King Mitchell
I Really Want to See You Grandma by Taro Gomi
My Singing Nana by Pat Mora
Holding On by Sophia N. Lee
Amah Faraway by Margaret Chiu Greanias
Nana, Nenek & Nina by Liza Ferneyhough
Lola's Nana-Bibi Comes to Visit by Anna McQuinn
Plátanos Are Love by Alyssa Reynoso-Morris
Sari-Sari Summers by Lynnor Bontigao
Joy Takes Root by Gwendolyn Wallace
Mango, Abuela, and Me by Meg Medina
Grandma's Tiny House by Janay Brown-Wood
Grandma's Purse by Vanessa Brantley-Newton
Abuelita and I Make Flan by Adriana Hernández Bergstrom
I Hope by Monique Gray Smith
Priya Dreams of Marigolds & Masala by Meenal Patel
Read for Me, Mama by Vashanti Rahaman
A Ride on Mother's Back: A Day of Baby Carrying Around the World by Emery Bernhard
A Grandma's Magic by Charlotte Offsay
The Rice in the Pot Goes Round and Round by Wendy Wan-Long Shang
Nana in the City by Lauren Castillo
Don't Call Me Grandma by Vaunda Micheaux Nelson
Superhero Gran by Timothy Knapman
Tofu Takes Time by Helen H. Wu
The Whole World Inside Nan's Soup by Hunter Liguore
When Nana Dances by Jane Yolen
Singing with Momma Lou by Larry Johnson
Grandmother's Dreamcatcher by Becky Ray McCain
Granny's Kitchen by Sadé Smith
LGBTQIA+ Picture Books
My Moms Love Me by Anna Membrino
Mama and Mommy and Me in the Middle by Nina LaCour
Heather Has Two Mommies by Leslea Newman
Stella Brings The Family by Mirian B. Schiffer
My Two Moms and Me by Michael Joosten
Mommy, Mama, and Me by Leslea Newman
In Our Mothers' House by Patricia Polacco
Julián Is a Mermaid by Jessica Love
My Maddy by Gayle E. Pitman
My Two Grannies by Floella Benjamin
For Kids With Incarcerated Mothers
See You Soon by Mariame Kaba
Mama's Nightingale by Edwidge Danticat
Far Apart, Close in Heart: Being a Family When a Loved One is Incarcerated by Becky Birtha
For Kids Dealing with Grief or the Loss of a Mother, Grandmother or Aunt
Mouseboat by Larissa Theule
Zora, the Story Keeper by Ebony Joy Wilkins
Goodbye: A First Conversation about Grief by Jessica Ralli & Megan Madison
Holes in the Sky by Patricia Polacco
Abuela's Super Capa by Ana Siqueira
Saturdays Are for Stella by Candy Wellins
Remembering Mom's Kubbat Halab by Medeia Sharif
How High Is Heaven? by Linsey Davis