"Is it time yet?" "How much longer?" "Am I almost done?"
If you are a parent, caregiver, or educator, it's likely your child or student has repeatedly asked you one of those questions while waiting for something, working on a task, or completing an activity.  It's common for some kids (and adults) to become frustrated with not knowing how much time they have left to complete something.
Enter the Giant Classroom Timer from our friends at Lakeshore Learning. This visual timer might help alleviate some frustration by providing kids with a way to "see" time passing by. I love that this timer can be mounted to a wall or set on a table. Plus, the large screen display allows you to read the numbers up close or further away from across the room.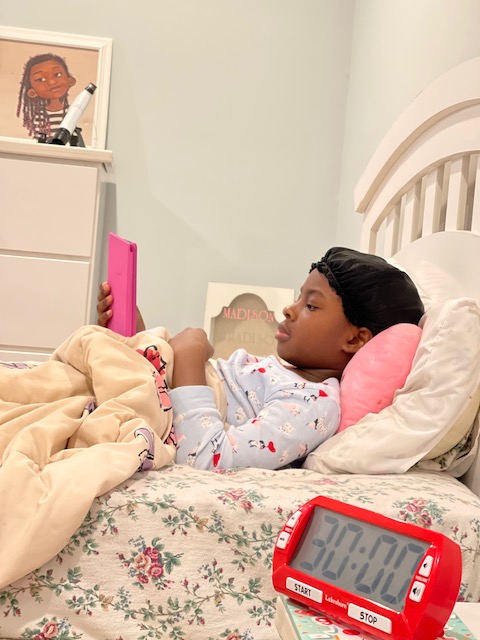 To use the timer simply decide the number of minutes and seconds needed to complete a task, adjust the volume, and then press the start button.  As time passes, the minutes and seconds countdown and then the timer beeps when time is up.  Press the stop button and the beeping will end.
Now that my kids are older and understand the concept of time, I incorporate timers with them for things like: independent reading time, managing screen time, bedtime routines, clean up time, and brushing their teeth. In addition to verbal communication from a trusted grown-up, timers can also help set clear expectations in a visual way that's easy for children who understand the concept of time.
While timers are great for some timed tasks or activities, there are instances when I let the kids keep going if they want to continue past the allotted time.  For example, if they want to read, clean their rooms, or brush their teeth or an extra five minutes…go for it! I also wouldn't recommend timers for creative tasks like craft projects. Let's face it, there's nothing worse than being interrupted by a loud "ding" or "beep" when you're in the middle of creating something.
I also use this timer for myself when I'm tackling my to-do list, cooking dinner, baking, or cleaning the house.  Timers are an effective tool for time management which is an essential life skill.  However, I think each individual or family should use timers in a way that is sensitive to their children's or student's needs and use them in age and developmentally appropriate ways.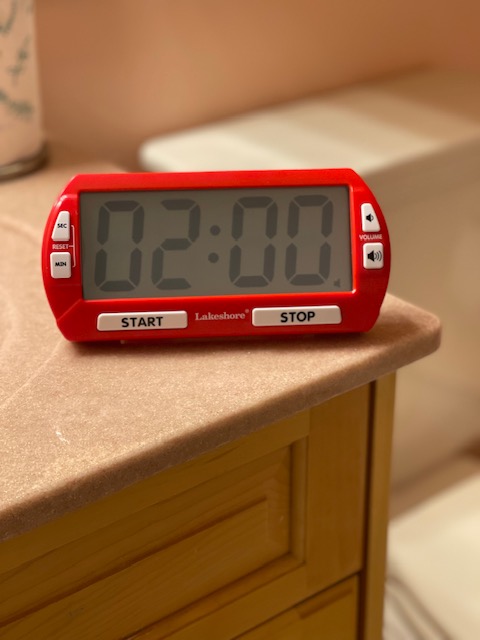 You can also use the Giant Classroom Timer to:
Ease and manage daily routines: hygiene (brushing your teeth), morning, dinner, cleanup, bath/shower & bedtime.
Monitor time for homework, computer use, instrument practice and play time.
Manage time-outs: help children calm down and watch their frustration fade as time passes by.
Be punctual: when the time runs out, we'll go!
Be productive: how quickly can you clean your room/playroom?
Be organized: keep track of valuable time and break large, overwhelming projects into small, manageable 10-minute activities.
Be healthy: finish your broccoli before the timer runs out!
Do you use timers in your home or classroom?  What is your favorite way to use timers?
Use my coupon code to get 20% off any single non-sale item. My coupon code is 3755. It can be used for purchases in-store or online.
Valid through 2/28/2022 for one-time use in stores or online. Limit one coupon per customer. Not valid on items with shipping restrictions. Other exclusions may apply. Visit bit.ly/3bbUXIj for details.
Learn more about the Giant Classroom Timer here.