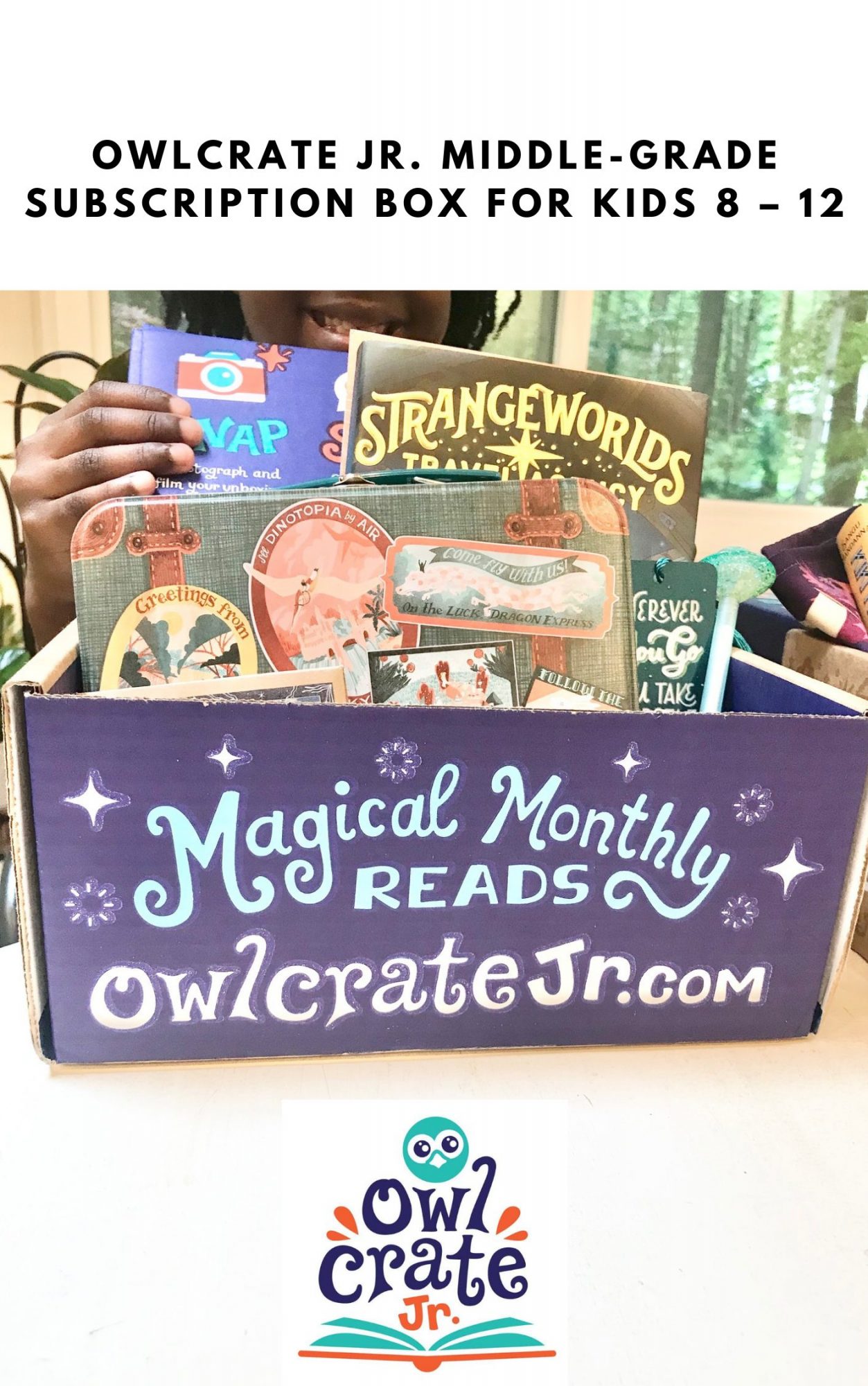 I just love a delightful book subscription box, do you?  I enjoy subscription boxes like the OwlCrate Jr. Middle-Grade box because they often offer unique educational experiences or products you would not find elsewhere. I also think book subscription boxes can give kids of all ages the chance to learn by reading terrific books, doing hands-on projects, crafts, and activities.
I like to use the books we receive in subscription boxes to help enhance my kid's language and reading skills.  This is especially true for the OwlCrate Jr. box since it is designed for readers of any gender ages 8 to 12.  The books they feature are great for readers who are ready to read books independently with higher word counts and more advanced vocabularies than picture books or easy reader chapter books.  Their books also make fun read-alouds to read together as a family!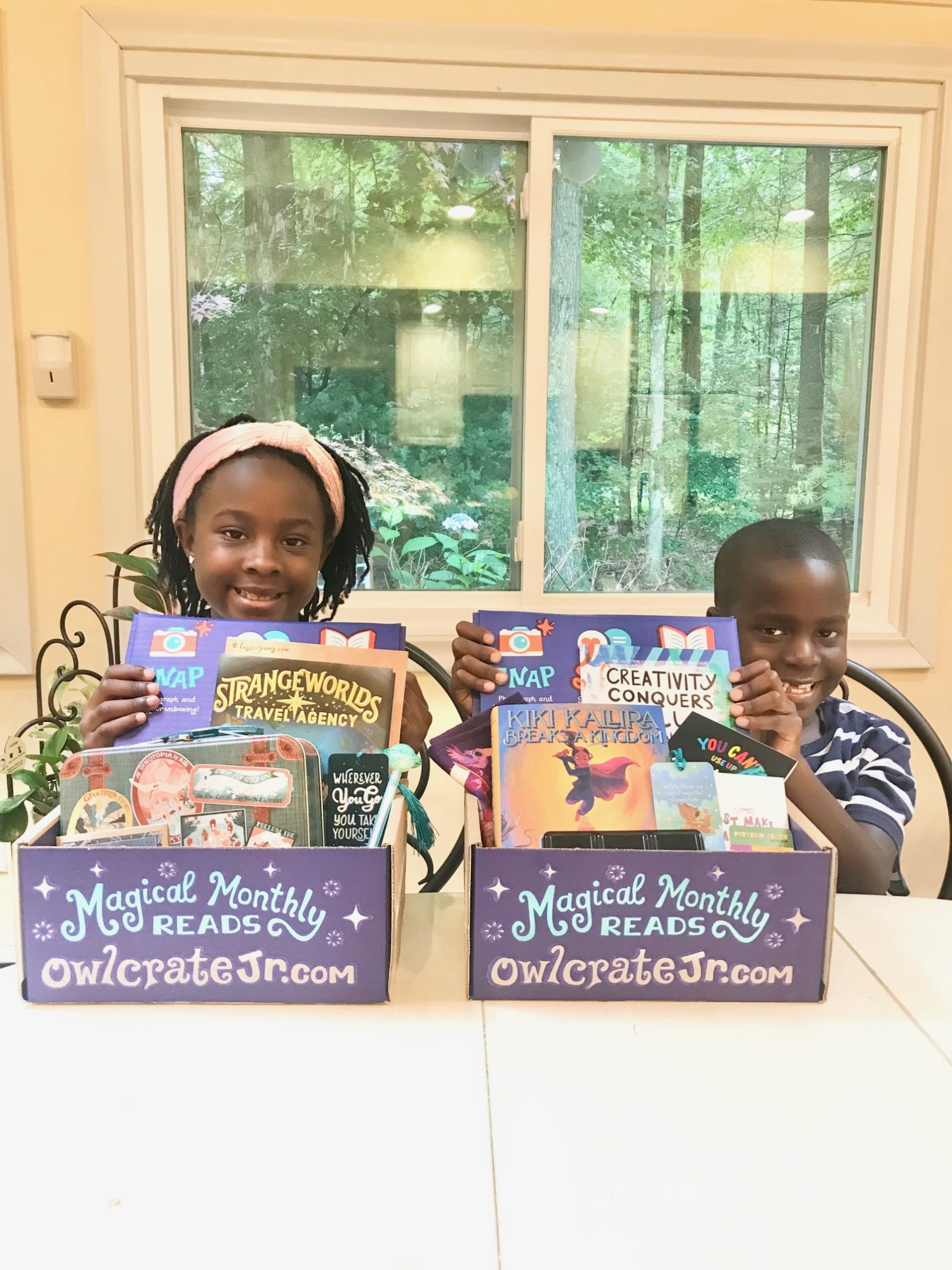 Each box includes a hardcover middle grade novel; an exclusive letter and signed book or bookplate from the author; a fun activity, game, or additional book; a collectible monthly sticker, plus an assortment of fun goodies related to their theme of the month.
We received two boxes to explore: Creativity Conquers All and Wondrous Worlds.  Each box was jam packed with bookish goodies: books, bookmarks, a tin suitcase, bookplates, watercolor paint set, notepad, postcards, and more!
In addition to the books, my daughter's favorite items are the bookish tin suitcase (she plans to use it to store some art supplies), the metal bookmark and an iron-on literary patch.  My son's favorite items are the watercolor paint set and the custom pencil carrying case.  My favorite item is a metal tassel bookmark designed by @theindysign featuring a quote from Neil Gaiman: "Wherever you go, you take yourself with you."
Since the kids are still on summer break from school, they want to send hand-written letters to a few of their friends and family members using their new fold and mail stationery designed by @boygirlparty.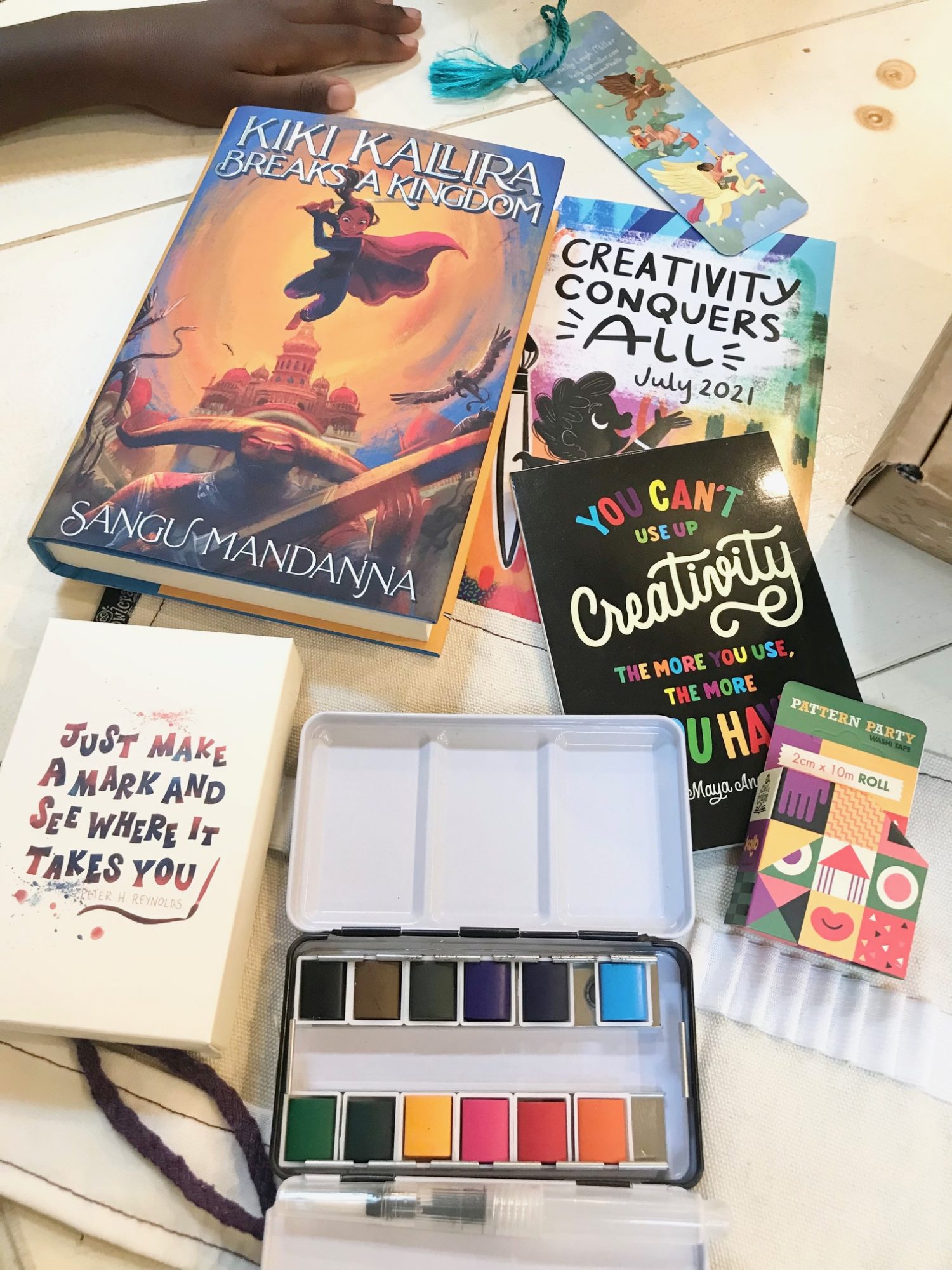 The tin suitcase was inspired by some of OwlCrate's favorite literary locales.  It is designed by @annelambelet.
I think I'm going to keep the iron-on Literary Voyager merit badge patch designed by @erin_gibbs for myself…it's just so cute!
The August 2021 theme of the month is: Moonlight & Stardust!
What's in it for YOU?
Our friends at @owlcratejr were kind enough to offer a discount code to anyone in my audience who may want to try their box.  Use code HEREWEEREAD15 at checkout to save 15% off your first box!  Please note: (This discount code is only applicable to subscriptions and gifts, not past boxes or items in the shop.)
Your turn: Have you tried the OwlCrate Jr. subscription box yet?  Do you have middle-grade readers who you think will enjoy this box?