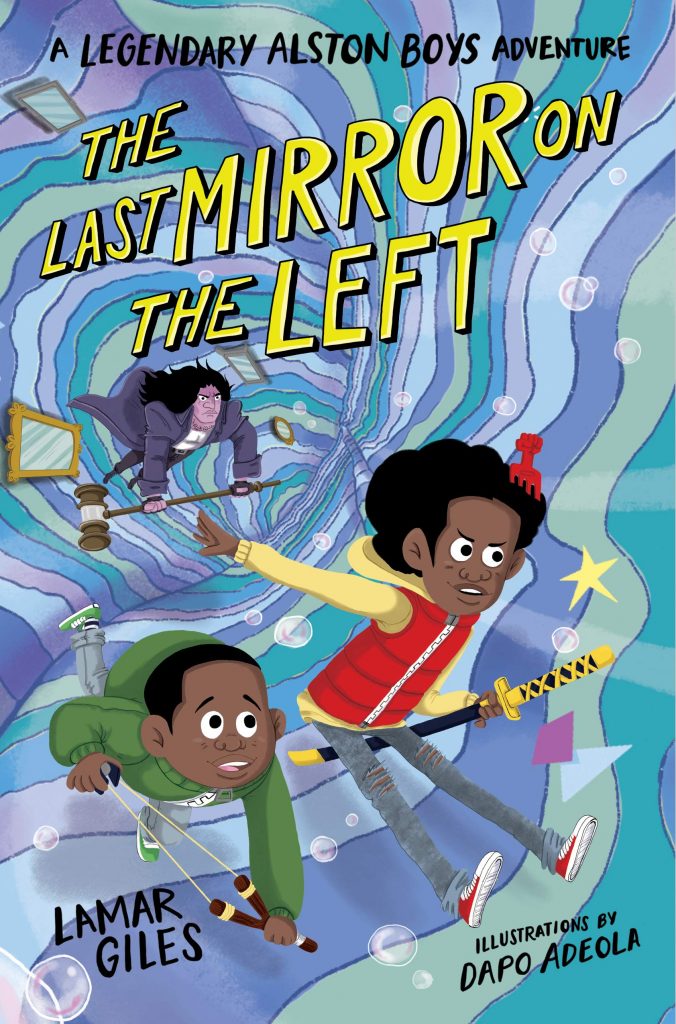 Title: The Last Mirror on the Left by Lamar Giles, illustrated by Dapo Adeola
Published by Versify
Pages: 272
Age Range: 8 – 12 years
Grade Level: 3 – 7
Disclaimer: I received a complimentary copy of this book from Versify in exchange for an honest review.  As always, all opinions expressed are my own.

Synopsis
In this new Legendary Alston Boys adventure from Edgar-nominated author Lamar Giles, Otto and Sheed must embark on their most dangerous journey yet, bringing a fugitive to justice in a world that mirrors their own but has its own rules to play by.
Unlike the majority of Logan County's residents, Missus Nedraw of the Rorrim Mirror Emporium remembers the time freeze from The Last Last-Day-of-Summer, and how Otto and Sheed took her mirrors without permission in order to fix their mess. Usually that's an unforgivable offense, punishable by a million-year sentence. However, she's willing to overlook the cousins' misdeeds if they help her with a problem of her own. One of her worst prisoners has escaped, and only the Legendary Alston Boys of Logan County can help bring the fugitive to justice.
Reflection
The legendary Alston Boys of Logan County, Otto and Sheed, are back for another adventure in the follow-up to The Last Last-Day-of-Summer. Think The Hardy Boys meets The Phantom Toolbooth, but with Black boys who happen to be cousins AND best friends.

Last time, Otto and Sheed accidentally managed to freeze time because they wanted the final day of summer to last longer. They ended up going on an action-packed journey to rescue their community, get things back to normal, and unfreeze time with the help of a few supportive friends. The cousins also learned some important truths about themselves along the way.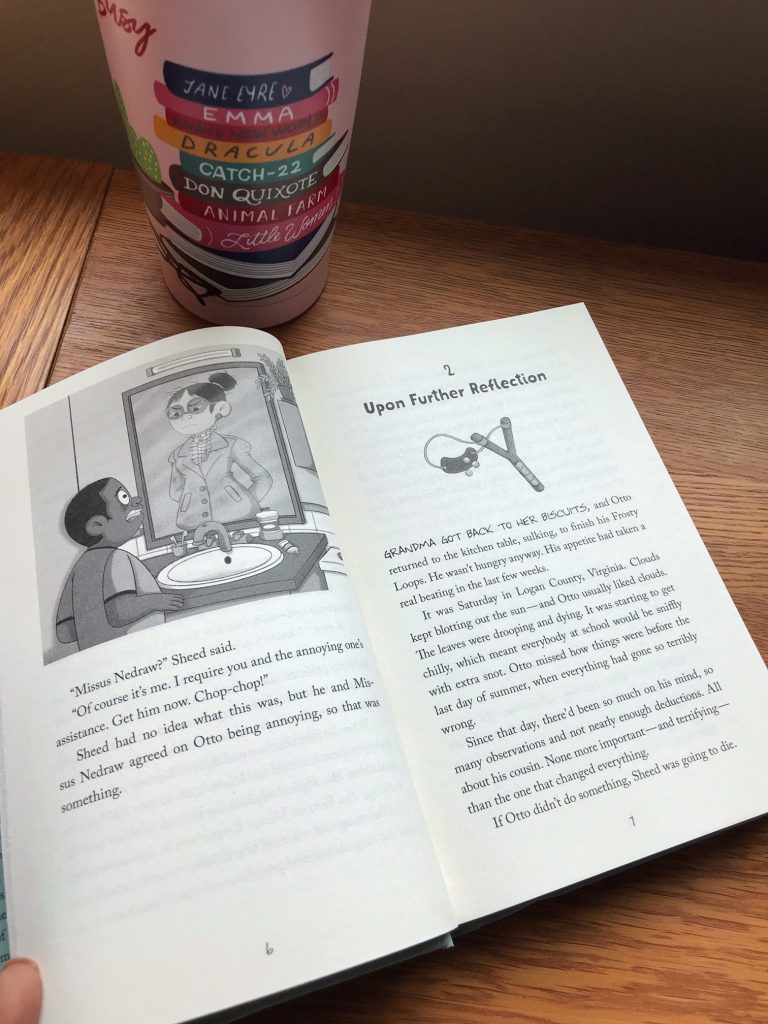 In The Last Mirror on the Left, the amateur sleuths pick back up where the first book ended. While I don't think you necessarily need to read the first book before reading this one, I believe it definitely helps add a bit more depth and moments of reflection if you do. New readers to this series will have no problems following the story since the writing is so well done and seamless.
At the end of the first book, there is mention of Sheed possibly having health problems that may impact his future. Unfortunately, that possibility ends up becoming a reality in this book when Sheed becomes ill. Throughout the book, Otto is concerned about Sheed's overall health which shows how close the bond is between the two cousins. Sheed's illness doesn't stop him and Otto from embarking on another new twist-turning journey.
Missus Nedraw of the Mirror Emporium reminds the boys about their adventure last summer and how they stole some of her mirrors without asking for permission. Oops! The boys then get caught in one mirror after another in a Warped dimensional prison world and are stuck there. To top it all off, Otto and Sheed are the only two who can help catch Miss Nedraw's most dangerous prisoner, Nevan, who recently escaped. But first they'll have to deal with a notorious group of spiders also known as the ArachnoBRObia. Spiders, and mirrors, and "butt shrubs", oh my!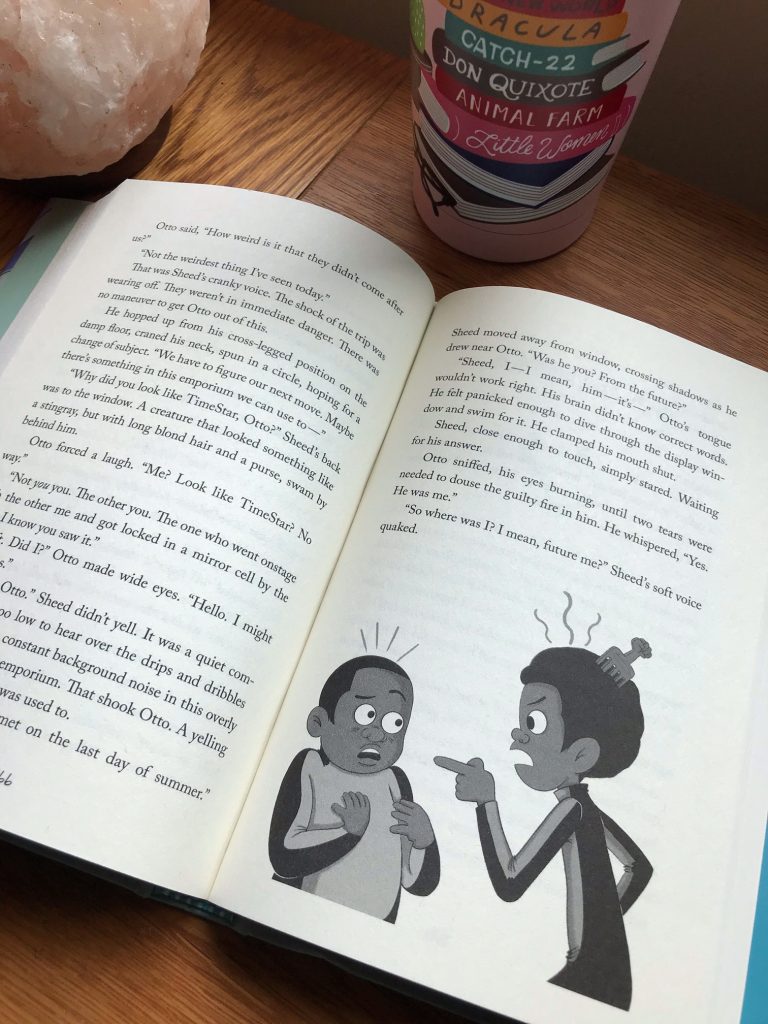 Overall, The Last Mirror on the Left is a funny, magical, and wild adventure that will have you laughing and cheering for the dynamic cousin duo, Otto and Sheed as they help bring a fugitive to justice. Author Lamar Giles is masterful at crafting fantasy stories and incorporating relatable themes that are relevant to current events. I also appreciate the illustrations Dapo Adeola included throughout to illustrate specific elements of the story which also helped to visualize what some of the fantasy characters looked like.
Will Otto and Sheed go on another fantastical journey? I certainly hope so! We'll just have to eagerly wait and see…won't we?

About the Author
Lamar Giles writes for teens and adults across multiple genres, with work appearing on numerous Best Of lists each and every year. He is the author of the acclaimed novels Fake ID, Endangered, Overturned, Spin, The Last Last-Day-of-Summer, Not So Pure and Simple, and The Last Mirror on the Left as well as numerous pieces of short fiction. He is a founding member of We Need Diverse Books and resides in Virginia with his wife. Twitter: @LRGiles, Instagram: @LamarGiles

About the Illustrator
London born and bred but of Nigerian heritage, Dapo Adeola is an illustrator and designer who creates characters and images that challenge gender norms in a fun and upbeat way. He is the co-creator and illustrator of the upcoming picture book series Look Up (June 2019) and illustrator for the middle grade novel The Last Last-Day-of-Summer by Lamar Giles (April 2019). When he's not busy cooking up new characters and adventures, you can find him running illustration and character design workshops in and out of schools, to help highlight the possibilities of a career in illustration to inner-city children. Twitter: @DapsDraws Instagram: @DapsDraws