Where are all my electric slide fans? Whenever the Electric Slide comes on at a wedding, club or social event I have to get up and dance! Anyone else?

The origins of "The Electric Slide" began with the song "Electric Boogie." "Electric Boogie" was written in 1976 by Neville "Bunny Wailer" Livingston for singer Marcia Griffiths. Choreographer Richard Silver created the original electric slide, a 22-step dance to go along with the song. Over the years, different versions of the dance have surfaced.
The remixed version of the song "The Electric Slide" from the year 1989, made the Electric Slide an international dance craze. This song has proven staying power and it remains the highest-selling single by a female Reggae singer of all time.

Today, I'm excited to reveal the cover of a forthcoming 2021 picture book The Electric Slide and Kai.

Publisher: Lee & Low
On Sale Date: March 2, 2021 available for pre-orders now!
Written by Kelly J. Baptist illustrated by Darnell Johnson
Reading Level: 4 – 8 years
Grade Level: 1 – 2
Pages: 40
Kai's aunt is getting married, and everyone in the Donovan family is excited about the wedding … except Kai. The highlight of every Donovan occasion is dancing the electric slide–a groovy line dance with footwork that Kai can't quite figure out. More than anything, he wants to prove that he can boogie with the rest of his family and earn a cool nickname from his granddad. Can Kai break through his nerves and break it down on the dance floor?

Told with humor and heart by author Kelly J. Baptist and lively illustrations from debut picture book artist Darnell Johnson, The Electric Slide and Kai is a funky celebration with all the right moves! Coming March 2, 2021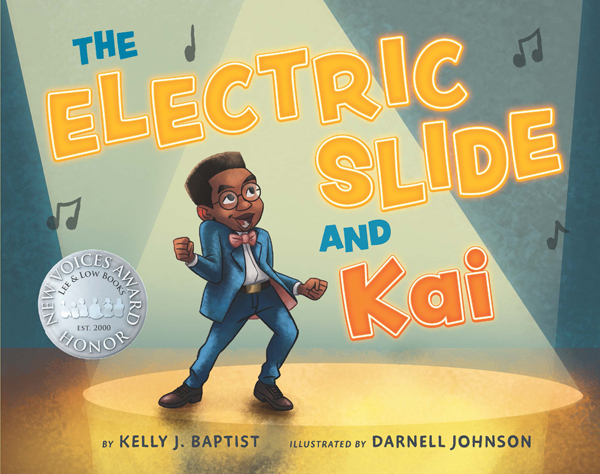 About the Author
Kelly J. Baptist grew up in southwest Michigan, and after living in Alabama, Florida, and Minnesota, she is happy to be right back home in Berrien Springs! She works as a social emotional learning interventionist and is the author of the middle grade novel Isaiah Dunn Is My Hero. Kelly keeps busy with her five amazing children, who often play loud music that leads to epic family dance parties. You can visit her on Twitter @kellyiswrite and online at kellyiswrite.com.

About the Illustrator
Darnell Johnson is a Miami native who discovered his passion for art while watching Saturday morning cartoons as a kid. Currently he resides in Alpharetta, Georgia, with his beautiful wife and newborn son. Darnell pulled inspiration from his childhood, family, and friends to draw life into the characters for The Electric Slide and Kai. He hopes the lines, colors, and shapes he makes sparks the imagination of young readers. You can visit him online at artofdarnelljohnson.com.
Your turn: Are you looking forward to reading this book with your little readers? What are your feelings of the dance and its staying power after so many years?  Sound off in the comments, or be social on social media!  I'd love to hear from you!