Today I am THRILLED to share The Sowing Circle with you and support four of your favorite Black female kid lit authors: Tameka Fryer Brown, Vanessa Brantley-Newton, Kelly Starling Lyons and Alice Faye Duncan.
The Sowing Circle formed by Alice, Vanessa, Kelly and myself, was born of a collective desire to "sow words and images into the hearts of children that will reap a generation that is inquisitive, empathetic, and enlightened." And the fact that all four women have books coming out on January 14th. What a beautiful way to "sow seeds" and support one another. I'm in love with the concept of their initiative!
I had the pleasure to interview these talented women and ask them a series of bookish questions. Check out the interview below for your reading pleasure. Oh, and there's a GIVEAWAY at the end where U.S. residents can enter to win a bundle of ALL FOUR BOOKS!
Tell me about your new book. What inspired the story? What do you hope children take away?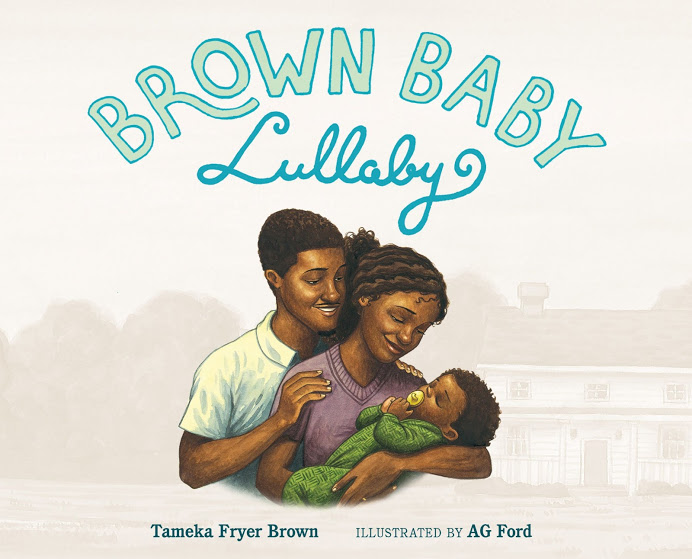 TAMEKA: BROWN BABY LULLABY (illustrated by AG Ford and published by Farrar, Straus & Giroux) is a love letter to brown-skinned babies everywhere. In the story, two parents attentively care for and affirm their sweet brown baby while going through their evening routine—which on this day includes clanging pots, a messy mealtime, and some dancing to Coltrane before reading a book and going to bed. I was inspired to write it during a moment of nostalgic reflection about the bond I shared with my children when they were infants and toddlers. The love between parent and child is so pure and uncomplicated at that stage. I think that's a sentiment many can relate to, so I wanted to capture that emotional truth in a book that could be appreciated and shared by others.
When parents, caregivers, and others share Brown Baby Lullaby with children, I hope the words and images of the book will make Black and brown children feel seen, valued, and loved. I hope children who aren't Black or brown receive the message—from the earliest age possible—how much Black and brown children are cherished by their families and how equally valuable Black and brown lives are in relation to their own. If we intentionally work to make these heart beliefs (as opposed to just head beliefs) for the next generation, we have a real shot at drastically reducing racial bias. Which would mean the world for all of us.
ALICE: JUST LIKE A MAMA (illustrated by Charnelle Pinkney Barlow, published by Denene Millner Books) is a lyrical book, spare and heartfelt like a poem. My mother inspired the story. She adopted her little sister, when my grandmother died in1966. Mama was 28 years old. Her little sister, Pat, was 10. Mama "mothered" her sister, raised her up, and sent both of us to college. Ultimately, I want JUST LIKE A MAMA to affirm children, who do not reside with their biological parents. As for children who do, I want them to hear or read the book and be inspired with empathy and warm feelings of compassion.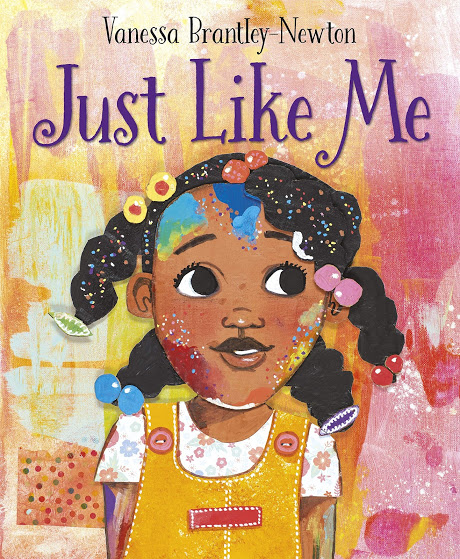 VANESSA: It is called JUST LIKE ME (Knopf Books for Young Readers) and it is a book of poetry that I wrote for children. The main characters are all girls, but it really is about all children. I was inspired by listening to the conversations of little girls, by the things that they share with each other while playing and talking–their joys, dreams, desires, and hopes. With JUST LIKE ME, I want to say to them, "You are not alone. There is someone else in this world that feels the way that you do." I want to show them that they matter and that I, Ms. V, see them and get them. Lastly, I want children to know that while we are different in many ways, there is so much more that makes us all the same, especially in a lot of emotional ways.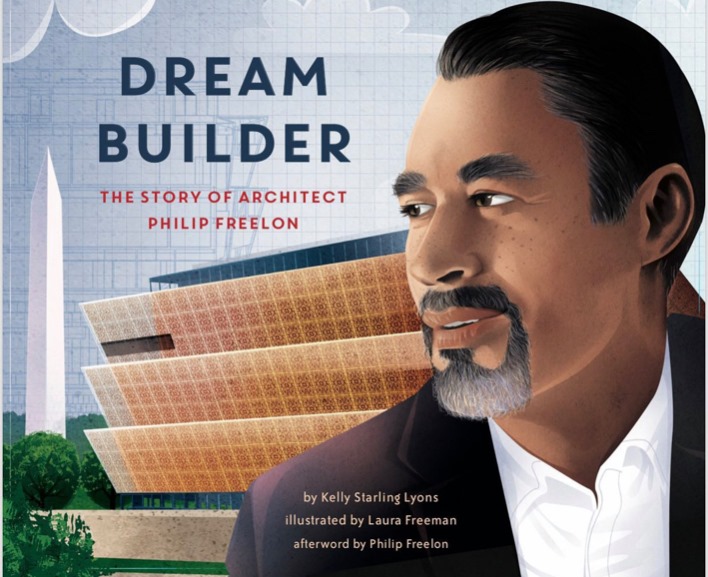 KELLY: DREAM BUILDER (illustrated by Laura Freeman and published by Lee & Low) celebrates a kind of Black hero we don't see celebrated enough. The story explores the journey of Phil Freelon from his beginnings as a young artist in Philadelphia to being the architect of record for a museum a century in the making – the National Museum of African American History and Culture.
I hope kids take away that setbacks can turn into successes. In the story, Phil struggled with reading until he learned the special way his mind works. That became his strength and led him to the pinnacle of his career – being lead architect for the National Museum of African American History & Culture.
I hope they learn how much community matters. Phil was inspired by his proud, middle-class Black family. Along with his parents and grandfather, Phil found role models in his neighbors. Love for his culture and history was instilled in him as a child through the example of people around him and the music of the times.
I hope they learn the power they hold inside. DREAM BUILDER shows how hard work, vision and a heart for goodness can lead you to not just realize your dreams but inspire others.
Besides your own, what were some of your favorite children's picture, or chapter books you've read or come across within the past year?
TAMEKA: There were many wonderful picture and chapter books published in 2019, so it's really hard to narrow down my favorites list. But to name a few: Kelly Starling Lyons and Keith Mallett's beautiful SING A SONG holds a special place in my heart because as a student at Florida A&M's School of Business and Industry, we sang all three verses of Lift Ev'ry Voice and Sing every Friday before Forum. As soon as the book came out, I shared it with my fellow SBIans. Many of them purchased a copy for sentimental reasons, as did I, and also to share with the young people in their lives.
I love BRAVE BALLERINA by Michelle Meadows and Ebony Glenn because of its perfect rhyme, gorgeous illustrations, and kid-centric introduction to an important Black trailblazer. MY PAPI HAS A MOTORCYCLE, MY MOMMY MEDICINE, SULWE, THE KING OF KINDERGARTEN, and THE UNDEFEATED are some of the other wonderful titles I fell in love with this past year.
ALICE: I was born in 1967. This is two years before John Steptoe, a Black writer and artist, revolutionized mainstream publishing with his Black picture book—STEVIE. I don't have a favorite book from childhood. What I remember is Mama waking me each day with a lively rendition of the Dunbar poem, "In the Morning." Dunbar and Eloise Greenfield influence the style and spirit of my writing. "Things" is my favorite Greenfield poem. I recite it for school visits.
VANESSA: Okay, do you have a couple of days?!? LOL! There are so many! Going Down Home with Daddy by Kelly Starling Lyons, What's Cooking at 10 Garden Street by Felicita Sala, The Roots Of Rap by Carole Boston Weatherford, Saturday and Thank You, Omu by Oge Mora. And the list could go on and on.
KELLY: Picture books are my favorite genre. So many stand out. I'll focus on a few I loved over the past couple years by Black creators:
The Undefeated by Kwame Alexander, illustrated by Kadir Nelson, Saturday by Oge Mora, Memphis, Martin & the Mountaintop by Alice Faye Duncan and The Women Who Caught the Babies by Eloise Greenfield, illustrated by Daniel Minter, Freedom Soup by Tami Charles and Ona Judge Outwits the Washingtons: An Enslaved Woman Fights for Freedom by Gwendolyn Hooks, illustrated by Simone Agoussoye, The King of Kindergarten by Derrick Barnes, illustrated by Vanessa Brantley-Newton and Someday is Now: Clara Luper and the 1958 Oklahoma City Sit-Ins by Olugbemisola Rhuday-Perkovich, illustrated by Jade Johnson and The Bell Rang by James E. Ransome.
What are some of your must-have children's books for a home library?
TAMEKA: I'm claiming 2020 as the year for Black Joy in children's books. My definition of Black Joy is "the public and unapologetic expression of happiness, humor, pride and/or love by for and among black people." The Sowing Circle (https://sowing-circle.com/) formed by Alice, Vanessa, Kelly and myself, was born of a collective desire to "sow words and images into the hearts of children that will reap a generation that is inquisitive, empathetic, and enlightened." And the fact that we all have books coming out on January 14th.
In the spirit of Black Joy and our Sowing Circle mission, I believe the following to be 2020 must-adds for every young child's personal library:
Sowing Circle Bundle (BROWN BABY LULLABY, JUST LIKE A MAMA, JUST LIKE ME, DREAM BUILDER: THE STORY OF PHILIP FREELON)
HEY BLACK CHILD
MOMMY'S KHIMAR
CROWN: AN ODE TO THE FRESH CUT
SULWE
DREAMERS
WE ARE GRATEFUL: OTSALIHELIGA
JADA JONES CHAPTER BOOK SERIES
THE MAGNIFICENT MYA TIBBS CHAPTER BOOK SERIES
ALICE: Early in my career as a school librarian, I discovered the efficacy and magic of onomatopoeia. Interesting sounds engage the ear and make children fall in love with words. Every child's home library ought to include onomatopoeia. My favorite "sound word" books include CHARLIE PARKER PLAYED BEBOP and YO! YES! Chris Raschka is the author.
VANESSA: The Snowy Day, Harold and the Purple Crayon, Ada Twist Scientist, Good Night Moon, Where the Sidewalk Ends, Goggles, Suki's Kimono, just to name a few.
KELLY: Celebrating Black children's books is my joy. Here are some picture book must-haves and an important anthology for collections.
Coming On Home Soon by Jacqueline Woodson, illustrated by E.B. Lewis, I Love My Hair by Natasha Tarpley, illustrated by E.B. Lewis, Bright Eyes, Brown Skin by Cheryl Willis Hudson and Bernette G. Ford, illustrated by George Ford, Crown: An Ode to the Fresh Cut by Derrick Barnes, illustrated by Gordon James, Poet: The Remarkable Story of George Moses Horton by Don Tate, Aunt Flossie's Hats and Crabcakes Later by Elizabeth Fitzgerald Howard, illustrated by James E. Ransome, Max & the Tag-Along Moon by Floyd Cooper, Honey, I Love by Eloise Greenfield, illustrated by Jan Spivey Gilchrist, The Middle Passage by Tom Feelings, The Undefeated by Kwame Alexander, illustrated by Kadir Nelson, Around Our Way on Neighbors' Day by Tameka Fryer Brown, illustrated by Charlotte Riley-Webb, Moses: When Harriet Tubman Led Her People to Freedom by Carole Boston Weatherford, illustrated by Kadir Nelsonand the anthology, We Rise, We Resist, We Raise Our Voices edited by Wade Hudson & Cheryl Willis Hudson.
Do you have any literacy rituals that you practice in your family or practiced in the past?
TAMEKA: Parent-child reading time was always a part of our family's routine. We believed—and still believe—that reading and discussing books with children is foundational in the development of critical thinking skills, which is key to all forms of success. We read books with our kids every night before bedtime and throughout the day as well. The proximity involved in reading together also provided the opportunity for lots of cuddling and bonding. If I had to name our most impactful ritual in raising our children, reading with them daily would be at the top of my list.
ALICE: I journal in the morning and read some type of poetry every day. I wrote a picture book about Gwendolyn Brooks. Of course, I am partial to her poetry. However, my favorite contemporary poets are Terrance Hayes, Tracy K. Smith and Elizabeth Alexander.
VANESSA: Reading out loud to each other is really big in our home. Even when I was a little girl, reading the Bible out loud was very important. Storytelling is the other. The oral story meant everything and we still do it when we all get together for holidays or special events.
KELLY: For more than a decade, I've led children's book clubs that celebrate treasures by Black creators of today and the past. It has been a way to share my love of literature with my kids and those of friends. We discuss books, do extension activities such as crafts or carefully curated field trips that tie in. I hope the kids will carry with them an appreciation for books by Black authors and illustrators and feel connected to the friends they've made. Here are some of the books we've read over the last few years: http://www.kellystarlinglyons.com/content/documents/birdybookclubreads2018.pdf.
Besides reading, what are some other things parents can do to set their children up for literacy success?
TAMEKA: Discussing the books your child has read (either on their own or in tandem with you) is paramount for advancing literacy of all kinds. Ask open-ended questions about a given story. Encourage your child to analyze and draw their own conclusions about what they believe the story is trying to convey. Validate their perspective even as you discuss alternative viewpoints to create fuller understanding. Expose your child to multiculturally-penned literature that portrays people and cultures they aren't typically exposed to. Expect your child to observe the world around them and engage honestly when they ask hard questions about what they see. Teach your child to think for themselves and multiple steps ahead. Critical thinking skills are everything.
ALICE: Parents set the stage for literacy when they make the public library a priority. If families visit the grocery once a week, families should also add a weekly visit to the public library. Parents must demonstrate that the human mind needs nourishment like the human body needs food. Children assign value to what parents like and do. Therefore, let them see you giddy and gushing over books.
VANESSA: Oral Storytelling is one thing. It's so very important that children know they don't have to have a whole bunch of books or iPads, et cetera, to enjoy literacy. In the old African way, storytelling brought the community and the family together. It doesn't require anything but imagination, so get to letting children create their own stories to share with the family. Since I am a writer and illustrator, I love bringing art into the picture as well. A couple of pieces of paper and some crayons and something to fasten the papers with and a child can make a book of their own. But you can also buy journals. Encourage your children to write or draw something every day.
KELLY: Start DEAR (Drop Everything and Read) time in your home. Everyone find a cozy spot and grab a book. Then, after reading, take turns sharing your thoughts about each story. Reading is not just having fluency, it's understanding too. Fun family discussions can build comprehension. Another engaging activity you can do is choose a book that's also a movie. Read it as a family first. Next, watch the movie together. Talk about the differences and which you liked better and why.
Do you have a favorite book that you have written? If so, what is it and why?
TAMEKA: I love all my books for different reasons, but I'm honestly feeling the most intense affection for Brown Baby Lullaby right now because I believe it shows how much I've grown as a writer. I also think it's timely and needed, as our society seems to be regressing in so many ways. Our brown-skinned babies need loving affirmation daily and I am proud to have written a book that gives them just that.
ALICE: I celebrate all of my books. However, after 15 years in print, HONEY BABY SUGAR CHILD is a "Classic Hit." The book is a mother's love song to her baby. It sings and swings like a Dunbar poem. HONEY BABY SUGAR CHILD demands to be spoken aloud. Be warned. You gotta read it wit' SOUL!
VANESSA: Don't Let Auntie Mabel Bless The Table would be that book. Actually, Grandma's Purse, too. These books are about family. Family is so very important to me and it is important to children as well. The relationship that a child has with its grandparents is so special.
With Grandma's Purse, I really went back into my childhood to remember what excited me about my Grandma coming over. Her purse was what we bonded over. It held the things that I thought made her "Grandma", and because she shared those things with me, I felt like I got to know her better. With Don't Let Auntie Mabel Bless The Table, the story was inspired by my own, very diverse family, which had nothing to do with DNA but rather love, food, fun, and fellowship. Just like the book, we are a large group and we have "Auntie Mabels" who take forever to bless the table so the food gets cold and that is just how it is in families sometimes. LOL! But, we love our Auntie Mabels and value the importance of blessing the table before we eat. But it doesn't have to be a prayer service….
KELLY: I love all of my books for different reasons. They each come from some place deep inside. Tea Cakes for Tosh, the Jada Jones series and Going Down Home with Daddy are particularly close to my heart. They were inspired by making tea cakes with my grandma, watching my daughter navigate friendships and find her voice and taking my kids to my husband's family homeplace, respectively. Family means everything to me.
If you could give parents one piece of advice about reading with children, what would it be?
TAMEKA: Do it! Every day! Draw on your inner actor and make books fun by reading them with gusto.
As often as possible, let your children take the lead in choosing which books to read. If the goal is to instill a love of reading in a child, this is essential.
ALICE: Here is a tip for parents when sharing bedtime stories. Make sure the text is spare like a poem and contains all the qualities of a Stevie Wonder lyric. Bedtime books ought to include vivid imagery and rhythm. Before anything else, parents should pick titles they enjoy so bedtime stories will be a pleasure to the parent and child.
VANESSA: Read every day and explore all kinds of books!
KELLY: Make reading as exciting as going on a trip. Show your children how every turn of the page lets them fly into new worlds.
Any advice for aspiring writers and authors?
TAMEKA: Write as long as you love writing. Pursue publication as long as you still want it. If and when your wants and loves change, give yourself permission to change with them.
If you decide you're committed to writing for children, actively study the craft of writing for children. Joining SCBWI is a good place to start.
ALICE: I encourage aspiring writers to purchase one engraved Shinola journal, a box of Palomino Black Wing Pencils (602) and a Palomino pencil sharpener. Why? Fancy writing accessories can help aspiring writers find their flow.
VANESSA: Write every day. Whether in a notebook or in a blog post, it must be done often in order to get better and develop your writer's voice. Write without correcting. Just get it all out on paper or your computer. You can always go back and correct it. Sometimes an idea is just waiting to be birthed and it needs to know that it is enough with being corrected every second. Just let it flow out of you with all of your senses. Write with your senses.
KELLY: I'll share advice I received early in my journey as a children's book author – write the story only you can tell. Dig from the well of who you are and let what you know and feel deeply inform the stories you create.
Name an adult book that Inspired you

TAMEKA: When I need personal inspiration, I always read Ecclesiastes and Proverbs from the Bible. They never fail to center me and provide me with clearer vision.
I recently read Shirley Chisholm's UNBOUGHT AND UNBOSSED. Not only was I reminded how numerous her trailblazing accomplishments were, but I also discovered how much her perspective on life aligns with my own.
ALICE: Sometimes an adult book comes along that is so texturized and terrific, it forces me to refine my execution of setting scenes, wielding rhythm, and writing metaphor. Sarah Broom's THE YELLOW HOUSE did that for me in 2019. Reflections of her Louisiana family surviving Hurricane Katrina also made me celebrate the conquering courage and faith of my own ordinary family.
VANESSA: The Game Of Life and How To Play It by Florence Scovel Shinn.
KELLY: Freeman by Leonard Pitts, Jr.
Name a book that Made you laugh out loud
TAMEKA: To my recollection, I've never laughed out loud at an adult book. The first book I ever remember laughing out loud at was Crystal Allen's HOW LAMAR'S BAD PRANK WON A BUBBA-SIZED TROPHY.
The peanut scene. That's all I'm going to say.
KELLY: Like Tameka, I mostly read children's books nowadays. One that always makes me smile and laugh is The Chicken-Chasing Queen of Lamar County by Janice N. Harrington, illustrated by Shelley Jackson. Love that book.
Name a book You recommend to others often
TAMEKA: I spend more time recommending children's books than I do adult books. Occupational reality.
VANESSA: The Game Of Life and How To Play It by Florence Scovel Shinn.
KELLY: I recommend Redemption Song by Bertice Berry. Many people remember her as a talk show host, but she's a sociologist, educator and gifted author too. Redemption Song is a moving love story that's rich with history.
What books are on your nightstand or e-reader right now?
TAMEKA: A book about a subject I'm researching for an upcoming project, and two award-winning books I'm embarrassed to say I haven't read yet so I won't name them.
ALICE: At this time there are three books on my nightstand. (1) A WREATH FOR EMMETT TILL (Marilyn Nelson) (2) THE SWEET FLYPAPER OF LIFE (Langston Hughes) and (3) WRITING PICTURE BOOKS (Ann Paul)
VANESSA: My Bible
KELLY: I'm re-reading Ordinary Hazards: A Memoir by Nikki Grimes. It's a master work.
Are you working on any special projects that you want to share with others?
TAMEKA: While I don't publicly discuss my works in progress, I am pleased to share the title of what will be my fourth published picture book, TWELVE DINGING DOORBELLS. It's about Black family gatherings and written to the tune of The Twelve Days of Christmas…with a contemporary flair. The publisher is Kokila, the new Penguin Random House imprint that is already making significant waves in children's book publishing. The phenomenally talented Ebony Glenn will illustrate.
ALICE: While I am busy these days drafting stories about Black musicians and social activists, a part of my time is also spent promoting my picture book–A SONG FOR GWENDOLYN BROOKS. Parents must be intentional about shaping a child's creative interests and permitting children agency to direct their own path. Gwendolyn Brooks points the way for children and parents.
VANESSA: I am writing and illustrating a new picture book with Random House called Becoming Vanessa, and another book with Nancy Paulsen Books called Shake It Off.
KELLY: I'm working on the third book in my Ty's Travels easy reader series (illustrated by Nina Mata and published by HarperCollins). The first two debut on September 1. I can't wait to share this series with readers. It centers an imaginative African-American boy who turns every-day experiences into unforgettable adventures. He's surrounded by his loving family. I'm also gearing up for the launch celebration of DREAM BUILDER on Saturday, January 18. Hosted by Liberation Station Bookstore (https://www.liberationstations.com/), it will take place at NorthStar Church of the Arts founded by Phil and Nnenna Freelon. It will be an honor to share the book in that sacred space. RSVP for the free event and pre-order your signed copy here – https://www.eventbrite.com/e/liberation-station-presents-book-launch-w-kelly-tickets-85338629137.
How can people get in touch with you on social media or on your website?
TAMEKA: The best way to contact me is through my website, tamekafryerbrown.com, but I'm also reachable through my public Facebook, Twitter, and Instagram pages.
Facebook: https://www.facebook.com/tamekafryerbrown.author/
Twitter: https://twitter.com/teebrownkidlit
Instagram: https://www.instagram.com/tamekafryerbrown/
ALICE: My live interviews and FREE lesson plans are listed on my website. Please visit www.alicefayeduncan.com.
VANESSA: Through my blog Oohlaladesigstudio.blogspot.com, or my website vanessabrantleynewton.com, on Facebook at Vanessa Newton, and on Instagram at Vanessa Brantley-Newton.
KELLY: People can reach me on social media:
FB: www.facebook.com/kellystarlinglyons
Twitter: @kelstarly
They can also contact me through my website: www.kellystarlinglyons.com.
Anything else you'd like to share?
Please visit our Sowing Circle website – https://sowing-circle.com/. We're four Black women writers sowing words and images into the hearts of children. We'd love for you to join our mission to grow young minds and reap a harvest through literacy. You can purchase a bundle of our four books for a discounted price through Novel Bookstore, Main Street Books and Quail Ridge Books. The books are available to purchase online as well as in the brick-and-mortar stores. Visit our website for link and more information. Thank you for your support.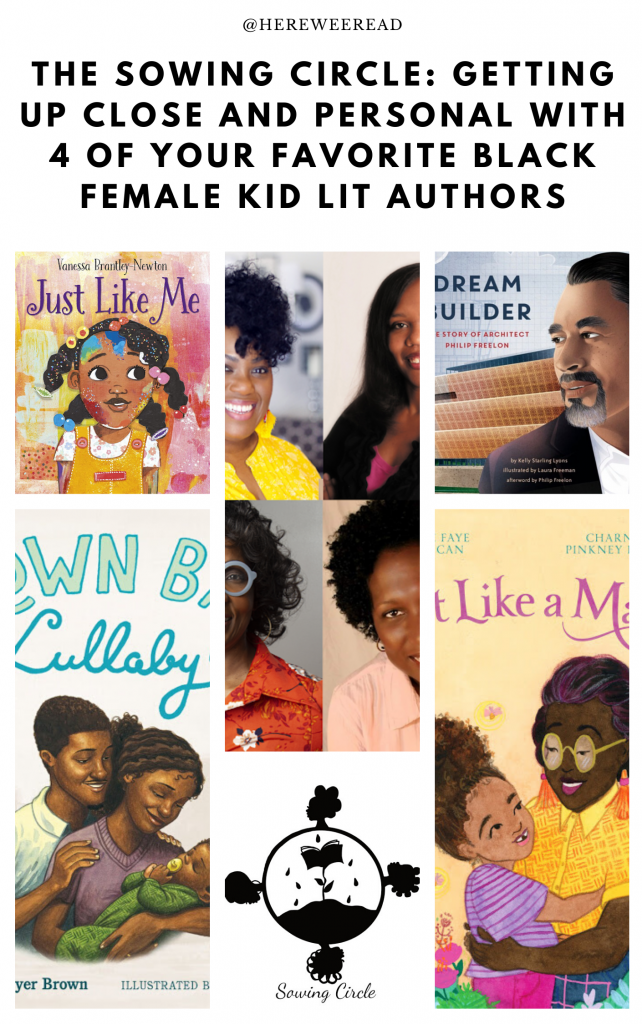 THE GIVEAWAY!
The Sowing Circle Book Bundle Giveaway