Whenever the last few weeks of the month roll around, I begin thinking about my favorite books of the year. My absolute favorite self-help book I read in 2019 is Atomic Habits by James Clear. I found myself returning to that book again and again throughout the year. I also loved The Water Dancer by Ta-Nehisi Coates.
If you follow my blog, Instagram or Facebook pages, you may know how much I love reading on my own and with my two children. It makes my heart sing when I walk into a room and see my children reading on their own. I also love giving books as gifts for kids, friends and family.
Below I've compiled a comprehensive list of children's books that I consider to be the "best of the best" that were published in 2019. Rest assured, my children and I have read each of these books several times together the year. I believe these are books children (and adults) will be excited to read again and again. Let me know in the comments which of these you've read or are excited to read with the little readers in your life.
Disclaimer: This post contains affiliate links. Purchases made through links result in a small commission to us at no cost to you!
A Boy Like You by Frank Murphy, illustrated by Kayla Harren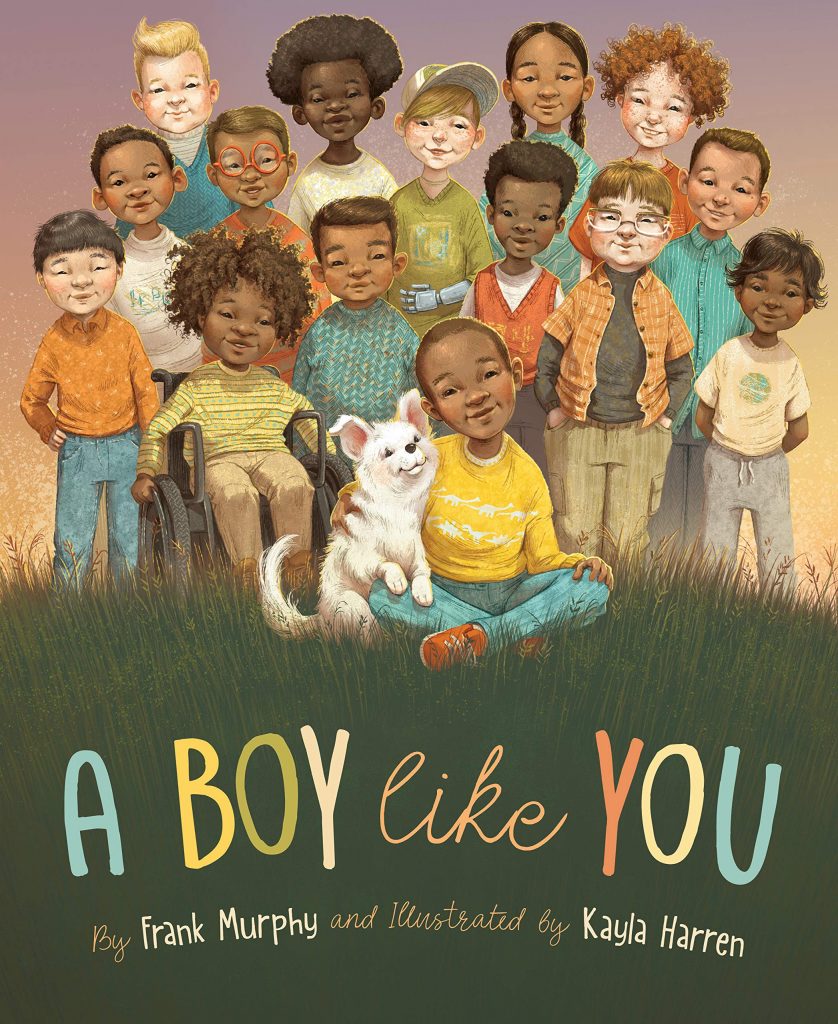 What does it mean to a "boy" or "a man"? I think the answer to that question depends on who you ask. Today, the definitions of manhood and boyhood are being reconsidered as families aim to raise boys without toxic masculinity in this #metoo era. A Boy Like You gives grown-ups and children a fresh perspective and ideas for raising boys without toxic masculinity.
Readers are taught to ditch harmful phrases and language like "you throw like a girl." Readers also learn that each of us has our own unique gifts and talents and the world is a better place when we are actively expressing them.
A Boy Like You affirms the single most important thing parents/caregivers of boys can do to combat toxic masculinity is to teach them to show emotion and not close off their feelings. Boys don't NEED to be strong every day. They don't NEED to be in control. And if they aren't in control, they don't NEED to feel ashamed.
If you are raising a boy let him be sad, disappointed and hurt sometimes. Let him cry when he falls down and tell him it's going to be OK even if he isn't hurt. Listen to him when he opens up and talks to you. Teach him empathy and how to love and treat people with kindness and respect. Model it in your everyday life.
As author Frank Murphy states, "Being strong isn't about muscles. Muscles are part of being strong on the "outside". There's "inside" strength too. The strength inside you guides the things that you do and say." Such a profound perspective. Ages 4-7 and up.
A Computer Called Katherine: How Katherine Johnson Helped Put America on the Moon by Suzanne Slade, illustrated by Veronica Miller Jamison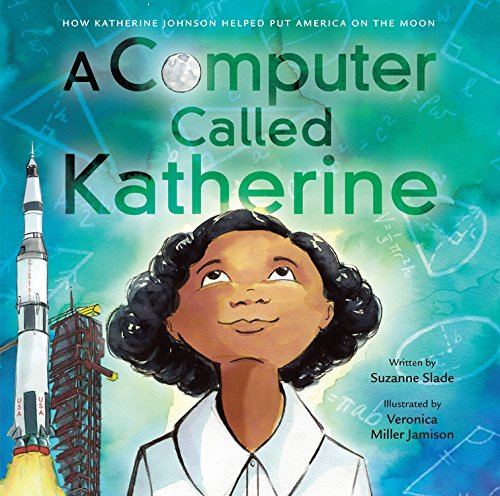 Katherine Johnson loved numbers from an early age. Her love of counting – steps, number of dishes she washed, and even the stars – primed her for starting high school as a 10 year old. She excelled in school, devouring knowledge and starting college at just 15 years old.
Ever since seeing the Hidden Figures movie, I've loved seeing all of the books about the inspiring women from the movie. I'm thrilled all of their stories have finally been told and continue to inspire generations of men and women alike all over the world.
A Computer Called Katherine is spectacular and beautifully captures the life of human-computer Katherine Johnson. Katherine Johnson knew that women could be anything and do the same things as men so she boldly set out to prove it. Ages 4-8 and up.
An ABC of Equality by Chana Ginelle Ewing, illustrated by Paulina Morgan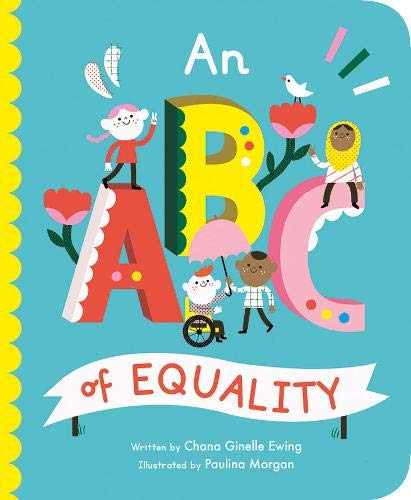 This an ABC book I can get behind! It teaches readers about topics like social justice, equality, inclusion, consent, race, and privilege.
A is for Ability
B is for Belief
C is for Class
L is for LGBTQIA
P is for Privilege
T is for Transgender
In addition to introducing readers to different vocabulary words, there are also brief definitions that are easy for young readers to understand. Although this is a board book aimed at kids ages 3-5, I think some of the content is more suitable for slightly older readers ages 6-7 and up.
Instead of reading this in one sitting, we read it over the course of a few days focusing on 4-5 words at a time. This book served as a great conversation starter to talk about some tougher topics like privilege, xenophobia and racism.
Around the Table That Grandad Built by Melanie Heuiser Hill, illustrated by Jaime Kim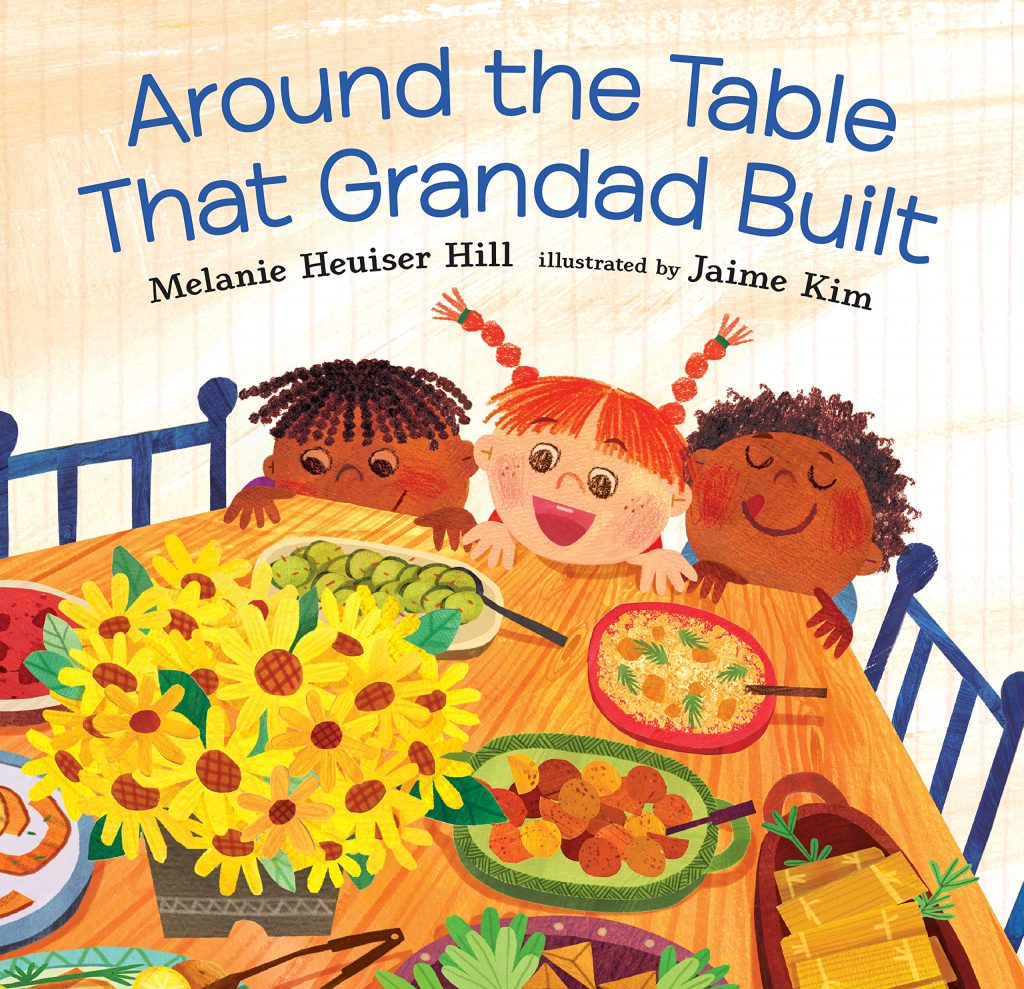 This is a wonderful book about family, gratitude, teamwork and food. It's a cumulative story that features a diverse cast of characters and an array of diverse dishes like: tamales, samosas and rice pudding. PERFECT for reading aloud with the four to eight year-old crowd.
At the Mountain's Base by Traci Sorrell, illustrated by Weshoyot Alvitre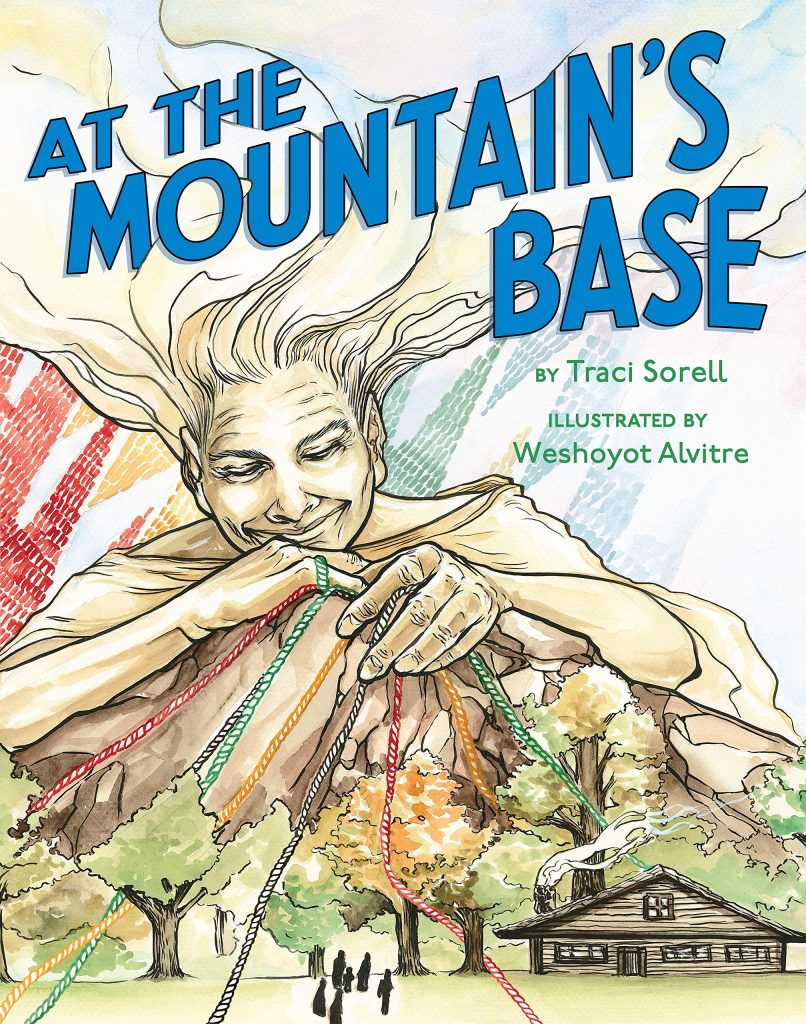 At the Mountain's Base by Traci Sorell (she's a citizen of the Cherokee Nation) is a breathtaking work of art. Although sparse in text, each word in this book is so powerful and the illustrations (painted by a Native artist) are amazing.
This book introduces readers to a Native family waiting for their relative, a female pilot, to come home from war. At the end of the book readers find out this book is meant to highlight the service of Native American women, which is all too often forgotten or left out of history books altogether.
Babymoon by Hayley Barrett, illustrated by Juana Martinez-Neal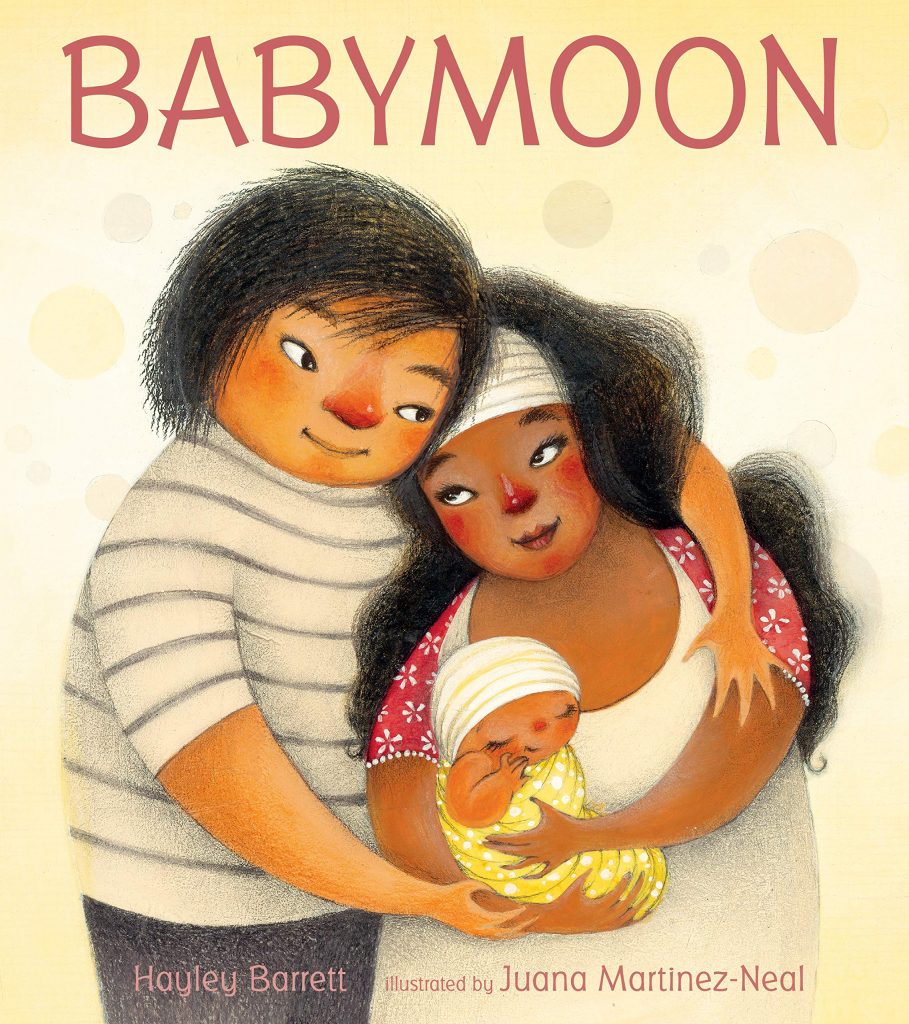 The term Babymoon was first coined in a 1996 book, The Year After Childbirth, by childbirth educator Sheila Kitzinger.
Essentially, a babymoon is sort of like a honeymoon, only it happens after you confirm that you are pregnant and expecting a baby, and before (or after) the baby arrives.
In this rhyming book, readers meet a sweet family (a biracial family of color) who decide to go on a secluded babymoon with their newborn baby. The baby is gender neutral which was a purposeful decision. I love that the family chose to take their babymoon AFTER baby arrived along with their pet cat and dog in tow as a way for them all to bond as a family.
As first-time parents, they have so much to learn about caring for a new baby. From changing diapers to nursing to building trust. If you are a parent then you know having a child changes the family dynamic dramatically. The baby becomes the center of attention from the moment he/she arrives.
I like how the parents in this book are investing time and space to be together as a family unit away from home. It gives me hope these parents will walk into parenthood more connected than ever.
The illustrations in Babymoon will take your breath away and make you feel the love these parents have for their baby. I think this is some of Juana Martinez-Neal's best work to date. Each illustration is so tranquil infused with gentle and loving tenderness. A definite must-have for newborn parents or parents-to-be. Add this one to your baby shower gift giving list!
Bedtime Classics: Alice in Wonderland by Lewis Carroll, illustrated by Carly Gledhill

Because fairy tales can be re-imagined and retold many ways. All kids deserve to see themselves reflected back to them in the pages of a book. We are absolutely LOVING these re-imagined Penguin Classic board book fairy tales.
Bilal Cooks Daal by Aisha Saeed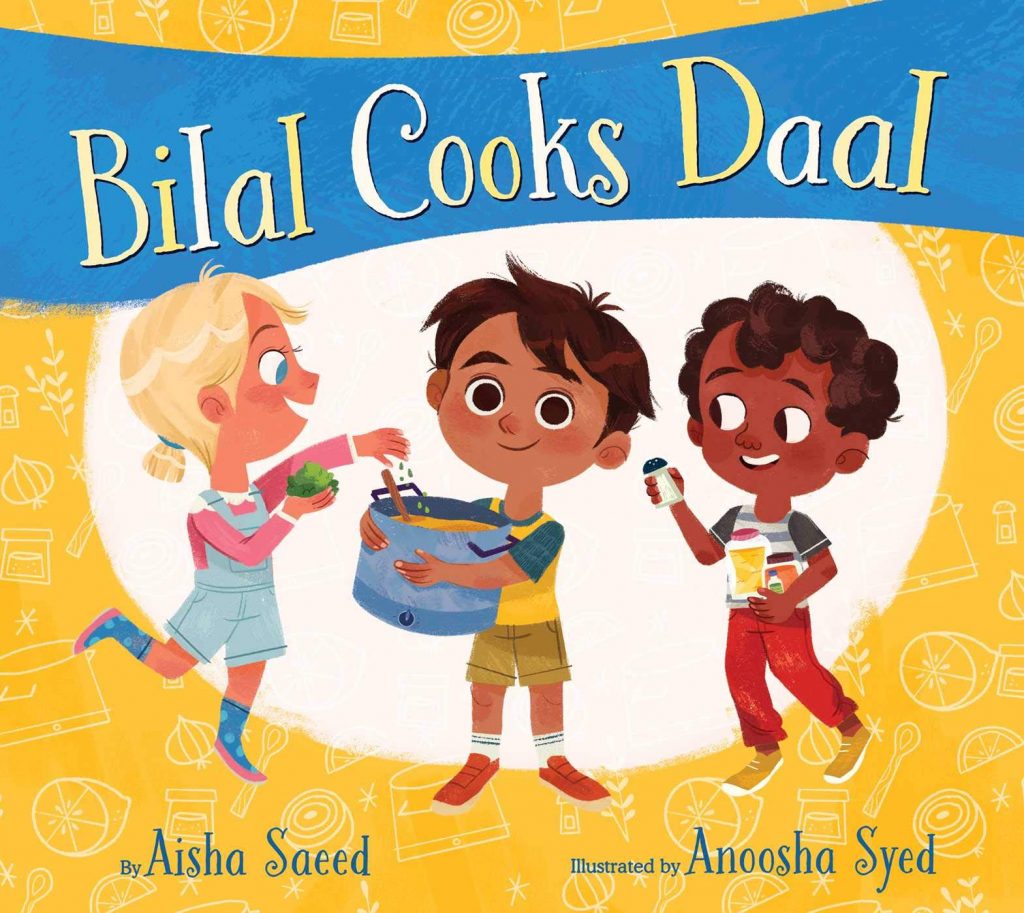 Six-year-old Bilal is excited to help his dad make his favorite food of all-time: daal! The slow-cooked lentil dish from South Asia requires lots of ingredients and a whole lot of waiting. Bilal wants to introduce his friends to daal. They've never tried it! As the day goes on, the daal continues to simmer, and more kids join Bilal and his family, waiting to try the tasty dish. And as time passes, Bilal begins to wonder: Will his friends like it as much as he does?
This picture book uses food as a means of bringing a community together to share in each other's family traditions. Ages 4 – 8 and up.
Birdsong by Julie Flett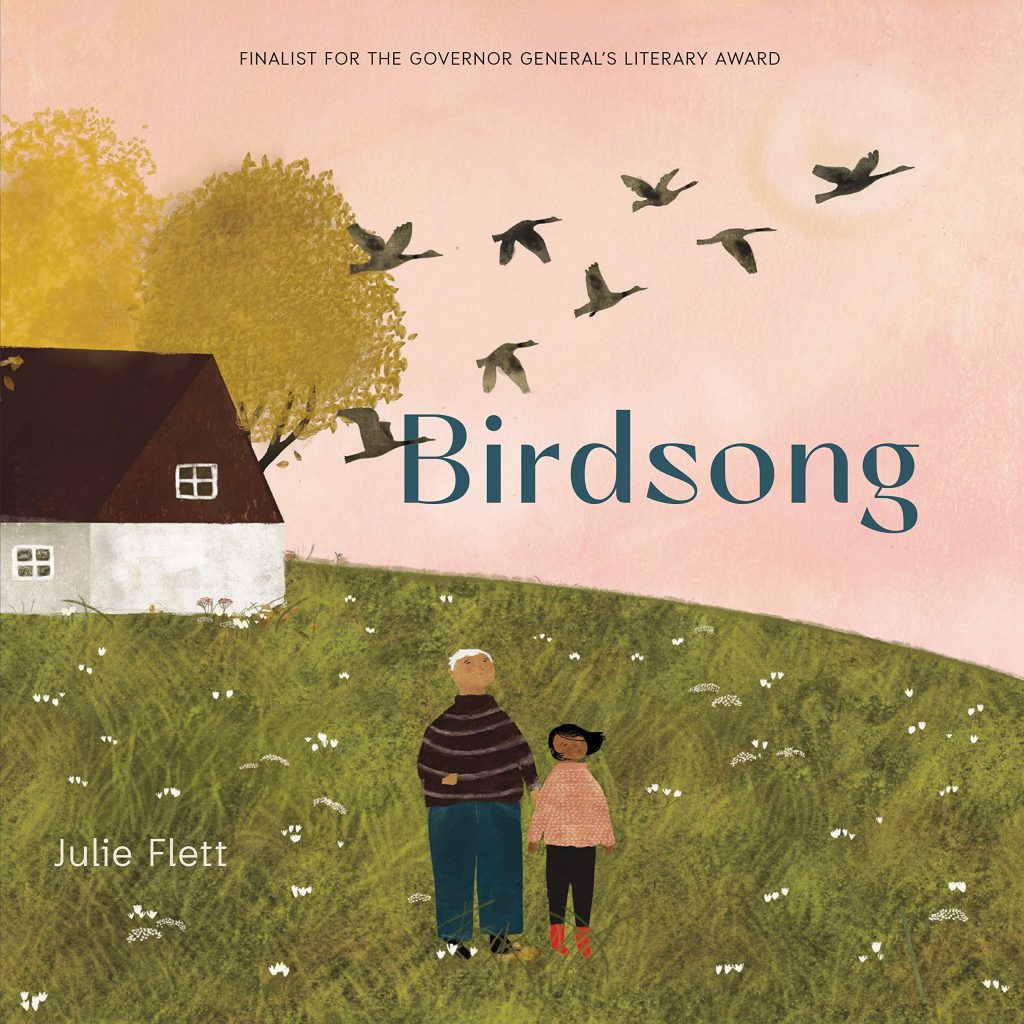 When a young girl moves from the country to a small town, she feels lonely and out of place. But soon she meets an elderly woman next door, who shares her love of arts and crafts. Can the girl navigate the changing seasons and failing health of her new friend?
A brief glossary and pronunciation guide to Cree-Métis words that appear in the text is provided.
Brave Ballerina: The Story of Janet Collins by Michelle Meadows, illustrated by Ebony Glenn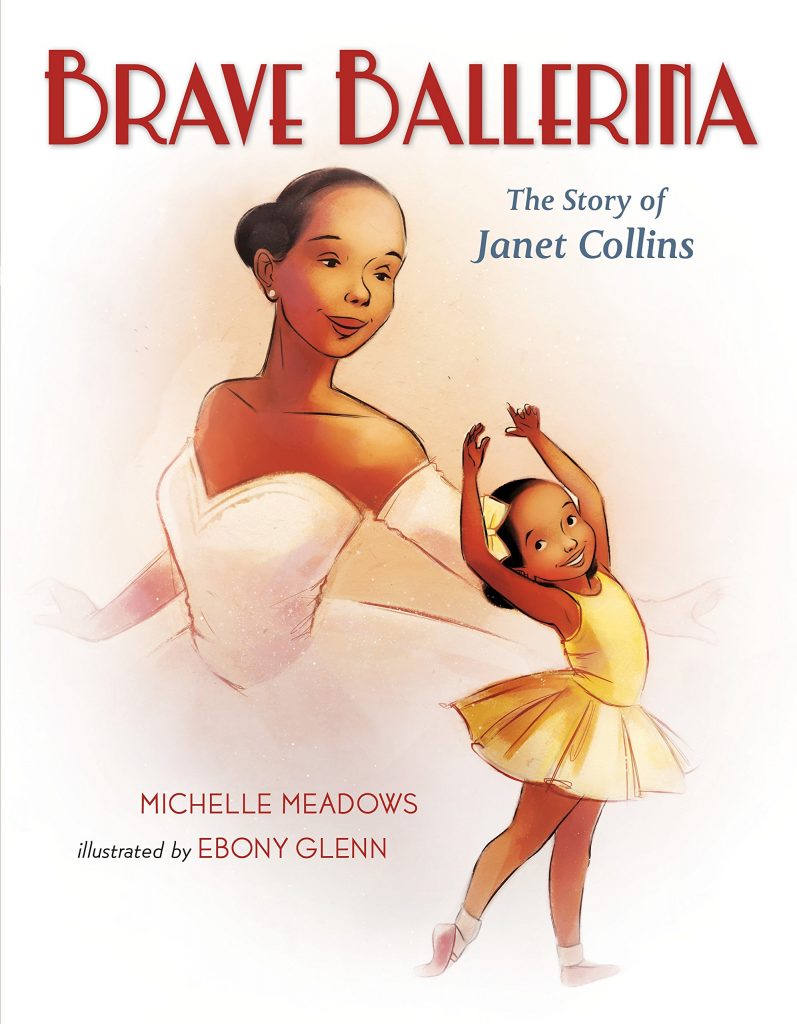 In 1951 Janet Collins became the first Black prima ballerina to perform with the Metropolitan Opera Ballet in New York City, New York.
This rhyming picture book biography tells the story of Janet Collins who wanted to be a ballerina in the 1930's and 1940's when racial segregation was widespread in the United States. When she couldn't enroll in ballet school due to discrimination, Janet sought private lessons.
Janet also had many other artistic talents including painting and choreography. She died in 2003 at the age of eighty-six.
Brave Ballerina is perfect for aspiring dancers or kids interested in the arts. The back matter includes an author's note and additional resources and websites for further reading. Ages 4-8.
Freedom Soup by Tami Charles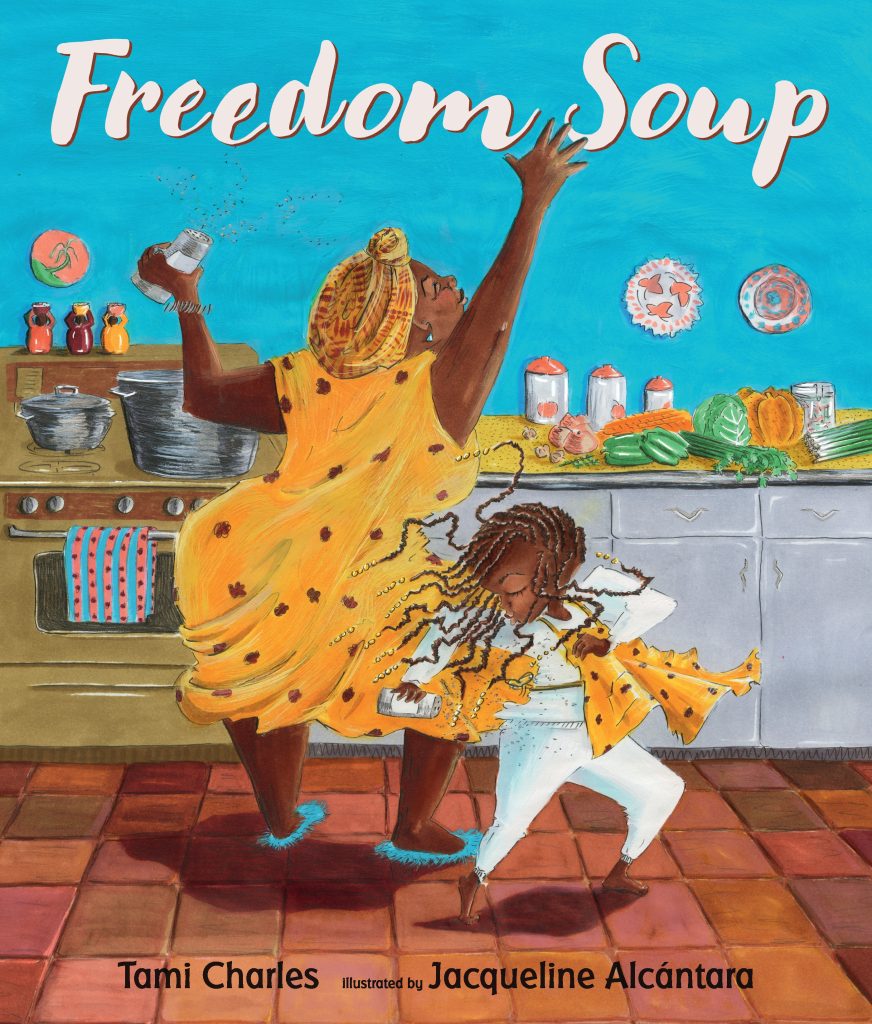 Join the celebration in the kitchen as a family makes their traditional New Year's soup — and shares the story of how Haitian independence came to be. Every year, Haitians all over the world ring in the new year by eating a special soup, a tradition dating back to the Haitian Revolution.
Fry Bread: A Native American Family Story by Kevin Boble Maillard, illustrated by Juana Martinez-Neal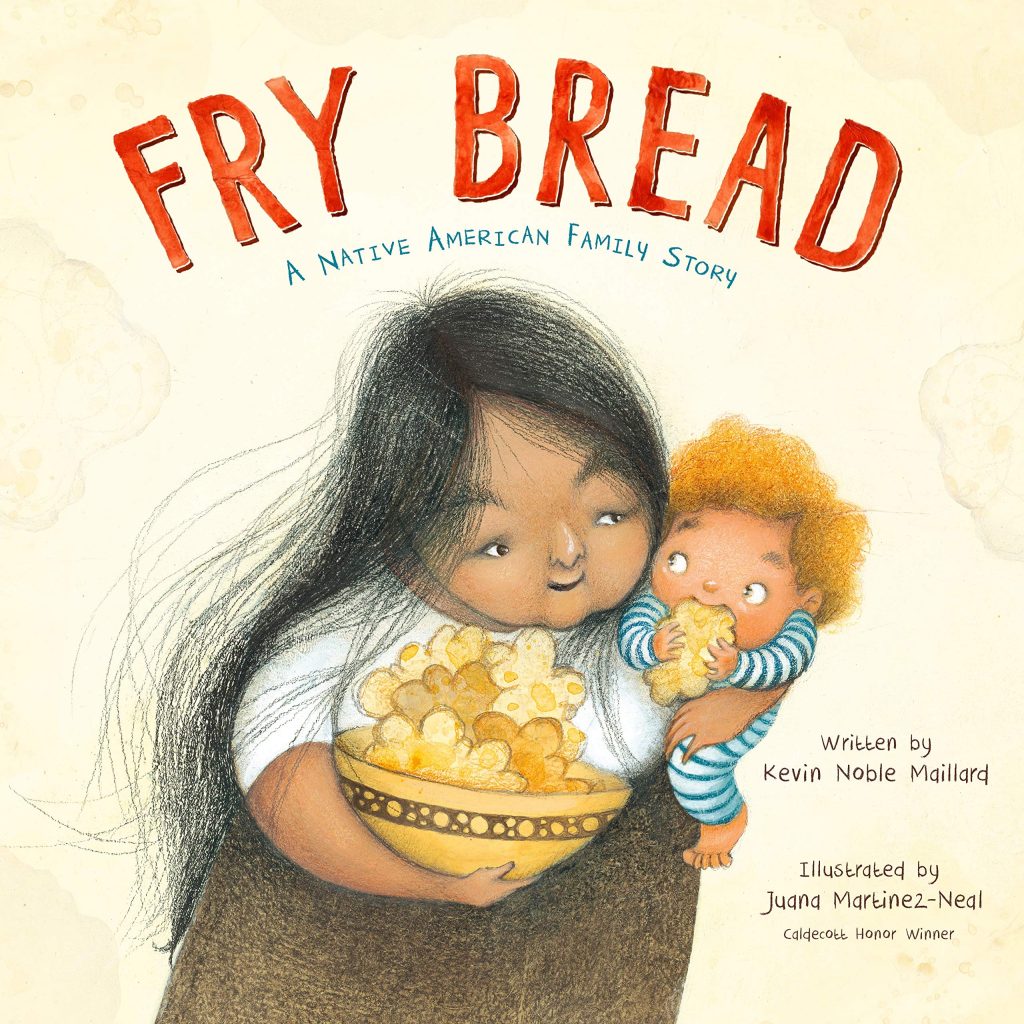 Fry bread. Of all the foods most commonly associated with Native American culture, fry bread has long been at the center of the table. It is a food that was born out of desperation and survival that no one could have predicted it would be the become a touchstone of Native American culture. I think in order to truly understand and appreciate the beauty of the book Fry Bread: A Native American Family Story, you must first learn about the complicated history of fry bread.
Fry bread is a flat dough bread, fried or deep-fried in oil, shortening, or lard. It is tradition to the Navajo people, who are the largest federally recognized Native American Indian tribe in the United States. Frybread was first used in 1864 using the flour, sugar, salt and lard that was given to the Navajo tribe by the United States government when the Navajo, who were living in Arizona, were forced to make the 300 mile journey known as the "Long Walk" and move to Bosque Redondo, in New Mexico, onto land that could not be farmed with their traditional foods, which were vegetables and beans.
Fry Bread: A Native American Family Story is so much more than a story about food. From the illustrations to the end papers to the back matter, this is a simple, yet phenomenal story about food, history, culture, diversity, resourcefulness, perseverance, family and community.
As soon as you open up the book, you are immediately drawn in with the mesmerizing end papers. The end papers list the 573 federally recognized Native American tribes in the United States. This is so powerful to me as I honestly had no idea there were so many tribes in the United States.
The story is told in simple, lyrical text. Readers learn that fry bread is a food, it's a shape, it's sound, it's history and more. In short, readers learn that fry bread is an important symbol of the Native American culture. At the end of the book, readers are invited into the story with the simple phrases, "Fry bread is you.", "Fry bread is us." The back matter has a recipe for fry bread, an author's note and more detailed information about fry bread.
After reading this book, I learned some modern Native Americans have a troubled relationship with fry bread. While it is symbolic of their people's darkest time, it is also viewed as their ingenuity and ability to survive despite the odds. Whatever the larger cultural agreement is, among Native Americans I still think this is an amazing story that should be be on children's bookshelves' in homes and schools worldwide. Ages 4 – 8 and up.
Going Down Home With Daddy by Kelly Starling Lyons, illustrated by Daniel Minter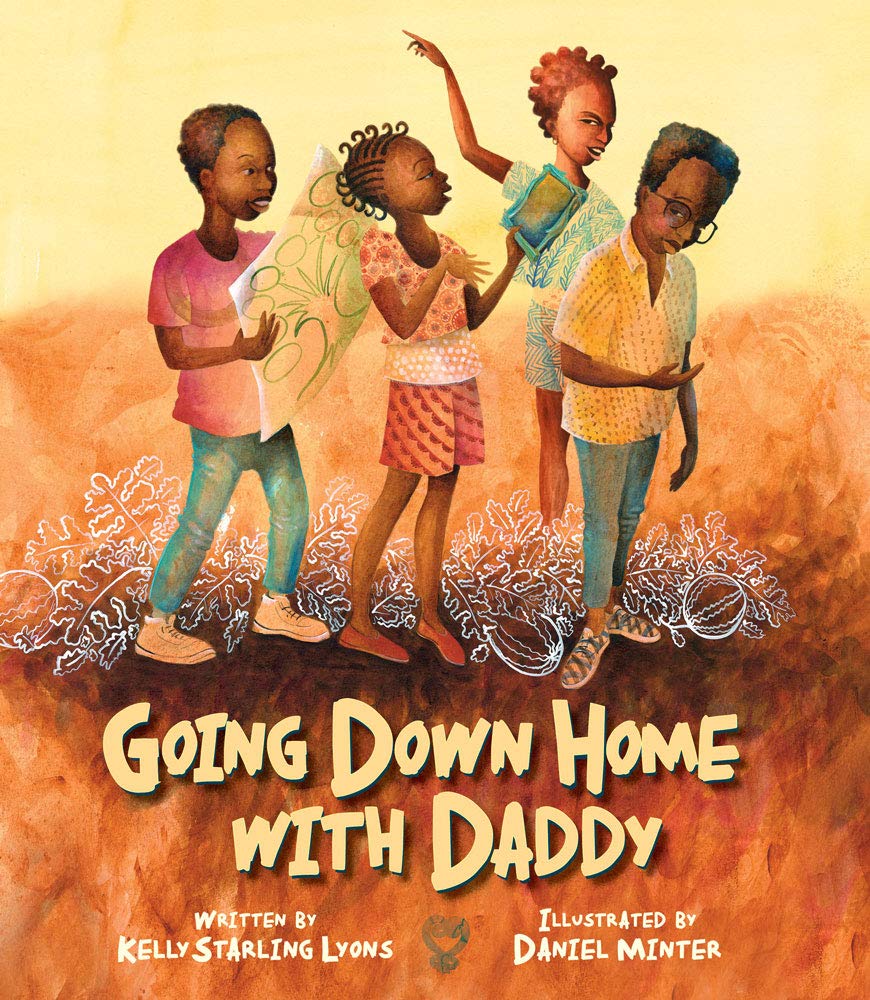 As long as there have been families, there have been reunions of sorts – annual summer barbecues, holiday gatherings, get-togethers for weddings and funerals.
But these days with families living far and wide, it's the latter — weddings and funerals — that tend to draw the largest number of family members together in the same space. At least that's true for our family. We've often tried and talked about organizing family reunions, but life always gets in the way and it never comes to fruition.
When our family finally does have a family reunion, I hope it will be as beautiful and meaningful as the reunion that takes place in Going Down Home With Daddy.
This book shows readers family reunions are a way for families to reconnect with their roots, find a sense of belonging and honor their elders.
Lil Alan, his sister and their family prepare to go "down home" for their annual family reunion. As with every year, the family gathers together to learn about more about their family history, traditions and more family stories than they can count.
I love how proud this family is of all the land they own, how they honor and pay tribute to their ancestors, and how each child shares a special talent, song, poem or written passage with the family. In the end, each family member leaves feeling a renewed sense of the family bond and a re-attachment to the land where the family in America began.
This is a feel good story that will warm your heart and show readers the importance of family. Ages 4-8 and up.
Hair Love by Matthew A. Cherry, illustrated by Vashti Harrison

Twist outs. Braid outs. Wash and Gos. Bantu knots. Locs. Afros. Braids. Top Knots. Ponytails. Today's natural haired beauties are embracing their kinks, coils and curls more than ever before to express their style. Just ask little Zuri. She wants to have the perfect hairstyle to welcome her mother home. Armed with an iPad, hair products and her dad, she ends up finding the perfect look.
I adore this book for so many reasons. First, it showcases a Black father in a positive light bonding with his daughter doing her hair. We don't see this enough, especially in the Black community. I personally think a father caring for his daughter's hair isn't a loss of masculinity. In fact, I think women admire men even more who take the initiative to learn how to do hair. I love how Zuri's dad steps up to the plate and figures out what needs to be done to do his daughter's hair in his wife's absence.
With the help of social media, Zuri's father learns how to comb, part, oil, twist, and style Zuri's hair. This experience allowed Zuri to bond with her dad in an entirely new way, and likely instilled a deep pride about the heritage in her hair.
One thing I notice with my husband is he likes to bond with our kids by playing, roughhousing, teaching them a skill or a sport. But Hair Love shows that fathers talking to their daughters about their hair is an entirely new way to bond. Just like my daughter, many girls love to see and spend time with their dad. So when a father actually does a good job on his daughter's hair she'll likely respond with, "Yeah, my daddy did my hair!"…now that's bonding.
I also think Hair Love does a great job showing readers that being a father is much more than being able to provide for a family financially. Fatherhood sometimes encompasses: cooking, cleaning, AND doing hair. It may also involve showing your daughter how to love herself completely inside and out, how to appreciate her natural beauty, and love everything about herself. Those are things that sometimes men (and women) really don't think about as being a father.
Lastly, the adorable illustrations by Vashti Harrison make this book a ten on the cuteness scale. Just look at how adorable the front cover is! As always, Vashti does an outstanding job telling the story through her stunning illustrations. A winner!
Ho'onani: Hula Warrior by Heather Gale and Mika Song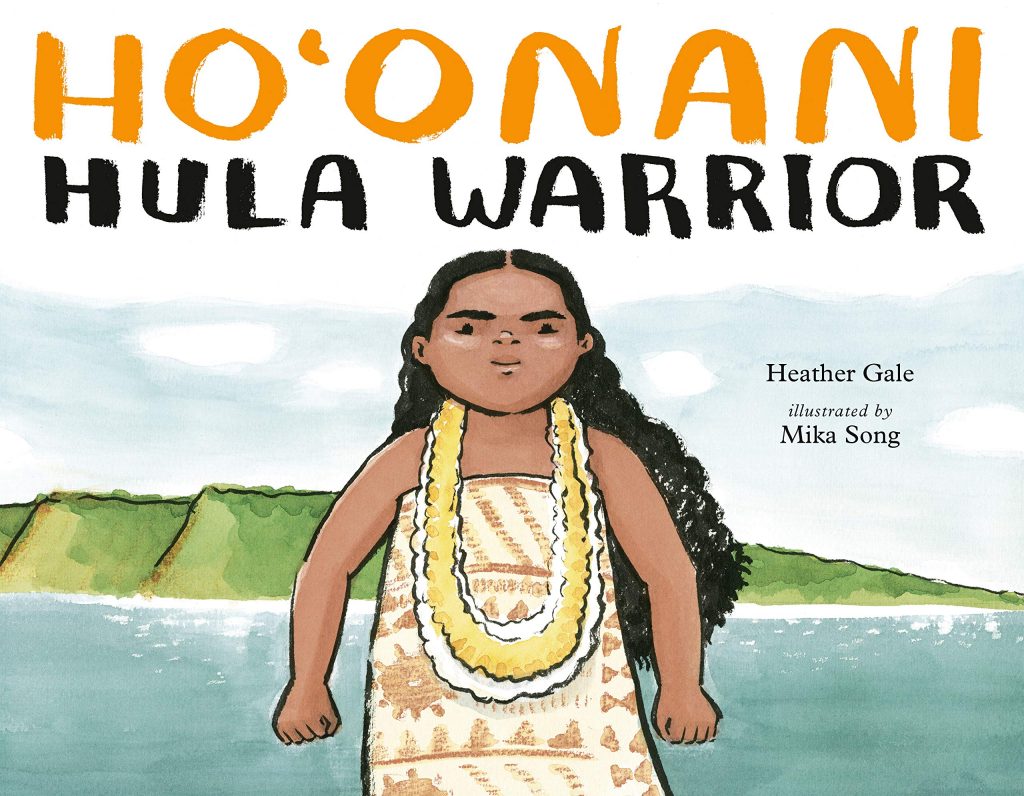 An outstanding narrative (based on a true story documentary) about Ho'onani and her quest to perform in the boys' hula troupe.
Ho'onani really wants to be part of the hula troupe, but it's traditionally only for boys. Ho'onani decides to audition for the part anyway and she get it! Ho'onani's sister is beyond embarrassed that her sister will be playing the role that's supposed to be for "boys".
Ho'onani's confidence in herself and her ability to lead the troupe is amazing. She doesn't care about the traditional gender rules; she simply wants to dance in the troupe because it's something she enjoys doing. Even Ho'onani's teacher tries to talk her out of leading the troupe by telling her that some parents might not want a girl leading their boys in the hula. Ho'onani sticks with her convictions and goes on to do a fabulous job. This one is perfect for teaching kids about gender stereotypes and Hawaiian culture and tradition. Ages 4 – 8 and up.
I Can Write the World by Joshunda Sanders, illustrated by Charly Palmer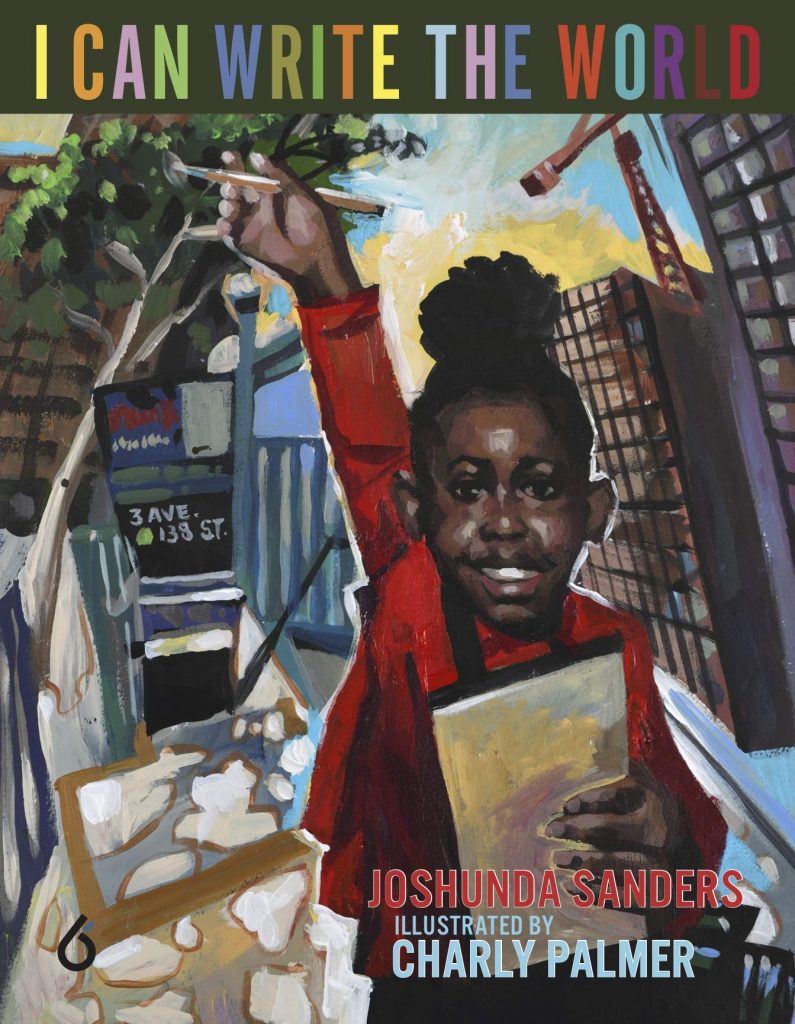 Results from a recent study claim it's scarcity, not abundance, that promotes creativity. The more stuff we have, the less creative we are. I wholeheartedly believe this to be true. I aspire to always be in a position to give my kids experiences over things.
When she was my age, there were no art classes at school. Black and Brown kids taught themselves to move, sketch, rap, and made hip-hop culture cool. This quote taken from the book is so true. Kids today have access to every type of activity and resource you can imagine which is awesome. But sometimes I wonder….is it all too much? Are we teaching our kids to just Google and YouTube everything or ask Siri or Alexa if they can't figure it out within one minute? Anyway, I digress.
I Can Write the World is a true gem and one you'll definitely want to add to your bookshelves. Let me tell you why.
First, the illustrations by Charly Palmer are captivating and really help capture the true essence of the overall messages. Next, the words will pierce your soul. Here's an example:
"Creativity is using what you have to make a map of your dreams. What you see in your mind or feel in your heart can come out in dance, colors, or beats."
Finally, the overall inspirational messages. Kids will learn in order to be creative they can use the little resources that they have. Kids will also learn about having pride in where they come from and some kids may even be inspired to become a journalist and "write the world" just like little Ava Murray from the Bronx did. Ages 4-8 and up.
It Began With a Page: How Gyo Fujikawa Drew the Way by Kyo Maclear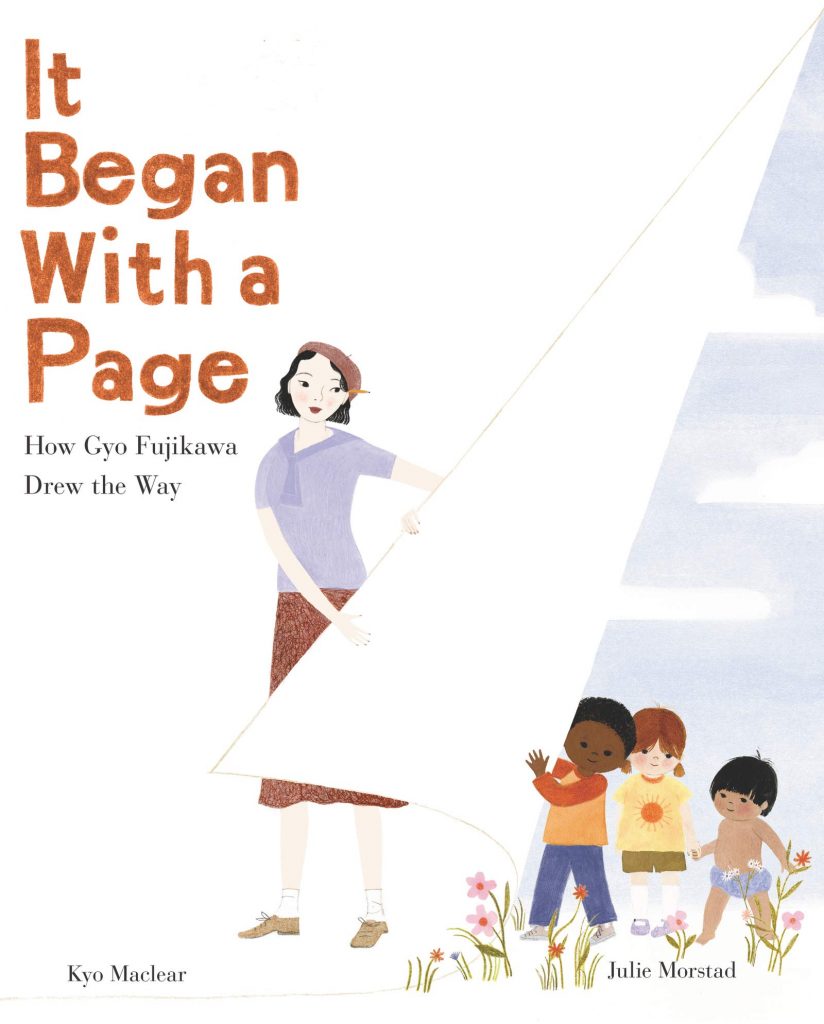 Wham, bam! Harper Kids has knocked it out of the park with this picture book biography about the life of Japanese artist Gyo Fujikawa. Gyo (pronounced ghee-o) loved drawing since the age of five when her parents came to California looking for a better life. Gyo often felt invisible in school as she was surrounded by mostly White students.
Her family was too poor to afford to send Gyo to art school, but one of her school teachers found the money to pay her way. Gyo eventually goes on to become a children's book illustrator and publishes the book Babies, one of the earliest children's books to use multicultural characters.
This is such a beautifully written story that celebrates the life of an amazing artist.
Let 'Er Buck! by Vaunda Micheaux Nelson, illustrated by Gordon C. James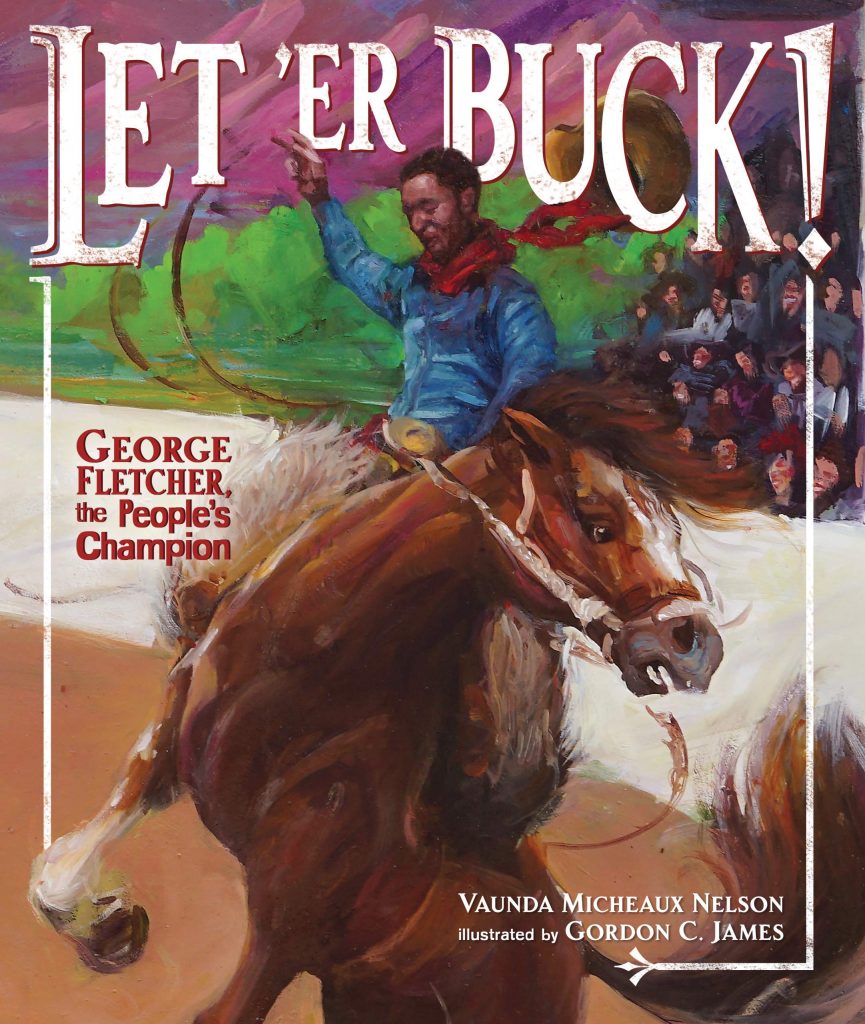 George Fletcher lived in Pendleton, Oregon, a place where there weren't a lot of African-Americans. He made friends with the children from the Umatilla Indian Reservation and learned how to train horses with kindness and gentleness. George started riding in competitions at age 16, but he wasn't allowed to compete because of the color of his skin. In 1911, George got his big break at the Pendleton Round-Up, the biggest rodeo in the Northwest. He made the top three finalists for the Saddle Bronc Championship.
A beautifully written and illustrated picture book that has themes of: racism, horses, rodeos and heroism. Recommended for ages 4-8.
M is for Melanin: A Celebration of The Black Child by Tiffany Rose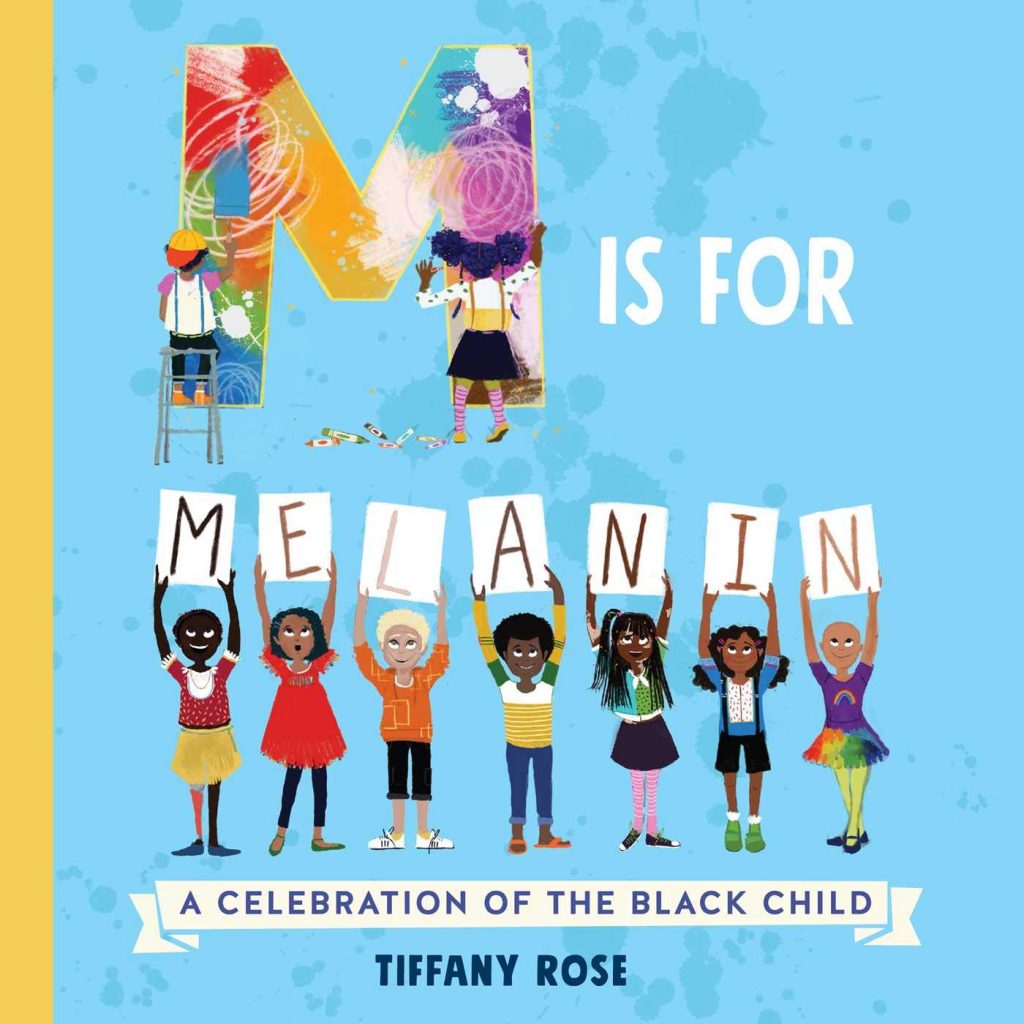 M Is for Melanin is an empowering alphabet book that teaches kids their ABCs and celebrates Black children.
M is for Melanin
shining in every inch of your skin.
Every shade, every hue.
All beautiful and unique.
Each letter of the alphabet contains affirming, Black-positive messages, from A is for Afro, to F is for Fresh, to W is for Worthy. This book teaches children their ABCs while encouraging them to love the skin that they're in. Ages 3-6.
Magic Ramen: The Story of Momofuku Ando by Andrea Wang, illustrated by Kana Urbanowicz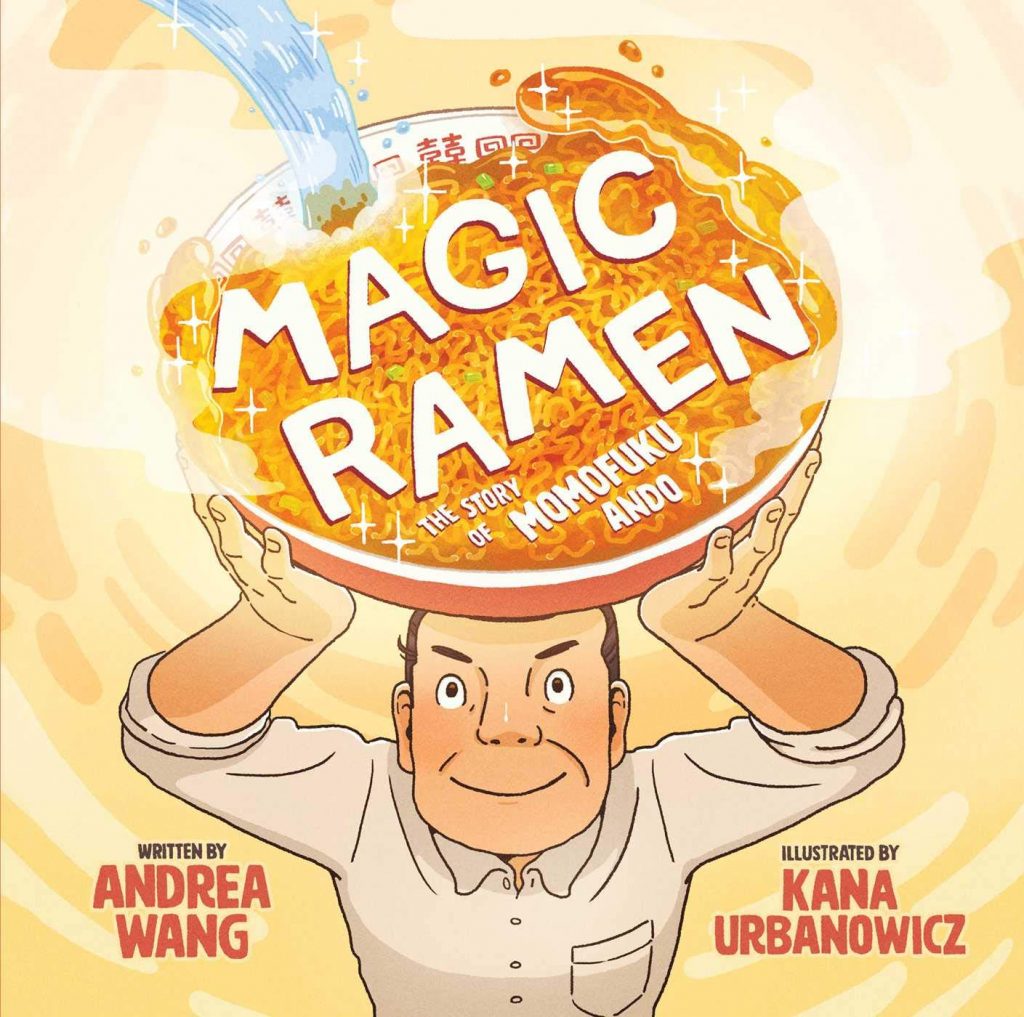 Inspiration struck when Momofuku Ando spotted the long lines for a simple bowl of ramen following World War II. Magic Ramen tells the true story behind the creation of one of the world's most popular foods.
Every day, Momofuku Ando would retire to his lab–a little shed in his backyard. For years, he'd dreamed about making a new kind of ramen noodle soup that was quick, convenient, and tasty for the hungry people he'd seen in line for a bowl on the black market following World War II. Peace follows from a full stomach, he believed.
Day after day, Ando experimented. Night after night, he failed. But Ando kept experimenting. With persistence, creativity, and a little inspiration, Ando succeeded. This is the true story behind one of the world's most popular foods.
Muslim Girls Rise: Inspirational Champions of Our Time by Saira Mir, illustrated by Aaliya Jaleel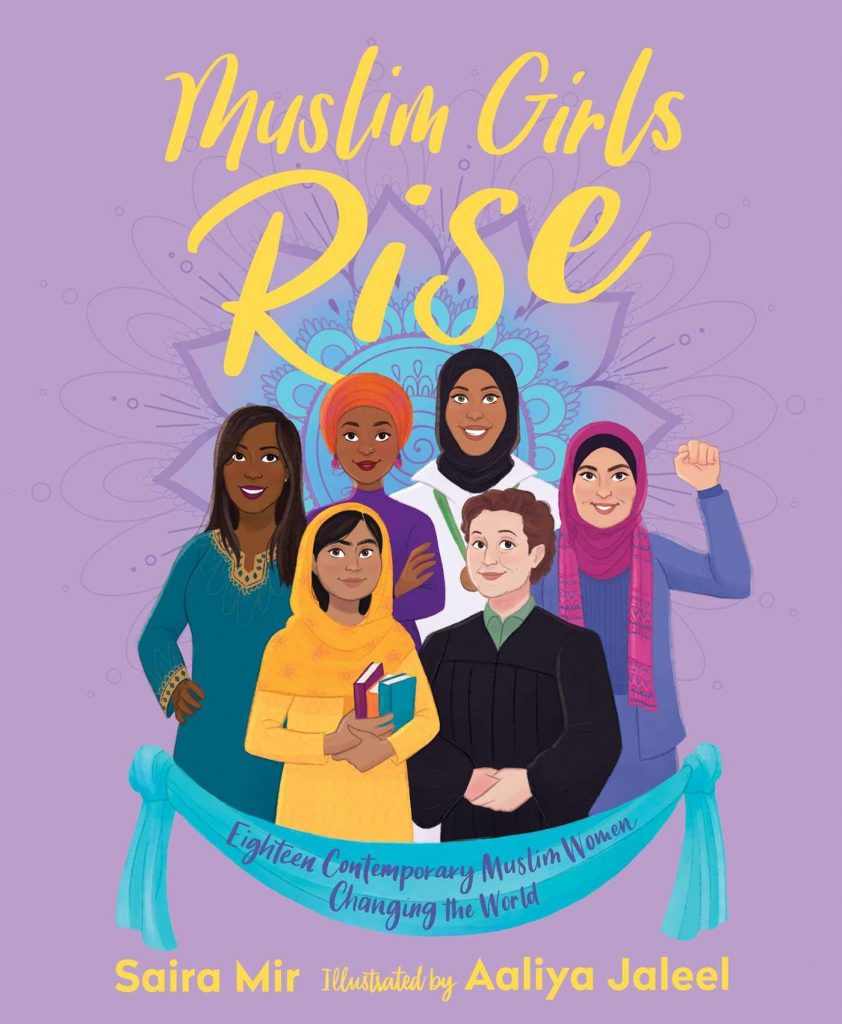 From the introduction: People may tell you that you can't do something because of the way you look, dress, or pray. Your name may sound different. Never forget that you are extraordinary. You are powerful, brave, and clever. Great things come from people like you.
What a powerful introduction, right? These are the types of messages kids need to be reminded of time and time again through great books like this one. Muslim Girls Rose introduces readers to nineteen contemporary Muslim women who followed their passions and rose up to make significant contributions in science, activism, fashion, film, sports, education and more.
Little readers will no doubt be inspired and empowered to rise up and follow their dreams after reading this gem. Ages 6 and up.
My Mommy Medicine by Edwidge Danticat, illustrated by Shannon Wright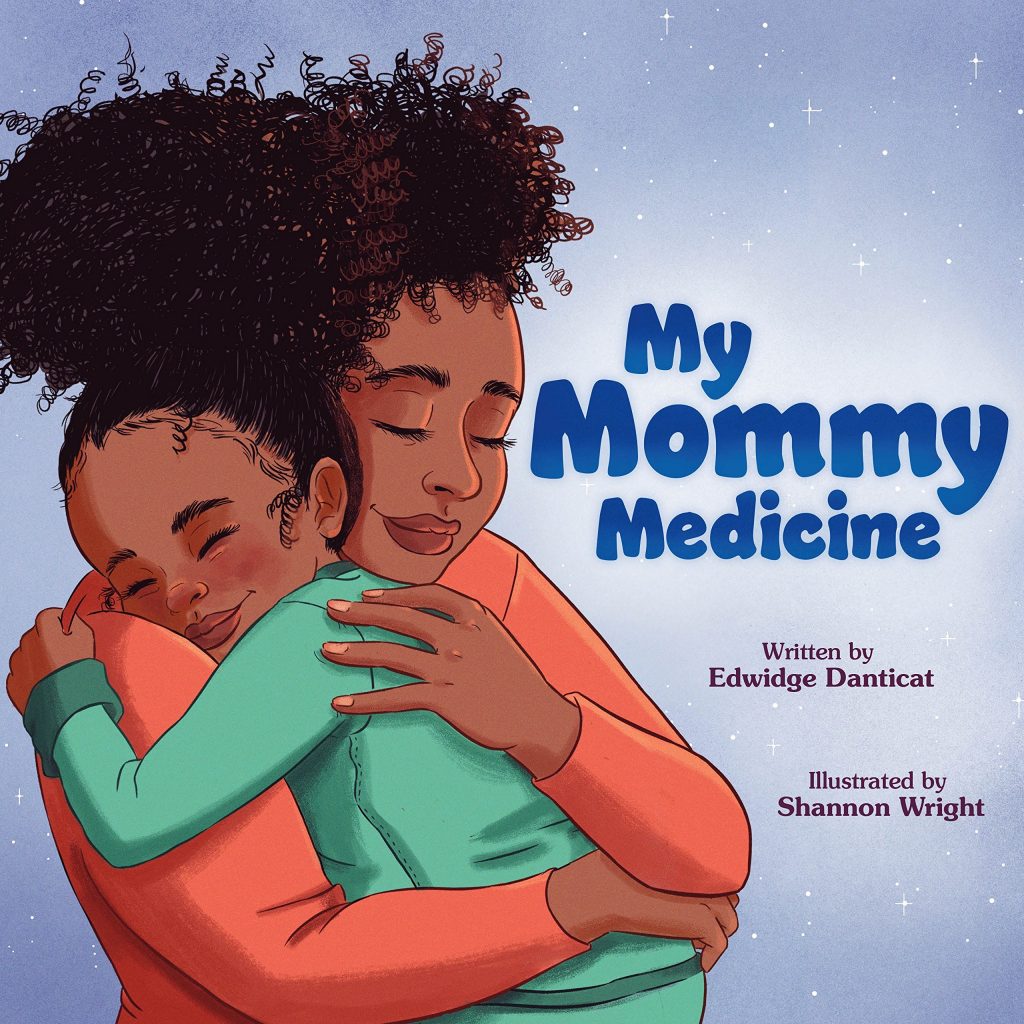 When my kids are sick or not feeling well, all they want is to cuddle with me. There's just something about the instinctive nurturing of some mothers that seems to make everything feel better.
I adore this book that showcases the unconditional love between a mother and daughter. This is now be my go to book to read with my kids when they're sick. It's a true winner with the most beautiful illustrations! Ages 4-8 and up.
My Papi Has a Motorcycle by Isabel Quintero, illustrated by Zeke Peña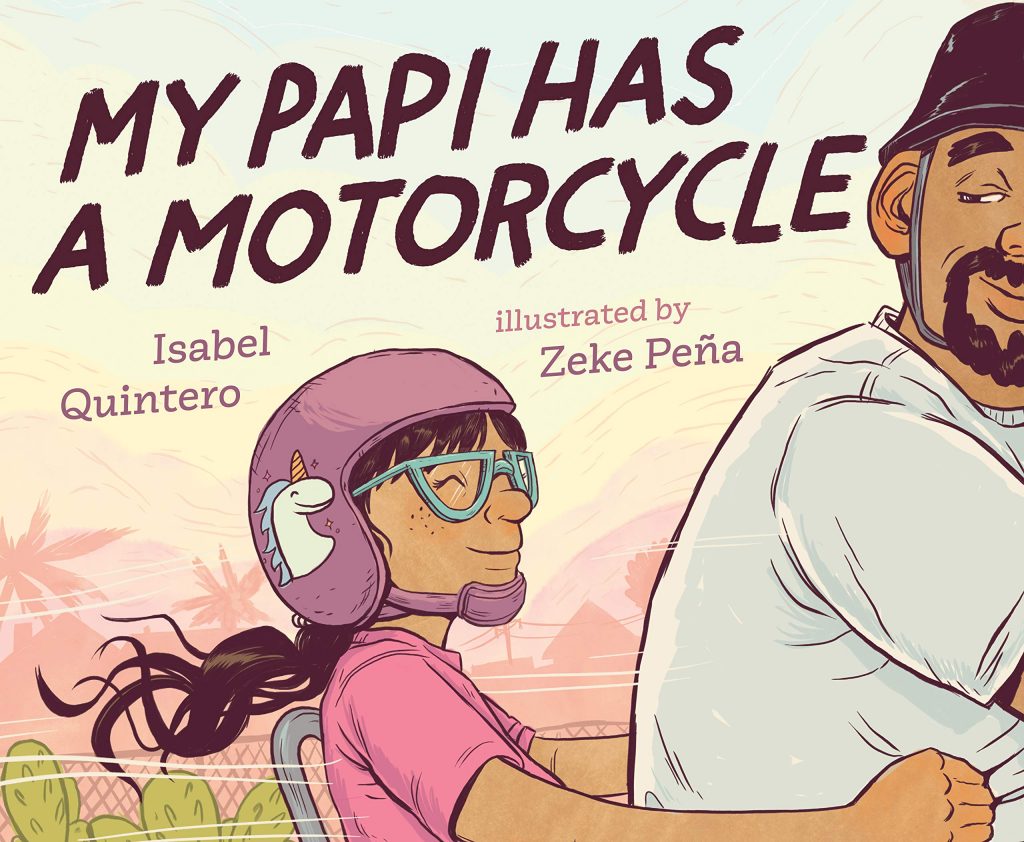 When Daisy Ramona zooms around her neighborhood with her papi on his motorcycle, she sees the people and places she's always known. She also sees a community that is rapidly changing around her. But as the sun sets purple-blue-gold behind Daisy Ramona and her papi, she knows that the love she feels will always be there. Ages 4-8.
Not Quite Snow White by Ashley Franklin, illustrated by Ebony Glenn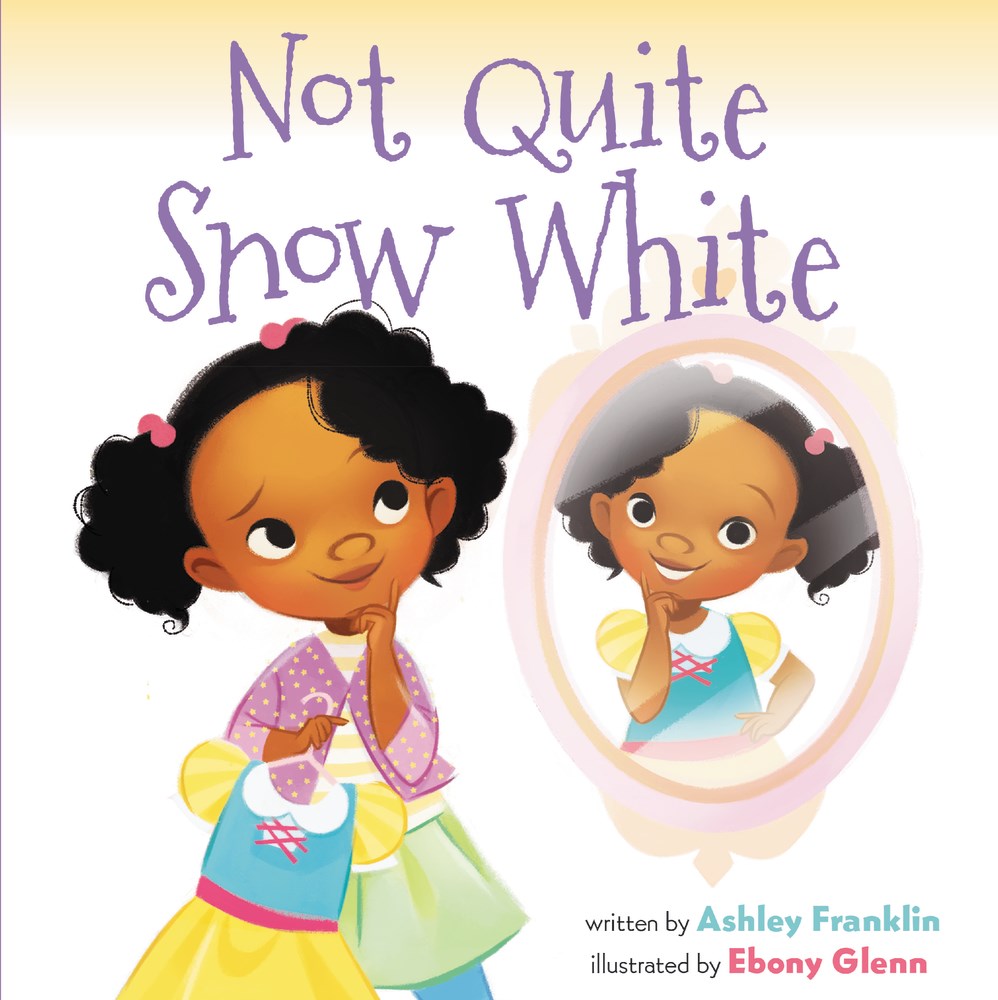 Many fairy tales depict a world of predominantly blonde heroines with twinkling blue eyes and a fair complexion. This is problematic and an unrealistic view of the world we live in today.
Seeing oneself is an affirming moment, but for little girls of color, this mirror image is as rare as Cinderella's glass slipper fitting properly. We all crave representation and deserve access to reflections of ourselves, and that is why I'm excited by this book: Not Quite Snow White by Ashley Franklin illustrated by Ebony Glenn.
When little Tameika auditions for the role of Snow White, she overhears kids saying she's "too chubby" and making comments about her having brown skin. They whisper and giggle and stare at her which in turn causes Tameika to second guess her decision about playing the lead role.
I adore this book for so many reasons. It shows all marginalized kids that everything is possible. Tameika auditioning for the role of Snow White is powerful not only for readers of color, but for everyone, enabling us to see beyond the dominant images of White protagonists in childhood stories and fairy tales.
It is revolutionary that fairy tales and stories represent children of all colors. With her brown skin, and kinky hair, Tameika is the furthest from classic Disney fantasies—but closest to my reality.
Hopefully all children (and adults) reading this book will realize that we can become our wishes and dreams, and that we're worthy of being seen despite what others may think or say.
I think this book is a winner! It has great read aloud appeal, beautiful illustrations that inspire, and messages about body positivity, acceptance, self-love, bravery, diversity and inclusion. Ages 4-8 and up.
Nya's Long Walk: A Step at a Time by Linda Sue Park, illustrated by Brian Pinkney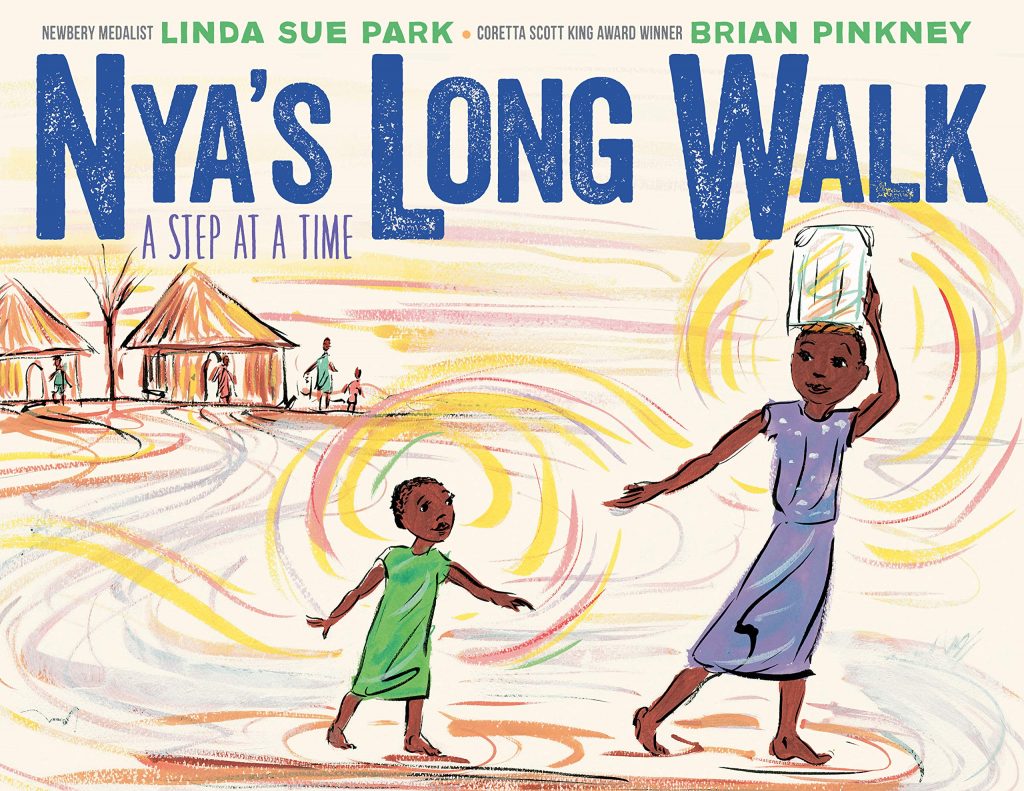 Young Nya takes little sister Akeer along on the two-hour walk to fetch water for the family. But Akeer becomes too ill to walk, and Nya faces the impossible: her sister and the full water vessel together are too heavy to carry. As she struggles, she discovers that if she manages to take one step, then another, she can reach home and Mama's care. Ages 4 – 7.
Ona Judge Outwits the Washingtons: An Enslaved Woman Fights for Freedom by Gwendolyn Hooks, illustrated by Simone Agoussoye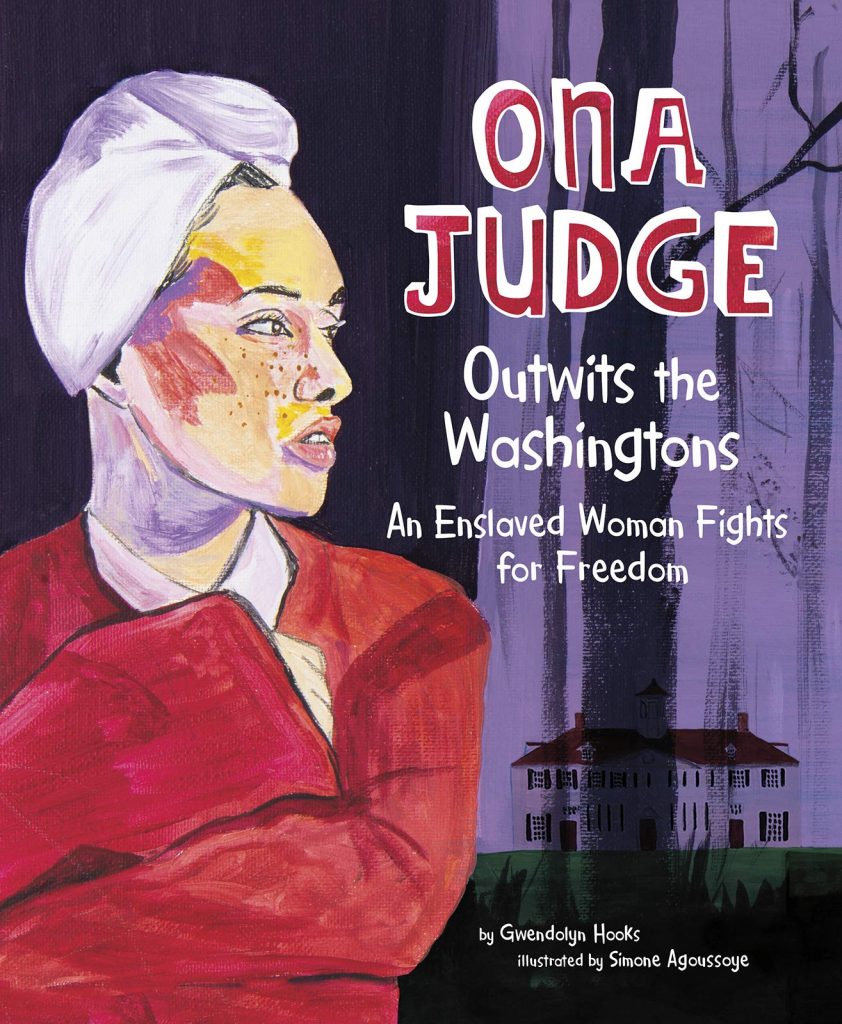 George and Martha Washington valued Ona as one of their most skilled and trustworthy slaves, but she would risk everything to achieve complete freedom. Born into slavery at Mount Vernon, Ona seized the opportunity to escape when she was brought to live in the President's Mansion in Philadelphia. Ona fled to New Hampshire and started a new life. But the Washingtons wouldn't give up easily. After her escape, Ona became the focus of a years-long manhunt, led by America's first president. Gwendolyn Hooks' vivid and detailed prose captures the danger, uncertainty, and persistence Ona Judge experienced during and after her heroic escape. Ages 9 and up.
Paper Son: The Inspiring Story of Tyrus Wong, Immigrant and Artist by Julie Leung, illustrated by Chris Sasaki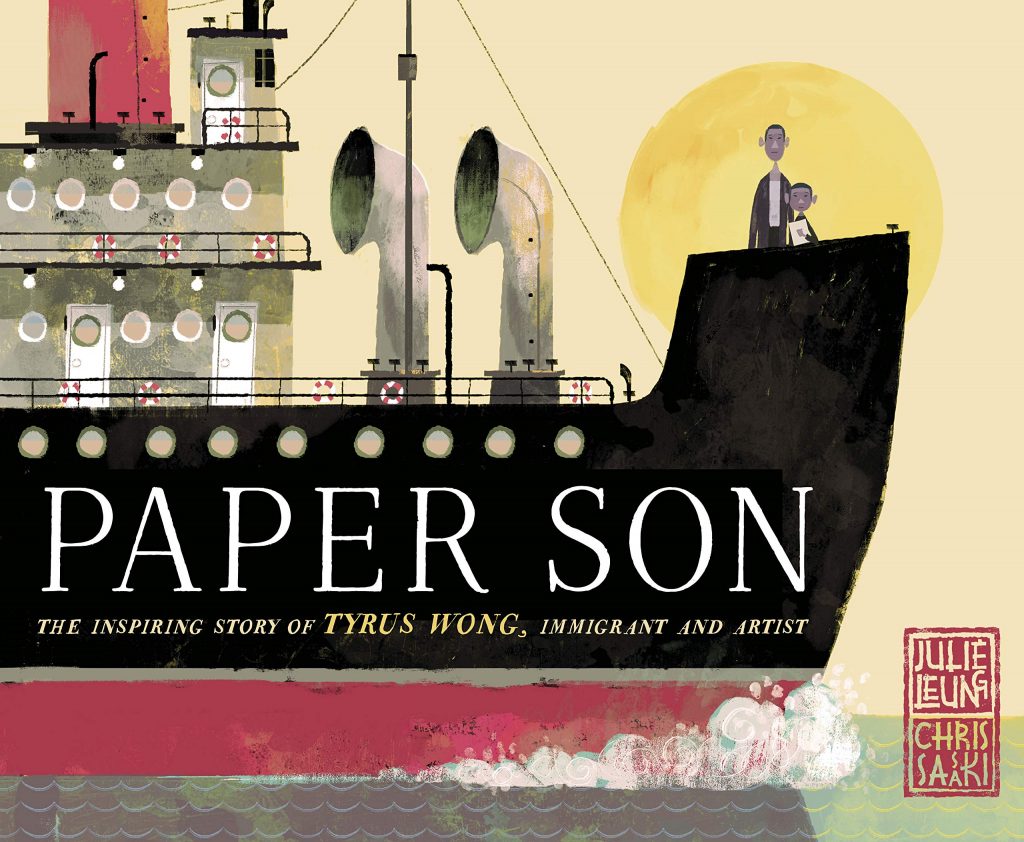 I am fascinated by the story of Tyrus Wong. Born Wong Gen Yeo in southern China's Guangdong Province in 1910, Wong landed in the United States as a 9-year-old; traveling with his father, he reportedly never saw his mother and sister again. Because of the Chinese Exclusion Act, young Tyrus and his father were separated and interrogated during the long immigration process. Once reunited with his father and cleared by immigration, Tyrus and his father began their life in America living in the state of California.
Tyrus was naturally gifted at drawing, painting and art. His talent was evident to his teachers, who along with his father encouraged him to pursue art. He received a full-time scholarship to Otis Art Institute, working while pursuing his education. After graduating, Wong put his gifts and training to use in Hollywood, designing sets and storyboards for Warner Bros.
Tyrus is best known for animating scenes from the Disney movie Bambi in 1942 although he never received the recognition he deserved until the 1990's nearly 50 decades later. Due to discrimination and racism against Asian Americans, Tyrus spent years enduring poverty and chronic lack of recognition. In the movie Bambi, Mr. Wong's name appears, quite far down in the credits, as a mere "background" artist.
Wong lived a long life and died at age 106. His artistic career also saw him designing Hallmark greeting cards. He was also an accomplished painter, muralist, lithographer, ceramicist and kite maker. Ages 4-8 and up.
Parker Looks Up: An Extraordinary Moment by Parker & Jessica Curry, illustrated by Brittany Jackson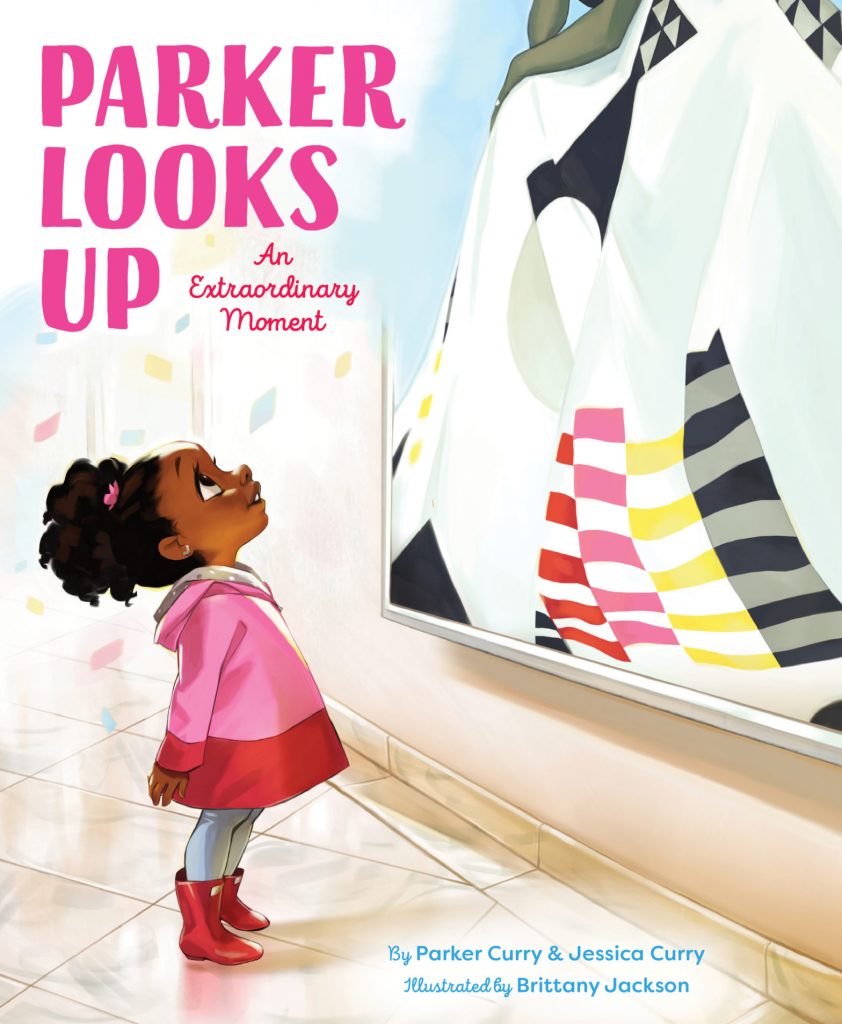 When little Parker Curry saw Michelle Obama's painting last year at the National Portrait Gallery she was awestruck. Her photo quickly went viral and later landed her a book deal. Now Parker hopes to inspire other children to go after their dreams in her picture book Parker Looks Up.
Planting Stories: The Life of Librarian and Storyteller Pura Belpré by Anika Aldamuy Denise, illustrated by Paola Escobar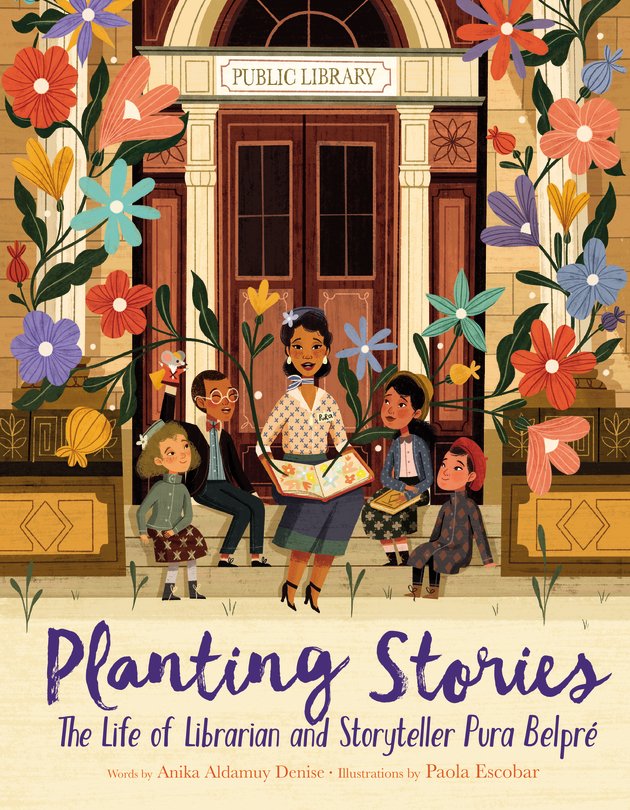 Pura Belpre was the first Puerto Rican librarian in New York City. She helped bring story times and computer classes in Spanish at public libraries. Now, every year the American Library Association gives out an award in Belpré's name. It recognizes books for kids and young adults by Latino writers and illustrators. Ages 4-8 and up.
Priya Dreams of Marigolds and Masala by Meena Patel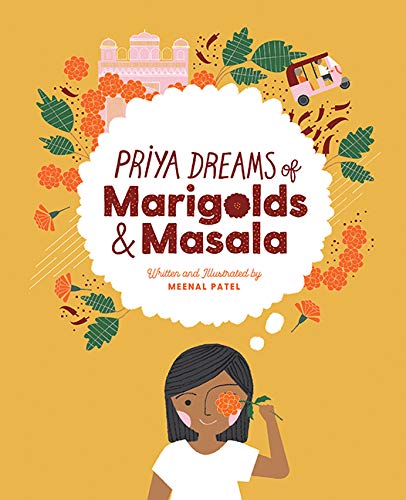 Priya lives in the United Stated and her family is from India. She learns about India through her Babi Ba's (grandma's) descriptions of it and in the way that their Indian culture is woven through their lives every day. Priya is the hero in this book – her curiosity about her family's heritage and the kindness and love that she shows to her Ba help to carry her family's traditions forward. It's a story about having pride for all of the pieces that come together to make you who you are and feeling the magic of a place without having been there. Ages 4-8.
Rise! From Caged Bird to Poet of the People, Maya Angelou by Bethany Hegedus and Tonya Engel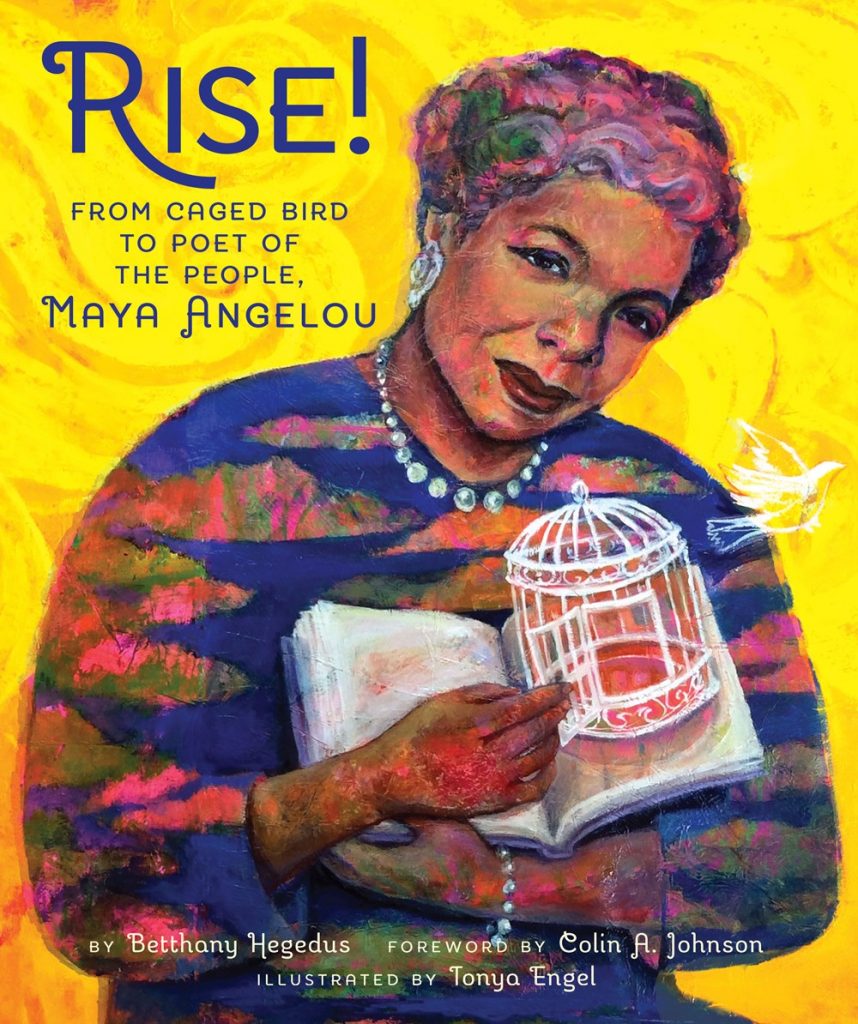 Writer, activist, trolley car conductor, dancer, mother, and humanitarian–Maya Angelou's life was marked by transformation and perseverance. In this comprehensive picture-book biography geared towards older readers, Bethany Hegedus lyrically traces Maya's life from her early days in Stamps, Arkansas through her work as a freedom fighter to her triumphant rise as a poet of the people. A foreword by Angelou's grandson, Colin A. Johnson, describes how a love of literature and poetry helped young Maya overcome childhood trauma and turn adversity into triumph. Coupled with Tonya Engel's metaphorical and emotive illustrations, this biography beautifully conveys the heartaches and successes of this truly phenomenal woman, and is a powerful tribute to the written word. Recommended for ages 7-10 and up.
Saturday by Oge Mora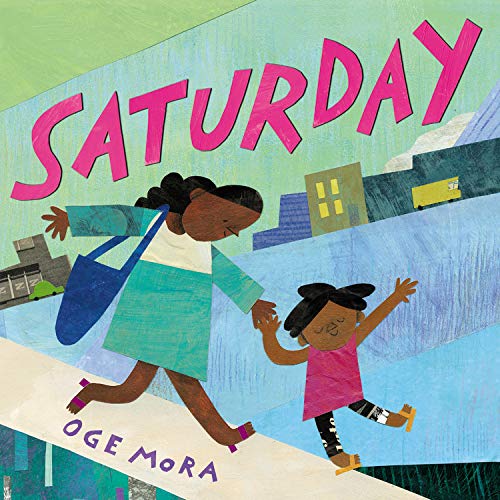 Saturdays are for…(you fill in the blank). Little Ava loves Saturdays because it's the one day of the week when her mother doesn't have to work. This Saturday is an extra special one because Ava and her mother are going to a one-night only puppet show. But first, they have plans to attend story time at the library, get their hair done at a salon and have a picnic in the park.
Their special day doesn't turn out as well as they hoped it would at all, but does it end well? You'll have to read it to find out.
This is another winner from author Oge Mora! It's a wonderful story about bonding, family, and how to handle situations when things don't go as planned. Kids will love the repetition, the vibrant collage illustrations and seeing how the story ends. Ages 4-8 and up.
Sofia Valdez, Future Prez by Andrea Beaty, illustrated by David Roberts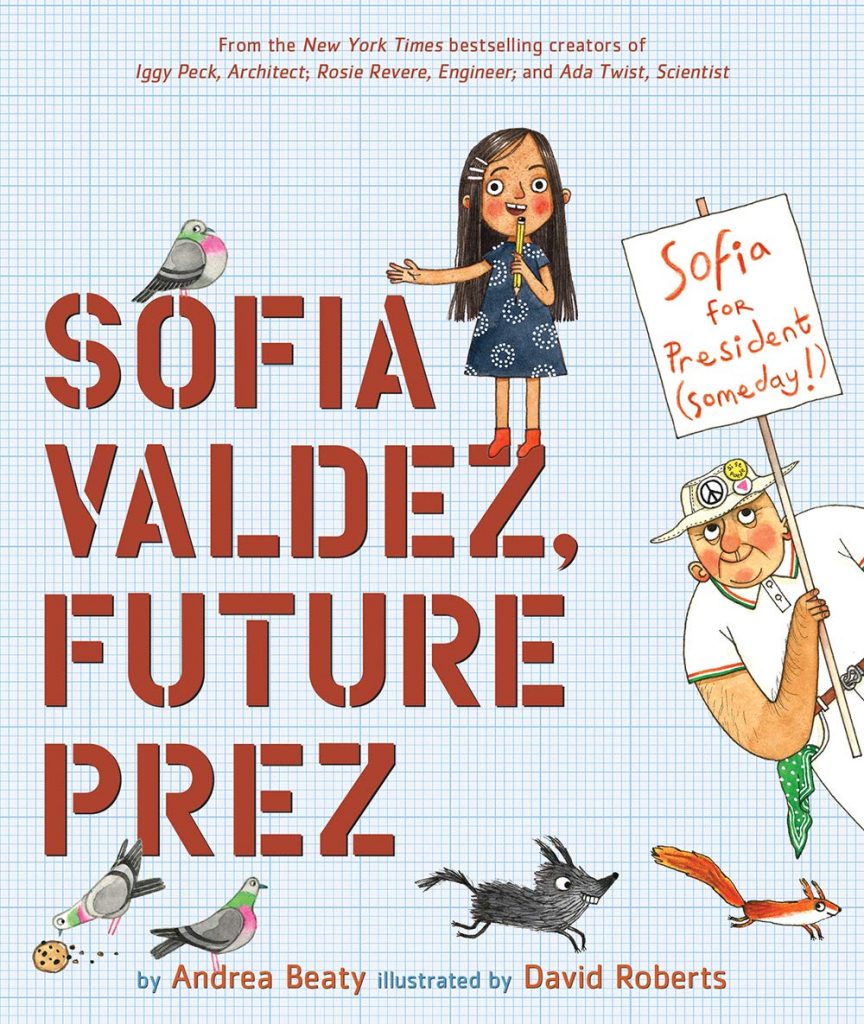 Meet Sofia Valdez, the newest character from the bestselling creators who brought you Ada Twist, Rosie Revere and Iggy Peck.
Every morning, Abuelo walks Sofia to school . . . until one day, when Abuelo hurts his ankle at a local landfill and he can no longer do so. Sofia (aka Sofi) misses her Abuelo and wonders what she can do about the dangerous Mount Trashmore. Then she gets an idea—the town can turn the slimy mess into a park! She brainstorms and plans and finally works up the courage to go to City Hall—only to be told by a clerk that she can't build a park because she's just a kid! Sofia is down but not out, and she sets out to prove what one kid can do. Ages 5 – 7 and up.
Sulwe by Lupita N, illustrated by Vashti Harrison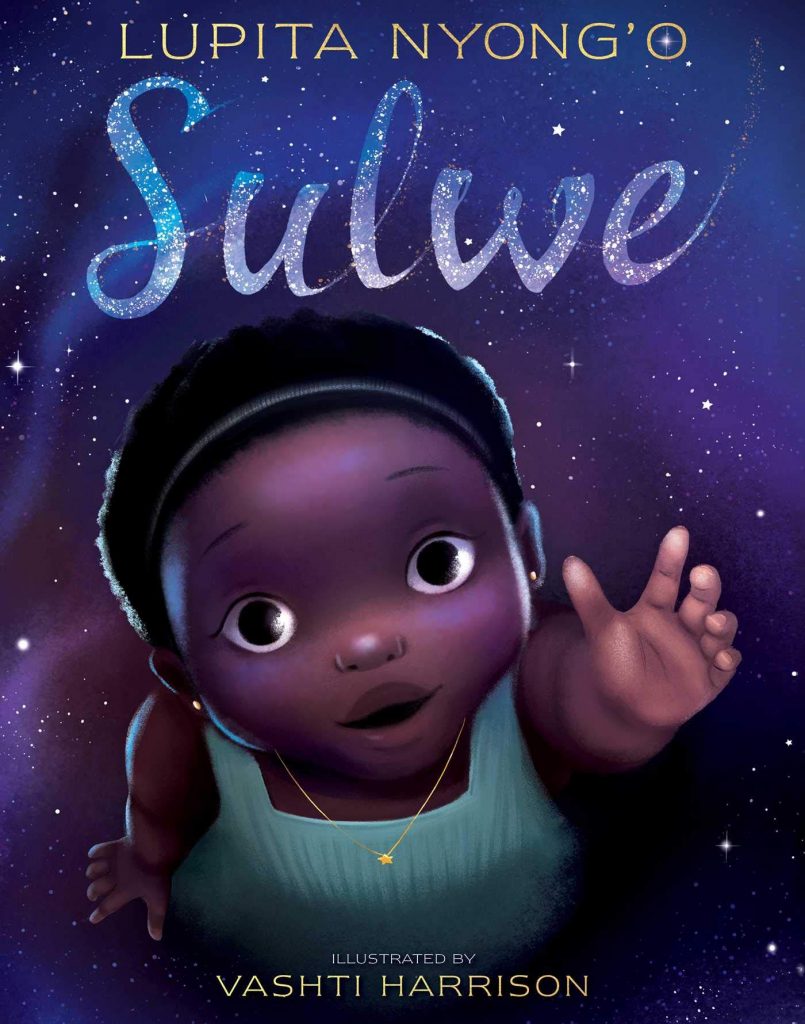 Having lighter skin has long been a status symbol and is still seen as "superior" by many people around the world. However, thanks to the introduction of affirming songs like Beyonce's "Brown Skin Girl" and books like Lupita Nyong'o's Sulwe; Black girls and women everywhere are unapologetically adoring themselves for who they are inside and out.
Sulwe, which means "star" in the Kenyan language Luo, introduces readers to a young girl named Sulwe who is the darkest person in her family. Sulwe wished she had light skin like her sister Mich who is the color of high noon. In an effort to try and lighten her skin, Sulwe uses a big eraser to try and rub off layers of her skin and she only eats the lightest, brightest foods like: bananas, white bread, and crackers. As a last effort, Sulwe decides to turn to God and pray for a miracle. She prays to wake up and have light skin and lots of friends just like her sister. When she wakes up the next morning and sees her prayer wasn't answered she breaks down and tells her mother everything.
Her mother gives her sage advice and reassures her she's beautiful just the way she is. Later that night, Sulwe is visited by a shooting star who takes her on a quest which helps her learn to love and appreciate herself.
Based on Lupita's childhood, Sulwe will pull at your heartstrings and make you cheer at the end when Sulwe gains the strength to see the beauty and power in her own dark skin. The book may also spark some excellent conversations about colorism and the pressures women of color face to obtain Eurocentric standards of beauty. In a world where women and young girls still grow up with constant reminders that only light/fair skin is beautiful, I'm so glad books like this exist.
The overall message of inspiring children to see their own unique beauty is powerful. Sulwe will undoubtedly plant seeds of sufficiency and adequacy in little Black girls' minds and empower them to proudly say, "I Am Enough."
The King of Kindergarten by Derrick Barnes, illustrated by Vanessa Brantley-Newton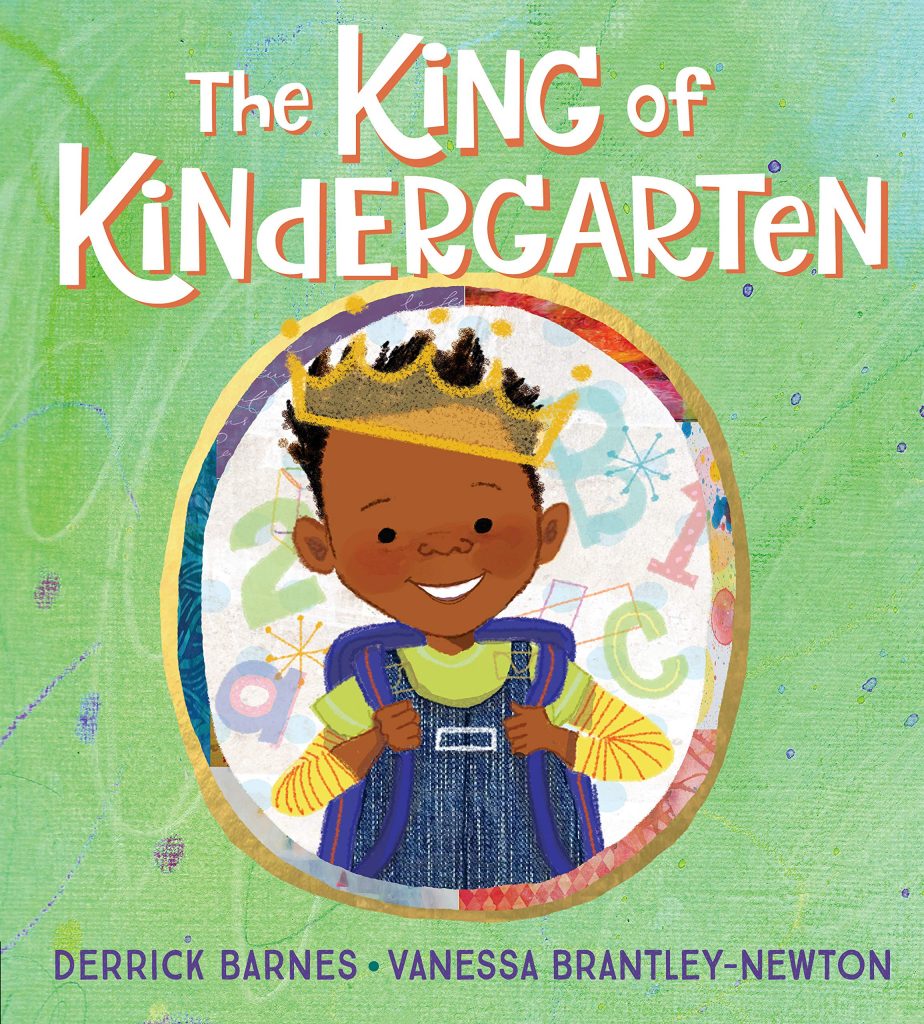 My son started kindergarten this school year so this book was a must-have for our home library. It introduces readers to a little boy preparing for the first day of kindergarten. The boy imagines himself as being a king living in the far off village of Osh and Kosh preparing to make the big transition to school. The illustrations are so well done and really help to bring the story to life and relatable for small children. Ages 4 – 8 and up.
The Many Colors of Harpreet Singh by Supriya Kelkar, illustrated by Alea Marley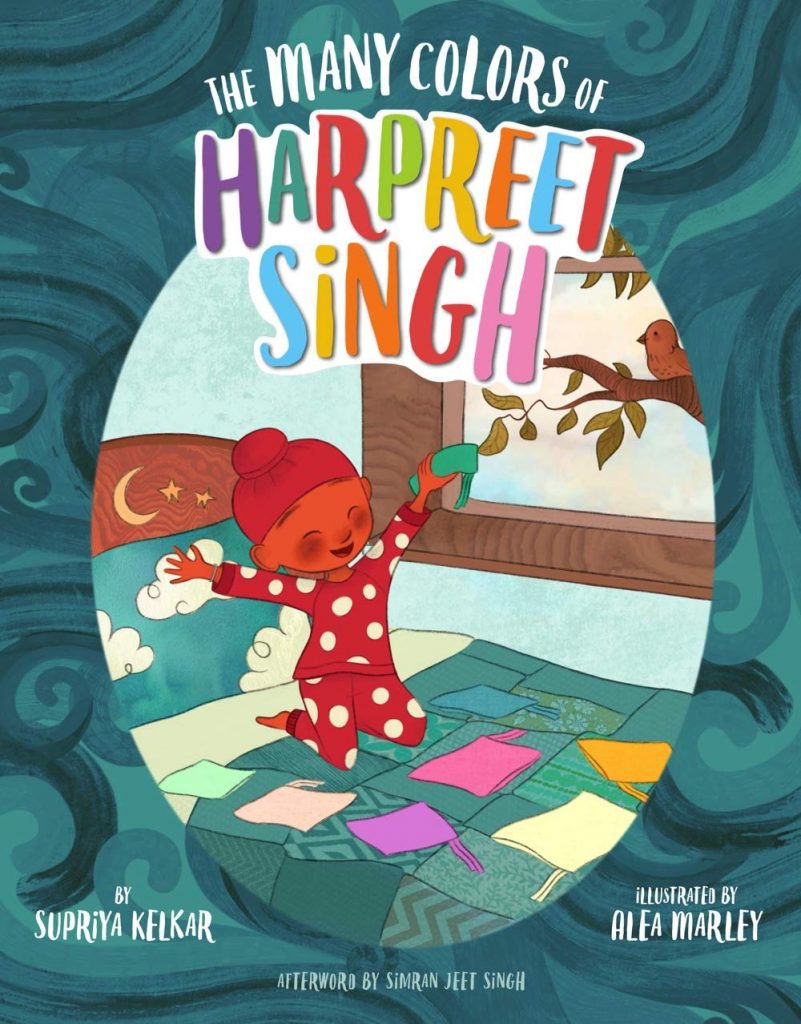 In this story, little readers are introduced to a boy named Harpreet Singh who loves colors. He likes to express his love of colors by wearing brightly colored patkas (turbans) to match his outfit and his mood.
One day, Harpreet's mother announces their family is moving to a snowy town across the country because she found a new job. Hearing this news makes Harpreet sad and he begins wearing turbans in darker colors like blue and gray. He also began wearing white turbans often because he wanted to appear invisible in his new school. Will Harpreet find happiness again and start wearing his bright and cheerful colored turbans? You'll have to read it to find out how the story ends.
The Many Colors of Harpreet Singh is a beautiful diverse story that has themes of: colors, cultural traditions/beliefs, family, friendship, dealing with emotions, and moving to a new place.
The Nutcracker by E. T. A. Hoffmann, illustrated by Carly Gledhill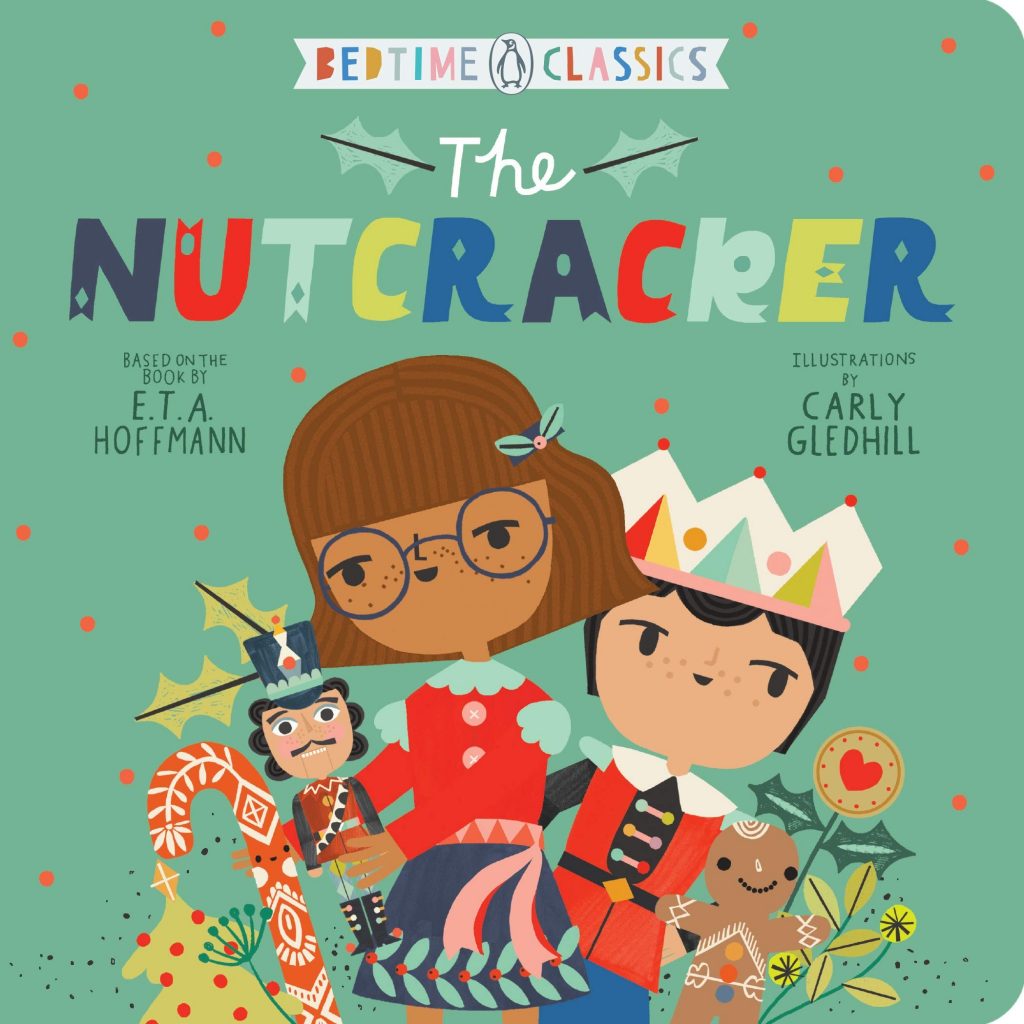 On Christmas Eve, Clara is given a special gift from her Godfather–a beautiful nutcracker doll. But when Clara awakes in the middle of the night, she finds her beloved nutcracker has transformed into a handsome prince, and together, they set off for the Land of Sweets. Ages 3 – 5 and up.
The Proudest Blue: A Story of Hijab and Family by Ibtihaj Muhammad, illustrated by S. K. Ali Hatem Aly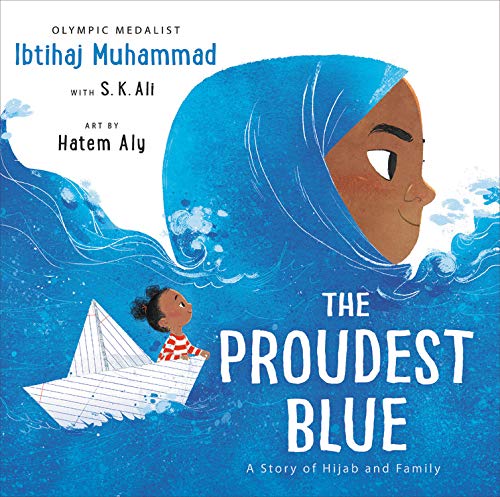 The black hair that once fell down Asiya's back and across her face is no longer in view. It is covered now, whenever she is in public, by an oversized scarf called a hijab. Today, a neatly pressed, bright blue hijab frames Asiya's pretty face. It's her first-day hijab which also happens to be the first day of school. Asiya is the same young girl underneath that she was a few days ago. The only difference is she must now wear a hijab, a tradition for Muslim women once they reach puberty.
Unfortunately, not everyone thinks Asiya's ocean blue hijab is as beautiful as she and her family do. Asiya's little sister Faizah is confused when she overhears a mean boy saying hurtful words and laughing about her sister.
Remembering the sage advice her mother told her, Asiya turns away and continues to play tag with her friends. The Proudest Blue is an inspiring #ownvoices story about self-acceptance, confidence, family, courage and being proud of who you are despite what others think or say. Ages 4-8 and up. Written by Olympic Medalist Ibtihaj Muhammad.
The Undefeated by Kwame Alexander, illustrated by Kadir Nelson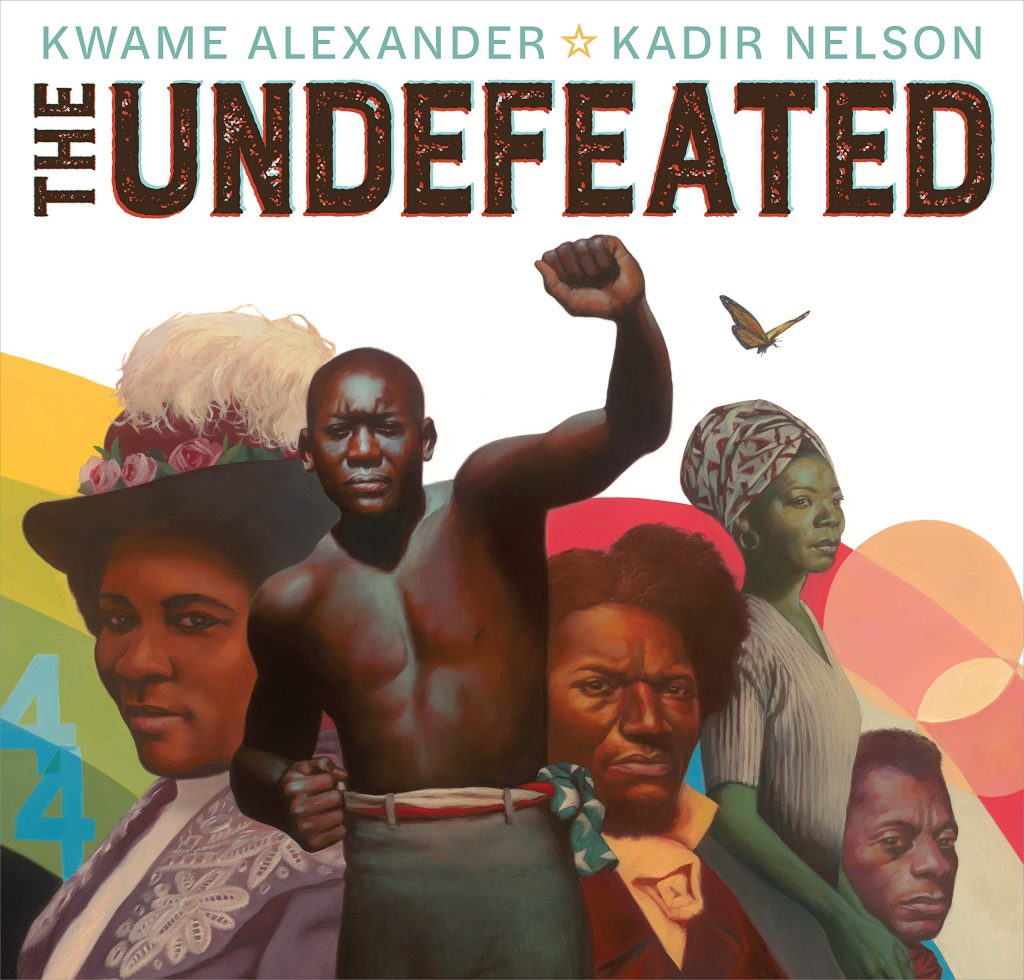 I think this book is pure perfection. Let me tell you why.
First off, it's written by Kwame Alexander and illustrated by Kadir Nelson. I adore both of these men, their artistry and talent. Have you ever heard Kwame speak in person at one of his events? He's a natural storyteller and oratory genius. Prepare to be blown away if you ever hear him speak in person. And Kadir Nelson? He can do no wrong in my opinion. Everything he illustrates is pure gold…EVERYTHING!
Second. This book is a love letter to America. To Black America. It's dedicated to everyday working people, artists, athletes, and activists. In the afterword, Kwame explains he wrote this poem in 2008, the same year his second daughter was born and Barack Obama became the first African American president of the U.S.
Kwame also states he wrote this poem to remind himself and all Black Americans to never give up and keep on rising. The words in this book pierced me to my soul and made me shed tears of joy. It made me reflect on the harsh history my ancestors before me must have endured, but also made me proud to see how far we've come. This is exactly the type of book we need in the world right now.
And yes, there is still so much work to be done in America and all over the world with regards to race, prejudice, etc. However, this book is a great reminder for me to keep on pushing against all odds. After reading this you will likely declare, "I Am Undefeated", just like I did. Add this one to your "must buy" list for 2019. Ages 4-7 and up.
The Women Who Caught the Babies by Eloise Greenfield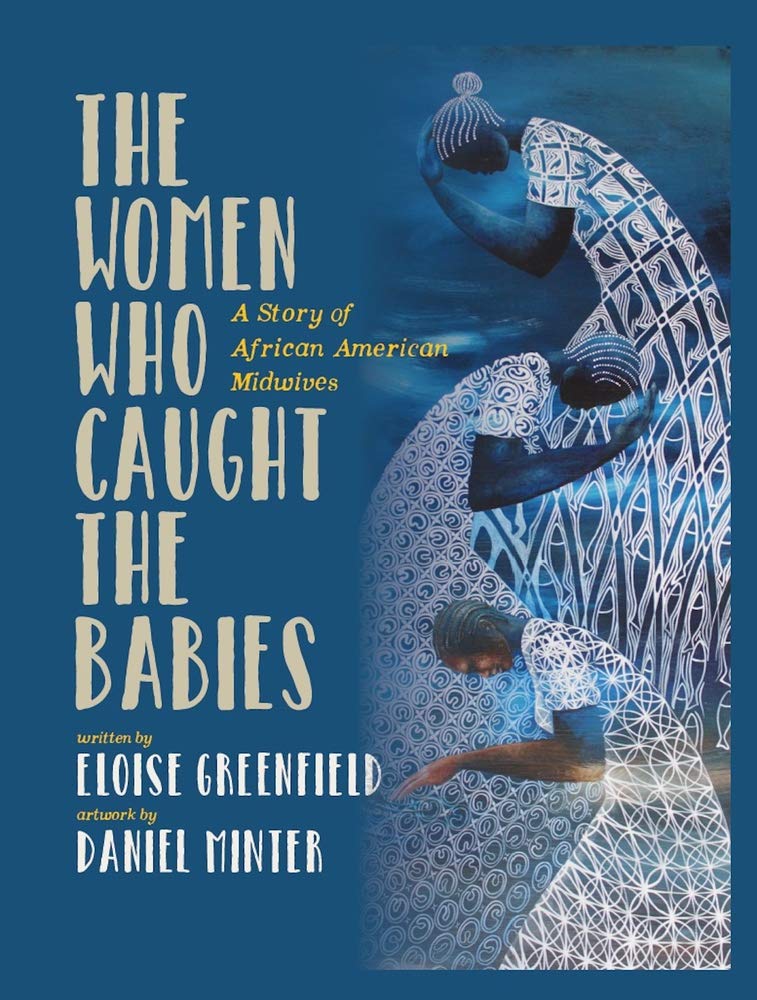 This book opens with a beautiful and informative five-page introduction by author Eloise Greenfield. There are also a series of poems about African American midwives from the days of slavery to the early 2000s. The book closes with a poem about the midwife Miss Rovenia Mayo who caught Eloise Greenfield herself on the evening of May 17, 1929.
The amazing illustrations in the book are done by illustrator Daniel Minter who was also caught by a midwife during his birth. Minter said in a recent interview with Press Herald, "In those rural areas, you just did not have access to a hospital, for one thing," Minter said in an interview. "And if there was one, hospitals didn't accept black patients until recently. You didn't have that as an easy option, so you had midwives."
The Women Who Caught the Babies traces the history of Black midwives and the critical role they played in improving the care and outcomes for Black families. Midwives are prominent members of the community. They do more than just deliver babies, they are spiritual healers, family counselors, nutritionists, and postpartum doulas. I think it's wonderful books like this exist to teach readers about this rich tradition of African American midwives. It has been carried across the Atlantic, kept alive and passed down from healer to healer, continuing through slavery and spread throughout the African diaspora. Ages 9 – 12 and up.
Titan and the Wild Boars: The True Rescue of the Thai Soccer Team by Susan Hood & Pathana Sornhiran, illustrated by Dow Phumiruk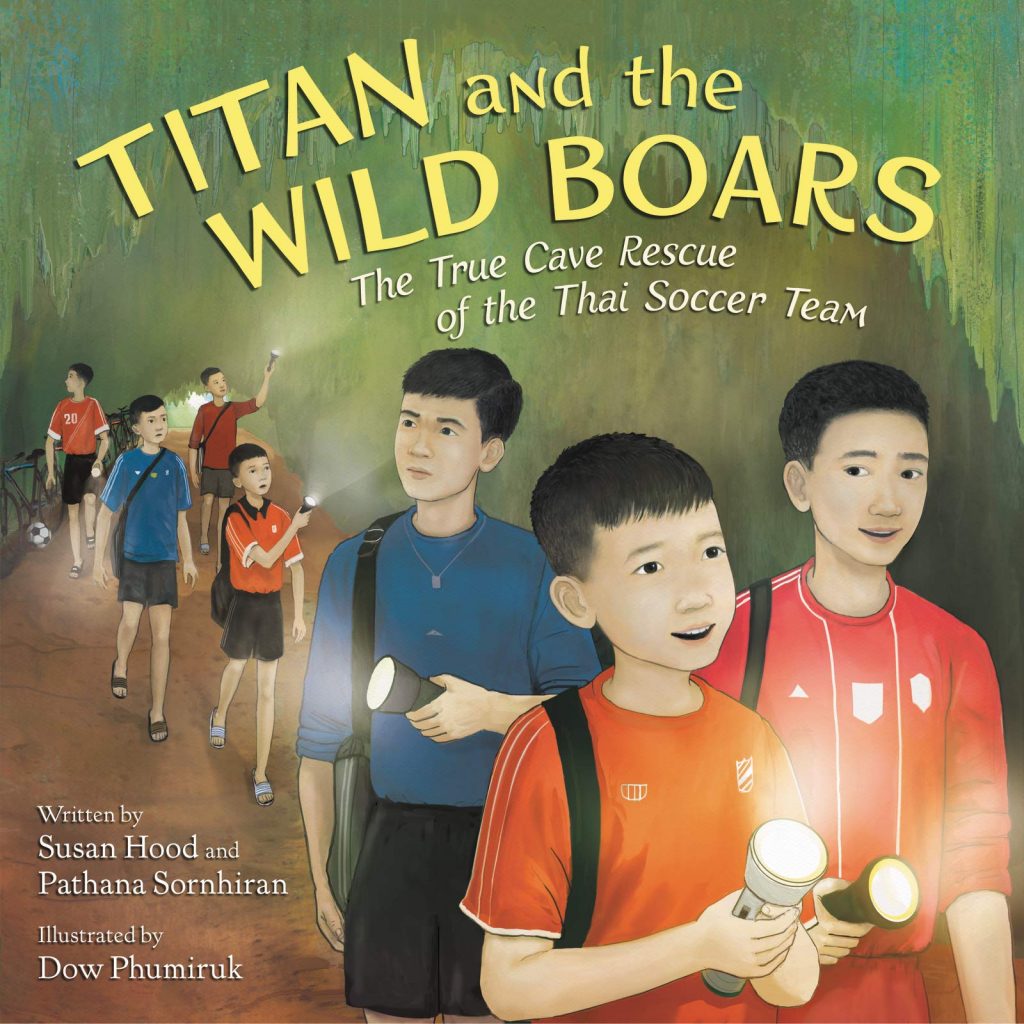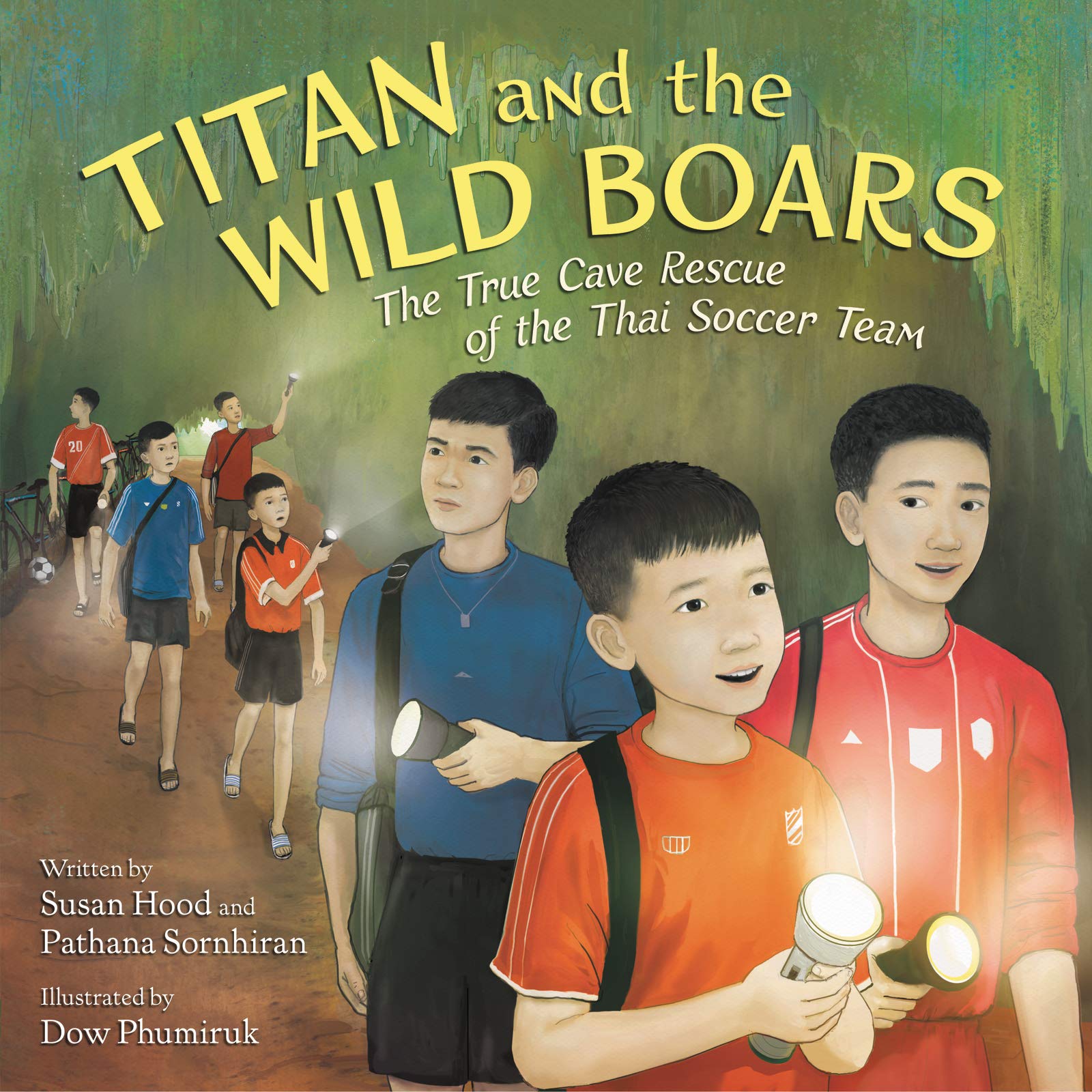 Remember the 13 boys and soccer coach trapped in a cave in Thailand for 18 days? Well now, there's a picture book about them.
On June 23, 2018 Titan and eleven of his teammates entered the Tham Luang Nang Non Caves along with their soccer coach in search of adventure. The storied "hidden city" within the cave excited the boys so they went in search of it. Little did they know they'd be spending 18 days trapped (June 23 – July 10) there underground surrounded by stone cold water and little oxygen with no food. Ages 5 – 9 and up.
Under My Hijab by Hena Khan, illustrated by Aaliya Jaleel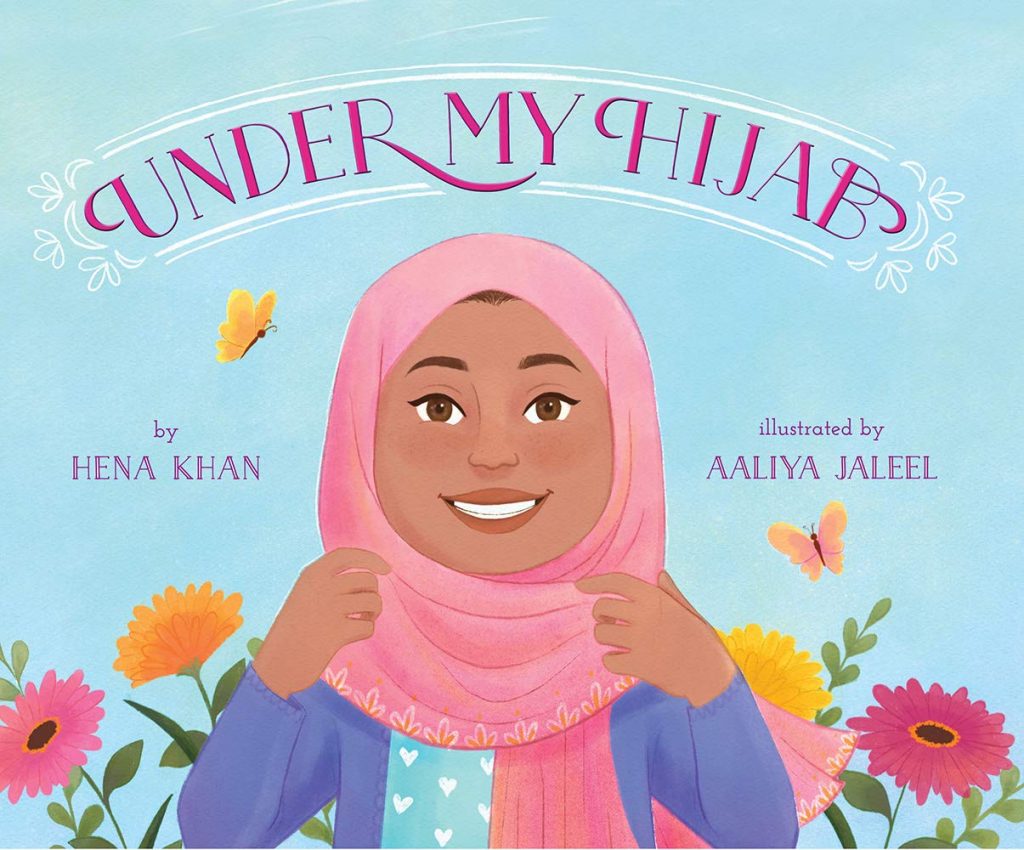 I absolutely adore this rhyming picture book that empowers Muslim girls and shows the versatility of the hijab. Hijabs are often worn to reflect a person's faith, to feel closer to God, or to keep certain body parts like hair private due to religion. This book shows readers hijabs can be worn at work, school, and even while playing sports or doing other public activities. A beautiful book to be enjoyed by readers ages 4-8 and up.
What is Given from the Heart by Patricia C. McKissack, illustrated by April Harrison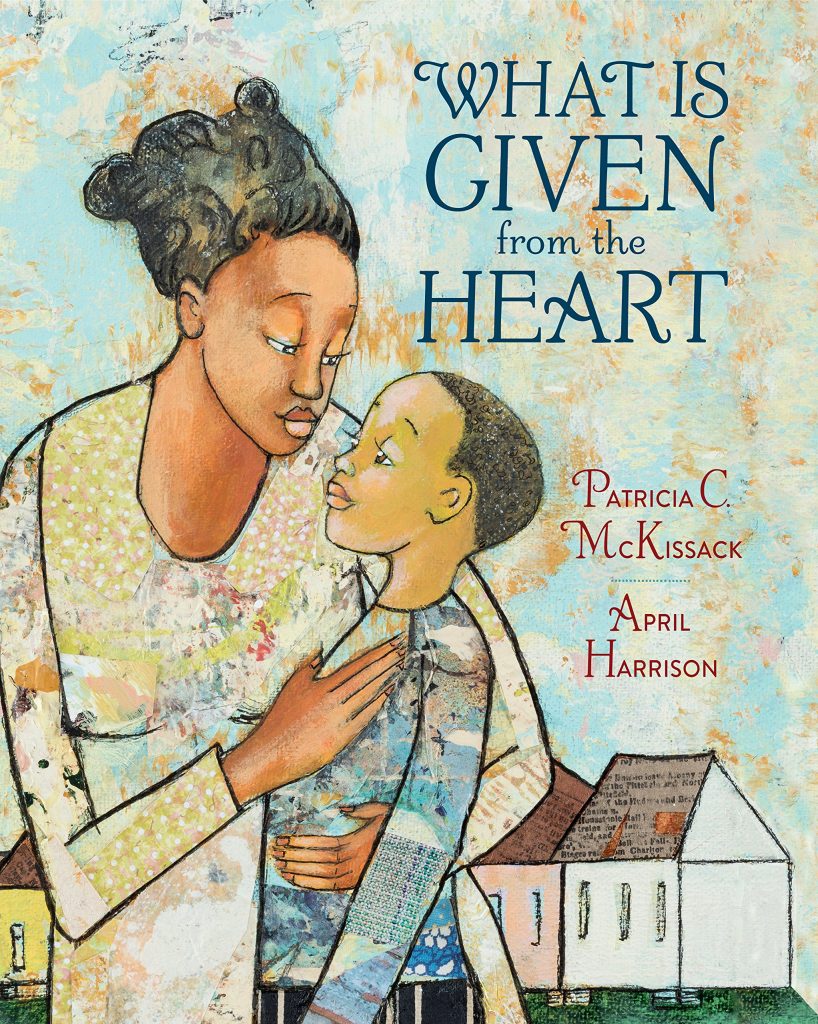 It's been a rough couple of months for them, but Mama says as long as they have their health and strength, they're blessed. One Sunday before Valentine's Day, Reverend Dennis makes an announcement during the service– the Temples have lost everything in a fire, and the church is collecting anything that might be useful to them. James thinks hard about what he can give to the Temple family.
A touching, powerful tale of compassion and reminds us all that what is given from the heart, reaches the heart.
This is likely the final picture book from the late author Patricia McKissack. She passed away in 2017 from cardio respiratory arrest. Patricia and her husband championed Black exemplars and prided themselves on using books to build bridges. "When children don't see themselves in books, they aren't motivated to read. If children don't read often they usually don't read well. And soon that translates into failure. I don't want that to happen, so I try to create characters children enjoy reading about." -Patricia McKissack
Recommended for ages 4-8.
When Aidan Became a Brother by Kyle Lukoff, illustrated by Kaylani Juanita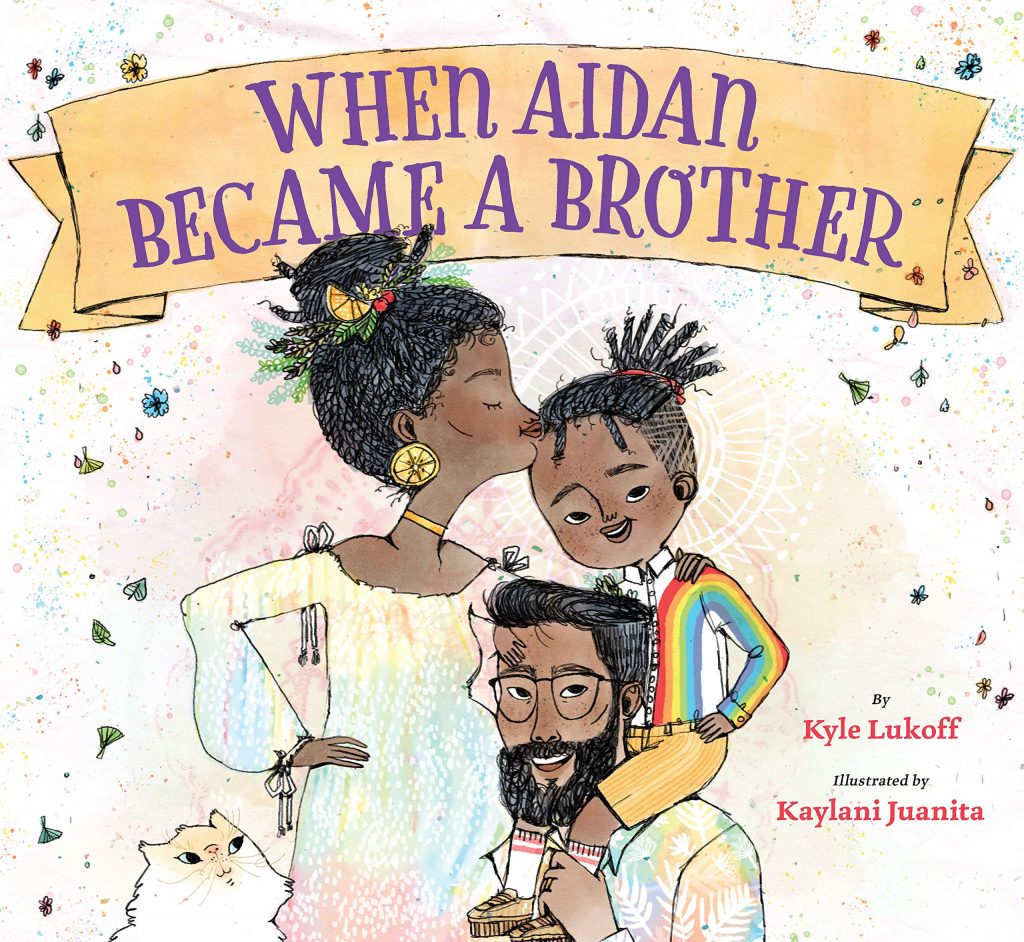 When Aidan was born, everyone thought he was a girl. His parents gave him a pretty name, his room looked like a girl's room, and he wore clothes that other girls liked wearing. After he realized he was a trans boy, Aidan and his parents fixed the parts of his life that didn't fit anymore, and he settled happily into his new life.
Then Mom and Dad announce that they're going to have another baby, and Aidan wants to do everything he can to make things right for his new sibling from the beginning–from choosing the perfect name to creating a beautiful room to picking out the cutest onesie. But what does "making things right" actually mean? And what happens if he messes up? With a little help, Aidan comes to understand that mistakes can be fixed with honesty and communication, and that he already knows the most important thing about being a big brother: how to love with his whole self.
When Aidan Became a Brother is a heartwarming book that will resonate with transgender children, reassure any child concerned about becoming an older sibling, and celebrate the many transitions a family can experience. Ages 4 – 8 and up.
When Grandma Gives You a Lemon Tree by Jamie L.B. Deenihan, illustrated by Lorraine Rocha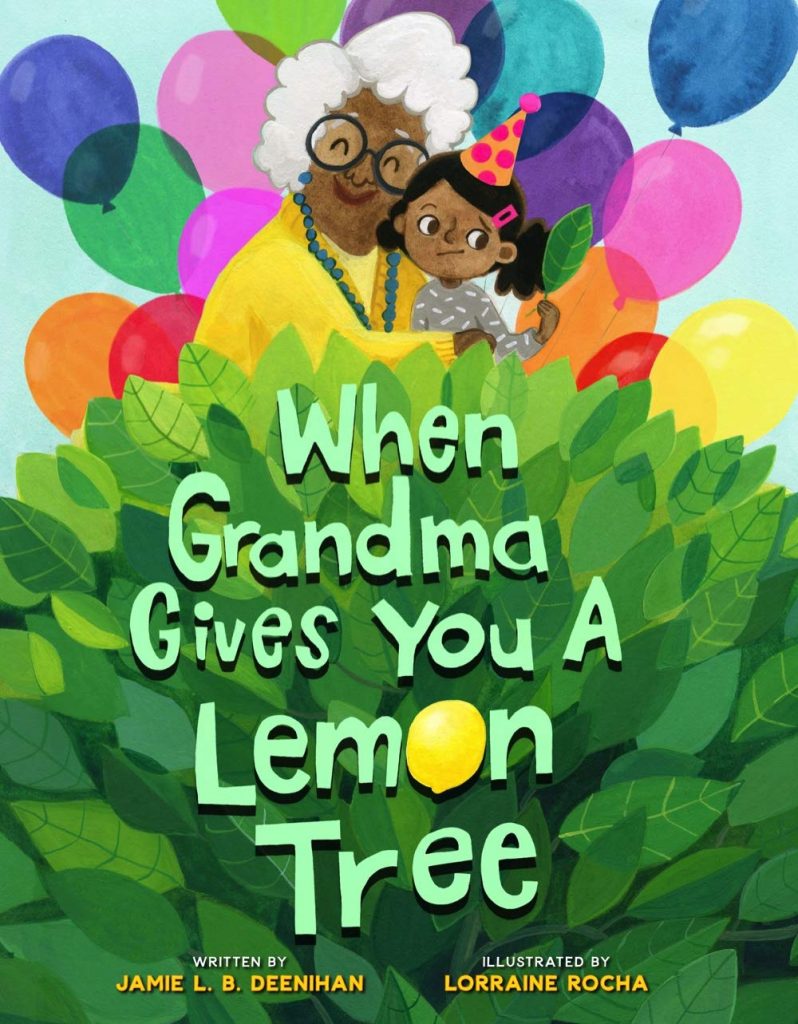 After receiving a lemon tree from her grandmother as a birthday gift, a little girl is disappointed and confused. I mean, what is she supposed to do with a lemon tree? She wanted a new electronic device.
I absolutely adore everything about this book. Grandma's humor, the sage advice Grandma gives her granddaughter, and of course the overall lesson. It's brilliant! Bonus points for the recipe in the back, a lesson on financial literacy/entrepreneurship and for having another lesson about limiting the use of electronic devices. Everything about this book is amazing.
A sensational debut picture book from Jamie L.B. Dennihan. It's no surprise why this has a nearly perfect rating on Amazon. A gem!
Did you enjoy this list? Feel free to subscribe to my mailing list if you're not already. Let's stay in touch so you can stay up-to-date on all of the exciting content I have planned!
Your turn: How do our recommendations stack up against yours? Feel free to share in the comments.