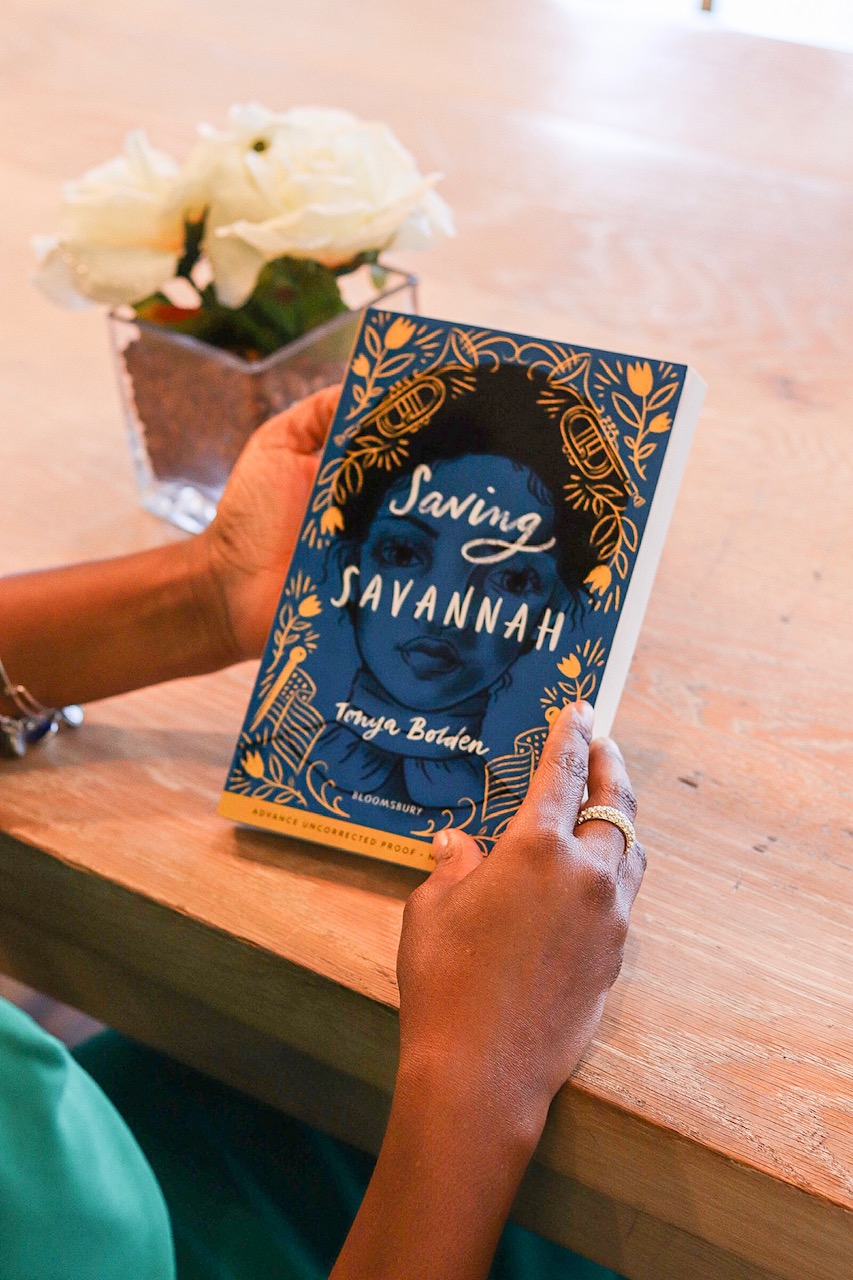 Tonya Bolden is one of my favorite writers for historical fiction for both children and adults. It was such a treat to have the opportunity to interview her to chat books. Her forthcoming novel, Saving Savannah will be published January 14, 2020 and I'm so excited to read it since I thoroughly enjoyed Inventing Victoria.
Check out the publisher's synopsis for Saving Savannah:
Savannah Riddle is lucky. As a daughter of an upper class African American family in Washington D.C., she attends one of the most rigorous public schools in the nation–black or white–and has her pick among the young men in her set. But lately the structure of her society–the fancy parties, the Sunday teas, the pretentious men, and shallow young women–has started to suffocate her. Then Savannah meets Lloyd, a young West Indian man from the working class who opens Savannah's eyes to how the other half lives. Inspired to fight for change, Savannah starts attending suffragist lectures and socialist meetings, finding herself drawn more and more to Lloyd's world. Set against the backdrop of the press for women's rights, the Red Summer, and anarchist bombings, Saving Savannah is the story of a girl and the risks she must take to be the change in a world on the brink of dramatic transformation.
Author Interview
How did you come up with the characters for Inventing Victoria and Saving Savannah?
Characters come to me in shadow, in outline. Then I ask questions. What does she want? What are her fears? And so forth. With Crossing Ebenezer Creek and Saving Savannah I was very much driven/led by an antique photograph of a young black woman that said to me, "This is Mariah!" and another one that said to me, "This is Savannah!"
Do you enjoy writing children's books or adult books more?
Don't make a choose, please! (smile). Given that the majority of the forty-something books I've authored/co-authored/edited are for young people . . . Yes, my first love is writing for children. History is my passion and I believe that if we hook our young people on history—if we make history come alive for them—we really put them on the path of lifelong learning, critical thinking, curiosity, and making some sense of the world. Without history you have no context for your life, for your present era.
Besides your own, what were some of your favorite children's picture, or chapter books you've read or come across within the past year?
Yuyi Morales's Dreamers. My "to-read" list includes Jennifer Swanson's Spies, Lies, and Disguise: The Daring Tricks and Deeds that Won World War II and Nikki Grimes's memoir Ordinary Hazards.
What are some of your must-have children's books for a home library?
That's a tough one! I really believe that each home library should be tailor-made for a particular family's interests and needs. The only must-have I can think of is range: books about the present and the past, books about people familiar and not familiar. In this global village of a world of ours, to borrow from the eminent Dr. Rudine Sims Bishop, all our young people need mirrors, windows, and sliding doors.
Do you have any literacy rituals that you practice in your family or practiced in the past?
Not really. Growing up I was crazy about books. Couldn't get enough of books! And I have my parents to thank for that. My mother, who only had a sixth grade education and my father who only had a ninth grade education, were avid readers. There is a lost picture of me, maybe I was about two or three. And there I was propped up in my parents' bed. I had my mother's glasses sprawled on my face. I had a book in my hands. Upside down. I was imitating my parents. There is also a photograph of the living room of our apartment in East Harlem. We had recently moved in. The furniture was the old furniture we had in Brooklyn. There was no carpeting on the floor (at a time when carpeting was pretty much de rigueur). Front and center in this photograph is our family's bookcase.
Besides reading, what are some other things parents can do to set their children up for literacy success?
Engage them in critical thinking, early and often. Encourage them to create stories of their own. And while you're at it, tell your children family stories.
Do you have a favorite book that you have written? If so, what is it and why?
My favorite book of mine is always the one that is just about to come out or the one that has just come out. So right now Saving Savannah is dearest to my heart. But really it's like a family with many children. Each is unique and you love them all equally (we hope) though each child has something in particular that endears you to her or him. With Saving Savannah I think Savannah Riddle is the character most like me. I didn't realize this at first. My sister pointed this out after she read part of an early draft. As she gave me feedback, I shared with her that compared to Mariah in Crossing Ebenezer Creek and Victoria in Inventing Victoria, I found Savannah the easier character to write. My sister snickered, then said something like, "That's because Savannah is you!"
If you could give parents one piece of advice about reading with children, what would it be?
Discussions of books is vital. What did the young reader learn? What puzzled her or him? Is there anything the reader misunderstood? And don't stop reading aloud! Whether your child is five or fifteen—or fifty—always make some time for gathering around a book and reading aloud. I don't think we ever lose our love for being read to. I know it may be difficult to do read-alouds with teens, but that doesn't mean we can't try.
Any advice for aspiring writers and authors?
Don't take yourself too seriously. Don't be precious. Consider trying to get into the business as a writer for hire. That's how I began. If you have a big hit out of the gate, save your money. You never know. Some careers do nothing but skyrocket. Others have peaks and valleys. Once you get your foot in the door consider diversifying. Being able to write for different ages, different genres can come in handy when there are shifts in the industry. On year picture books are hot! Two years later not so much. Have many arrows in your quiver—especially if you don't have a day job.
Hardcover, Paperback or e-book (when reading a book on your own)?
I like e-books for research because when traveling I can take so much research with me and still travel light.
Fiction, non-fiction or some other genre (when reading a book on your own)?
Nonfiction tops the list. But really as my fiction and nonfiction require so much research, books I pick up just for pure pleasure are few and far between.
Name an adult book that:
a) Inspired you

Zora Neale Hurston's Their Eyes Were Watching God, Paula Marshall's Brown Girl, Brownstones, Gloria Naylor's The Women of Brewster Place, Charles's Johnson's The Sorcerer's Apprentice and Oxherding Tale, Flannery O'Connor's A Good Man Is Hard to Find and Other Stories, Ivan Goncharov's Oblomov, probably every Anton Chekhov short story I read, Eugene O'Neill's plays, Carson McCullers's The Heart is a Lonely Hunter, Shakespeare's A Midsummer Night's Dream, Majorie Kinnan Rawlings' The Yearling, W. Somerset Maugham's Of Human Bondage, Toni Cade Bambara's Gorilla, My Love, Toni Morrison's Sula.

b) Made you laugh out loud

Several stories in Bambara's Gorilla, My Love and in Naylor's Brewster Place.
c) You recommend to others often
To be honest, I don't often have the occasion to recommend books to others.
What books are on your nightstand or e-reader right now? Charles Johnson's The Way of the Writer: Reflections on the Art and Craft of Storytelling.
Are you working on any special projects that you want to share with others?
I'm brainstorming on the fourth linked novel that began with Crossing Ebenezer Creek. So next up after Saving Savannah is an as yet unnamed novel about the daughter of a character in Saving Savannah. I have the main character's name (I think) and I have a photograph that says to me, "This is her!"
How can people get in touch with you on social media or on your website?
Please visit tonyaboldenbooks.com!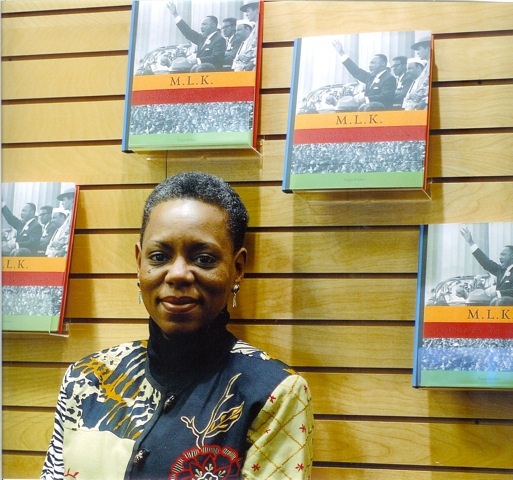 Tonya Bolden is a critically acclaimed award-winning author/co-author/editor of more than two dozen books for young people. They include Inventing Victoria, Crossing Ebenezer Creek, which received five starred reviews; Finding Family, which received two starred reviews and was a Kirkus Reviews and Bank Street Best Children's Book of the Year; Maritcha: A Nineteenth-Century American Girl, a Coretta Scott King honor book and James Madison Book Award winner; MLK: Journey of a King, winner of a National Council of Teachers of English Orbis Pictus Award for Outstanding Nonfiction for Children; Emancipation Proclamation: Lincoln and the Dawn of Liberty, an ALSC Notable Children's Book, CBC/NCSS Notable Social Studies Trade Book for Young People, and winner of the NCSS Carter G. Woodson Middle Level Book Award.
Tonya also received the Children's Book Guild of Washington, DC's Nonfiction Award. A Princeton University magna cum laude baccalaureate with a master's degree from Columbia University, Tonya lives in New York City.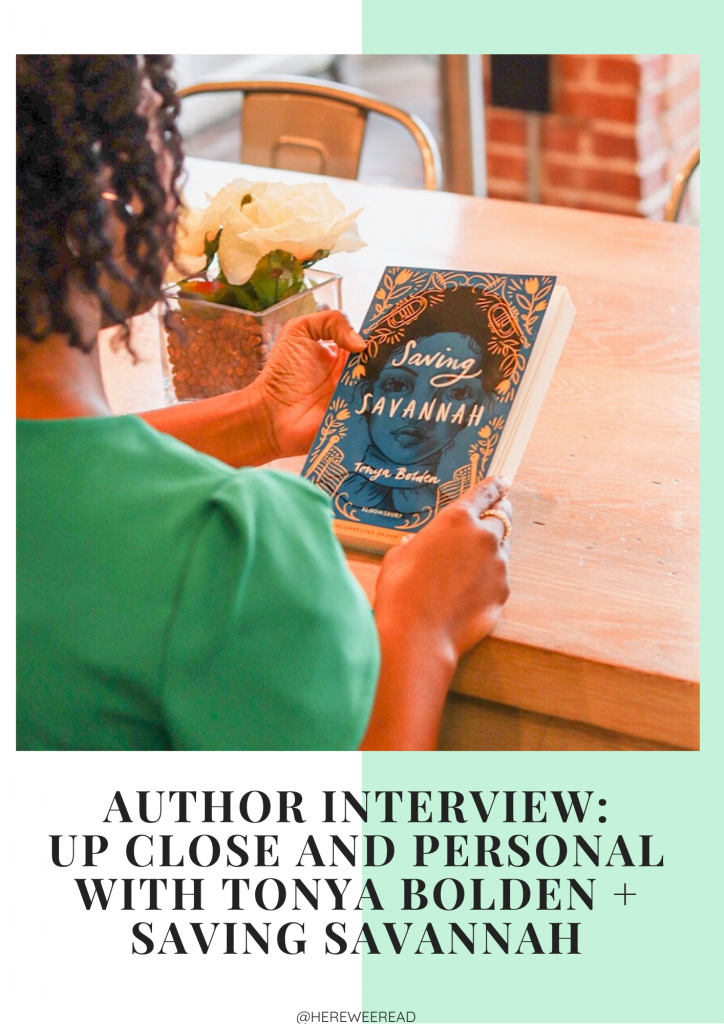 Your turn: Have you ever read any of Tonya Bolden's books? Feel free to share some of your favorite Tonya Bolden books in the comments below.