Disclosure: This post may contain affiliate links, which means I may receive a small commission if you click a link and purchase something. Please check out my disclosure policy for more details. All opinions are my own!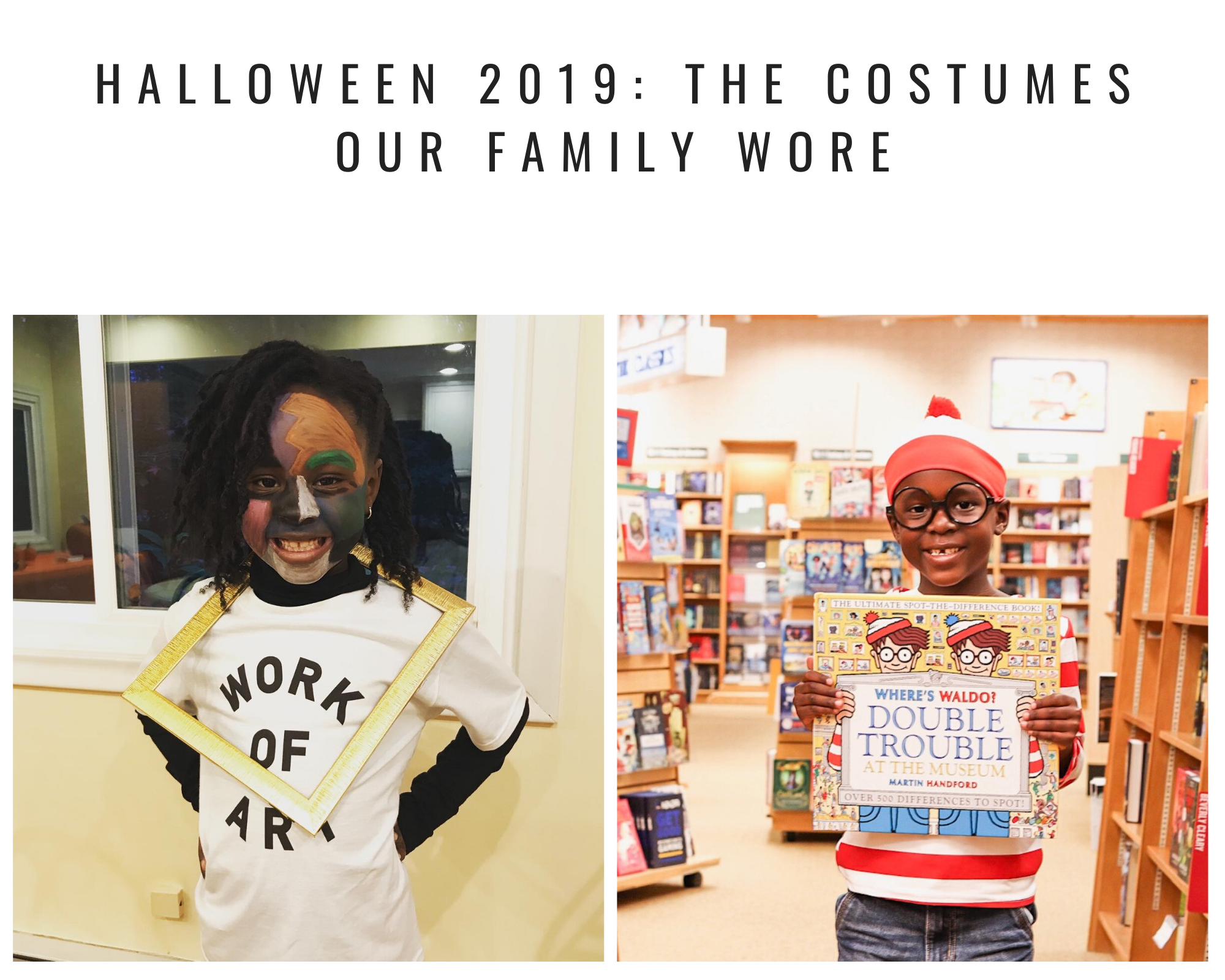 Dressing up for Halloween isn't just for kids—our family (excluding my husband) enjoys making it a family affair.  Maybe one year I'll get my husband to dress up with us as an entire family.  Wishful thinking?  Maybe.  Halloween just isn't his thing and that's okay.  As for me and the kids, I like to come up with creative and inexpensive costumes each year.  Check out our 2019 Halloween costumes below.
MADISON AS A WORK OF ART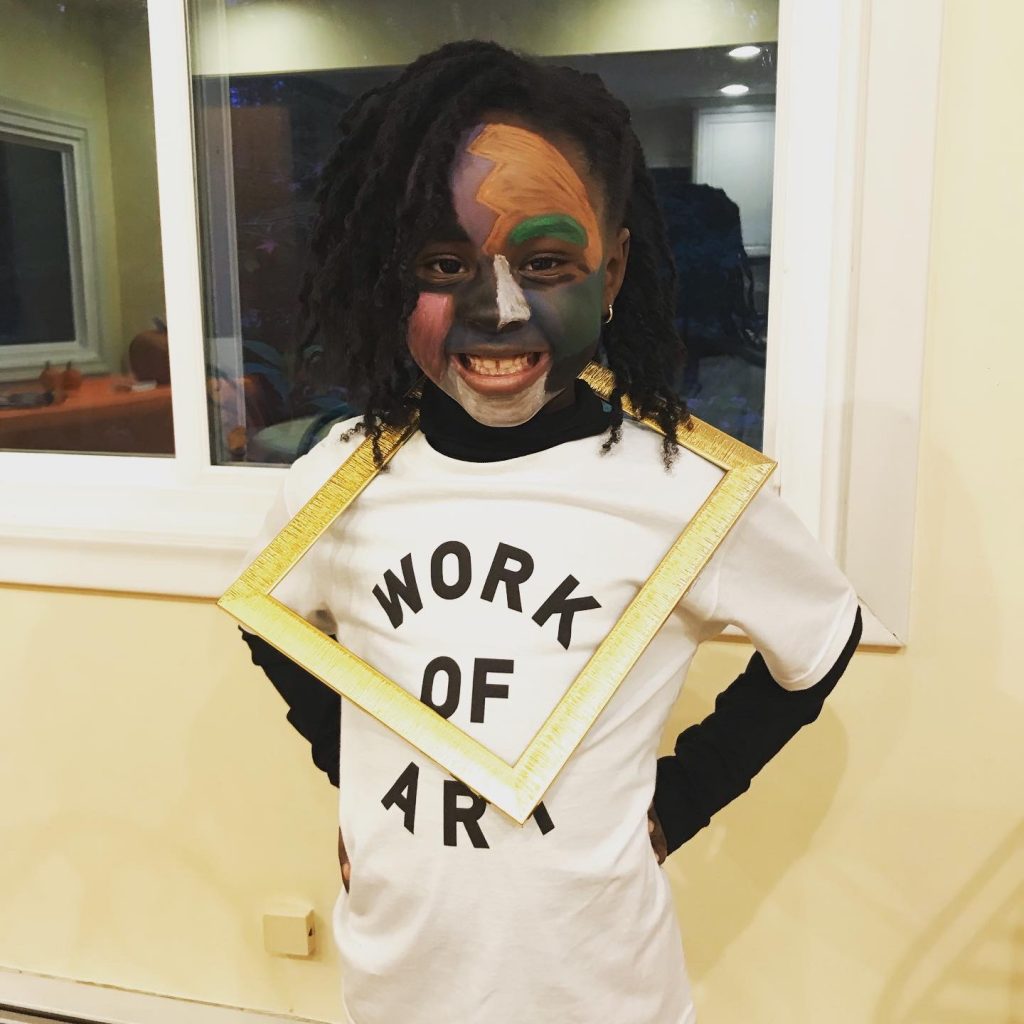 Let's just all agree my daughter Madison stole the show!  There is nothing better than a creative and inexpensive costume that will turn heads.  Amiright?! My daughter and I had this costume picked out since last Halloween after scrolling on Pinterest for unique ideas.  Once I saw this costume, how simple it was to re-create and how much my daughter loved it, I knew it would be a winner and it was!  Everyone absolutely LOVED her costume and she received so many compliments.
To re-create this costume.  Grab a t-shirt, a picture frame from The Dollar Tree and a little non-toxic face makeup and you're done.  We ordered this t-shirt and this non-toxic face makeup.
BARRINGTON AS WALDO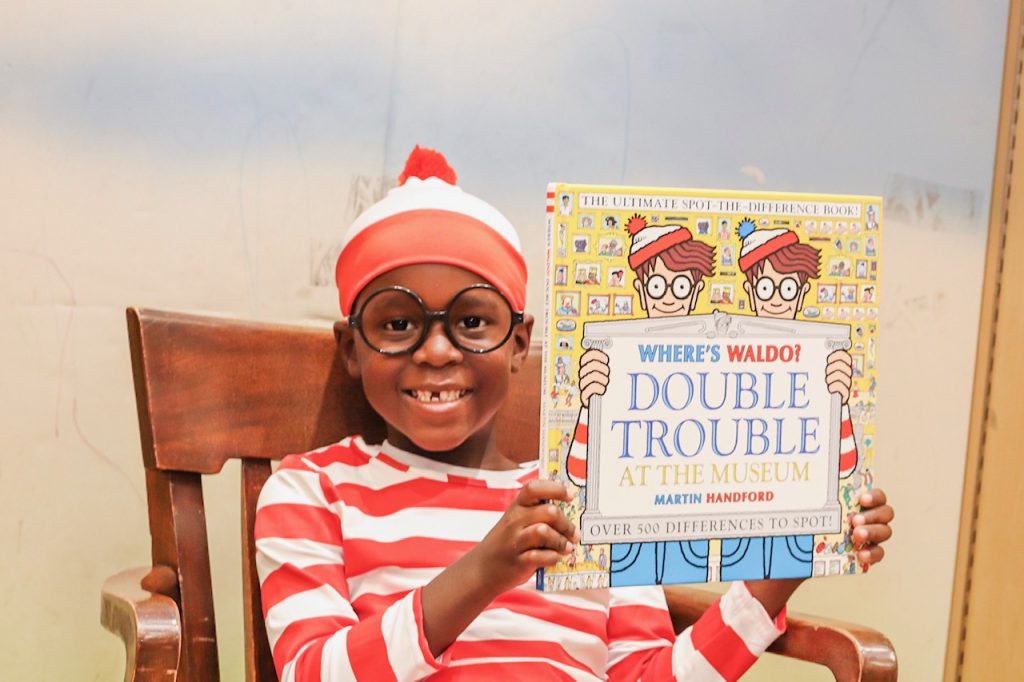 Who says Waldo can't be a Black boy?  This Where's Waldo costume for kids absolutely KILLS me and I LOVE it!  It was my hope that at least one of the kids would be a bookish character so I was thrilled when my son chose to be Waldo.  Barrington loves all of the books in the Where's Waldo series so it was only fitting to pair his costume with the latest Waldo book for Halloween.
To re-create this costume.  We ordered this Where's Waldo costume.  We also used a pair of blue jeans and black boots that my son already owned.
CHARNAIE AS THE GIVING TREE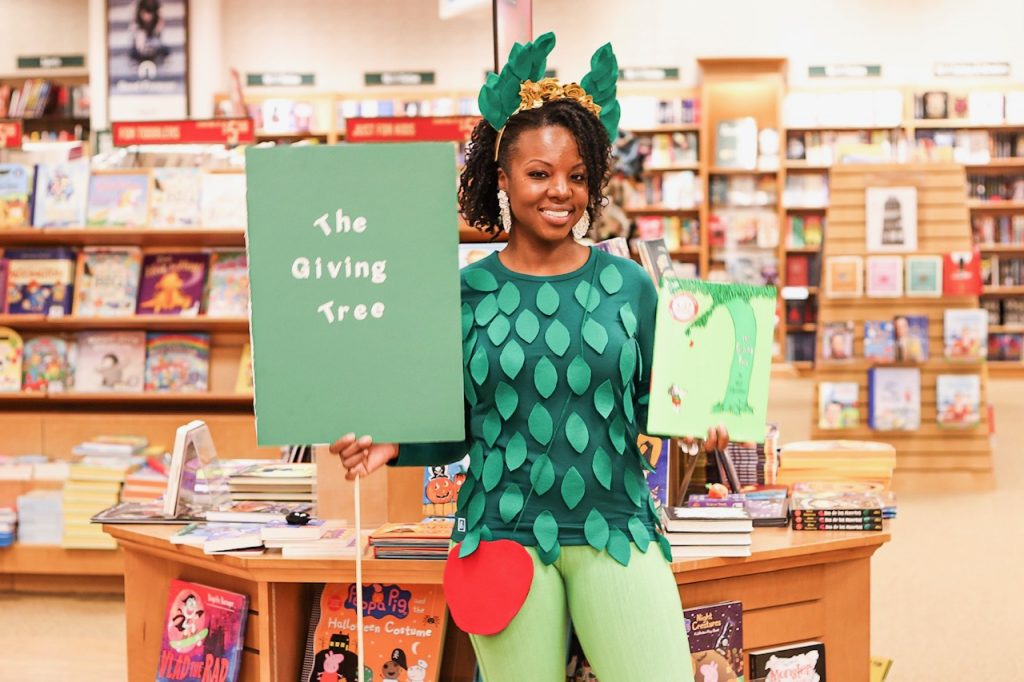 If you're feeling crafty and you love books.  This Halloween costume may be for you (hello, DIY!).
When it comes to Halloween costumes, I've always been the do-it-yourself type. Mainly because I don't like the selection of costumes I see in stores. Especially for women and girls. But also because I like to create.  I'm not sewing savvy enough (yet) to make a whole costume from scratch, but adding little pieces or DIY-ing certain parts? Oh yeah. I can handle that.  That's why I was all over this costume when I saw the idea online.
This costume was super simple to create. I bought this plain green t-shirt and these green jeggings.  Green felt, red felt, white letters, a foam board and a dowel from Micheal's, and a headband from The Dollar Tree. I cut out some leaves and an apple and done! I grabbed our copy of The Giving Tree off our bookshelf to complete the look.
Sharing Halloween with your kids, whether they're babies, toddlers, or older kids can be such a fun experience especially when you're all dressed up and feeling festive.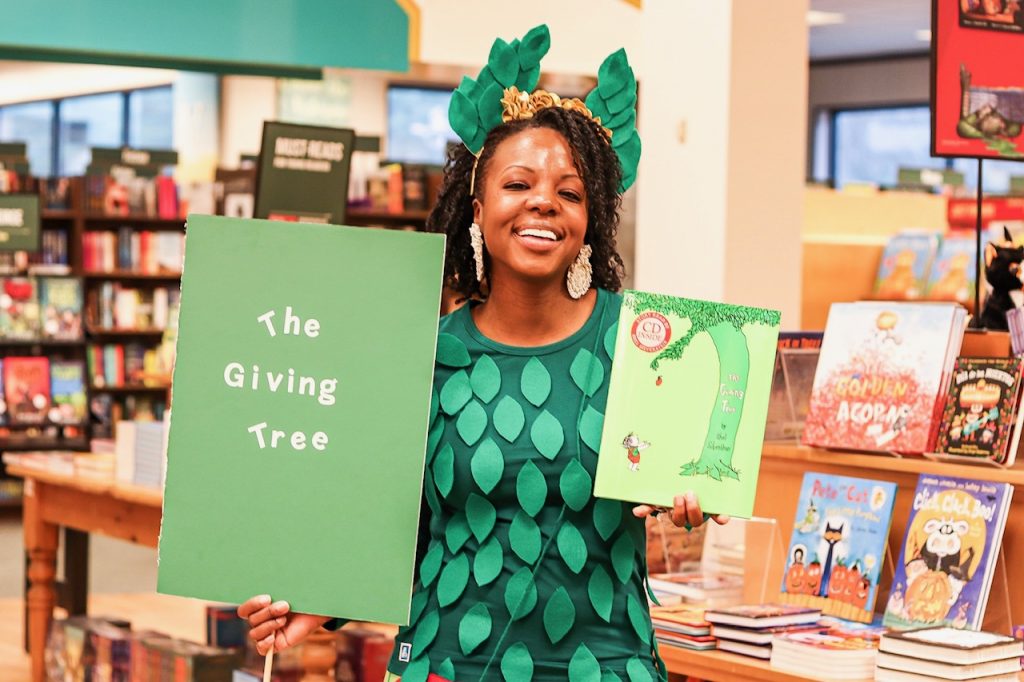 So, take your pick from these Halloween costume ideas or come up with your own to create happy memories on Halloween night!
Which of the Halloween costumes listed above would you like to try (if any)? Tell us in the comments section!