In honor of Black Breastfeeding Week, I want to introduce you to this forthcoming September 2019 book: The Women Who Caught the Babies by Eloise Greenfield.  The book opens with a beautiful and informative five-page introduction by author Eloise Greenfield.  There are also a series of poems about African American midwives from the days of slavery to the early 2000s. The book closes with a poem about the midwife Miss Rovenia Mayo who caught Eloise Greenfield herself on the evening of May 17, 1929.
The amazing illustrations in the book are done by illustrator Daniel Minter who was also caught by a midwife during his birth.  Minter said in a recent interview with Press Herald, "In those rural areas, you just did not have access to a hospital, for one thing," Minter said in an interview. "And if there was one, hospitals didn't accept black patients until recently. You didn't have that as an easy option, so you had midwives."
The Women Who Caught the Babies traces the history of Black midwives and the critical role they played in improving the care and outcomes for Black families.  Midwives are prominent members of the community. They do more than just deliver babies, they are spiritual healers, family counselors, nutritionists, and postpartum doulas.  I think it's wonderful books like this exist to teach readers about this rich tradition of African American midwives.  It has been carried across the Atlantic, kept alive and passed down from healer to healer, continuing through slavery and spread throughout the African diaspora.
I'm so impressed with the attention to detail that was paid to this book to ensure its authenticity.  The archival photographs that appear in this book were digitally captured from a film called All my babies…a midwife's own story by documentary filmmaker George C. Stoney.  I think this book is a winner for poetry lovers and those wanting to learn more about the important history of Black midwives.  Ages 9-12 and up.
Fun fact: If you scan the QR code on the back cover of the book you can hear Eloise Greenfield read her introduction and poems from the book.  Give it a try…so cool!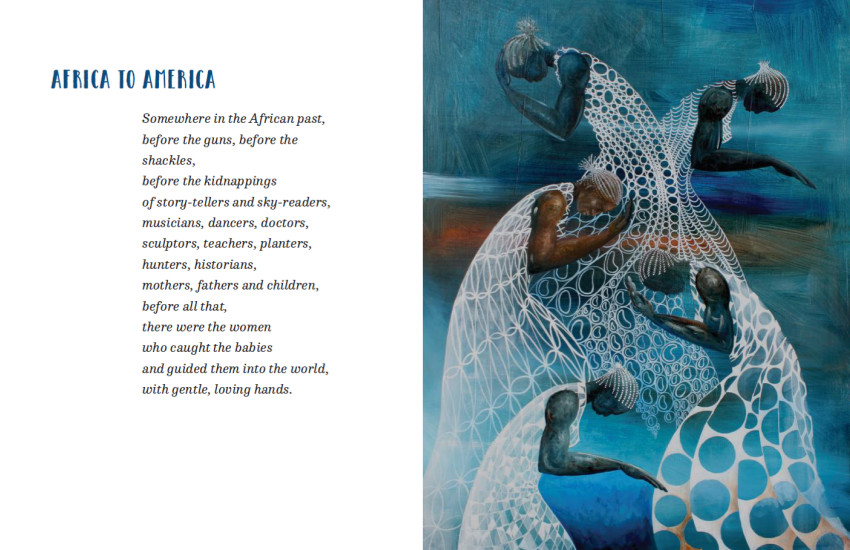 Note: For those who may want to support midwives and help spread the word, please consider supporting one of the resources listed below.  All of these organizations are doing incredible work for Black midwives.