Disclaimer: I was provided with a complimentary copy of this book from the publisher in exchange for an honest review.  As always, all opinions expressed are my own.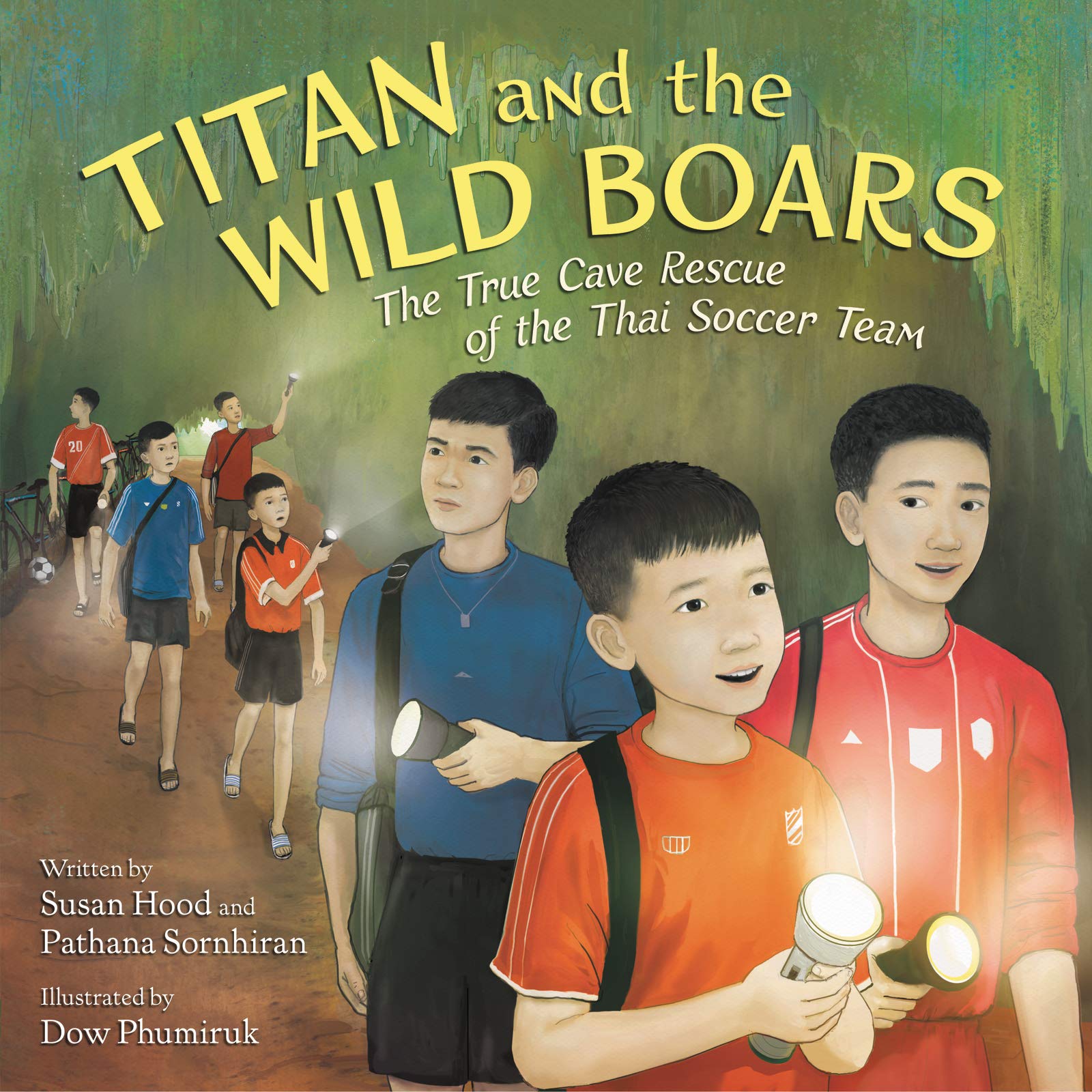 Titan and the Wild Boars: The True Cave Rescue of the Thai Soccer Team by Susan Hood and Pathana Sornhiran, Illustrated by Dow Phumiruk
Publisher: HarperCollins
Format: Hardcover
Pages: 48
Age Range: 4 – 8
Synopsis
One afternoon, eleven-year-old Titan, his friends from the Wild Boars soccer team, and their coach rode their bikes to explore local caves. They crawled through the narrow tunnels in the dark to reach the center of the cave. When they turned to go home, heavy rains had flooded the tunnel. They were trapped!
With rising waters and monsoon season upon them, time and oxygen were running out. The world watched with bated breath as rescuers from around the globe joined forces to try to free the boys. After eighteen harrowing days, in an unprecedented effort of international teamwork, they were finally saved.
Reflection
Eleven-year-old Chanin grew up being obsessed with soccer.  At the age of six he started playing and joined the Wild Boars soccer team a few short years later.  Nicknamed "Titan" by his family after the powerful giants of Greek mythology, he was known for his strength which made him an asset to the team.
On June 23, 2018 Titan and eleven of his teammates entered the Tham Luang Nang Non Caves along with their soccer coach in search of adventure. The storied "hidden city" within the cave excited the boys so they went in search of it.  Little did they know they'd be spending 18 days trapped (June 23 – July 10) there underground surrounded by stone cold water and little oxygen with no food.
While reading this book I felt a range of different emotions from sadness to nervousness to sheer excitement!  This story is not only captivating, but it's informative too.  It's so interesting to read the details about how the team members all made it out alive.  What an incredible journey for the soccer team, their coach and all of the rescuers/volunteers involved!  This is an amazing story of bravery, perseverance, teamwork and community.  The illustrations by Dow Phumiruk are so vivid will take your breath away.  Each illustration really helps to bring the story to life.
The back matter has more information about the cave rescue including a timeline and other fascinating facts.  For example: while being trapped in the cave, four of the boys missed their birthdays.  There is also a brief interview with British divers Chris Jewell and Jason Mallinson.  An inspiring non-fiction book not to be missed this year.
Watch the Book Trailer!

About the Authors
Susan Hood is the award-winning author of many books for young readers, including Ada's Violin, Shaking Things Up, and Lifeboat 12. She is the recipient of the 2017 E.B. White Honor Award, the 2017 Christopher Award, the 2017 Américas Award, and the 2017 Bank Street Flora Steiglitz Straus Award, given annually to "a distinguished work of nonfiction which serves as an inspiration to young people." Visit susanhoodbooks.com.
Pathana Sornhiran was born in Bangkok, Thailand, where she attended the Faculty of Arts at Chulalongkorn University with a major in English and French. She later completed her master's degree in journalism in London, UK and now works as a journalist in Asia, traveling across the region to find and tell stories that matter.
About the Illustrator 
Dow Phumiruk was born in Bangkok, Thailand and came to the United States with her family when she was very young. Her mother was a nurse, and her father, a retired Royal Thai Air Force captain. He worked for Thai Airways for many years, which allowed her family many trips back to Thailand when she was younger. Dow currently lives in Colorado with her husband and three daughters. She is an author and illustrator of children's books and has been a member of the Society of Children's Book Writers and Illustrators since 2011. Dow is also a general pediatrician who teaches medical students part time. When she is not creating or teaching, she likes to hike the trails near her home. Visit her at artbydow.blogspot.com