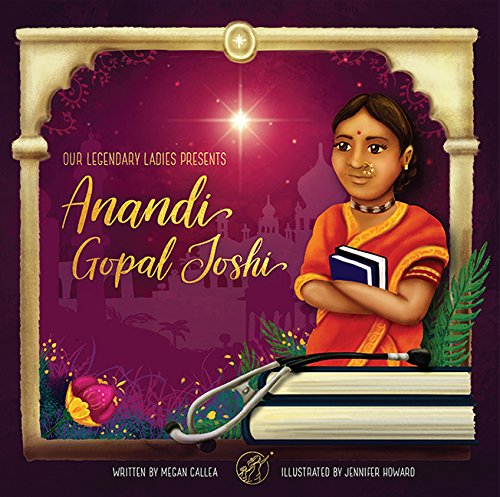 The second board book in the Our Legendary Ladies series, this board book introduces tiny readers (ages birth – 4 and up) to Anandi Gopal Joshi.  Born on March 31, 1865, Anandi Gopal Joshi was one of the first Indian female physicians.
Joshi was married at the age of just nine, which was common in 19th century India, to a man 20 years older than her.  She gave birth to their first child when she was 14, but her baby son died 10 days later due to a lack of medical care for women.  The death of her son served as her motivation to study medicine.
During a time when it was unthinkable for a woman to get an education, Anandi defied the odds and came to America to study medicine at the Women's College of Philadelphia.  She later returned to India and received special recognition and congratulations from Queen Victoria.  Anandi dreamed of opening a medical college for women, but due to an early death from tuberculosis on 26 February, 1887, her dream was never realized.  She died at the age of 21.
In 1997, a crater on the planet Venus was named after Anandi by the International Astronomical Union.  She is one of the few notable to receive this honor.
Although Anandi's life was short lived and she is lesser-known, she was a true inspiration and pioneer of her time.
About the Our Legendary Ladies Book Series
The books are written by Megan Callea and illustrated by Jennifer Howard.  For each featured lady in this book series, a leading historian signs off on the final version of the book.  Each book is well researched and fact checked for accuracy.  In addition, for each book purchased, a portion of the proceeds, and books, will be donated to these non-profits: Bright by Three, Jumpstart and Operation Showers of Appreciation.  Following Anandi Gopal Joshi, future Our Legendary Ladies books will include Sacagawea, Amelia Earhart and Anne Frank.
For more information about Our Legendary Ladies, click here to visit the official website.