Abby Invents Unbreakable Crayons by Dr. Arlyne Simon illustrated by Diana Necsulescu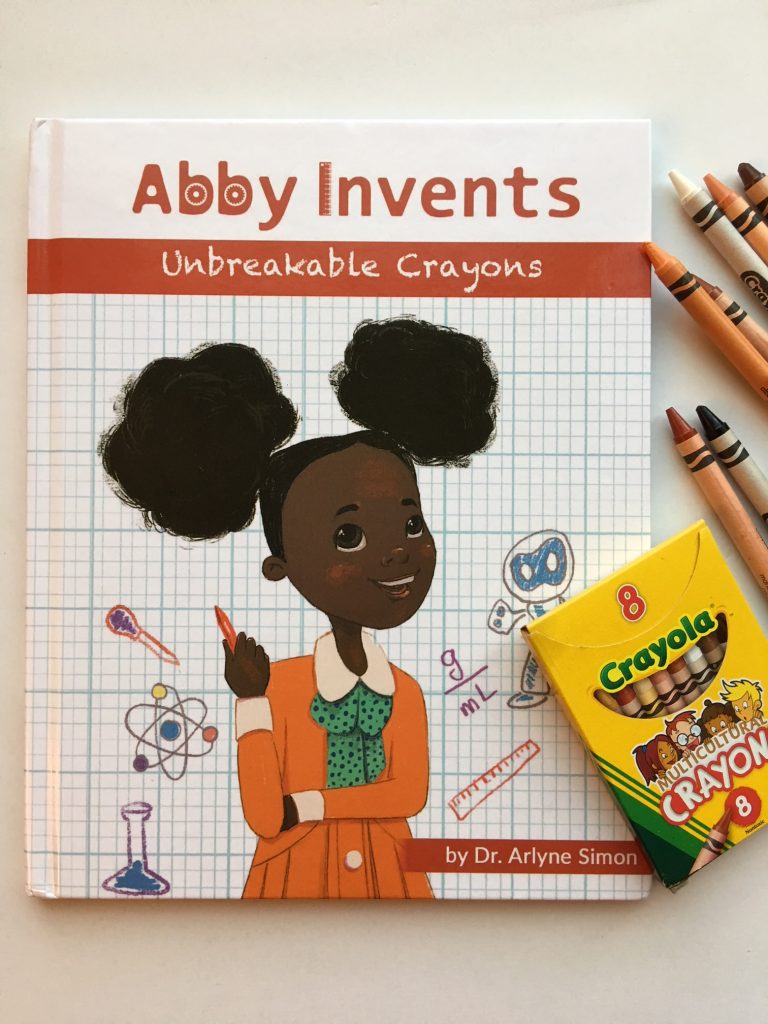 Publisher: Bella Agnes Books
Format: Hardcover/Paperback
Pages: 40
Age Range: 5 – 8
Grade Level: Kindergarten- 3
In honor of National STEM/STEAM Day, I'm sharing an awesome children's book with you entitled Abby Invents Unbreakable Crayons.  Have you read it yet?
Synopsis
Tired of coloring with broken crayons, Abby invents the world's first UNBREAKABLE CRAYONS. She even gets a patent to prove it! Through Abby's failures and eventual success, she playfully introduces young readers to the scientific method. This book also contains a fun activity page, encouraging young readers to create their own unbreakable crayons.
Reflection
Little Abby is tired of coloring with broken crayons and I don't blame her.  It's no fun to be in the middle of coloring only to have your crayon break and interrupt your creative flow.  She has an idea to invent the first unbreakable crayons after seeing a local inventor who looked just like her visit her classroom.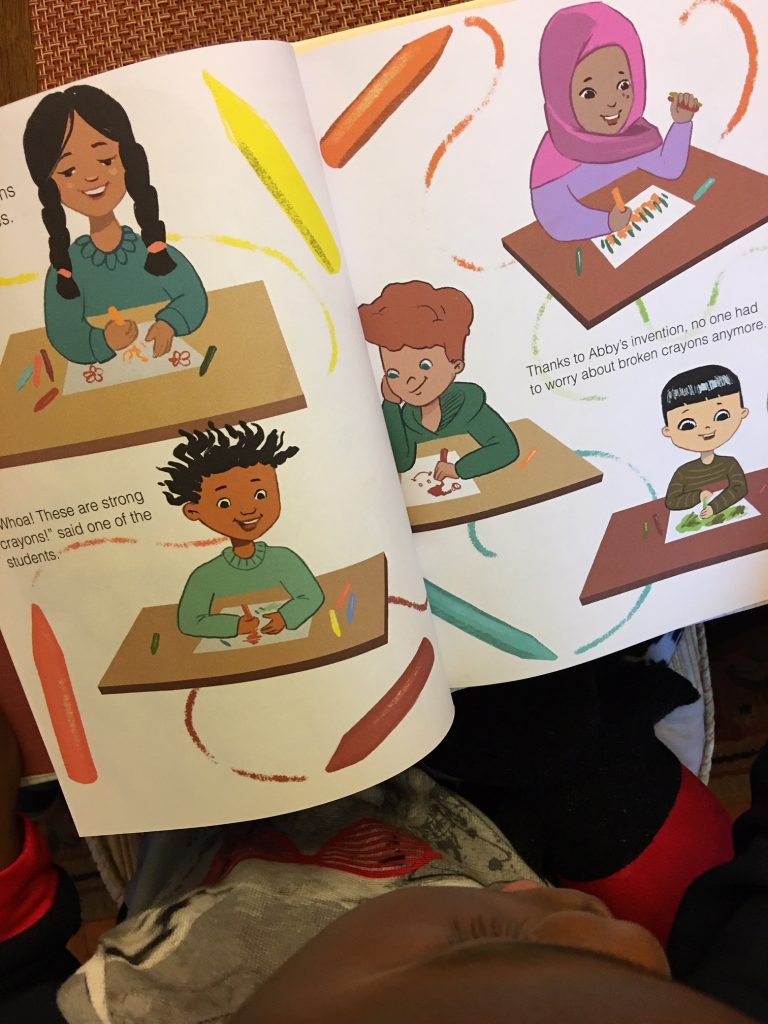 Abby gets to work and starts her research by heading to the library after school.  She learns what crayons are made of, the process used to make them and why they break.
Crayons break because they are not strong enough.  They are thin and long so if pressed too hard, they will break.
After having many failed attempts to test her unbreakable crayons, Abby starts to get discouraged and feels like quitting.   With help and encouragement from her teacher, Abby keeps going and eventually finds a solution to truly make her crayons unbreakable.
There are several things kids can learn from reading this book:
The importance of representation/windows and mirrors – Abby became inspired to be an inventor when an inventor who looked like her came to speak at her school.
STEM – This is a great book to introduce children to STEM (Science, Math, Technology and Engineering)
Diversity – There are several diverse characters featured throughout the book
The invention process – Children will learn the basics of the invention process: what it means to invent, asking questions, testing and receiving a an official patent from the government
I loved how determined Abby was to see her idea come to fruition and how she pushed through despite having failed attempts in the beginning.  She used affirming phrases to help keep her motivated, energized and focused on her goal:
I am a problem solver.  I am an inventor.  I solve problems, big and small because I have great ideas.
We should all be like Abby and give ourselves mini pep talks like this whenever we're facing challenges.  Am I right?
This book is also a great way to help spark curiosity, wonder and imagination for little readers while introducing science and engineering.  The back matter features an author's note, a small glossary of terms and a couple of questions for kids to ponder and express their own ideas.
Abby Invents Unbreakable Crayons checks all the boxes of a great STEM/STEAM book.
It empowers children to:
Ask questions
Be curious
Problem solve
Think outside the box
Be innovative
About the Author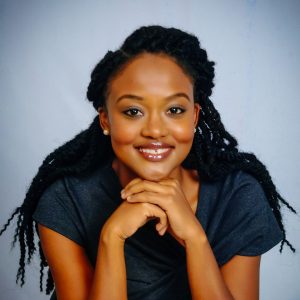 Honored as a trailblazing female innovator by the United States Patent and Trademark Office, Dr. Arlyne Simon is a biochemical engineer, inventor, author and entrepreneur. She is originally from the Commonwealth of Dominica. Like Abby, many of her early experiments failed but she didn't give up and neither should you! Visit her online at arlynesimon.com.

Your turn: How are you celebrating National STEM/STEAM day?  What STEM/STEAM related books will you be reading?  Feel free to share in the comments.